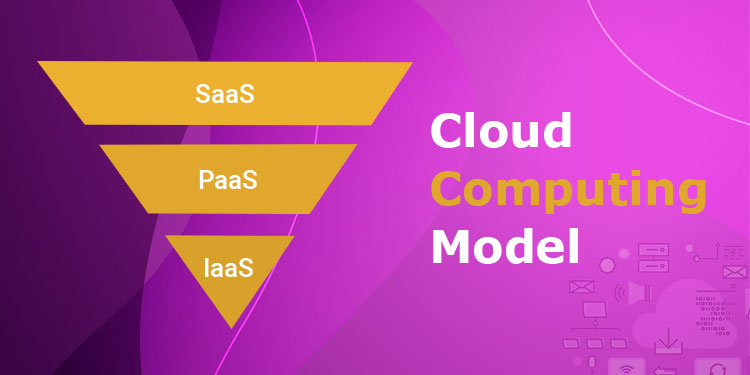 Cloud Computing Models As we are not very much clear with basic cloud concepts, its architecture and pros & cons, let's check some cloud computing models and associated business values.
Cloud computing models can be mapped with layers of business value pyramid as shown in below diagram: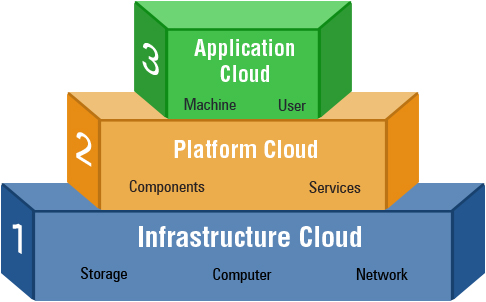 Infrastructure as a Service (IaaS)

The infrastructure cloud provides storage and compute resources as a service which can be used by developers and IT organizations to deliver business solutions. IaaS has evolved from virtual private server (vps) concept. It provides complete flexibility to consumers in choosing desktops, servers or network resources. Consumers can customize the entire infrastructure package by selecting CPU hours, storage space, bandwidth etc. Rather than buying expensive servers and taking headache of setting up the data centers, IaaS cloud helps business in reducing IT CAPEX and OPEX by big proportion.IaaS contains sub-categories: Public, Private and Combination. Public cloud consists of shared resources, managed by service provider. By contrast, private cloud provides secure access to your resources and managed by organization it serves. The hybrid cloud is maintained by both internal and external providers.IaaS adds value to businesses through Business agility; Cost reduction; Reliability, Scalability; Privacy & governance; and single integrated user experience.

Basic characteristics of IaaS:

Resources distributed as a service
Dynamic, on-demand scaling of resources
Utility based pricing model
Concurrent users on a single piece of hardware

Platform as a Service (PaaS)

Platform as a Service (PaaS) Next level up in the pyramid is Platform cloud. PaaS delivers development/operating environments as a service. It includes set of tools and services designed to make coding and deploying the applications quickly and efficiently. PaaS is similar to SaaS except that, rather than being software delivered over the web, it is a platform for the development/deployment of that software, delivered over the web.Prime examples include Salesforce.com's Force.com, Azure from Microsoft and Google App Engine.

Basic characteristics of PaaS:

Single environment to develop, test, deploy, host and maintain applications
Web based UI designing tools to create, modify, test and deploy different UI scenarios
Multi-tenant architecture facilitating concurrent users
Load balancing, security and failover capabilities for application to be deployed
OS and Cloud programming APIs to create new apps for cloud or to cloudify the current apps
Tools to handle billing and subscription

Software as a Service (SaaS)

Top most layer of pyramid is functional layer or SaaS layer. This type of cloud delivers a single application through the browser to multiple users using a multitenant architecture. With SaaS, a provider sells an application to customers on license basis, in a "pay-as-you-go" model.On the customer side, they do not have to do upfront investment in servers or software development; on the provider side, with just one app to maintain, costs are low compared to conventional hosting. Salesforce.com, SRM, ERP as most common examples of SaaS based applications.

Characteristics of SaaS:

Centralized web based access to company and commercial software
Entire business process shifting to cloud giving superior services to client
No hassle of software upgrades and patches as they are managed by Service provider
Application Programming Interfaces (APIs) allow integration with different applications
Please continue reading more on cloud computing at www.tatvasoft.com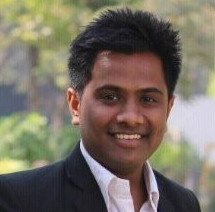 Vishal Shah
Vishal Shah has an extensive understanding of multiple application development frameworks and holds an upper hand with newer trends in order to strive and thrive in the dynamic market. He has nurtured his managerial growth in both technical and business aspects and gives his expertise through his blog posts.
Build your Team
Want to Hire Skilled Developers