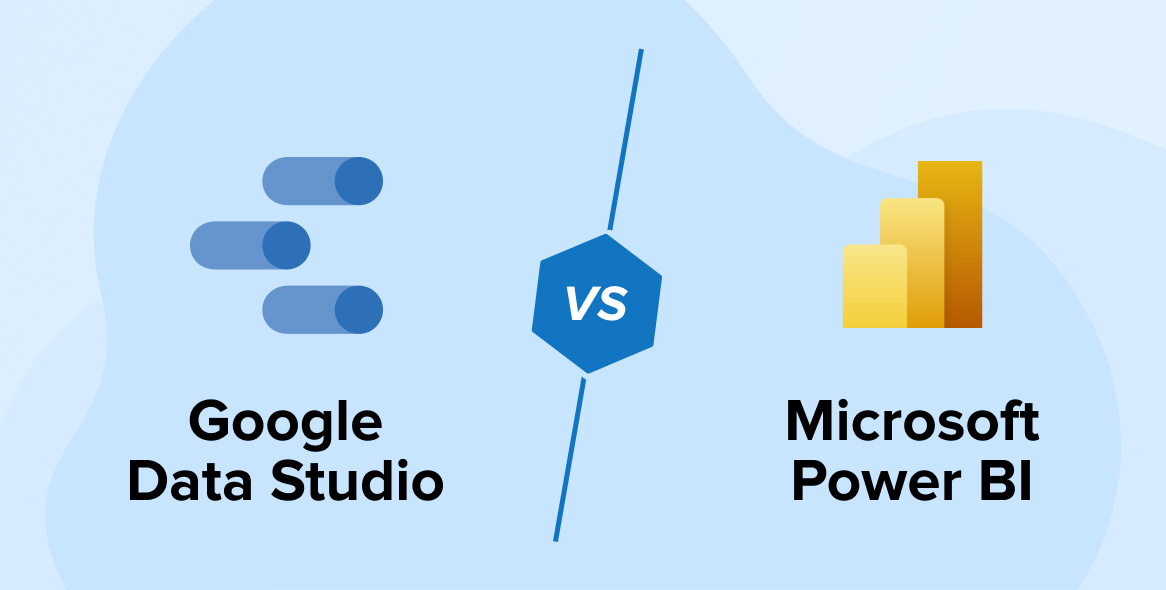 Are you looking for cutting-edge business intelligence and data visualisation tools? Microsoft Power BI and Google Data Studio are gaining pretty momentum these days. Both are of a kind where one allows you to create customised charts and reports in seconds while the other offers interactive charts with powerful business intelligence capabilities. The following post by our SharePoint Development team provides a brief comparison of Google Data Studio vs Power BI in regards to
Ease of use
Complexity and integration
Pricing
1. Microsoft Power BI
Power BI is a business intelligence platform developed by Microsoft.
It is a web-based business analytics tool suite that excels in data visualization.
Power BI is a robust, extensive data modeling and real-time analytics tool as well as allows for custom development.
This data analytics tool allows connecting multiple data sources for preparing interactive dashboards or reports.
It is providing a user-friendly interface and excellent data visualization capabilities.
This software enables customers to integrate their applications and produce reports and dashboards in real-time.
As it is web-based, it is possible to access Microsoft Power BI from almost anywhere. It has a cloud-based and on-premises data warehouse.
It targets medium-sized businesses and large enterprises.
The main key parts of Microsoft Power BI –
Power BI Desktop – It is a window desktop application to allows developers to build reports and dashboards.
Power BI Service – It is Online Software as a Service called Power BI Service.
Power BI Mobile Apps – It's a mobile application for iOS, Windows, and Android to view dashboards or reports on mobile devices.
Power BI Server – which allows BI Consultants to publish reports in the On-premise version after creating reports in Power BI Desktop.
Pros and Cons of Microsoft Power BI
| Sr.No. | Pros | Cons |
| --- | --- | --- |
| 1 | Power BI is a perfectly integrated Microsoft Office platform. | Power BI is taking a bit more time while dealing with a large amount of data. |
| 2 | It is compatible with mobile devices. | Users cannot share a report with another person outside of the domain. |
| 3 | It has the capability of complex data transformations. | For security and sharing features, one must have to use its Pro version. |
| 4 | It allows combining & merging data before visualizing. | The overall cost of its Pro version is higher than other suites. |
| 5 | Lots of out-of-the-box visualization options and widgets. | It does not accept larger files of more than 250 MB. |
| 6 | The large community of users and resources. | In the free version, it has a limit of 1GB of data per user. |
2. Google Data Studio
Data Studio is a BI tool by Google.
Google Data Studio is a data visualization tool that allows a user to create a branded dashboard with data visualizations.
It is a fully web-based solution that enables you to produce customized graphs and reports in seconds.
It is easy to use, customize, and share reports if you already have a google account.. Its interface is intuitive, simple, and straightforward.
Google Data Studio is also designed primarily for consumers and small businesses.
It provides almost any widget or visual which the user wants to represent data—for example, Bar, Line, Geo map, etc.
Users can also change the logo or image or color/size of the font in the report.
Google data studio provides functionality for sharing and permission the same as Google Doc and Google Sheet, so users can easily share this report with another person or configure permission on reports.
Users can also configure reports as public web. So, there is no credential required to view this report.
Pros and Cons of Google Data Studio
| Sr.No. | Pros | Cons |
| --- | --- | --- |
| 1 | Google Data Studio is free. | No data source is merged before visualizing. |
| 2 | Ease of creating data visuals – a user doesn't need to be an expert in manipulating the charts. | Browser only. There is no desktop tool to create reports. |
| 3 | Custom metrics and dimensions can be created directly within the platform. | To visualize data, it provides limited options and widgets compared to Power BI. |
| 4 | Versatile, especially if utilizing other Google marketing products. | The customization option is less compared to Power BI. |
| 5 | Ease of sharing reports with a URL link that anyone can access and use. | Google Data Studio is not mobile-friendly. |
| 6 | Users can download the report in PDF format. | Only basic widgets and features are there, while the full suite of reporting features is not available. |
| 7 | Flexible GA (Google Analytics) Integrations and Live Editing. | The dynamic relationship feature between all graphs and tables on the same page is not available. |
Microsoft Power BI Report Example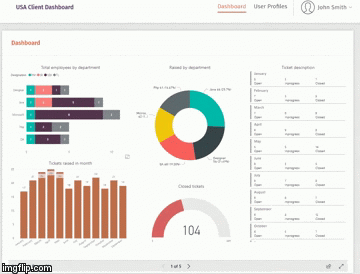 Google Data Studio Report Example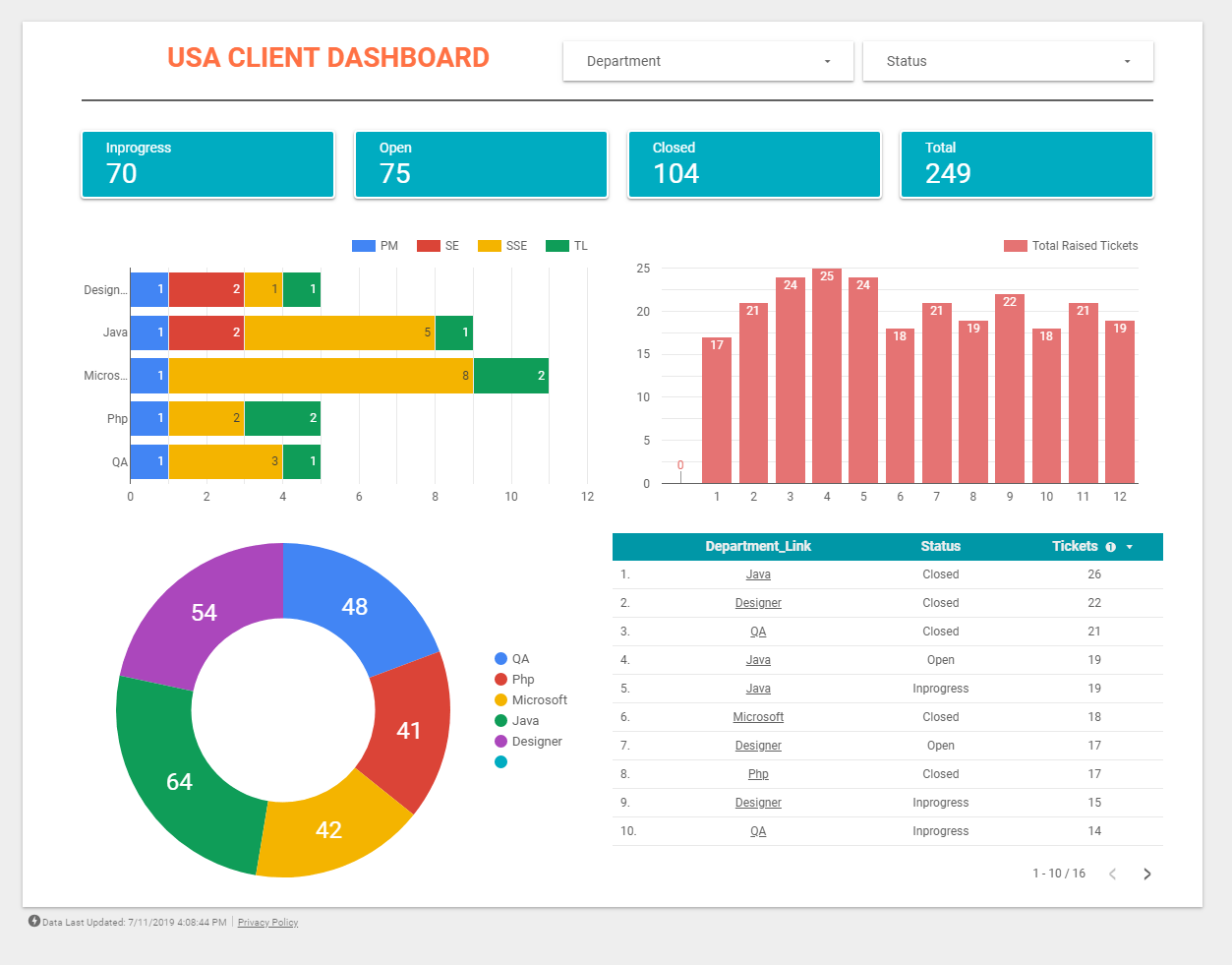 3. Google Data Studio vs Power BI
1. Price
Price structure for GDS:
Google Data Studio is now available for free to all visitors. You'll require a Google account to get started. To get started, just navigate to datastudio.google.com and create your first dashboard.
Price structure for Power BI
Microsoft Power BI provides customers with three price choices to choose from
1. Power BI Pro: Individual users may purchase Power BI Pro to access contemporary, self-service insights that enable them to view data with live real-time dashboards and exchange ideas throughout their business. This package is USD 9.99 monthly per member.
2. Power BI Premium per User: Individual users may licence Power BI Premium to expedite entry to insights with sophisticated artificial intelligence, enable self-service data preparation for big databases, and streamline data processing and consumption at a corporate scale. This package will cost you USD 20 monthly per member.
3. Power BI Premium per Capacity: This is comparable to Power BI Premium per account, except that there is no user limit. This subscription is priced at USD 4,995 monthly and is recommended for enterprises with a large number of Power BI users.
2. Data Sources
Power BI integrates with a variety of Microsoft technologies, including Azure, Sharepoint, MS Office, and Excel, as well as marketing apps like Google Analytics, Salesforce, Zendesk, Marketo, and Meta. Additionally, you may link to databases, CSV files, and other types of files. Furthermore, you may extract information from a website.
Google Data Studio connects with a variety of other Google services, including Analytics, Ads, BigQuery, and Sheets. However, it does not inherently handle a large number of different cloud-based inputs, which is one of the reasons why people look for Data Studio options. Google permits third-party developers to create connections, but these are often paid services.
3. Integration
How does Google Data Studio's data integration work?
Because data studio is a Google product, it comes pre-integrated with a variety of Google products, including Google Analytics, Google Ads, Google Sheets, BigQuery, and Cloud Storage. Additionally, over 400 partner connectors are available for connecting to data sources such as Adobe Analytics, JASON, and Facebook. One nice feature of data studio connections is that you may create your own if you cannot locate one that meets your needs. Take notice that, unlike many other business intelligence products, Google Data Studio supports both SQL and noSQL data sources.
Many of you may be wondering: Can I combine data from multiple sources to produce charts and figures in a dashboard? Yes, it is. Google Data Studio has a feature termed blending, which is essentially a left outer merge that enables you to generate visualizations using data from several sources. You may combine up to four different data sources. To link data sources, each source must follow a number of dimensions, referred to as a joining key. It is critical to notice that this procedure occurs solely at the report level; they will not appear on the data sources' home page.
How does Microsoft Power BI's data integration work?
Power BI integrates with over 100 data sources, including SQL and NoSQL. In essence, we may classify Power BI data sources into two categories:
1. Files: Files are used to refer to several data sources, including PDF, Excel, JSON, Google Analytics, and Adobe Analytics.
2. Databases: Databases are used to refer to data sources that are often SQL-based, such as BigQuery, Amazon Redshift, MySQL, and the Azure database.
To integrate data sources in Microsoft Power BI, you may use the "Append Queries" or "Merge Queries" tools. Now, let's compare and contrast Append and Merge queries.
Appending rows from one query to another generates a new request that includes all rows from the first inquiry trailed by all rows from the second question. At least two requests are required for the append process. This is analogous to the action of an outer join in a SQL database. On the contrary, a merge query produces a new request from two existing ones. A single query result has all columns from the main table, with one column functioning as a relationship column to a secondary table. The associated table includes all rows that correspond to each row in the main table by virtue of a shared column value. This is analogous to a left join in a SQL database. Power BI is quite good at exploring data relationships.
4. Data Analytics
What analytic features does Data Studio offer?
1. Advanced / Predictive Analytics
Unlike much other business intelligence and data analytics tools on the market, Google Data Studio lacks substantial predictive analytics features, such as classification regression or time series forecasting. Thus, the absence of this capability may preclude Google Data Studio from being a useful tool for businesses with complex use cases including predictions and forecasts.
2. Supporting Programming Languages
The program does not natively support Python or R. However, users may combine R and Python with Data Studio using third-party tools such as Panoply. Additionally, you may link Data Studio to a Google sheet that is updated using Python. This approach is better appropriate for smaller datasets. You may utilize BigQuery to work with bigger datasets.
3. Embedded Analytics
A report can be embedded in any website or application that accepts the HTML iframe tag. The iframe code, which contains a link to your analysis, is created instantly by Data Studio. HTML expertise is not necessary. The embedded report is shown in the preview pane (viewers are not permitted to alter the report).
What analytic features does Microsoft Power BI offer?
1. Predictive / Advanced Analytics
Power BI provides a variety of analytics capabilities for a variety of use cases. The following are a few of the most prominent:
1. Techniques for clustering
2. Analysis of time series
3. Conducts a feature analysis
4. Customizable analytics for advanced business users
5. Immediate insights
6. Artificial Intelligence Insights
2. Supporting Programming Languages
Power BI supports the following programming languages for data intake, transformation, visualization, and insight extraction:
Data Analysis Expressions (DAX)
Multidimensional Expressions (MDX)
Power Query Formula Language (informally known as "M")
SQL
R
Python
3. Embedded Analytics
Power BI embedded analytics is available in two options:
Embed for users: The embed for your client's solution enables you to create an application that connects to Power BI via non-interactive verification.
Embed for enterprise: Using the embed for your company solution, you may create an application that needs authentication using your Power BI credentials.
5. Ease of Use
To utilize Power BI efficiently, people must understand the fundamentals of the extraction, transformation, and loading or ETL process. When dealing with the M language with PowerQuery, ETL is critical.
Additionally, you'll also have to be familiar with the DAX language for statistics and measurements, as well as PowerPivot for data modeling. In summary, you'll have to undergo instruction to become proficient in using Power BI.
In contrast, Data Studio is a technology that requires no programming. If you have a working knowledge of spreadsheets, tallies, and graphs, you are ready to begin. On generating expert data visualizations, you may connect the data source and drag widgets to the board.
6. Sharing Visualizations
Sharing data is a time-consuming process with Power BI. You cannot share a document straight from the desktop application. You'll need to release the report using Power BI's publishing feature. Mobile applications, on the other hand, enable you to share a summary or report immediately from the application.
You may collaborate with external or internal collaborators on Power BI reports and dashboards. To view such files, the receiver must also have a Premium Per User (PPU) or Power BI Pro subscription.
4. Comparison of Google Data Studio vs Power BI in Tabular Form
Sr.No.
Features
Microsoft Power BI
Google Data Studio (GDS)
1

Released

Microsoft Power BI was published in the year 2013 before GDS and published to the public.
As part of the Google Analytics 360 suite, Google Data Studio (GDS) was released in 2016.
2

Availability

Power BI has a desktop and cloud-based version.
Google data studio has a cloud-based version.
3

Data Source

There are approx. 110 data connectors are available divided into 6 different categories.1. File: Excel, CSV, XML, etc.2. Database: SQL, Access, Teradata, SAP, etc.3. Power BI: Power BI dataset and Power BI data flow.4. Azure: Azure SQL database, Azure SQL data warehouse, Azure blob storage, etc.5. Online Services: Dynamic 365, SharePoint Online, Salesforce, Google Analytics, etc.6. Other: Microsoft exchange, ODBC, OLEDB, Spark, R Script, etc.
Currently, approx. 180 data source connectors are available divided into 3 main categories.1. Google Connectors: BigQuery, Google Sheets, Google Ads, etc.2. Partners Connectors: Custom JSON/CSV/XML, Facebook Ads, Amazon Ads, Instagram Ads, LinkedIn Ads, Twitter, Vimeo, YouTube, etc.3. Open Source Connectors: GitHub, Stack overflow
4

Scheduling

For scheduled functionality, users need to purchase the Pro version of this tool.
There is no schedule functionality available in the free cloud-based version.

Users can schedule the process of downloading the report in PDF and sending it to you, or your customers' weekly/monthly by mail.
5

Chart Templateor Widget

Basically, it provides approx. 30 charts, but Microsoft Power BI is providing a feature to add more charts from the marketplace.
MPB provides 2 options to add more visuals as below.

Import from file: User can add its own custom visual (Chart template)
Import from a marketplace: Users can add it from a marketplace where some other developer has added custom visuals.

It is providing approx. 30 chart templates, for example, Table, Time series, Pie, Line, Geo map, etc.
6

Pricing

Microsoft Power BI has a pricing plan. Free version with basic reporting feature and Pro version gives you full features with real-time dashboard updates. For pricing, refer to this link.

In May 2016, Google announced a free version of a data studio for individuals and smaller teams.
At the time, there were differences between the paid and the free versions, such as the number of reports that could be created per account.
By February 2017, Google announced free, unlimited Data Studio reports.
Since then, the free version of Google Data Studio has continued to add powerful features and usability enhancements.

7

Sharing

Power BI's weak point is to pay if you want to correctly handle access rights and share.
The only caveat with the free limited version is that you can't manage users.
The only way the data can be shared is to go public – anyone with the link can see the report and access it.

Like Google Docs & Sheets, one can share dashboards, set up views or edit user-level privileges.
One can share the shared report via a link.

8

Reliability

Microsoft Power BI is more powerful compared to Google Data Studio.
The data is fetched based on the complex queries, which means more things in the puzzle can eventually break.
Power BI users sometimes had problems with refreshing information and choices for visual customization.

Despite the reality that Google Data Studio has just emerged from beta testing, it does result in a small margin in this category.
Google Data Studio is more accurate as the key sources (AdWords + GA) are directly integrated, so data refresh should not be a problem.
Since it has fewer features and fewer moving parts than Power BI, the code is more stable, of course.

9

Complexity and Integration

It can gather data from more business apps, including Microsoft Dynamics, Salesforce, Excel, GitHub, and Google Analytics as well.
It has everything from KPI trackers and forecasts to visual calendars and designers for infographics
It even has a long list of features that allow you to mix and add fresh metrics from various sources.

Google Data Studio is integrated with google based data sources like Google Analytics, Sheets, and AdWords indigenous support.
It has conventional bar, line, and pie charts for visualization choices.
Its functions are highly restricted and need to discover a manual workaround to do half of the stuff like Power BI can do.

10

Data Cleanup & Transformation

In Power BI, one will find the same Power Query feature as in Excel.
Power Query within Power BI appears to be slightly ahead in terms of updates.
Available Power Query implies one can do standard operations such as Filtering & cleaning raw information, converting unique characters, changing letter instances, renaming columns, Combining 2 tables into 1, etc.

Here, Google Data Studio is behind Microsoft Power BI.
Google Data Studio expects to obtain nice and clean data that need only to be viewed.
Before loading to Google Data Studio, one cannot do any cleaning.

11

Ease of use

When it comes to ease of use, the clear winner is Power BI.
That's because it shares UI aspects with familiar services like Excel and Word from Microsoft, and it's always where one expects them to be the features one needs.
It also has drag-and-drop features that allow one to add graphics and information areas to a report with just a few mouse clicks.

In user-friendliness, Google Data Studio is not too far behind.
Like Power BI, one can drag and drop graphics and data to generate immediate reports, but users who have never worked with Google Analytics may find it hard to navigate the menus and adjust the visuals and charts.

12

Visualization

Power BI provides the same set of graphs and tables, like Google Data Studio, including custom colors, font sizes, etc.
One feature that excels in Power BI is the dynamic connection between all graphs and tables on the current page.
By choosing values (e.g. "Department") in one's sizes (e.g., "Tickets"), one communicates with his dashboard in real-time. In real life, the report will be like an image under the 'Microsoft Power BI Report Example' title.

This interactive, dynamic relationship feature is not present in Google Data Studio.
This feature does not lag Google Data Studio behind Power BI.
It is already ahead by the "time comparison" feature i.e., one can easily compare the current data with the previous one. It is something that is only semi-friendly in Power BI.
Refer image under the 'Google Data Studio Report Example' title.
5. Conclusion
Finally, we have studied the comparison between two business intelligence tools – Microsoft Power BI vs Google Data Studio. If there is a limit on cost, then one can go with either the free version of Power BI or the Google Data Studio platforms. Basically, if one is not willing to pay for, have nice and clean data already, don't need to carry out any data clean-up, combining & merging before visualizing, don't need to display data from different sources in one chart, etc. then stick to the Google Data Studio. On the other hand, if one expects to perform complex data transformations, is willing to pay, needs to view information from advertising systems outside the globe of Google, etc. then Microsoft Power BI is the best choice.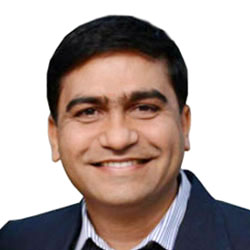 Shital Patel
Shital Patel is VP at TatvaSoft with a high-level of proficiency and technical precision in SharePoint Development. His experience of the last two decades has helped businesses to solve complex challenges resulting in growth and performance of Startups to Fortune 500 companies.
Related Service
SharePoint Development
Know more about SharePoint Development services
Learn more
Subscribe to our Newsletter
Signup for our newsletter and join 2700+ global business executives and technology experts to receive handpicked industry insights and latest news
Build your Team
Want to Hire Skilled Developers?