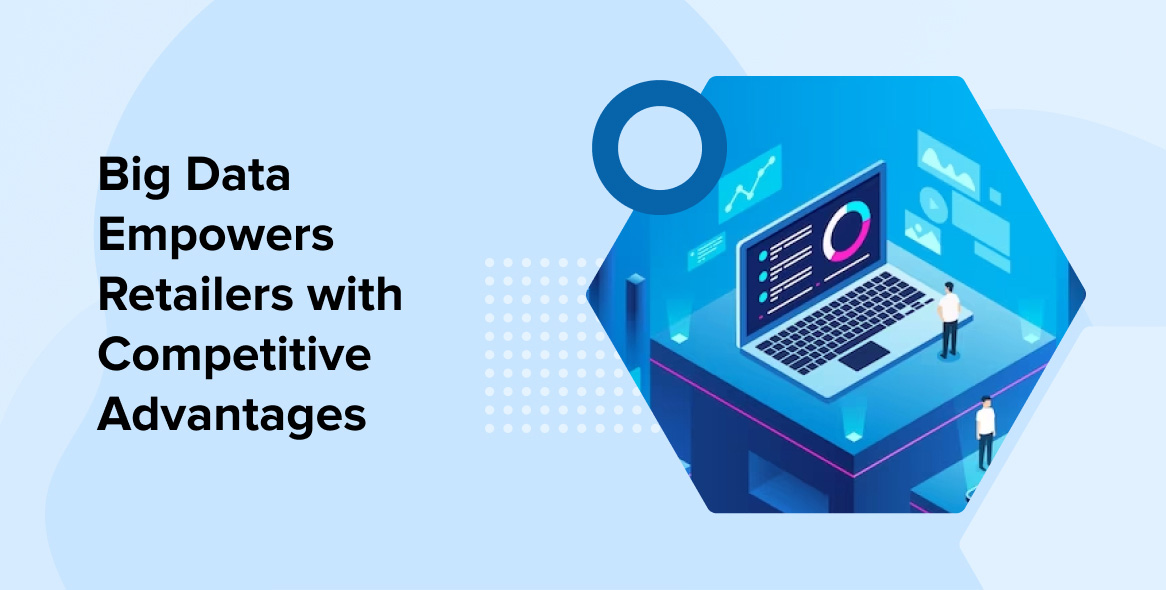 In today's highly competitive world, data access and usage in every business have become crucial to understand customers and take business decisions wisely. Customers are demanding a seamless experience across all the channels they shop, starting from the basic search till completing a transaction. From organizations' point of view, it is critical to connect every dots to gain customer insights, like product in demand, shopping preferences, shopping experience, geographic location, currency, and others. With the help of all such information, an important concept that has grabbed retailer's attention is "Big Data".
Big Data do not only mean the data of a customer or a product. It means all types of data from multiple sources. Today, the customer has easy access to find their product at the best price by comparing online. If they do not get a personalized experience, chances are there that they will not repeat purchase. Retailers with the absence of insights drag their business away from the latest market trend and product prices.
Big Data Opportunity for Retail Business
Although retailers collect data from customers, but they could not use it effectively. The Big Data trend has now changed the retail trend to customer-centric. Using the data to understand the customer behavior, enabled to implement a targeted marketing campaign. Every business wants to connect with the customers irrespective of their location, give personalized service, but doing so holds the competitive challenge. Therefore, collecting multiple chunks of data determine the customer's behavior.
A statistic report by Thorsen from Science Daily says, 90% of data has been collected in last two years. Data from social media, mobile and local have been generated in an unstructured form which cannot be managed by business solutions and data warehouse.
This gives birth to the need of Big Data Analytics solutions through which the businesses can leverage the available data and drive marketing campaign, revenue and run their business effectively. This also gives an opportunity to understand how the customer is connected with the business.
Leveraging Big Data for Retail
Historical data give general info of customers, but not enough detail. Business demands granular data to understand an individual behavior. To make technology easier for the customers so that they gain seamless experience, retailers tend to leverage this new trend to shift their cultural habit and gain insight of this technology more as described underneath:
Fuzzy Logic:

This concept denotes identifying the relation between different data elements. For e.g., a customer is sure about his product requirement, but hasn't exposed to several options before, on the other hand, retailers don't have same product what customer wanted, but have something similar to their choice. Here's when Fuzzy Logic comes where the retailers provide something similar to customer search to gain their trust. This logic implies, when both the parties agree with the closest option available.

Stock Prediction:

Earlier, predicting stock was a simple process due to limited data elements where the shopping was limited to few seasons or occasion. Big Data offer limitless opportunity to predict stock ahead of several variables like seasons, weather, trends and much more. Retailers can now focus on only selling the product than stock analyzing.

Improved Shopping Concept:

Knowing what majority of customers want or why they are abandoning the shopping cart is much needed insight by retailers. Big Data Analysis is an intelligent way to understand customer's shopping behavior and redefine the shopping process. By leveraging this technology, a retailer gets access to customer's interest, geographic location close to their stock location and suggest a better deal to the customer. If a customer bought the product then this is a win for retailers.

Customer Rewards:

Big Data allows retailers to keep a track of their returning customers who are a valuable resource for their business. To please the customers and keep them intact with the brand, the company offers loyalty rewards to each loyal customers. Analytics play a vital role in loyalty programs by studying customer behavior and shopping pattern. It has become an effective way to determine CRM strategies.

Fraud Detection and Prevention:

When a business moves online, fraud detection becomes a major concern. As transactions go online, sophisticated fraudulent activities started. Analytics gathered all unstructured data and analyze to identify mismatched pattern at an early stage.
Big Data May Fail When…
Lack of Business Objectives:

Big Data is a trend now, but despite its worldwide acceptance, it fails for some businesses. Especially, when a company invests in Analytics tool but do not have any clear vision on how they can utilize the data, there are chances of failure. Without identifying the problem and how Big Data can be helpful, the solution will remain undefined. So, it is advisable to prioritize the business objectives and identify a complex problem that needs to be solved.

Lack of Skills:

Big Data fail if the right set of minds is not involved in questioning the data. Finding the right talent to understand a big data concept is a big challenge, therefore, retailers have to try hard to find the right people for their analysis.

Lack of Domain Expertise:

Big data can be utilized if its core domain is understood. Even after hiring experienced data experts, lack of their domain knowledge leads to failure. Therefore, it's always good to hire the domain expertise data scientist.
How Big Data Benefits Retail Business?
Retailers have now become more data driven, therefore, they should now aggregate it to improve their performance and meets customers demand. Big Data expands opportunities to target potential customers effectively and enabled to identify the most valuable and potential customers. This data repository fuels predictive analysis to widen the scope of improvement. Big Data is moving to all industries, and to identify the right information for business success, an analytics solution can help to gain customer insights and operate efficiently. Partnering with a right custom software development company, like TatvaSoft, with expertise in Big Data & Analytics Solutions, is absolutely critical to converting ideas into working solutions.
Subscribe to our Newsletter
Signup for our newsletter and join 2700+ global business executives and technology experts to receive handpicked industry insights and latest news
Build your Team
Want to Hire Skilled Developers?