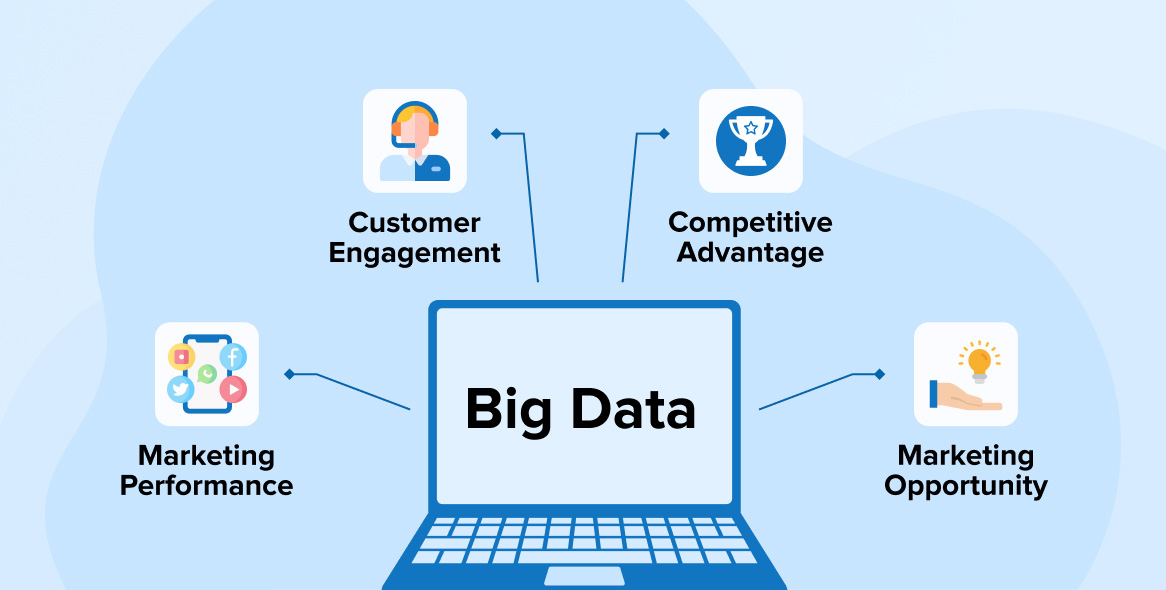 Big Data is driving the world and forcing the organizations to have a strategic approach to analyzing the data for taking better-informed decisions. Big Data means bigger opportunity and bigger challenges. It is mainly characterized by its volume, variety, variability, and complexity of the information. However, the volume is not the focus area as what important is its utilization to answer customer queries by being more data savvy.
In today's digital age, Big Data is a buzz in every organization where the marketers are making considerable use of it to improve customer experience, boost customer interaction, increase revenue, reduce costs, and engage with customers in many different ways.
Below mentioned are few points of how the marketing ecosystem is evolving:
Big Data Statistics and Future Predictions
2.5 quintillion bytes of data are produced every day
Walmart handles more than 1 million of client's transaction every hour
More than 5 billion people use mobile phones globally
An investment of $200 million is to be made by The Obama Administration in Big Data research projects
According to Oracle's predictions:
Technologies like Artificial Intelligence will be applied to the data challenges
Companies to classify the file systems into various categories expecting academics, politics, and columnist
Companies to move to hybrid cloud deployment to save cost and drive regulatory compliance
Big Data Benefits to Marketers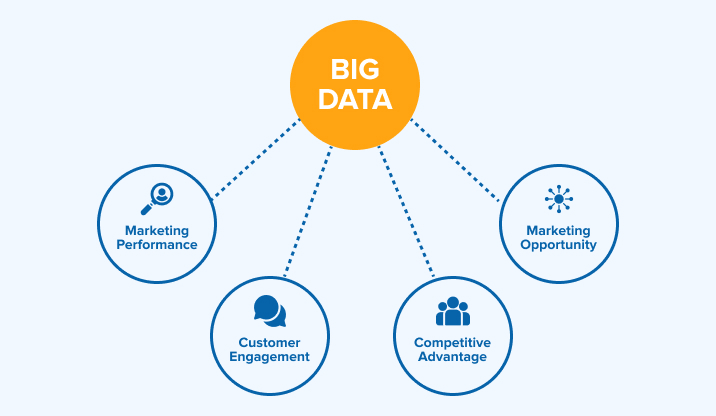 Targeted Marketing Opportunities
Big Data can be analyzed to check for the new services launched in the market or its benefits, and what are other opportunities that are still existent in the market. Sales people can adopt this technique to find valuable prospect and expand existing opportunity.
Optimizing Customer Engagement
Customer demands more data before engaging with a brand. Big Data can be used to deliver more precise information about the customers by having an interaction with them to gain information like who they are, what are their likes or dislikes, the exact time, and place to contact them, etc. This will allow brands to know and then address their customers request quickly and have a better control on them.
Gain Competitive Advantage
Big Data can be used to know more about the established competitors and the new entrants in the industry and allow each one to innovate, capture and create value and outperform the competitors.
Marketing Performance
With the help of Big Data, companies will be able to measure the spending and remain more focused towards the target. Companies can create marketing campaigns which would keep their audience more engaged.
Big Data Challenges
Infrastructure
Because Big Data include both structured and unstructured data collected from different sources, one must be able to understand and sort out the useful data which needs to be analyzed and stored. That would also require a huge bunch of technical knowledge and disk space.
Security and Privacy
Privacy of the individual data and how to protect data is an increasingly important issue in the digital world. Companies face difficulties in identifying the right data.
Lack of Skills
Skilled Big Data analytics workers are becoming hard to find. Some are relatively new and some at very top positions in few organizations. It becomes difficult for companies to identify the right people who can utilize and use the data by working with the latest technology trends.
Using Big Data for Marketing
Big Data for Deeper Insights
Big Data offer a greater opportunity to search for data deeper till one gets better insights. Once insights are received it can be analyzed and explored further each time. Thus, this level of insights will help in the growth and result in better outcomes.
Appointment of Data Scientist
It becomes necessary to appoint a data scientist who has a sound knowledge and is capable of taking decisions with the help of the data. They should be technically wise and able to analyze the data which comes from different sources and look for the data that will be best suited for the organization.
Educate about the Importance of Big Data
It is very important on the part of the data scientist to educate the members of the organization about the Big Data, especially the marketing team. The goal should be to make people understand how to make use of it for taking better decisions.
Conclusion
Data can become a secret weapon in this highly competitive world. With the growth of Big Data and Analytics solutions, data becomes readily available to the marketers about their customers' needs which help them to offer meaningful and valuable solutions.
Subscribe to our Newsletter
Signup for our newsletter and join 2700+ global business executives and technology experts to receive handpicked industry insights and latest news
Build your Team
Want to Hire Skilled Developers?