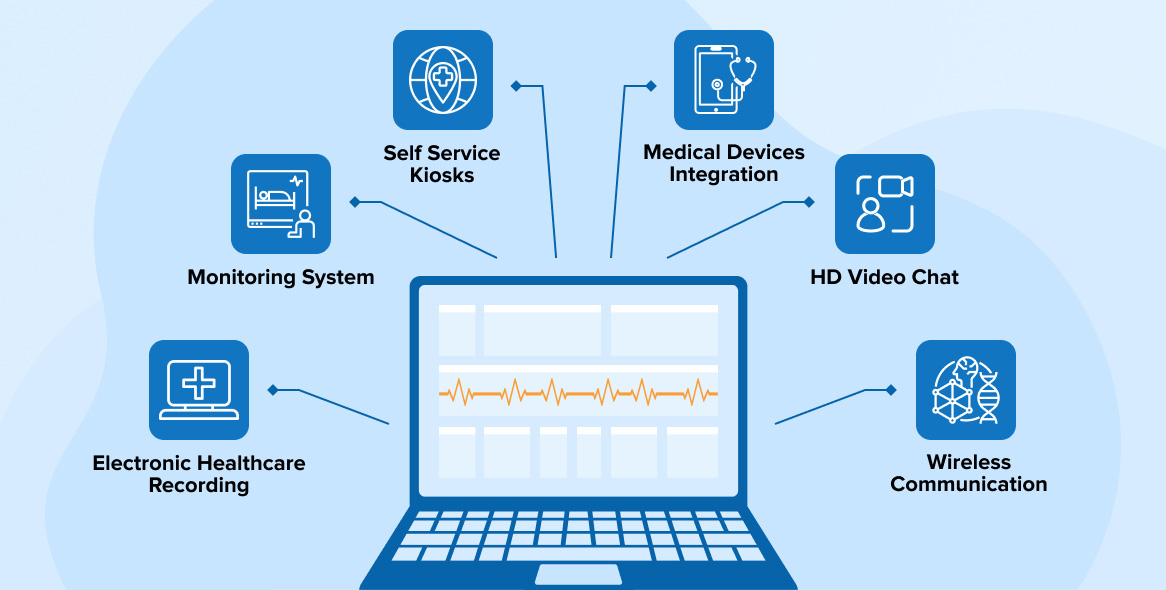 Healthcare software development has achieved remarkable success by spanning its implementation across various geographies and domains. Applying cutting-edge technology solutions by developing automated and interoperable healthcare software development systems will improve the overall performance of medical systems, lower costs, improve efficiency and enhance the patient's treatment process. This integration of IT in Healthcare is also widely known by vivid names such as Health IT, Telehealth or Telemedicine. All these terms mean the same and have significant contributions to the HealthCare industry.
1. Telehealth – Technology Meets Healthcare Services
The majority of telehealth platforms are secure advanced systems. They are integrated with medical equipment residing on servers or cloud-based solutions. This can also include the integration of mobile apps that enables doctors and other medical professionals to treat patients via smartphones and ultimately improving the health care delivery. In such uncertain times, this medical help system has been extremely important for patients to consult doctors. They can even get treatment for their day-to-day concerns. The Telehealth system is like a blessing in disguise with the array of technology solutions to make the process better and improvised.
To define a Telehealth system, it would be an array of health information technology that involves using integrated screens, wearable devices, apps, and systems that would refine the healthcare management system. This involves the design, development, creation, use, and maintenance of systems of the healthcare industry. For this may allow the physicians and Doctors to reach maximum patients by providing care and treatment through telemedicine platforms with a stored medical record and prescription if any.
2. The Need for Telehealth Services in the Healthcare Industry
The basic aim of modernizing the healthcare system with telehealth services or telemedicine systems was to integrate telecommunication technologies in Healthcare treatment and consultation. Considering the shortage of medical care In the medical software development industry, businesses often misinterpret thatservices in rural areas and to reduce the cost of traveling, they discovered this method of engagement with their patients. The sole intent to develop this application was to facilitate client's telecom-based assistance and offer consistent Patient-centered support in healthcare with a variety of solutions such as
Video conferencing
The internet
Store-and-forward imaging
Streaming media
Terrestrial and wireless communications
In the medical software development industry, businesses often misinterpret that Telemedicine and Telehealth is the same, but there is a slight difference. Telehealth is a much wider concept when compared to telemedicine. Telemedicine is health communication between patients and clinicians by using video conferences or lab report exchanges and helping remote practitioners to consult patients with their treatment and medication. Telehealth services include clinical as well as non-clinical services such as training the healthcare professionals, setting up meetings for health-related education, or sharing knowledge on specific medical terms and aspects plus remote consultation is definite.
The term telehealth has smoothly made an effort to merge with the tele medicine sector. For businesses who do not have knowledge about professional health related education will term both these terminologies as same. But that's not the case. Telemedicine is trying its best to provide virtual medication and services and concurrently working on healthcare research and providing continuing medical education to everyone who needs it. Overall, Telehealth is responsible for taking care of all types of medication facilities from primary care providers, or health related services in person visit or and other access to medical information or health information services.While telemedicine works specifically for just clinical services.
This telecommunications technology has been a boon in medical history. It has been continuously striving to improve medical facilities by providing all types of telehealth and telemedicine services.
3. Digital Advancement in Healthcare Sector
There has always been a need for a robust and secure custom healthcare software app that is capable of enforcing the medical facilities across the world are getting advanced. This type of system will increase the support in providing world-wide services affordably and efficiently. If we talk about technology innovation then numerous products have optimized and streamlined the operations of the HealthCare system. In recent times we have seen some of the biggest tech advancements in the healthcare services sector such as
EHR- Electronic HealthCare Record – This is a type of medical database record system that keeps track, saves the record for future analysis. Most of the offices in the USA are using this EHR system and this advancement has benefitted them by creating great strides of data centralization that would save cost and time and augment overall custom healthcare software development companies.
mHealth- Mobile Health – Imbibing technology in healthcare systems is what the Technology aimed for. They have been successfully connecting multiple devices through wires and cords. This healthcare software development services has allowed wireless connectivity with an opportunity to manage everything through a mobile app.
Portal Technology – This advancement in custom healthcare software development is similar to EHR where there is two-way communication in data storage. Both the patient and the Physician or Doctor can add details in this portal and can interact with each other online.
Self Service Kiosks – These are automated portals just like bots that enable the business to register users without any manual intervention. This method in custom healthcare software development ensures the data is 100% integral as the patient has entered it on their own. Nevertheless, this would not prevent the humans from communicating but will advance this to another level.
Remote Patient Monitoring System – The developed systems reduce the cost of going to physicians and consultants with a radical decrease in fees. Because the system enables users to monitor their health using remote monitoring systems. Advancements in healthcare software development services work with more efficiency even in virtual platforms.
Sensor and Wearable Technology – Fitness bands are the best example of wearable smart technology. This is designed to monitor sleep, physical activities, heart rates, and other major aspects of the human body. The development sector is exponentially increasing by enabling certain integrated features in this type of healthcare software.
Wireless Communication – The latest modern messaging systems and platforms are immensely advanced. This type of communication has enabled businesses to send and receive secure messages, and send reports as well as using smartphones or web apps or third-party clinical systems. By enabling these messaging systems in the existing ecosystem, businesses can boost the overall communication process. This will keep the information transparent and secure with all necessary options of sending and receiving.
4. The Core Functions of the Telemedicine System
With the introduction to telehealth care systems, businesses have already started taking leverage of various features and their potential. Aligning the business offers the best possible solution that will help businesses to devise a new path. This will streamline and offer the best mobile consultation services and enhance treatment facilities. As discussed, some of the key developments in the field of telemedicine were listed above. We will now address some of the critical considerations that are now part of the telemedicine method.
Collaborative Apps – The objective of telemedicine facilities was to bring users out of a certain realm and offer them mobility. With mobile apps and their intriguing features, businesses can easily get care and consultation and interact with health care providers.
Medical Devices Integration & EHR – Providers enabling telemedicine systems by integrating software can improve their ways of documentation and record-keeping. They can also add multimedia files to the EHR database system without any additional friction.
HIPAA Compliant Video Conferencing Solution – For a healthcare software development company, HIPAA is a compliance activity. It does not allow businesses to tamper or use shared electronic data stored in EHR. Telemedicine systems also inline themselves on the same grounds as HIPAA. So even if video consultations are performed, securing patient's information is also an integral part of this process. Not all devices offer this facility hence purposely such apps are built for security reasons.
Eligibility Verification – The healthcare providers ensure that for every comprehensive video consultation, reimbursement is conducted. This is possible by adding rules to the software. It will calculate the amount and offer the services as per the calculated amount.
Electronic Charting – This is another contributing factor in the telemedicine system where businesses can keep manage and track notes, vital information, e-prescriptions, lab reports, health assessment forms, and charting of other electronic essential details.
5. Key Aspects of Telehealth Software
A custom healthcare telehealth system is a customized software offering consultation and medication facilities for patients located at non-accessible locations. These platforms are committed to providing time and resources on a regular basis. So, businesses can simultaneously eliminate the pain of travel costs, childcare concerns, and costs. These are some of the features that you will find as custom Healthcare software services in your telemedicine systems.
Online-Appointment Scheduling – Allows online schedule appointments for video consultation for a specific date and time without any manual efforts. This mobile facility helps customers to easily schedule appointments and send reminders to doctors and health care providers using the app features.
Patient & Doctor Dashboard – Start with assigning all the details in a format that is easily comprehensible for both the doctor as well as the Patients. This will simplify all the information in a graphical format which saves time in understanding the document.
Appointment Reminders – Enables a reminder facility once an appointment is fixed. As time gets closer, this app is designed to send notifications on the scheduled appointment and time.
HD Quality Video Chat – This is created using high-end programming which enables the business to chat with the doctor or clinicians via video chats. These are end-to-end encrypted and of high-resolution to make doctors understand the problem clearly.
Video Session Recording – Facilitates users with end-to-end encrypted video sessions that will secure their information as per HIPAA standards. With this, the users can also record their sessions for future references.
Multi-user Chat – In such healthcare software development services, we can have more than one user and Physicians involved. They can chat with each other on chats and video sessions.
Reporting & Analytics – You can create a dashboard as per users or disease or any other filters. This will optimize the overall reporting by making it simpler for users to perform analysis.
Prescription and Medication Tracker – The EHR system tracks all the given prescriptions of all the patients and provides easy accessibility from mobile locations which save the time of fetching information. Digitization has made everything at ease.
Multiple Payment Mode – After the online consultation, it's time for online payment. This telemedicine facility offers all types of payment models from digital wallets, credit debit and other payment facilities.
6. Telehealth Software Development Process and Cost Factor
Telehealth software development is an aid for all healthcare and hospital professionals to enhance their communication network and provide cost-effective solutions. It is a virtual platform that connects thousands of users using multiple features like intuitive designs, calling, appointments, dashboard facility, payment options, and many other influential ones. Most custom software professionals and leaders are under the incorrect assumption of believing the app to be costly. This is because telemedicine apps are developed using extensive and collaborative features.
Cost Factor of Telehealth Apps
The cost factor in telehealth systems is dependent on several factors that decide the price of the application. The influencing factors such as technology, complexity, nature of the application, domain and the market, and other important factors. The client demands more features which demand higher time investment. So, the custom healthcare software development expects associated growing costs associated with custom healthcare software development. The expertise of the developer or the development company is also one of the influential factors which might entail a longer time than expected.
Spending all the profits on a single application may not seem a wise choice and hence businesses are discovering ways to minimize the expense and boost productivity. Businesses can save on the whole by promoting in-house collaboration, automating tasks that will save most of their time and unnecessary man-hours. They can also cut down some of the non-essential features because the more they add features, the expense would amplify. Holistically speaking, telemedicine apps are a new edition of technology to the healthcare sector and initially, it would cost high. So if businesses are looking to develop a telehealth app, make a space for the budget before developing.
7. Benefits and Possibilities of Telehealth Apps in Healthcare Software Development
The emergence of software development in the healthcare sector has not started today. It prevailed for over a decade but the development was restricted in some areas and on a limited basis. The outbreak of the deadly virus that hasn't allowed people to go out and take medication even for other normal diseases has promoted the use of leading-edge apps. In the wake of these uncertain times, when it is imperative to take medicines but on the other hand, people shouldn't ideally go out. Telehealth apps are like a saving grace for healthcare companies who have already developed these apps and can easily treat patients virtually. So what are the benefits and best possible results that other custom healthcare software development that other companies are missing, let's discuss each of them one by one?
Improves Overall Business Model – Going digital in the healthcare sector is the new paradigm shift that businesses face in their existing business model. This change has brought several benefits with newer features that would streamline the way they currently process. To improvise this sector, the enhanced business model offers high-quality video services, EHR for keeping records of healthcare patients, a dashboard to overview the overall scenario and make decisions faster.
Remote Patient Monitoring – The increasing chronic conditions of humans need timely treatment and hence this has enhanced business with ways of functioning. To provide the right treatment, it is important to monitor patients' health history and vital signs, analyze their current situation, and provide appropriate ECG or blood pressure measurements. Remote monitoring is a fruitful benefit of the Telehealth system which helps to provide proactive treatment in a cost-efficient manner.
Higher Patient Engagement – With no geographic limitations, the telehealth system travels across the globe providing improved treatment and engaging higher volumes of people. The custom healthcare software development has increased the reach of medical care providers and outside rural and normal care delivery.
Reduces Overhead Cost – The patients are investing a lot of time and money in hunting for the right treatment. When you use a telehealth appointment application on your phone, the doctor is virtually visiting the patient via this app. Imagine how the expenses will accumulate for flights, parking, childcare, and taking time off work. It can be frustrating to fly to a remote doctor's hospital with the extra effort it takes, but it is the costs that will add up.
Enhances Healthcare Quality – The integration of technology in medical software development companies provides patients with improved deliveries and treatment for acute health problems. The patient no longer has to remember previous prescriptions because it gets stored and when the next time the patient visits, his/her data is fetched and details are displayed without much hassle. This has enhanced the overall process of healthcare treatment.
Faster Treatment of Time – Telehealth is an autonomous software designed to enhance the turnaround time of doctors to patients. The sole purpose of designing this software is to increase the clinical efficiency workflow with a conduit of faster decision making by prioritizing the patient care services and offering a seamless communication facility to boost the time it usually takes.
Expanded Patient Reach – As Healthcare professionals are not available in all the corners of the globe, there can be some rural areas, so telehealth services has helped to expand the reach of patients by providing cutting-edge remote consulting and treatment facilities. Multiple features of the application allow doctors and other healthcare professionals to outland some areas where physical visits are not possible even on normal days.
8. Sum up
From this entire discussion, one thing is extremely clear that Telehealth has fueled up the efficiency and reach of specialized healthcare professionals. By developing a multi-feature app, businesses have shaped a new strategy to help patients get rid of their pain and disease by enabling them with faster and qualitative consultation and treatment services. The best part that the pandemic has made us realize is that efficient use of technology in any sector will show fruitful business results. So why not revolutionize your company with healthcare software development and apps.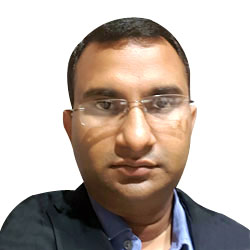 Kamal Sharma
Kamal Sharma is a VP of TatvaSoft which is a custom software development company. He is an accomplished Business Strategist and Tech Visionary with wide-ranging experience in the technology sector. He leads the business operations of the company and creates vision & strategic goals for his colleagues.
Related Service
Healthcare Software Solutions
Know more about our Healthcare Software Solutions
Learn More
Subscribe to our Newsletter
Signup for our newsletter and join 2700+ global business executives and technology experts to receive handpicked industry insights and latest news
Build your Team
Want to Hire Skilled Developers?