Technology is making its way in the mainstream space, there are no two ways about it! The term seems to have boomed beyond belief among several industries and workspace and healthcare are no exception. In fact, it may quite interest you to know that the industry seems to be facing an unseen pressure from everywhere (regulatory authorities as well as their esteemed patients) to make way for digital systems as healthcare software.
According to stats, the Healthcare enterprise software market alone is projected to reach USD 8.2 billion by 2023, more than doubling its value in six years.
Table of Content
1. Introducing Healthcare Software – A Deep Diagnosis
As the name implies, Healthcare software is nothing more than software being developed for the healthcare industry. Do you know what is the most crucial part of the entire segment? Conducting procedures? Nope! Diagnosing patients? Nope! It's the communication. Misfortunes in the industry are often because of miscommunication. This Healthcare software is created to improve the patient's experience by streamlining communication among hospitals, patients, pharmacies and other healthcare suppliers, digitizing patient records storage, appointment scheduling, prescriptions, drug ordering and delivery, and improving medical practices , hospital management processes including logistics and CRM.
Now let us figure out how healthcare technology acquisitions are on the rise! Finding a custom healthcare software development company that is not deep into the healthcare game is hardly acceptable. With the emergence of artificial intelligence VR/AR, 3D-printing, robotics or nanotechnology, the future of healthcare lies in working hand-in-hand with technology and healthcare workers.
Do you think robots will take over the jobs of nurses and healthcare professionals, doctors, and nurses? Or artificial intelligence technology will control the world within a couple of years? In fact, We have heard many of us facing nightmares about virtual reality-addicted kids and adults running around in their non-existent dream world. Have you faced such a situation, I am sure you have! However, these are all half-truths, fake news and imaginary dystopias. Fret not! I am not here to scare you! The following post emphasizes some of the best types of healthcare software that could result in amazing achievements. Also, for better or worse, technology and humans will go hand-in-hand. After all, this is the only way forward.
No Place for Techno-phobia in Healthcare
Whether it's a medical solution or healthcare software, with the deployment of the latest technologies such as mixed reality, machine vision and deep learning, health professionals are able to do a lot of things that were next to impossible before. For instance, by using relevant software and tools, they can enrich their diagnoses with data-driven decisions. Moreover, medical professionals can analyze a large number of medical images faster and more accurately. In short, doctors can prepare themselves before conducting the surgery and minimize the unwanted risks. All thanks to the ever-emerging medical solutions.
2. Role of Software & Technology in Healthcare Management Realm
2.1 Medical Diagnosis Software
Emerging medical software solutions are offering a large spectrum of previously unimaginable outcomes. Medical professionals gather data in order to establish data-driven decisions, also assisting them to interpret large amounts of data. This medical software allows them to make their decisions faster and more precisely. New and fast-processing data and enriched decision-making processes lead to the success of medical diagnose software.
Transparency and making knowledge accessible online is not something new in the healthcare industry. Diagnosaurus – healthcare mobile app which evolved during the last decade. The former simple diagnosis list now enables doctors to explore within a tap on their phone more than 1 000 differential diagnoses by organ, symptom or disease. It stands out because its feature "See Related DDx" helps doctors to consider alternative diagnoses.
2.2 Competitor Analysis
Referral data often used by physician liaisons to look up which competitors receive the most referrals in certain geography based on specialty, city/state, procedures offered and more to learn which organizations could make the best partners based on referral volume. Another option is to look up your own doctors to see if they are steering patients to competitors.
2.3 Artificial Intelligence and Virtual Reality
We personally believe that artificial intelligence has a high potential to redesign the health industry completely. AI algorithms are able to mine medical records, design treatment plans or creates drugs way faster than any current actor on the health palette including any medical professional. Recently, Google's DeepMind created an AI for breast cancer analysis. The algorithm outperformed all human radiologists on pre-selected data sets to identify breast cancer, on average by 11.5%!
These aren't two companies using AI to advance healthcare from designing new drugs to disrupting medical imaging to mining medical records.
Also, virtual reality (VR) has been changing the lives of patients and physicians alike. The future scenario would seem like watching operations as if you wielded the scalpel or you could travel to Iceland or home while you are lying on a hospital bed. These days VR is being used to train future surgeons and for actual health surgeons to practice operations. Osso VR and ImmersiveTouch are a few names that have given some promising results. Health technology has been benefiting patients and has been proven to be effective in pain management.
2.4 Augmented Reality
Augmented Reality and virtual reality are two different sides of the same coin. The software comprises some distinctive features enabling it to become the driving force In the future of medicine, both on the health providers and receivers side. This helps several medical students prepare better for real-life operations, as well as enables surgeons to enhance their capabilities.
Using this method, medical students have access to detailed and accurate, albeit virtual, depictions of the human anatomy to study the subject without the need for real bodies. Another promising name to keep in mind in the health industry is Magic leap, this one is a slightly different, mixed reality headset to health. Magic Leap has partnered with SyncThink for brain health, with XRHealth for developing a therapeutic platform and with German healthcare technology company Brainlab to bring its spatial computing technology to the health industry.
However, no commercial products are yet available from these partnerships but we're bound to see them populate the healthcare market in the near future.
2.5 Revolutionized Drug Development
At present, the process of developing new drugs can be pretty expensive. Fortunately, we have several ways through which we can improve drug development – all thanks to emerging software and technology. AI, ML, will be soon dominating the pharmaceutical landscape in the upcoming years.
Benefits of Implementing Disruptive Technology in the Medical Industry
High-end Care for the Patient – All medical care will be neatly recorded and kept in safely.
Advanced Diagnosis – Healthcare software development and technology has the power to revamp the entire industry by offering efficient management and advanced diagnosis.
Secured Data – The technology enables the health and medical sector to generate huge amounts of data on daily basis. Just as HIPAA compliant is the new name for maximum data security.
Multiplatform and Integrated System – Right from the medicine development process to procedures of disease diagnosis, securing sensitive data in the cloud. So the healthcare software technology serves it all.
3. Crucial Information on the Finest Types of Health-related Software for Your Patient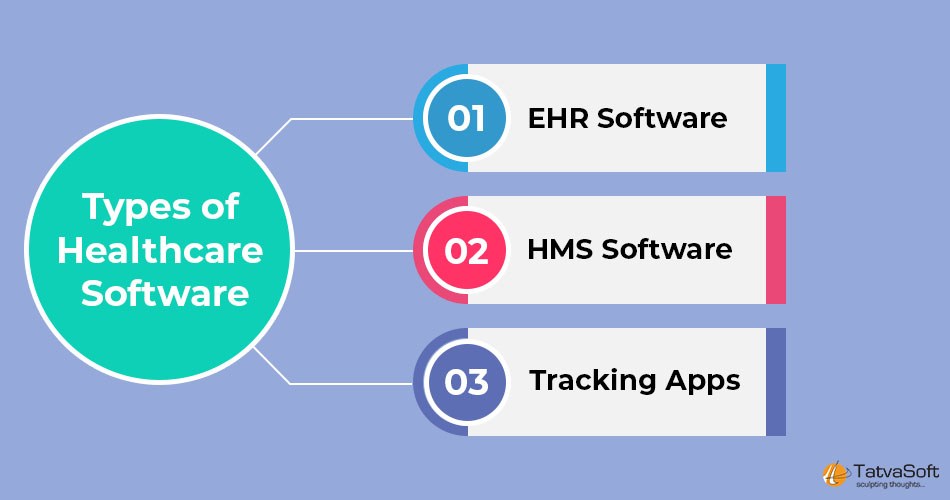 Whether you choose a health software, it is very important for you to know that there are several perks such as advancing health management to limiting medication errors in hospitals you are bound to receive. Basically, the applications used in the health industry are mainly designed to improve health administration and at the same time, deliver a higher quality of patient care. All this is done keeping the medical history of patient in mind.
Let's get acquainted with them. But let me tell you that the software mentioned here isn't just beneficial for patients but as well as management , commonly known as Practice management Software.
3.1 Electronic Health Record (EHR) Software
Electronic Health Records software is one of the leading and most prominent software acknowledged in the medical space. It's quite to similar CRM just adjusted in relevance to the medical industry. What the Healthcare software exactly does is? It collects patient data – for instance, what kind of medications they take or did their medical professional gave any recommendations, and procedures they have undergone previously. Electronic Health Record Software – EHR's purpose is to ease the hospitals and medical practices of manual handling, maintenance and to keep an accurate track of patient records.
There are mainly two types healthcare software of EHR Software available:
Electronic patient record software
Electronic medical records software
3.2 Hospital Management System (HMS)
The medical software more or less acts like a fully integrated system capable of managing the entire hospital including patients as well as the management. They are capable of managing appointments and electronic health records for both inpatient and outpatient departments. Moreover, with the help of the software, it is possible to manage doctors' schedules, surgeries, other procedures, and all the aspects related to them.
In addition, Hospital management software is also capable of handling the labs and pharmacies. You name it and there is it from rooms to marking rooms as occupied, unoccupied, undergoing maintenance, etc, that is making it easy to allocate rooms and beds for patients.
Medical systems are often linked to the websites of the hospitals and patients can use them to book their appointments, get access to their health records and treatment plans, and manage their prescriptions. These days they also come with medical apps for patients which aids the patients in these same tasks much more easily through their smartphones. Alerts are provided through SMS services for follow-up procedures, vaccinations, etc in some medical management systems.
3.3 Tracking Apps
It might quite sound interesting that the global mHealth app industry has been valued at $37 billion. From fitness to diet, meditation and stress reduction, the health-tracking apps are pretty much in demand.
This type of software can support the patient towards recovery, or alert medical staff on the worsening condition of a patient as soon as the first symptoms appear.
4. Conclusion
At present we are living in an era where technology has enabled us to transcend barriers and minimize medical errors that were otherwise fantasies a few decades ago. You'll agree that without technologies like AI, such a level of innovativeness and sophistication would have remained a pipe dream.