Changes in rules and policies, improvements in administrative procedures, and more technical knowledge and data utilization, the doctors' work is becoming increasingly challenging. That's why EHRs are so crucial; they allow clinicians to devote their whole attention to their patient satisfaction. They now have instant exposure to patient data, assurance of security, and simplified routine tasks. As expected, a significant investment of time and energy is required to master and implement even the most impressive technological advancements. Nevertheless you can obviously take help from a healthcare software development company to develop and implement EHR in a smoother way.
However, what is an EHR? And what do the EHRs do? We explain it all here.
1. What Is an Electronic Health Record?
The Electronic Health Record (EHR) is a computerized copy of a patient's medical history that is maintained by the doctor throughout time. It may contain the patient's statistical profile, challenges, prescription drugs, pulse rate, previous health history, immunizations, laboratory tests, and radiology test results, among other things. Electronic health records (EHR) automate data access and may help healthcare providers in saving time. Through its many interfaces, the EHR may also facilitate tasks such as quality monitoring, data analysis, and evidence-based predictive modeling, which makes it a more detailed technology than an electronic medical record (EMR).
Electronic health records (EHRs) are the next stage in the evolution of healthcare, with the potential to improve communication between doctors and their patients. Improved decision-making and care delivery will result from timely access to accurate data.
A few ways in which the EHR can enhance medical treatment for patients are:
Improving the quality of medical paper records in order to reduce the occurrence of medical errors.
Providing access to personal health records, minimizing unnecessary examinations, speeding up the treatment process, and empowering patients to make educated decisions are all benefits of this approach.
Improving the quality and readability of medical records to reduce medical mistakes.
2. The Benefits of EHRs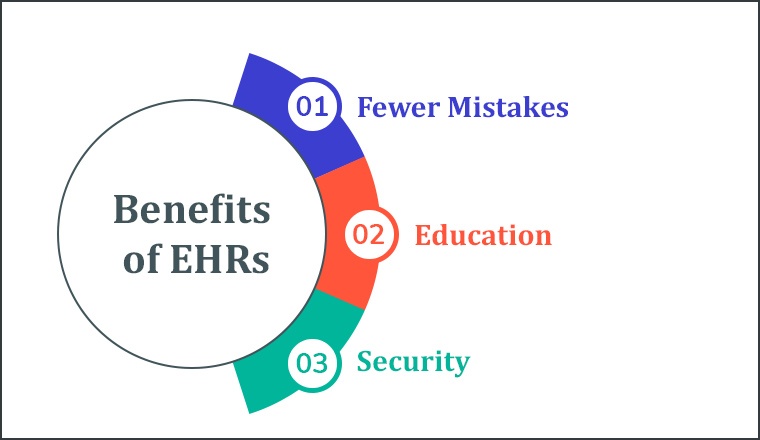 EHRs can optimize the therapy since they provide better communication and coordination between doctors and patients. Some examples of their usefulness are as follows:
2.1 Fewer mistakes
Doctors and nurses may use abbreviations to shorten the time it takes to write comments. Therefore, there is a possibility that a reader of the chart will not comprehend the abbreviation and will need to search for the meaning. Clinical staff may improve their thoroughness and efficiency with the aid of electronic health record software, which guides them via a succession of questions and selection menus.
2.2 Education
Your active participation in your personal health care is enhanced by your access to medical records. Test reports, glucose levels (for those with diabetes), directions from the medical staff, and the possibility of human mistakes are all accessible.
2.3 Security
Paper documents can be easily misplaced or destroyed if not properly stored. Electronic data are less likely to go missing, and even if they do, you can prevent unauthorized access by password-protection.
Further Reading On:

EMR vs EHR : What are the Differences and Benefits?
3. What Do EHRs Do?
Electronic health records are dynamic files that can follow a patient's care wherever they go and more than one person can view them at once, unlike the cumbersome hard copies from the past. It is a reflection of the patient's overall health and aids doctors in achieving optimal results. As a result of its useful consequences, electronic health records have become an integral part of modern health care.
3.1 Provide Access to Healthcare Information
To begin, the electronic health record (EHR) makes the patient's whole medical history easily accessible to their treating doctors and other clinicians, as well as the patient themselves. As previously noted, this comprises the patient's record of complete medical history, including past and present conditions, significant demographic information that may impact the treatment plan, and all clinical reports. Additionally, doctors may utilize aspects of this record to deliver outcome-based treatment and make the most informed judgments for their patients.
Medical providers now visit more patients than ever before, yet thorough documentation in any health care system is still essential for providing excellent treatment. In order to maintain high-quality treatment, clinicians can save time and effort by using electronic health records. Electronic records are constructed with a digital interface, which allows for easy sharing between different medical institutions to ensure that all treating clinicians have access to the same comprehensive patient records.
3.2 Keep All Patient Information in One Place
Second, the EHR eliminates the possibility of a vital piece of data omitting from a patient's documentation. Rather, this data is kept digitally and in a centralized location (such as a server or the cloud) where it can be accessed by anybody with the proper credentials at any time. You can make decisions quickly and confidently based on the data stored in the EHR. Allergies, co-existing conditions, dates of last vaccination, and other relevant data are readily available to help providers make the best possible decisions for their patients' health. In reality, the patient's electronic health record (EHR) may go with them everywhere they go, regardless of where they receive treatment because it can be exchanged with other digital health care systems.
4. Who Uses EHRs?
When stored on a server or in the cloud, patient information in electronic health records is encrypted to ensure that only approved individuals may access it. A record's contents may be difficult to discover for the general public, but individuals with the proper permissions may access it. Primarily doctors and their patients use Electronic health records (EHRs). To avoid abuse of this information, biometric and two-factor access methods are gaining popularity.
4.1 Health Care Providers
Health data used to be originally developed to alleviate the burden of paper charts on healthcare professionals. Doctors can utilize this electronic document to look up information, including a patient's medical history, current medications, and imaging results. They are able to write new prescriptions, renew existing ones, request and examine diagnostic imaging and laboratory tests, and respond to patients' phone calls and messages.
As an added benefit, they may coordinate with the patient's other care professionals. Most doctors today use electronic health records (EHRs) for patient recording. Also, provider groups may manage sales invoices and patient transactions within the EHR, eliminating the requirement for paper bills in many cases.
4.2 Patients
Patients today can benefit immensely from having access to the EHR, despite the fact that it was likely developed with the healthcare practitioner in mind. Primarily patients use EHR to convey information to their doctors, such as inquiries about treatment options or concerns about side effects.
Patients may also be able to conveniently seek refills on medications, make payments, and examine lab results as soon as they become accessible, all inside the same system. Numerous websites offer health education information to enable patients to become more active in their personal care.
Further Reading On:

What is Patient Portal? It's Benefits and Challenges!
5. Why Adopt an Electronic Health Record?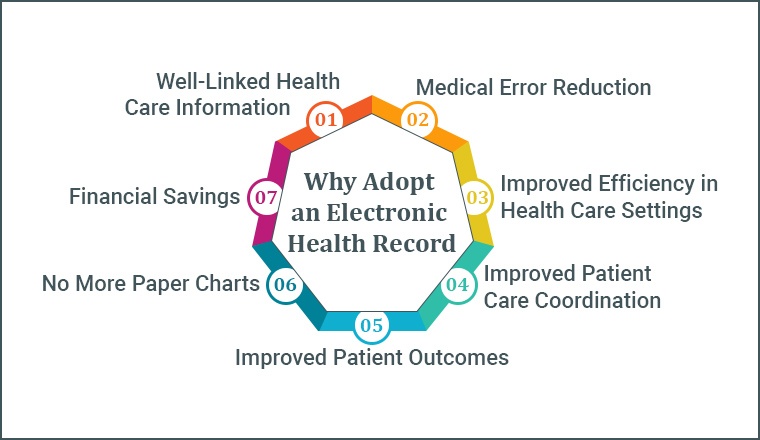 There are several ways in which patients and medical facilities can benefit from the use of electronic health records. The perks extend from the business side, where they can save money and boost customer happiness, to the medical side, where they can reduce medical mistakes and boost the quality of treatment provided to patients. Once doctors start using an EHR system, they may visit more patients in less time with best quality of treatment.
5.1 Well-Linked Health Care Information
Integrating all aspects of patient care all across the system is a key motivation for many healthcare organizations and other healthcare facilities to switch to electronic health records (EHRs). One can access data from any desktop in the workplace clinics, such as exam rooms, patient bedsides, and nurses' workstations. These connections aren't limited to the patient's primary care physicians, though. In this way, all professionals are working together to give the best treatment possible, which leads to better patient results.
5.2 Medical Error Reduction
There has been growing recognition that electronic health record (EHR) use can cut down on preventable medical mistakes. Electronic health records (EHRs) give a second way for doctors to double-check prescriptions and test results, alerting them to probable drug interactions, potentially harmful readings, and urgent medical issues. When physicians have access to an EHR, they can prevent their records from misplacing.
5.3 More Efficiency in Health Care Settings
Once physicians integrate across the healthcare system EHRs have the potential to increase physicians' effectiveness and output. The most significant factor is that the doctor may view the whole chart without waiting for a paper copy. Doctors can save time by avoiding the need to decipher illegibly written instructions, completing less paperwork, accelerating the prescription procedure, and taking advantage of the system's built-in voice detection software. Since insurance claim numbers may be created mechanically, this also helps hasten to invoice.
5.4 Enhanced Patient Care Coordination
Nowadays, it's not uncommon for people to relocate across the nation and end up using a different health organization. The EHR's main advantage is that it allows the patient's whole medical history to go wherever the patient goes. Thus, one may rest assured that no vital medical records will be lost to the sands of time.
5.5 Better Patient Outcomes
A patient's health outcomes will improve since doctors will be better equipped to manage and prevent accidents and illnesses if they have access to their complete medical history at all times. No need to fret about prescriptions interacting with one other or repeating unnecessary treatments. Moreover, you can update the graph regularly.
5.6 No More Paper Charts
Previously, preserving paper records required costly archive spaces, and substantial resources were allocated to the clerical work involved in updating and organizing the corresponding charts. The loss of this data has caused delays in treatment in some circumstances. Only one doctor at a time can view the paper chart. Because the EHR stores all records digitally, you can protect them from loss and access from anywhere. You can restore data that was previously unreadable due to incomprehensibility with the widespread use of computers and EHR systems.
5.7 Financial Savings
Adopting an electronic health record (EHR) is a cost-saving move that should be considered by almost every healthcare facility. By working more efficiently, medical professionals may tend to more patients in the same amount of time, which reduces costs. Moreover, healthcare facilities can save costs on operational expenses related to the storage and restoration of paper data. Several payments for hospitals and other healthcare organizations that use EHRs were authorized under the Health Information Technology for Economic and Clinical Health Act stimulus package in 2009. Policies mandating EHR use for Medicaid coverage were also adopted.
6. Conclusion
When patients expect instant access to their medical information without visiting personally their doctors' offices, technological alternatives are a need. Keeping a patient's medical record on paper may be time-consuming and labor-intensive for healthcare providers. This is when healthcare software development comes into play!
The capabilities of EHRs extend beyond those of EMRs. They include more data about a patient's condition and clinical history than what was initially there and input by the health institution. They can even help with administrative tasks in the healthcare industry, such as schedules and invoicing.
If you're looking for a hassle-free clinical workflow among the hospital staff and patients, reach out to us.