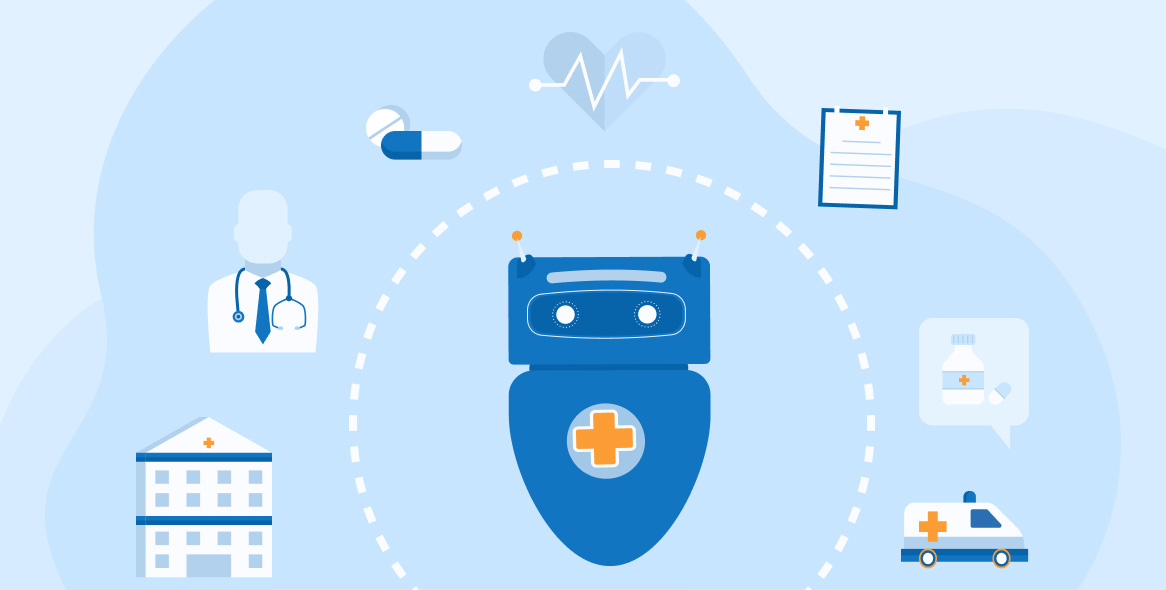 Healthcare is the most important industry as here the patients require quick access to medical facilities and medical information. For this, AI is used in the healthcare department as this technology has the capability to offer quick and easy support to the patients in a way that they get all the necessary information within no time. AI and healthcare integration have cut down on human labor to analyze, access, and offer healthcare professionals a list of possible patient diagnoses in a few seconds. AI-based chatbots in healthcare are created with the help of natural language processing (NLP) and this helps the chatbots to process the patient's inputs quickly and generate a response in real-time. By seeing this, the majority of the medical institutes contact healthcare software development companies to get an AI-powered chatbot to make their medical treatment approaches modern and advanced which can eventually help patients with quick support.
According to authoritative market data, the Healthcare Chatbots Market is worth USD 194.85 M in 2021, and is expected to approach USD 943.64 M by 2030, expanding at a CAGR of 19.16% between 2022 and 2030.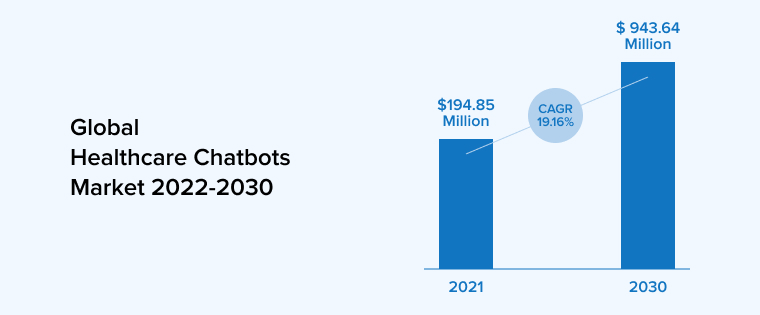 Here, in this blog, we will learn everything about chatbots in the healthcare industry and see how beneficial they are.
1. What are Chatbots in the Healthcare Industry?
With technologies getting advanced, AI-powered healthcare chatbots are now available in the market and these chatbots can handle all the simple healthcare information tasks so that experts in the medical field don't have to use their time in answering simple questions of the patients and they can effectively manage more complex jobs. The main job of healthcare chatbots is to ask simple questions, for instance, has a patient been experiencing symptoms such as cold, fever, and body ache? Is the patient having any breathing issues? and more. From this, the chatbot technology analyzes the inputs of the users and offers solutions through a text or voice message. The solutions might be like a patient needs to take a test, schedule a doctor-patient communication appointment, or take emergency care.
Basically, healthcare bots are very essential and helpful but they are still nascent. But by the year 2029, the use of chatbots in the healthcare department will increase. According to Facts and Factors market research report, the revenue for the medical chatbot market is expected to increase at the rate of 21% between the years 2020-2026.
2. Benefits of Healthcare Chatbots
Some of the major benefits of chatbots in the healthcare sector are –
Reduced waiting times: With the help of chatbots, the healthcare service providers can prevent long healthcare organization queues as the patients will get answers to their simple questions through these AI assistants.
Ease the burden on doctors: Sometimes it happens that it is not possible for a doctor to attend to all the patients because of the tight schedule. In this case medical chatbots are accessible 24*7 and can offer instant solutions to the patients.
Timely medical advice: There are chances that a doctor might not be available and a medical emergency can arise, at that time chatbots can help to connect patients with some primary information.
Massive reduction of care costs: With the help of chatbots, medical institutes can reduce business overhead costs.
Timely monitoring: A healthcare chatbot helps patients to monitor their health and suggest useful treatments. Sometimes it also gives follow-up reminders.
Anonymity: AI-powered medical chatbots are able to maintain each patient's anonymity and this is helpful for sensitive cases.
Scalability: With the help of chatbots, medical institutes can seamlessly handle numerous customers.
Real-time interaction: Chatbots have the capabilities to offer immediate responses to patients as per their input.
Patient satisfaction: Chatbots are used by medical institutes to safely provide intelligent solutions to patients.
3. Types of Chatbots in Healthcare

Some of the popular types of Chatbots in the healthcare department that medical professionals like to use for their patients are –
3.1 Prescriptive Chatbots
Prescriptive chatbots are designed to offer answers and directions to patients. It also has the capabilities to provide mental health assistance and therapeutic solutions.
3.2 Conversational Chatbots
Conversational chatbots are created for being contextual tools that provide responses as per the user's requirements. Besides, it comes with various maturity levels that offer a similar intensity of the conversation. Basically, it is a type of chatbot that comes with higher levels of intelligence that can provide some pre-designed answers. This is because the medical chatbots consider the entire conversation as one and don't read each line. In addition to this, conversational AI chatbot technology uses NLP and NLU to power the devices for understanding the human language.
3.3 Informative Chatbots
Informative chatbots enable the users to get important data in form of pop-ups and notifications. This type of chatbot is used by mental health websites and sites of medical institutes that are awaiting patients about new diseases. Informative chatbots are used to offer important inputs to the users and it is according to the audience. This means that informative chatbots help in increasing the patient experience.
4. Use Cases of Chatbots in Healthcare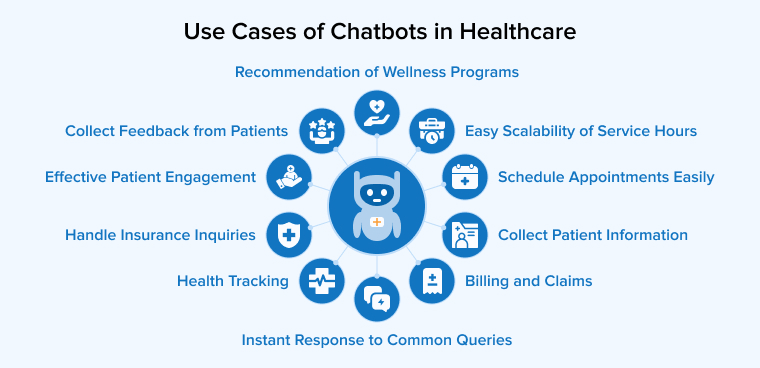 Here are some of the major use cases of medical chatbots –
4.1 Schedule Appointments Easily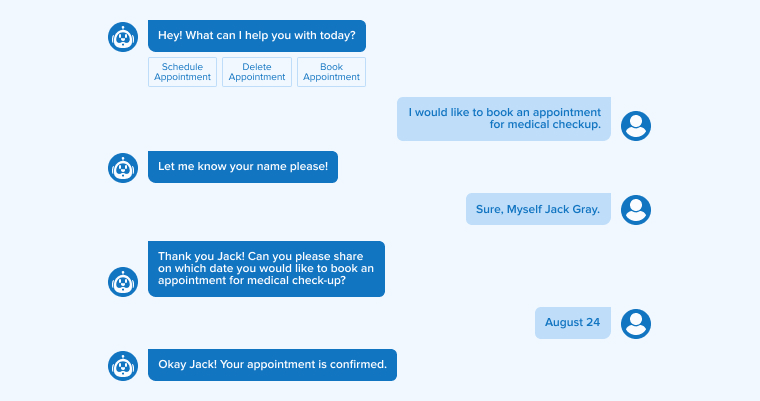 When chatbots are successfully integrated with the medical facility system, extracting medical information about available slots, physicians, clinics, and pharmacies is very easy. The patients can take the help of chatbots and get answers for the current health issues they are facing, find the best physician for their health issue, book the available time slots, schedule an appointment, and delete appointments for patients. This means that with the help of medical chatbots, users can track their health.
4.2 Instant Response to Common Queries
One of the most common things about chatbots is that they are the best at answering FAQs. Some of the most simple but useful queries that any chatbot can handle easily are –
What are the business hours of any medical institute?
How much does any particular surgery cost and does insurance claims cover it?
What type of paperwork will be required to get the entire treatment for any particular health issue done?
Basically, with the use of chatbots, patients can contact doctors easily and can get all-in-one solutions. Besides this, it also offers answers to users' general questions.
4.3 Effective Patient Engagement
There are some patients who are not able to engage in their healthcare and most likely they are the ones who have unmet medical needs. For such patients, chatbots are the most useful solutions. With the help of a chatbot, the patients are able to effectively bridge the communication gap they have with healthcare facts. They can also build their trust for healthcare solutions with the help of bots. This proves that AI-enabled chatbots offer prospective and current patients with specific and accurate data which helps in improving the patient experience and health. The top 3 chatbot solutions that most medical institutes depend on for enhancing patient outreach are –
Automate a Personalized Experience – With the help of a healthcare chatbot, the patients can get online help in real-time via text or text-to-speech recognition. Bots offer relative information to the patients with no one-on-one human interaction.
Deliver relevant solutions – Health concerns and interests vary from one patient to another. In such cases, chatbots have the capabilities to offer mechanisms to route the patients to specific solutions.
Connect Meaningfully with Patients – Chatbot enables patients to connect through SMS, email, websites, and more. Connecting flexibility makes it easy for the patients to communicate in their preferred way and time.
4.4 Collect Patient Information
One of the main reasons why healthcare institutes use chatbots is that they collect patient data. Chatbots can ask simple questions like a patient's name, contact, address, symptoms, insurance information, and current doctor. All this information is extracted from the chatbots and saved in the institute's medical record-keeping system for further use.
4.5 Recommendation of Wellness Programs
Medical chatbots are used to spread awareness of any particular wellness program or enrollment details. A well-built chatbot with NLP (natural language processing) has the capability to understand the user intent because of sentiment analysis. And as per the understanding, the chatbot offers appropriate healthcare plans to the patients.
4.6 Collect Feedback from Patients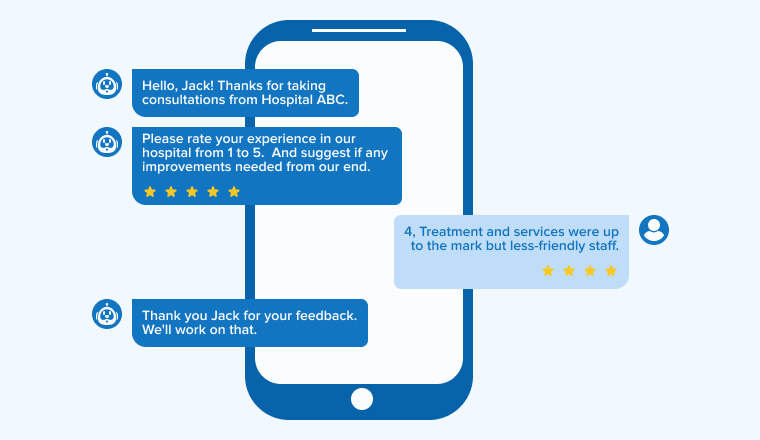 One of the most important reasons behind healthcare providers' using chatbots is that they help in acquiring patient feedback. Getting proper feedback from the users is very crucial for the improvement of healthcare services. With the help of a chatbot, any institute in the healthcare sector can know what the patients think about hospitals, treatment, doctors, and overall experience.
4.7 Easy Scalability of Service Hours
Having a 24*7 support system for the users is something that any industry especially healthcare would like to have as it helps in gaining customer satisfaction. Besides, when there is more traffic, the online system can help patients with minimum medical needs get answers through the bot and improve their health. Therefore, by having a healthcare chatbot, the patients can get services in real-time which means that the medical institute is able to offer scalable and effective services with the help of a chatbot.
4.8 Health Tracking
For patients who require healthcare support regularly, chatbots are really beneficial as they help patients in having an effective connection with the doctors. Such bots also offer detailed health conditions records and help in analyzing the health impacts of the patients after the first medical prescription.
4.9 Billing and Claims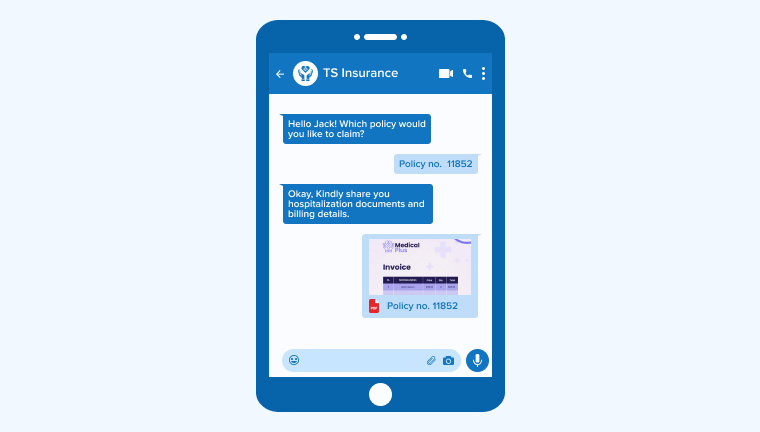 Handling billings and claims in a medical institute is a very tedious and ongoing process. Therefore, the majority of the institutes keep healthcare AI bots that can help in checking the present coverage of the patient's insurance, help to file claims, and track those claims' status. Besides, it also helps the doctors with billing inquiries.
4.10 Handle Insurance Inquiries
Another benefit of using a chatbot in the healthcare sector is that it offers insurance services and healthcare resources to the patients. Besides this, it also makes an integration with robotic process automation (RPA) for an easy process which means that automating healthcare billing and insurance claim processing is possible for the healthcare institute.
5. Key Risks and Challenges of Chatbots in Healthcare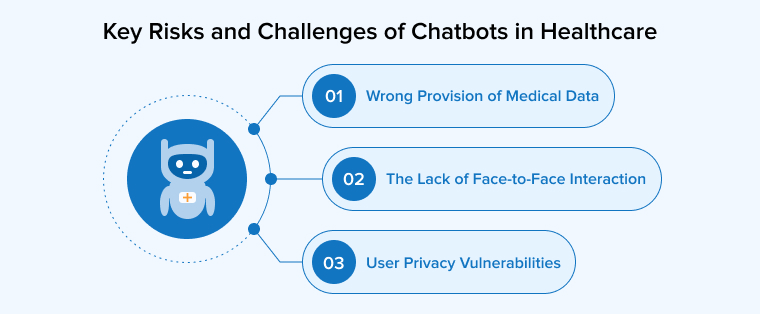 Some of the challenges that healthcare providers face while using a chatbot.
5.1 Wrong Provision of Medical Data
It is a risk that a chatbot might offer the wrong provision of medical data. The main reason behind it is that chatbots may not know the appropriate factors related to the patient's medical issue and can offer the wrong diagnosis which can be dangerous.
5.2 User Privacy Vulnerabilities
When hospitals use AI chatbots in healthcare, this software product gathers all the information from the patients and stores it. If any cyber-attack happens because of security issues, the patient's data can fall into wrong hands.
5.3 The Lack of Face-to-Face Interaction
There are patients who wouldn't prefer to have a chat about their medical issues with a bot. They might want to have a face-to-face interaction with the doctor. But with chatbots coming into the picture, this has become a huge problem. This affects the patient's emotions and eventually their health. Therefore, chatbots are one of the reasons behind patients feeling detached from their healthcare professionals.
6. The Future Perspective of Chatbots for Healthcare
There are many different types of healthcare chatbots available in the market and all these bots work on an AI-based approach which means that they use artificial intelligence technologies and natural process language to offer advanced healthcare solutions. This is why the accuracy of these chatbots is increasing day by day. These bots come with a fine balance between machine learning intelligence and human empathy to offer accurate solutions to the users. Besides all the benefits these chatbots offer, some of the most common expectations that are attached to healthcare chatbots in the coming years are –
Chatbots must be able to help in managing chronic conditions, psychological disorders, and mental health issues.
It must make self-care an easy aspect for the patients.
Chatbots must proactively identify patients' symptoms, crosscheck them against the patient's medical history, suggest the next action, and help them in improving their health with successful treatment.
7. Finish Line
As seen in this blog, healthcare service providers use chatbots to offer real-time medical solutions to patients by communicating with them and asking them a few simple questions. Bots also offer answers to all the questions asked by the patients and suggest to them further treatment options. This proves that chatbots are very helpful in the healthcare department and by seeing their success rate, it can be said that chatbots are here to stay for a longer period of time.