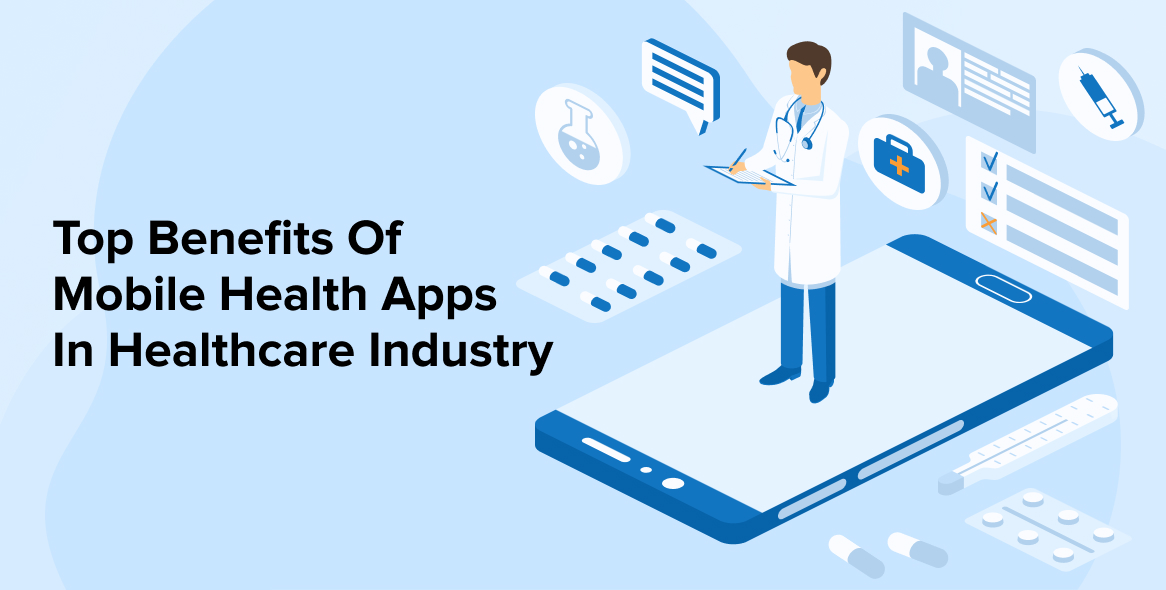 Over the last few decades, mobile technologies such as smartphones, wearables, and mobile apps have become ubiquitous. Modern society has adopted digital innovations like healthcare software development to address specific issues that people face on a regular basis. Mobile health apps, also known as mHealth apps, are among the various fascinating new mobile technologies. They have profound impact on clinical practice and the substantial value they provide to individuals who utilize health services. To that end, let's read this article and learn the top benefits of mobile health apps.
With a CAGR of 11.8% between 2022 and 2030, the worldwide mHealth applications market is projected to rise from a 2021 valuation of USD 38.2 billion.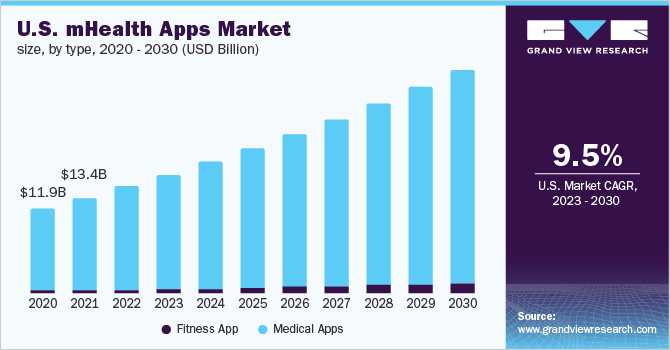 1. What Are Mobile Health Apps?
When mobile phones and other wireless technologies are used for medical purposes, this is referred to as mHealth. Mobile health (mHealth) is most often used to spread awareness and knowledge about preventative medicine. Yet mHealth is also utilized for tracking epidemics, managing chronic diseases, and supporting patients throughout treatment.
Thanks to the widespread availability of portable electronic devices like smartphones and tablets, medical and public health professionals now have access to large amounts of healthcare data. They are also a potential asset that may boost the efficiency of healthcare providers and lead to better results for patient health.
They fall under the following general categories:
Mobile Apps for clinical references and diagnosis help medical professionals organize their daily work and patient appointments.
Healthcare services apps in the field of telemedicine let professionals like physicians treat patients remotely.
Personal health issues, including glucose, mental well-being, lipids, respiratory rate, and more may be evaluated with the use of health management apps.
Healthcare mobile apps that help you lead a healthy lifestyle fall under the umbrella term "wellness & fitness" and include tools like calorie counters, sleep trackers, and stress management apps.
2. Top Benefits of Mobile Health Apps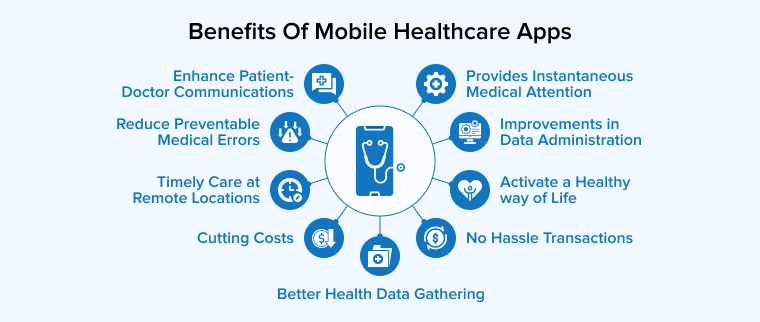 2.1 Better Health Data Gathering
One of the prime benefits of mobile health services is electronic health records that are made available through health-savvy wearables are just one example of how mobile health apps are making it simpler and speedier to access patients' medical histories. The clinical history of a patient can be easily gathered and retrieved by a healthcare provider. They may then make decisions about their healthcare that are more thorough, accurate, and timely.
Self-care is facilitated by patients' ability to obtain, arrange, and save their own medical information in one location. Even chronic problems like glaucoma, abnormal breathing patterns, heart disease, and mental health difficulties can be detected sooner with the use of smartphone apps. Mobile health apps contribute to better health by monitoring users, collecting and analyzing healthcare data, and identifying any changes in health status that may indicate a more serious problem. To deliver healthcare services like this has never been better.
2.2 Reduce Preventable Medical Errors in Healthcare Industry
In order to provide correct diagnoses, doctors need immediate access to a wide variety of clinical practice materials. Technology in healthcare has made it possible for physicians and nurses to have instantaneous access to information like medication databases and test results. Medical spreadsheets, treatment practices, and pharmacological reference guides are just some of the decision-making resources that can be accessed on the go with the help of a mobile device and the right software. 
Disease diagnosis and treatment decisions might benefit greatly from such aids. Knowledgeable medical judgments boost healthcare professionals' productivity and expertise while simultaneously decreasing the rate of medical mistakes. The patient, meanwhile, can get a heads-up about potential problems and adjust their treatment strategy appropriately.
2.3 Cutting Costs
Telemedicine, telehealth, and other forms of virtual treatment can help reduce expenses for both healthcare practitioners and their patients. The Digital Revolution comes to US Healthcare, research by Goldman Sachs, estimates that digital health services may save the healthcare industry some $300 billion annually. 
In summary, mobile health apps lessen the likelihood of contracting avoidable chronic diseases and the frequency with which patients may be readmitted to the hospital, hence decreasing needless procedures and reducing the expense of treatment.
2.4 Enhance Patient-Doctor Communications
The healthcare industry has long struggled with the difficulty of effective communication. In order to provide excellent treatment to patients and cut down on cases of medical negligence, healthcare providers must establish open lines of communication that are precise, timely, and friendly. Nevertheless, in-person communication methods have been demonstrated to be inefficient, frequently resulting in misunderstandings and subpar consequences for patients.
Mobile health apps are helping to bridge the gap between patients and doctors by providing a variety of tools to facilitate constant two-way contact. In other words, applications that provide two-way communication between doctors and their patients can improve medical efficiency by allowing clinicians to maintain constant, distant contact with their patients.
Patients can, for instance, use their mobile phones to schedule doctor's appointments, contact caretakers, and even have medicines filled and transported to their residences via encrypted text messaging or video conversations. Patients may now participate in the health management of their healthcare in a more informed and proactive manner. Better patient experiences and health outcomes are associated with increased levels of patient participation in their own care.
Both patients and doctors benefit from clear lines of communication. In-person consultations are no longer necessary for patients to receive medical advice from doctors all around the world. In particular, mobile health apps let doctors track patients after operations, speed up release, and conduct virtual follow-ups to enhance postoperative healing and boost the quality of care.
2.5 Provides Instantaneous Medical Attention Anytime, Anywhere!
Patients may now easily and safely send texts, arrange consultations, and communicate with care providers using telemedicine applications on their mobile devices, as opposed to the inefficient, traditional telephone connection to physicians and healthcare organizations.
Patients can skip in-person visits for minor difficulties by communicating via video calls, healthcare chatbots, or phone conversations. Because of this, you may achieve astounding levels of efficiency in your work.
2.6 No Hassle Transactions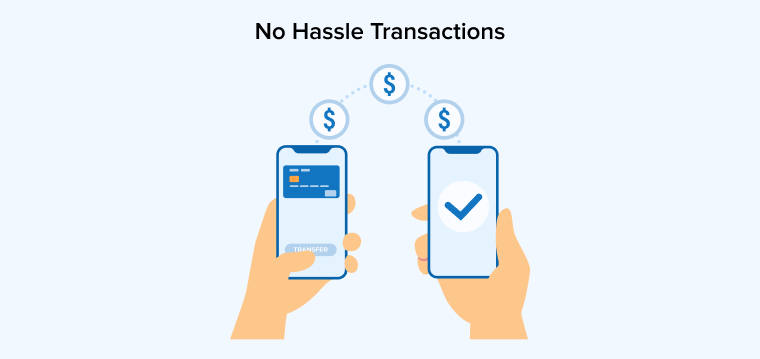 The billing procedure may be frustrating for both patients and medical workers. Manually tracking patient payments and following up with insurance carriers to have bills paid is a time-consuming process.
This time-consuming process can be reduced to just a few minutes, though, by using a health-related app on a mobile device. Patients can use mobile health apps to choose their preferred payment method, make payments online, and link up with their insurer (if necessary).
If you build a healthcare app, you may filter the information displayed to show just paid bills, outstanding invoices, and so on. Thus, mobile health systems make the payment process more streamlined for all parties involved.
2.7 Improvements in Health Data Administration
Every day, healthcare service providers handle volumes of individual data. Therefore, it has to be organized effectively. Integrating healthcare apps with electronic health records allows for the automated recording of vital patient information from connected devices in the network or wearables.
This allows medical facilities to comply with HIPAA regulations by creating in-depth profiles of their patients.
2.8 Timely Care at Remote Locations
As such, this is one of the significant benefits of mobile health apps. Most individuals in remote areas can now access timely care because of the widespread availability of video conversations with medical specialists. 
It is no longer necessary for patients to make frequent trips to the clinic since doctors can keep tabs on them via phone or video chats. Also, the app's push-notification system may alert users to vital health advice and safety warnings.
2.9 Activate a Healthy Way of Life
A growing number of people are becoming aware of the need to lead a healthy lifestyle, which has led to a surge in the popularity of mHealth apps that focus on helping users lead healthier lives. With the rise of high-tech wearable devices like smartwatches and activity trackers, many people are looking for mobile apps to help them maintain a healthy lifestyle by, for example, helping them stick to a diet or get better sleep.
Users may keep tabs on a variety of health metrics, including but not limited to the hours slept pounds gained, calories consumed, heart rate, blood pressure, blood sugar levels and more. With this information at their disposal, people will be better able to plan out their exercise routines and determine what kind of results they may expect to see. Individuals who make use of such mobile apps may then take that information and share it with friends or personal trainers for even more feedback and encouragement.
3. Conclusion
It's remarkable to see the rapid development of health apps for mobile devices. The development and distribution of mobile health apps may increase both the company's bottom line and its public standing. However, developing a medical mobile app and breaking into the market might be difficult without prior familiarity with back-end programming and healthcare industry security protocols. This post aims to provide a comprehensive look at the advantages of using mobile health apps.
Please get in touch if you work in the healthcare industry and are interested in collaborating with us on the creation of a mobile health app. Tatvasoft is a custom software development company that provides a smart team of mobile app developers well-versed in cutting-edge fields such as the Internet of Medical Things. We're here to help you bring your brilliant ideas for mobile health apps into reality.