With technology being introduced every now and then. It has become mandatory for every industry to make the most of it or else the fear of lagging behind will always honk them. Specific right now, in the healthcare industry, the role of technology seems to be expanding exponentially. Let's check it out, how!
There is no denying the fact, that these immense numbers of healthcare software development have saved countless patients and are still on the verge of improving their quality of life. Like it or not but the technology used in healthcare seems to be changing at the lightning speed may be as quickly as anyone would hope.
In fact, 2021 is the year when health systems and insurance companies all across the globe seem to have decided that they can no longer wait for the slow decline and jump on the software technology bandwagon.
1. Healthcare Technologies
The following term encompasses numerous devices, medicines, vaccines, procedures, and systems that are mainly designed to streamline all healthcare operations. The Healthcare industry is no joke, it's a serious business where someone's life could be in danger. With the advent of technologies such as artificial intelligence (AI), blockchain, voice search, chatbots, electronic health records (EHRs), and virtual reality, it seems nothing works perfectly other than these two realms. A pure match made in heaven.
With the help of technology, healthcare seems to have a lot of potential to trim the fat from the traditional space. Also, an ocean of health records is available to help professionals provide quality patient care. Slowly and steadily it seems that the use of technology seems to be endless right from administrative operations to improving overall efficiency. Let's delve into the details.
2. How is Technology Used in Healthcare?
2.1 Administrative
A whole host of software, tools, and applications are found to make things easier for hospitals to manage their growing administrative workloads.
AI, IoT, and Big Data are some of the technologies that assist several administrative teams to streamline patient flows by doing everything right from calculating wait times to predicting peak busy hours for staff scheduling.
Meanwhile, apps are asking patients preliminary questions and prioritizing schedules so doctors can use their time more efficiently.
2.2 Surgery
Another major improvement in the healthcare industry is surgery. Robots nowadays seem to be assisting with a wide range of operations, from minor nor-invasive procedures to open-heart surgery. These robotic surgical assistants are found in all shapes and sizes; right from a tiny bot crawling the surface of the heart to a giant arm acting as an extra set of hands during procedures.
If you think that robots are just used to invade the operating room then you are absolutely mistaken.
Because these days with the help of virtual and augmented reality, doctors, surgeons, and several other healthcare professionals can accomplish tasks like practicing new surgical techniques for patients. Moreover, these advancements in healthcare technology are showing no signs of slowing down.
2.3 Virtual Humans
No industry can become successful without having appropriate communication and when it comes to healthcare, effective communication has to be there somehow. In fact, having effective doctor-patient communication has been considered the central clinic function in building a therapeutic doctor-patient relationship, which is the heart and art of medicine.
2.4 Smartphone App Detecting Bacteria
Did you know that a new app can turn a smartphone into a bacteria identifier? Developed by a research team of UC Santa Barbara scientists, the app uses a smartphone's camera and accompanying diagnostic kit to measure a chemical reaction and determine a diagnosis.
The process only requires a small sample of a patient's urine, the phone's camera, and the kit. The entire process takes only about an hour.
The detection system was initially used to diagnose urinary tract infections. Researchers envision the system helping physicians diagnose diseases and prescribe antibiotics faster, cheaper, and from anywhere in the world. This gives an immense rise in Telehealth i.e. by integrating mobile apps, doctors and other medical professionals will be able to treat patients seamlessly via smartphones.
2.5 Fitness
Another major concern here is fitness in the healthcare ecosystem. By now the industry seems to have developed hundreds of wearable, apps and other tools that do everything from track our workouts to measure our heart rate and sleep schedules, all in the name of increasing fitness and reducing preventable costs on the healthcare system.
3. Choosing Reliable Healthcare Software Companies
Fortunately, many privately-held companies are seen specializing in healthcare solutions and already have claimed their own market segments. Like I said before, slowly the healthcare technology landscape seems to be changing like never before.
Of course, the healthcare providers especially the medical side leaves no room for mistakes and it shouldn't be as so many lives are at stake.
Choosing a reliable healthcare software development company can provide great help! Some key considerations to think of include:
Portfolio
References and Reviews
Their technology and domain knowledge
Communication skills
Methodology
4. Healthcare Software Technologies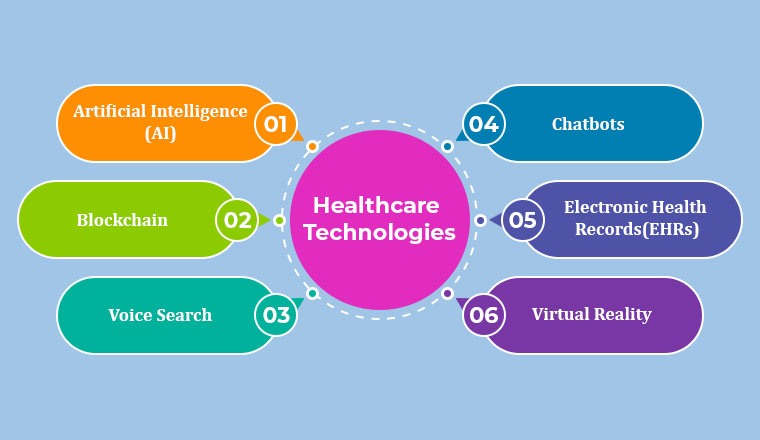 4.1 Artificial Intelligence
Artificial Intelligence is no buzzing term these days especially when this one has rapid growth and exciting opportunities surrounding it. AI algorithms can generate medical records and patient data. And you know what these years are supposed to be one of the best times where healthcare professionals can get most of it.
Let us figure out how AI engines can reduce and mitigate the risk of preventable medical scenarios in certain ways:
Automate reminders
Identify people at high risk
Deliver personalized dosage recommendations
All you have to do is keep AI on the radar and utilize the concept as one of your core healthcare technologies for marketing.
4.2 Blockchain
Another interesting type of healthcare software technology is Blockchain featuring Bitcoin and other cryptocurrencies. Now you know what's exciting about blockchain is the digital record-keeping that creates the ledger of transactions that isn't only transparent, but impossible to tamper with.
Blockchain is here to stay for the long haul. Some of them are skeptical of bitcoin, claiming that the tech could fundamentally change the way that huge sectors operate – including digital healthcare marketing.
Changing data collections
Fixing digital display advertising
Security of digital assets
On and all, Blockchain is no rocket science. Easy to use, this one has enough potential to restructure the entire digital marketing system with the changing of data collections, fixing of digital display advertising and the ownership and security of digital assets.
4.3. Electronic Medical Records / Electronic Health Records
Electronic Medical Records are the digital versions of the paper charts in the clinician's office. An EMR contains the medical and treatment history of the patients in one practice. EMRs have advantages over paper records. For example, EMRs allow clinicians to:
Track relevant data over time
Identify patients, especially the ones who are due for preventive screenings and checkups
Check how their patients are doing on certain parameters—such as blood pressure readings or vaccinations
Monitor and improve the overall quality of care within the practice
4.4. Virtual Reality
Till now virtual reality has always been something that we all fantasize about. Well, not anymore! Welcome to reality offering a divine experience to all industries including healthcare. At present virtual reality is being used to train & support healthcare professionals, change lives and heal patients, for example – Through medical training, Patient treatment, Medical marketing, Disease awareness, etc.
In the upcoming years, it is assumed that Virtual Reality (VR) will be used more and more to improve the accuracy & effectiveness of current procedures and enhance the capabilities of the human being, both as the caregiver and the patient. So in simple words, VR's potential is pretty much huge.
4.5 Internet of Medical Things (IoMT)
Internet of Medical things or Healthcare IoT can be defined as the connected infrastructure of medical devices and software applications that can communicate with various healthcare IT systems.
Some of its benefits include:
Objective reporting – The devices have the power to record and report on the exact activity level of the nervous system. You see gone are the days when we had to solely rely on subjective patient reports to know how they are feeling instead of evaluating things objectively. Thank god we have IoMT.
Remote monitoring – As the name implies, the healthcare provider will have a report card so to speak of actual patient therapy compliance instead of relying on the accuracy of patient summary.
Automation – The automation of device and therapy records decreases human error or fraudulent reporting within hospitals and sub-acute care facilities.
Adaptability – And since our systems are pretty much built on a feedback loop. The system iterates on that feedback and adjusts for improved patient outcomes.
4.6 Chatbots
Having chatbots as your healthcare software technology is a pure blessing in disguise. Plus, it offers a wide range of benefits too. Do you know what is the most vital aspect of the healthcare industry? It is to offer a great personal experience and chatbots add another touchpoint that people really love. Maybe that's the reason why they are multiplying at a fanatic pace and becoming a key aspect of telehealth.
Options are endless for chatbots, from customer service to potential diagnosis of mild conditions – there's plenty to be excited about within the technology.
4.7 Personalized Mobile Apps
The never-ending phase of mobile apps is quite promising, isn't it? Till now, you must have understood the fact that mobile applications work wonders for engaging with a huge number of possibilities surrounding the creation of an app. The user is in control, but you're in charge of the options and that's got huge power.
You know how many patient scenarios can be served by a powerful native mobile application. From requesting physician appointments, checking in, and uploading a patient's medical history to getting test results via a mobile app. So health organizations can create useful digital tools that are perfect for the modern-day patient.
Mobile apps also relieve some of the pressure on the medical staff, waiting times, and receptionist duties, resulting in a significant reduction in operational costs.
Other exciting features health organizations are experimenting with within 2018 include notifications, alerts around key seasonal allergies (e.g. the flu season), and personalized marketing offers.
Mobile apps are a great way to communicate and stay in touch with your patients, long after they left your health facilities. There's so much potential in health mobile apps, especially in regards to taking good care of the patients. And yet so many marketers are missing the opportunity of giving credence to the criticisms that the healthcare industry is still not innovating.
5. Conclusion
So that's all for now! I hope you enjoyed reading the post. In case, you have any queries feel free to mention them in the comment section below.