In the last ten years, the healthcare software development business has been propelled by technological advancements that have led to new methods of illness detection, prevention, and treatment. This would not have been possible without the rapid development of AI-driven technology and the digitalization of healthcare operations in reaction to harsher global challenges and the growing demand for more readily available and high-quality medical treatment. Let's take a peek at the essential healthcare technology trends that have the ability to revolutionize your business if you're keen to examine the tech advancements pushing the healthcare sector towards digitalization this year.
1. 14 Biggest Digital Healthcare Technology Trends to Watch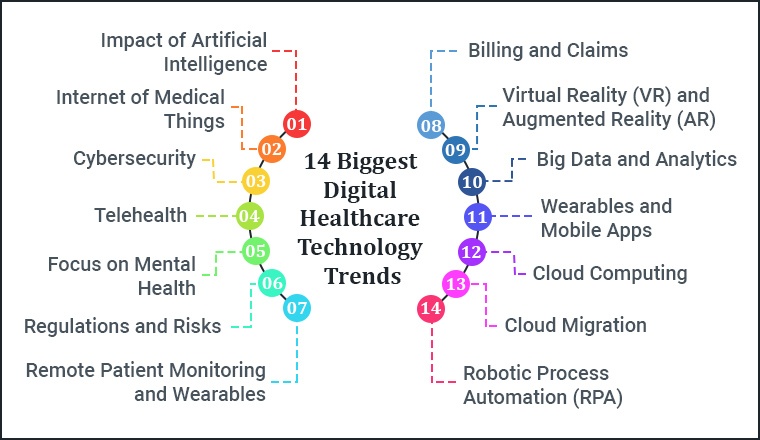 Here we discuss the 14 most emerging healthcare technology trends in the industry that you should not miss on! Keep reading.
1.1 Impact of Artificial Intelligence
The increase in computing power spurred on by artificial intelligence has a profound effect on healthcare. Automatic help in the workplace, medical operation optimization, statistical imaging, etc., have all contributed to greater diagnostic accuracy, making it likely that AI will continue to dominate emerging healthcare technology trends.
The industry for AI in healthcare was estimated to be worth $6.7 billion worldwide in 2020 and is anticipated to expand at a CAGR of 41.8% from 2021 to 2028.
By integrating virtual reality (VR) technology with artificial intelligence (AI) diagnostics, various wearable devices with the help of AI have the ability to improve the accuracy of a variety of diseases, including speech disorders, cerebrovascular disease, downs syndrome, Parkinson's disease treatment, neurological conditions, cancer, and myasthenia gravis, can be diagnosed and treated.
1.2 Internet of Medical Things
In terms of health technology developments, the widespread use of IoMT devices would be the simplest to anticipate.
In 2020, the healthcare industry will have less challenges thanks to the Internet of Medical Things devices. Costs in healthcare are another area where IoMT might help save costs. IoT healthcare may reduce healthcare spending by $300 billion annually, according to a Goldman Sachs analysis.
Telemedicine is cost-effective because it allows for consultations to take place outside of healthcare organizations. Healthcare IoT can also improve organizational effectiveness. Workflows may streamlined and automated just like in any other computerized industry. For instance, having access to up-to-the-minute information about all medical supplies and machinery improves the effectiveness of healthcare management. Digitally tagging medications for tracking purposes can aid in the battle against the sale of fake medications.
Yet, IoMT gadgets are important in healthcare administration. They are able to provide medical attention to outlying communities that typically lack access to specialists because of financial constraints. Consistent in-home visits are a boon to patients who are unable to leave their houses for appointments. These days, practically everyone perform routine test on a portable point-of-care device by sending the wireless findings to healthcare providers.
The value of digital fixes was demonstrated in 2020. As of 2018, the worldwide IoMT business was worth $44.5 billion. By 2026, that number is projected to rise to $254.2 billion. Meanwhile, there has been an increase in spending on IoMT and other digital alternatives.
1.3 Cybersecurity
The healthcare sector was targeted by hackers at a time when it was more vulnerable than it has been in decades. There have been many attempts by hackers to compromise the COVID-19 vaccination.
There have been many reports of assaults on vaccination databases, including at Pfizer, BioNTech, and the European Medicines Agency. Due to ransomware attacks, the healthcare industry in the United States has grown much more aware of its cybersecurity architecture.
Carbon Black, a cybersecurity firm, revealed that in 2020, its healthcare clients were the target of 239.4 million potential cyberattacks. According to their research on cyber healthcare security, "In 2020, there will be a mean of 816 targeted assaults per endpoint, a rise of 9,851% over 2019."
Among the new developments and latest healthcare technology trends, cybersecurity and data protection stand out as the most closely watched. After a slew of assaults and data thefts in the healthcare industry, it's clear that spending more on data security is essential. 
A growing digital healthcare business naturally needs a security architecture to safeguard patient data and other sensitive information. This bodes well for the cybersecurity industry in 2022, as a growing number of healthcare facilities are anticipated to hire outside help.
1.4 Telehealth
In order to provide medical treatment to patients, telehealth services make use of electronic devices, including laptops, cellular phones, and tablets.
Medical professionals were forced to adapt swiftly as the number of patients seen in person dropped as a result of the epidemic. More than 43% of Medicare primary care appointments were made through telehealth in April 2020.
Despite the worldwide distribution of COVID-19 vaccinations, telemedicine appears to be here to stay. Fortune Business Analytics projects that the telehealth industry will be worth more than $185 billion by 2026.
1.5 Focus on Mental Health
COVID-19's worldwide epidemic has escalated mental health crises throughout the planet. World Health Organization estimates put the number of individuals with a mental condition at around 1 billion, with far more than 75% of those living in low-income countries going untreated. Every 40 seconds, someone takes their own life, and half of all mental health illnesses have their onset before the age of 14.
These issues have been dealt with in large part due to RPM's advancements. Telemedicine has made it possible for people to get professional care from mental health professionals without endangering their physical health.
McKinsey and company report that since February 2020, telemedicine use has increased 38-fold and is now stable. Mental health treatment makes up the vast majority of distant visits. Thus, this cutting-edge medical innovation of 2022 has risen to prominence.
In addition, persons with chronic diseases, allergies, and other psychological disorders now have access to patient care because of the advancements in healthcare technology. Prior to this, they were unable to visit a doctor because of a lack of funds, a reluctance to seek treatment in public, and racial discrimination. But now, all they require is access to the Internet and to set up a means of communication.
1.6 Regulations and Risks
When it concerns legislation and requirements, the on-demand economic system presents unique challenges. Most notably, the Supreme Court of the United Kingdom determined that Uber drivers should not be deemed "self-employed" but rather Uber workers. This increases Uber's costs significantly because drivers are now eligible for perks like subsistence wages and paid vacation.
Like the United States, the European Union is having trouble drafting effective laws to monitor the on-demand healthcare market. According to the European Agency for Safety and Health at Work, most digital platforms have prioritized expansion over adherence. As a result, on-demand services have to wait in the dark until laws are hammered out.
Operating an on-demand business comes with substantial legal dangers. The introduction of new rules might destabilize an otherwise successful business model by necessitating the incurrence of unexpected costs. However, protecting the rights of employees is crucial.
1.7 Remote Patient Monitoring and Wearables
A stronger healthcare system may be achieved when healthcare providers are able to observe patients without depending on the healthcare facility. It is possible that the implementation of remote patient monitoring as a type of IoMT will have far-reaching consequences for the healthcare system. Remote monitoring has the potential to revolutionize the management of chronic conditions including hyperglycemia, cardiovascular disease, and asthma.
Accessibility to real-time data from interconnected health instruments on a routine basis has the potential to be utilized in preventative healthcare settings. For instance, a clinician can be notified of a suspected cardiac arrest by use of wearable electrocardiogram equipment. Furthermore, having access to this kind of real-time data might aid in the management of chronic illnesses by encouraging the adoption of healthier practices.
Wearable devices that may be worn as part of a user's everyday routine are more widespread than you would expect. In recent years, consumer-grade sensors have improved to the point that they may be relied upon for serious medical applications. If you suffer from atrial fibrillation, for particular, you may use Apple Watch's electrocardiogram (ECG) capability to keep tabs on your health. Wearables that collect data useful for scientific research are becoming increasingly popular.
With the usage of an electronic blood pressure cuff, one may continually and reliably transmit measurements of their hypertension and pulse to their healthcare provider. Edible detectors in smart pills report back to physicians or caretakers on whether or not a patient is taking their prescription as directed. Since research has revealed that barely half of the chronic illness medicine is taken as advised, the importance of this problem increases.
1.8 Billing and Claims
The epidemic accelerated the necessity to automate healthcare operations and also ushered in telemedicine. When dealing with organizational duties, this is crucial.
Just about everything, including billing, Medicaid, and so on, must be done online, regardless of whether an in-person consultation with a doctor is required. IoMT gadgets and compatible systems play a significant role.
Consider an e-Prescription system, which is a type of interoperable electronic health record (EHR) or electronic medical record (EMR). Medical professionals and other medical staff can view patient insurance information using a streamlined e-Prescription system. Drugs provided to patients can be checked against the system to see if they are authorized by their insurer. The patient should only take up the medication once all the necessary documentation, especially medical coverage, has been digitally validated.
Further Reading On:

EMR vs EHR : What are the Differences and Benefits?
What is Patient Portal? It's Benefits and Challenges!
1.9 Virtual Reality (VR) and Augmented Reality (AR)
Emerging healthcare technologies include the use of virtual reality and augmented reality. Surgical residency programs are a prime example. Virtual reality (VR) education eliminates the need for hospitals as a teaching venue for medical practitioners.
Virti, located in the United Kingdom, collaborated with the National Health Service (NHS) to provide training for frontline workers throughout the epidemic. There was an urgent need to recruit additional staff to work in ICUs, and these individuals needed rapid education on how to utilize personal protective medical equipment, how to go around the ICU, how to operate ventilators, and how to communicate with patients and their relatives. Dr. Alex Young, the company's founder and CEO, claims that the platform employed tailored prediction technologies as well as gamification and various content forms to captivate users and embed information.
Virtual reality technology is also an effective means of medical staff training. Retention is purportedly increased by 75% (compared to 10% with more conventional approaches), and skill fading is reportedly reduced by 52%. Virtual reality software has the potential for usage in healthcare settings. Virtual reality (VR) software and healthcare technology are useful in a variety of exercise rehabilitation settings, for instance.
With so many potential uses, virtual and augmented reality are quickly growing in popularity. Investing in it makes economic sense for a precise medical industry, which may greatly benefit from increased productivity.
1.10 Big Data and Analytics
Recent years have seen an incredible explosion in the volume of healthcare data collected as a result of the ongoing technology revolution. Massive (anonymized) data sets may be useful to determine medical patterns and digital healthcare technology trends, opening the door for researchers to find previously unknown connections between population demography and health and the state of the economy or the environment.
When researchers get access to a large enough dataset, they may transform it into Big Data. AI and ML can use them to gain insights into human health that have previously been unavailable. Analyses of this kind can pave the way toward better strategies for preventing and treating chronic diseases. The use of analytics to combat the spread of COVID-19 is a particularly ingenious application of big data's potential in preventing global pandemics.
Obviously, millions of patients' records aren't necessary to draw any useful results. An electronic health records (EHR) system is the most common piece of healthcare software for data collection and analysis.
1.11 Wearables and Mobile Apps
The popularity of wellness applications and remote health monitoring will continue to grow. There are a number of high-quality (and countless amateurish) health and fitness applications available for download from the GooglePlay and iTunes stores.
Some of these smartphone applications may coordinate with wearables like pulsometers and fitness bands to report or evaluate health problems like heartbeat, body temperature, hypertension, and other metrics obtained by the detectors implanted on the bodies.
1.12 Cloud Computing
One of the most important healthcare technology trends, cloud computing reduces capital and operating costs by providing on-demand disk space. It improves productivity while decreasing wasteful spending.
Sharing medical information, automating back-end processes, developing and maintaining telehealth software are all made much simpler with cloud computing.
By 2025, the healthcare cloud computing market is projected to grow from its 2020 level of USD $28.1 billion to a whopping USD 64.7 billion.
To better tailor patient care plans, you can store electronic medical records (EMRs) on the cloud and analyze them with cloud computing's robust analytic capabilities.
1.13 Cloud Migration
The transition to healthcare cloud services has begun in earnest, and it will continue to expand. MarketsandMarkets predicts that the worldwide healthcare cloud computing industry will grow from an anticipated USD 23.4 billion in 2019 to a total of USD 51.9 billion by 2024, a CAGR of 17.2%.
It is the answer to many of the most pressing problems in service delivery, such as patient record keeping, telemedicine, and access for those with limited financial resources. Global healthcare professionals are increasingly turning to cloud computing to streamline the storage and distribution of patient data in real-time.
If your call center is still using antiquated technology, migrating to the cloud may be the best way to boost customer engagement and simplify problem resolution. The healthcare infrastructure can antiquate the capacity of many organizations to provide high-quality treatment at low cost. By migrating to the cloud, businesses can build a cognitive AI and automation-powered omnichannel contact center system. It is safe regulatory, and can be useful in tandem with other components of a cohesive ecosystem to provide a superior experience for customers.
According to the HIMSS (Healthcare Information and Management Systems Society) report, Cloud services are an expansion of a healthcare agency's network infrastructure. When more programs migrate to the cloud, there shouldn't be any trouble with connectivity scaling up.
1.14 Robotic Process Automation (RPA)
With a projected worldwide shortfall of 12.9 million healthcare workers by 2035, few individuals can afford to travel for in-person medical visits, as reported by the World Health Organization (WHO). The COVID-19 epidemic has made matters much worse. Robotic process automation technologies have the potential to address healthcare's inefficiency problems if they are used on a large scale.
The advent of RPA-enabled bots is a major step forward for healthcare IT. Precise automation, reduced costs, optimized workforce, and even transformative changes are all possible for healthcare providers thanks to the technology available today. If a patient inputs their clinical signs into an AI system, they will get a more precise diagnosis.
In short, RPA technology advancement has brought human-like robots into the healthcare industry. They can recognize screenwriting, accept data input, and carry out previously established tasks, among many other things. Data management, consultation booking, insurance claims, optimal treatment delivery, and hospital administration are modern healthcare applications for robotic process automation.
2. Final Words
We have had the tools to implement telemedicine, IoT devices, and healthcare apps for years, long before the epidemic. Although the COVID 19 pandemic was the impetus for the healthcare industry to advance and for individuals, providers, and hospitals to adopt digital health practices, it was necessary.
Doctors and patients alike are beginning to appreciate the benefits of technological healthcare services. This includes remote access, Internet of Things (IoT) devices, and expedited research and development methods. The fact that digital healthcare technology trends are receiving support and investment suggests that others agree with the value they provide.
There is still a lot of room for development. The healthcare sector is adopting technology actively, with an eye on improving future and expanding access to quality medical treatment.