Every business mind would agree with the fact that running effective management practices is the only way to enhance corporate performances. After COVID-19 Pandemic, the health services industry and opportunities for healthcare managers have grown pretty insane. And much like businesses, these industries need to buck up to at least reach the expectations of today's well-aware consumers. Therefore, one does require an appropriate hospital management software to handle all aspects of hospital operation without much hassle.
1. Early in the Healthcare – Hospital Before Computerized Management Software
The healthcare sector has always been a prime concern for medical professionals as well as patients. Of course, there is no denying the fact that before the computer era managing spaces manually was a major concern. One mistake could not just cost you your life but the life of others as well. In addition to this, whether you want to keep a proper track record of your day-to-day activities in regards to hospitals or collect a patient's information, everything can be taken care of with the help of Electronic Health Records (EHR). It also assists in maintaining an appropriate schedule of equipment in the hospital, and how funds are being allocated and used.
As a result, huge wastage of money, time/energy and manpower was being made. An effective hospital management software was being required. Medical Software that not just assists in managing a wide range of hospital-based aspects such as administrative, clinical and financial but also helps in monitoring. And controlling the hospital's daily transactions, as well as the hospital's performance. Hospital Management System enables access to the right information and automation of complex task, thereby allowing staff to spend more time caring for patients. So what's the issue?
Unfortunately, there are some organizations that fear incorporating a hospital management system. Some of the common reasons include High costs associated to conduct software development Deployment and maintenance. Facing difficulty in migrating from manual procedures to automated software. Lack of IT-friendly medical personnel Huge influx of patients visiting government hospitals makes the process of migrating to automated processes highly difficult. They do not have the patience to wait for registration and data entry and often fail to understand the functioning of automated processes.
2. Enters Hospital Management System/Software – A Blessing for a Doctor as well as a Patient
What is a Hospital management software/system? Well, in simple words just like any management software, hospital management software can be defined as a process created to assist healthcare professionals to gather, store. And manage crucial information related to health care and aids in the job completion of health care providers effectively. They manage the data related to all departments of healthcare such as clinical, financial, laboratory, inpatient, outpatient, operation theatre, materials, pharmaceuticals, radiology, pathology, etc.
In its true sense, Hospital management software came into existence in 1960. And since then it has been evolving and synchronizing with emerging technologies. Today, the management of healthcare starts from the patient's mobile devices. Developed with an objective to solve all the unnecessary complications coming from the manual paperwork of all the patients, a Hospital management software serves every department of hospitalization with effective confidentiality. What does this software do?
Maintaining medical records or any other crucial contact details of a patient is no longer problematic. In addition, it also keeps an accurate track of the appointment dates, saves the insurance information for later reference, tracks the bill payments and the list goes on!
Benefits of having reliable hospital management software include:
Time-Saving Technology
Improved Efficiency by avoiding any human errors
Reduces scope for Error
Data security and correct data retrieval made possible
Cost-effective and easily manageable
Easy access to patient data with correct patient history
Improved patient care made possible
Easy monitoring of supplies in inventory
Reduces the work of documentation
Better Audit controls and policy compliance.
Since the very beginning, healthcare organizations have remained complex and dynamic and with the emergence or collaboration of software, the bars have been raised to a great extent. Now have you wondered why the healthcare sector is always spoken of as an organization and not an individual venture? Well, hospitals, healthcare spaces are always beyond the capacity of any single individual. The scope and complexity of every task carried out here is great.
Before we proceed any further, one needs to know that a healthcare organization requires effective coordination of several specialized disciplines that must work together seamlessly. Conducting organizational tasks in the best possible way and in a timely manner has always been a prime concern these days. And here it's bound to happen! Here an effective Hospital management software can work wonders.
3. Significance of Management Software Development in a Hospital
Now what are the crucial things a good hospital management app must have; the software must be able to manage several aspects such as patients, doctors, inventory, billing, insurance, HR, Pharmacy, Support Staff, Reports and more. Further below I would like to mention certain reasons to think about hospital management system for your hospital or healthcare organization.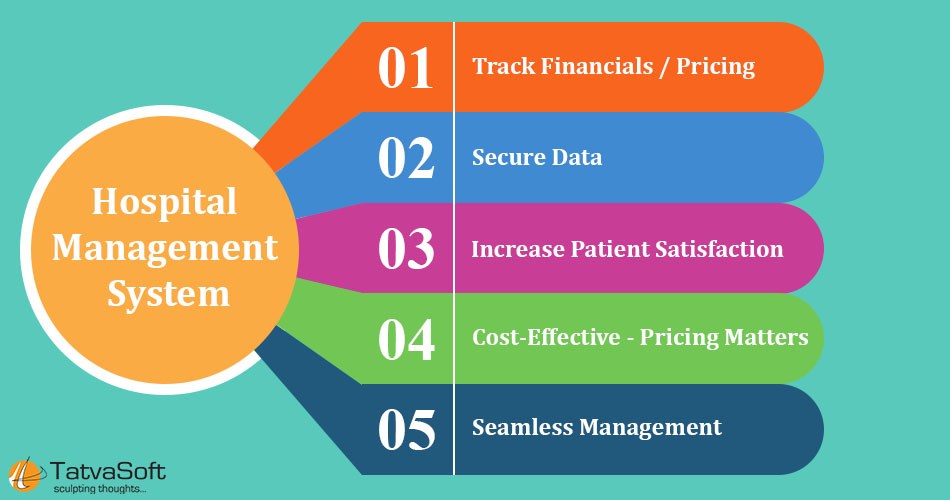 3.1 Track Financials / Pricing issues in a better way
Having management software at bay, the financial department of hospitals can be taken care of easily. Here hospital cannot just track revenues, outflows, debts and receivables better with an HMS. The financial reports that an HMS can generate would give the hospital administration a very accurate picture of the health of a hospital.
3.2 Secure data at any Cost
A Hospital management software makes it next to impossible for unauthorized personnel from accessing sensitive and private information, especially concerning patient records. It considerably reduces the possibility of data theft.
3.3 Increase patient satisfaction
A Hospital management software reduces all the time taken for procedures and processes and this happens at every stage of patient interaction. What I mean is right from registration to billing and discharge, thus making your patients happy.
3.4 Cost-Effective – Pricing Matters
A Hospital management software helps to track and control finances, reduce leakages as well as reduce manual work and as a result. And there is no need for a higher human workforce. A management software assists to cut down the cost by reducing all the manual work done by humans in the hospitals. Especially for those who take care of the record and documentation safely and securely. On and all having hospital management software can reduce the human resources costs as most of the work is automated.
If your hospital is entirely HMS implemented, then your hospital will go paper-free one. It's enough if you maintain the mandatory documents and other related ones in your hospital to comply with the regulation standards. The Cost is a huge reason why more and more hospitals are considering incorporating management software.
3.5 Seamless Management done by the Software
Another interesting reason to choose a management software, apart from the cost is the automated and seamless experience offered by this hospital management system. An HMS is not just limited to storing or simply displaying data. But it does play a significant role in sharing some of the most crucial insights just to optimize the utilization of employees, clinical decisions, occupancy rates, etc. Moreover, it is also capable of solving errors on its own and remind different users of the software of their important tasks.
4. How does this Cost-effective Software work? Top Features to consider
Like I said before a hospital management system assists well in providing stability to the functioning of day-to-day tasks as well as interactions among patients. And their respective doctors or hospital professionals. Apart from this, keeping a track record of all the operations, stores the users' data, performs its analysis and generates the reports in one place. In fact, a hospital system also tracks the number of available doctors and their working hours. This allows you to have the accurate schedule of each employee, manage your facility abilities and the supply chain in order to meet all the needs of the patients. It helps to arrange the appointments for both the staff and patients' convenience. Now let us understand Healthcare information systems working!
1. Modules of a Management Software
First Module of a software – Patient Registration
All the information in this module is related to patient. Right from how to maintain the patient information chart, which marks the outset of demographic capture. Herewith the help of this feature, tracking visits becomes a cakewalk. And not only this, the software even assists you in verifying a patient's benefits eligibility automatically with the use of secured electronic data interchange. Also, it provides adequate support in emergency needs, telephonic appointments, and walk-ins. And of course, the feature enables software to comprise the patient's details, such as name, contact information, birth date, address, employer & insurance information.
Second Module of a Software – Appointment & Scheduling
The module in hospital software facilitates appointment scheduling of patients for doctors, laboratory, & radiology services. So here you get all the relevant updates and alerts to the patients via text messages or emails to reduce no-shows. In fact, both the hospital staff and patients can check appointment status here. There is also a facility of online and offline availability in the software. And of course, above all is quick and effective patient scheduling.
Third Module of a Software – Laboratory Management
The only significance of having effective hospital software for management purposes is that it has to be well integrated with laboratory information systems. Therefore this software module is used in the pathology laboratory for recording and disseminating the info related to performed tests in the hospital.
The hospital management module comprises wide-ranging workflow modules where lab equipment is integrated effectively. Therefore here efficiency can be seen in managing exam reports of patients, medical test info, lab department activities, and commercial records. The software makes laboratory reports available via the patient portal thus facilitating a complete paperless solution.
Fourth Module of a Software – Store Management
This Hospital management module cost is included in the cost of the entire software too. Apart from that you can also inform your staff members on what's going on everywhere (especially in other departments) especially regarding the purchase entires. Inventory management becomes quite easier here.
Right from making bill adjustments against payments made at other departments or managing stocks, it covers it all! In addition, you also get to reorder levels, maintain issue slips and MRN, maintain purchase order with due deliver dates and what not!
Fifth Module of a Software – Consultation Management
This feature or hospital management module is pretty significant. Because it records the history of the patients makes it easier to work based on the last visit. This one classifies the patient's visit as existing/new for that consultant and also tracks consultant fees for in-patient & out-patient visits and also the procedures. Offers the option to define the consultant fees based on department/procedures.
5. How much a Hospital Management App or Software Model Costs? The Price Factor
Well, there is no cookie-cutter factor to consider when determining the price or the ultimate cost of the best Hospital Management Software. Because it is a massive software and requires a lot of research to understand each viewpoint in detail. And right from the size of the practice, the number of users, and system features. And you know, the toughest part in cost determination is whether you are choosing a cloud-based solution or a software-based one. The range of prices is a fairly dramatic one: between $15,000 and $70,000 per provider.  
I mean if you are looking for an in-office, self-hosted solution, the up-front cost might be $33,000, with $4,000 per year. A cloud-based solution averages $26,000 for upfront cost with a yearly cost of $8,000. As with the software system, the annual cost depends on per user.
Except for the start-up cost, the software also charges monthly fees for each user. If you opt to purchase software, you also need to buy a license for each user. Cost estimation also depends on the implementation of the system, IT contractor, installation, and workflow reconstruction cost.
6. Conclusion
So now you know what is hospital management software, why is it so much in demand and most important of all. And how to determine the hospital management software cost. Well, Effective management is the key to success for any business and the same can be said for the management of hospital systems. So do not waste any time further and start considering a reliable partner that can assist you in creating an online hospital management solution.