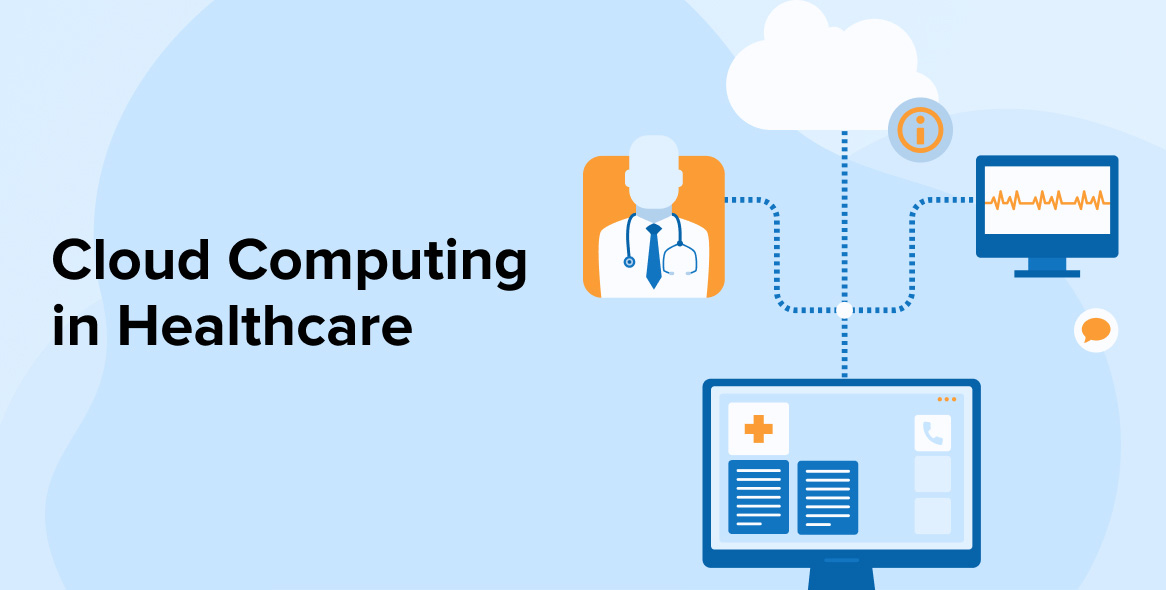 In today's time, the use of cloud computing in healthcare departments is increasing and since the pandemic, the entire healthcare system has started to depend on various medical applications that are attached to the cloud. Everyone from healthcare professionals to nurses and patients are reaping the complete advantage of the IT infrastructures that healthcare providers have. This comes with some major benefits like lowered expenses, improved privacy, and better patient care. Because of these reasons medical organizations are hiring healthcare software development companies with experts who can help in implementing cloud computing and enhance the firm's functionalities.
As per a survey from IDC, with each passing day, cloud technology is becoming famous and its spending is predicted to reach $1.3 Trillion by 2025. Hence, adopting cloud computing for your healthcare organization is very beneficial. So, in order to understand this concept clearly, in this blog, let's go through cloud computing in healthcare and have a look at its benefits, types, examples, risks, and more.
1. What is Cloud Computing in Healthcare?
Cloud computing is a very popular technology used in the healthcare industry to enable the implementation of remote servers accessible through the internet in order to manage, store, and process healthcare data. Cloud computing is a completely opposite process to the one where on-site data centers are created hosting patient data on computers. But unlike on-site centers, cloud platforms offer a flexible solution for healthcare stakeholders as they can remotely access servers from anywhere and get in touch with important data within seconds. As per a survey by BCC, the worldwide healthcare market for cloud computing is expected to hit $35 billion by the end of 2022.
The healthcare cloud computing market was valued at USD 33,390.56 million in 2021, and it is expected to reach USD 71,730.64 million by 2027, registering a CAGR of 14.12% during the forecast period 2022-2027.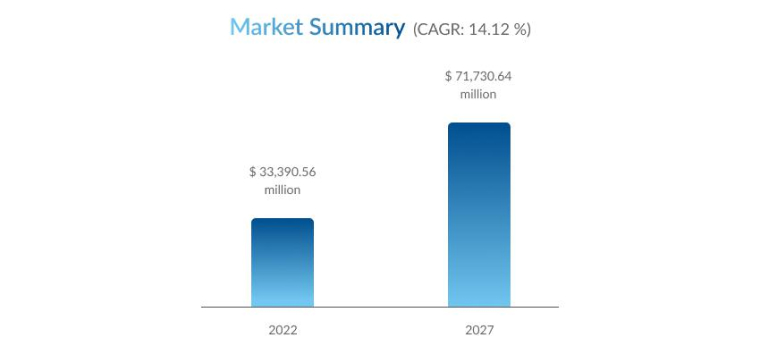 Basically, when any medical institute shifts to the cloud from its simple on-site data storing approach, they get two-fold benefits for both their own institute and patients. Medical businesses can benefit by getting lower operational spending and can deliver personalized & high-quality care to the patients. While on the other hand, patients get instant healthcare services.
Besides this, with the help of cloud computing in the healthcare department, the engagement of patients increases as they get access to their healthcare data 24*7 and they also get remote access to healthcare solutions for various issues within time.
2. Benefits of Cloud Computing in the Healthcare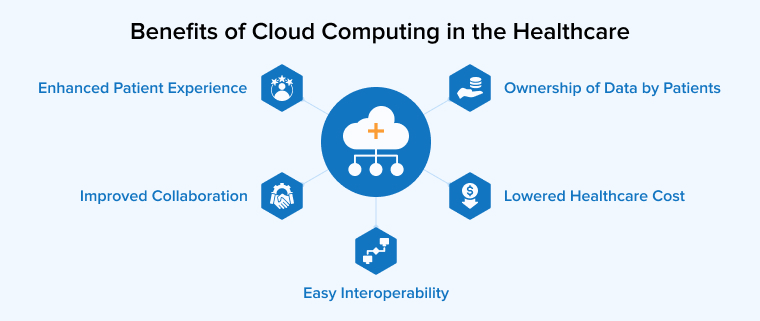 Some of the major cloud computing benefits in the healthcare department are –
2.1 Lowered Healthcare Cost
One of the most important and primary reasons behind healthcare institutes choosing cloud services is that they get real-time availability of computer resources like computing power and data storage. In such cases healthcare organizations get freed from the requirement to purchase data storage hardwares. Besides this, with cloud computing, there are no upfront charges which means that the healthcare institutions will have to pay only for the resources they utilize. In addition to this, cloud computing in healthcare comes with applications that can offer an optimum cloud environment for scaling without charging too much. This means that with the patient's data flowing in from anywhere be it from EMRs or wearables, or other healthcare apps, a cloud system can make it possible to store everything by keeping its cost low.
2.2 Easy Interoperability
Another major benefit of cloud computing in healthcare is easy interoperability. Interoperability is a concept that focuses on establishing data integrations with the entire healthcare system, irrespective of where the patient's data is stored or what is its origin. This means that interoperability powered by healthcare cloud solutions enables the institutes to access patients' data easily, they can even distribute it within the institute or outside it for some medical emergency purpose and can get proper insights from the data to aid healthcare delivery. Basically, cloud computing enables the healthcare industry to gain access to the patient's data that is collected from various resources and share it with important personnel or stakeholders by following proper delivery protocols.
2.3 Ownership of Data by Patients
With the help of cloud computing in healthcare, there is a possibility to democratize patient's data and give its control to the patients. This approach helps in growing patient participation in decision-making related to their health, educating them about the healthcare factors, and working for betterment. Basically, cloud computing in healthcare enables medical data to be archived and then retrieved without any hassle when the digital data is stored in the cloud. This means that when there is an increase in the system uptime, the data redundancy reduces and when the system is not overloaded, data recovery is also easier.
2.4 Improved Collaboration
Adopting cloud solutions to healthcare plays an important role in boosting collaboration and saving Electronic Medical Records. This means that the patients can be free from carrying medical records to the doctor every time they visit. With the cloud system, the doctors will be able to access the patient's information easily, see the outcomes from their previous treatment, and share the information in real-time. Basically, collaborating cloud computing with healthcare can enable doctors to provide more accurate treatment.
2.5 Enhanced Patient Experience
Healthcare cloud computing enables doctors to get the power to engage with patients more actively. This is possible with the help of real-time access to medical data, doctor's notes, and test results. By having this approach to healthcare, the patients are able to control their health as they are more educated about their medical history, healthcare solutions, and precautionary measures. Besides this, cloud computing in healthcare also offers proper care for the patients and looks out for them so that they are not dragged into unnecessary testing or aren't over prescribed medicines.
3. Types of Cloud Computing in Healthcare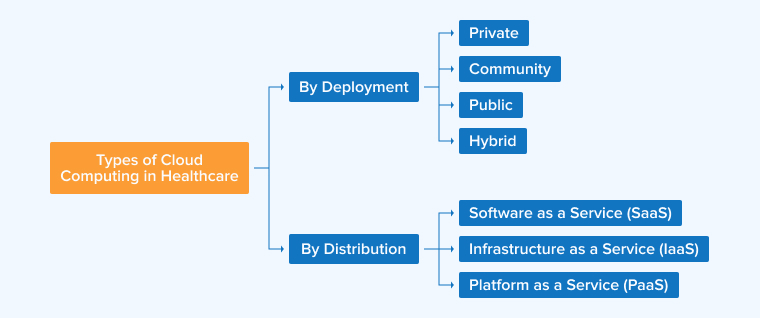 The two major types of healthcare cloud computing are –
3.1 By Deployment
Cloud computing in healthcare by deployment includes –
Private – This is the type of healthcare approach where only one healthcare firm can use a cloud solution or facility.
Community – Here, there are multiple healthcare bodies that are able to access one cloud system.
Public – Public deployment means that the cloud is open for its stakeholders and only they can access it.
Hybrid – Hybrid models mean a combination of various elements that are described above.
3.2 By Distribution
Cloud computing in healthcare by distribution includes –
Software as a Service (SaaS) – SaaS is a distribution provider that offers IT infrastructure where the client gets to deploy their healthcare application.
Infrastructure as a Service (IaaS) – IaaS provides an operating system and IT infrastructure where the clients are able to deploy their healthcare apps.
Platform as a Service (PaaS) – PaaS offers applications, operating systems, and the entire required IT infrastructure, where every component is in a ready-to-use mode.
4. Examples of Applications and Companies Using Cloud Computing in Healthcare
Some of the major examples of apps and companies that are using cloud computing in the healthcare sector –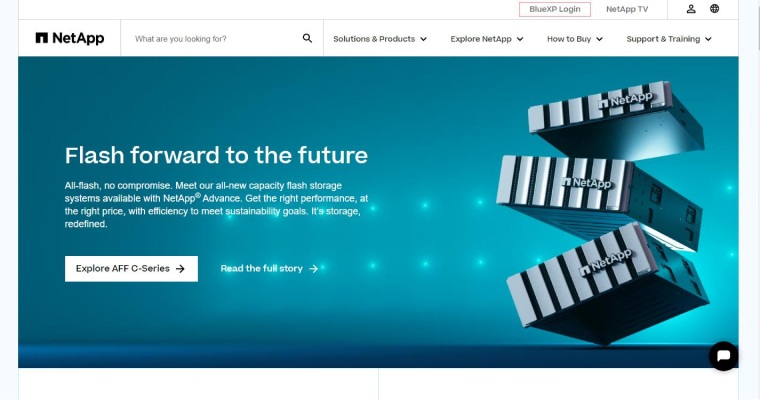 NetApp is one of the best hybrid cloud services provider companies that deliver data in real-time to make medical processes faster. It offers efficiency with the help of features like a restoration system, quicker backup, and easier adoption of patient data growth.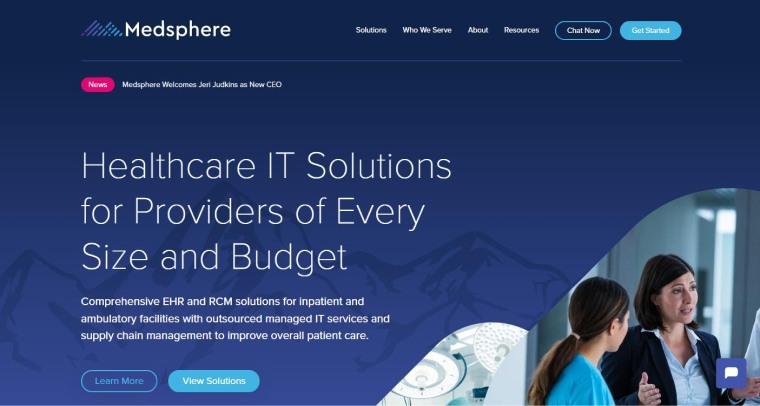 Medsphere is another IT services company for healthcare departments that offers various services like multiple medical, accounting, financial, nursing, and more.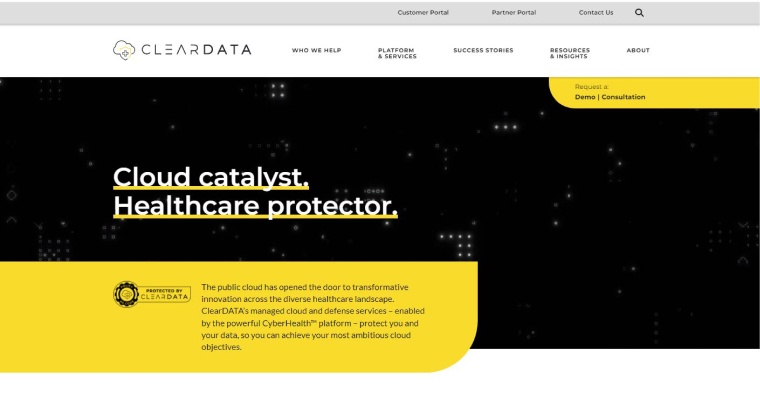 ClearData is a major cloud computing company in the market that aims at shifting all the medical data and applications into cloud-based solutions. This enables the medical institutes to retrieve all the patient records over a secure and private internet connection.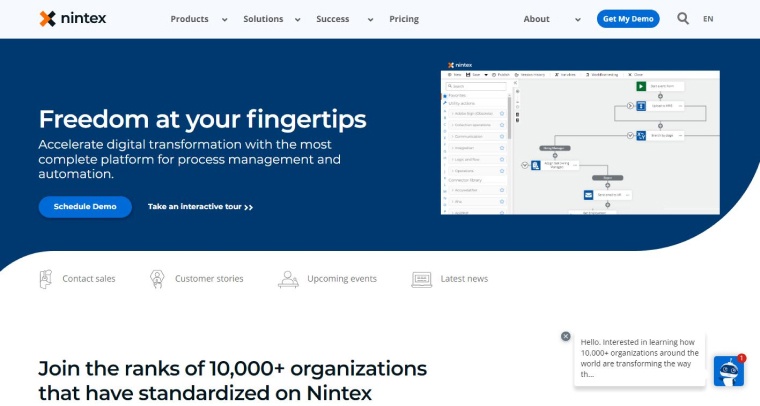 Nintex is a company that specializes in simplifying manual processes, mainly documents. It has the capability to strengthen the overall patient experience and offer automation services to the medical industry.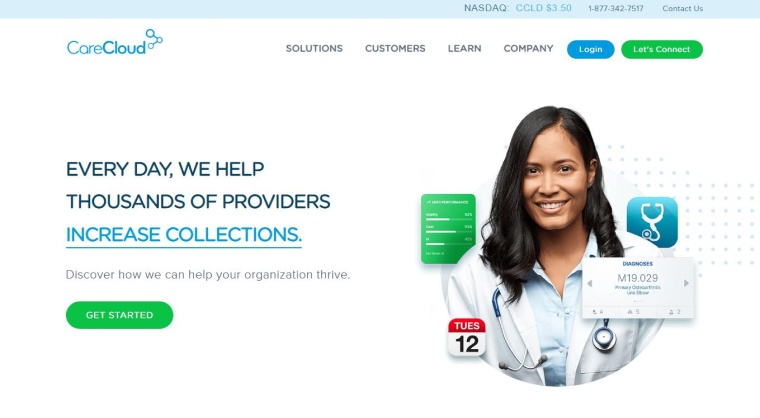 Carecloud is an EHR and practice management solution that helps healthcare institutes to offer improved efficiency and also enables them to connect directly with patient's personal and medical data.
Pfizer, a pharmaceutical and biotechnology firm, has been using cloud services for its business initiatives. Recently, it gained attention when it teamed up with BioNTech to create a vaccine against the newly emerged COVID-19 virus. The business has also begun collaborating with AWS to build cloud-based alternatives for clinical trial testing that intend to speed up and optimize these procedures.
5. Cloud Computing in Healthcare Comes With Risks

There are some major risks when it comes to cloud computing in healthcare and they are –
5.1 Restricted Ecosystem
With cloud computing, the entire healthcare industry cannot be completely productive and efficient. And still, if the medical institute wants to take advantage of this technology, it will require experts that can help in using technologies like the Internet of Things, Artificial Intelligence, and Data Management.
5.2 Lack of Experts
To work with cloud computing and keep the hospital systems updated, expert healthcare software development companies are required who can first create a robust healthcare software and then help in managing it. But finding such companies who can develop such systems is a tedious job.
Know more about our Healthcare Software Development Services
5.3 Security Challenges
When it comes to working with technology, there are always some kinds of security concerns attached to it. This is the same with cloud computing in the medical field. While storing healthcare data is the most important and primary point of adopting cloud technology. There are some security risks attached to it. Because of the primary cloud setup, a medical institute's data shared on the server with other institutes and remote systems may fail. It can fail the entire healthcare agency and people's trust in it.
5.4 Issues in Adopting Technologies
One of the risks that medical institutes face by adopting cloud computing is that while they are moving from the legacy framework to the cloud, they require to shift the whole task and data management system and process. This means that the agency needs to teach the entire staff how to work with new technology.
6. Avoid Risks While Applying Cloud Computing in Healthcare?
Here are the things that any healthcare agency can follow to avoid all the risks that come with adopting cloud computing –
6.1 Decide Your Objectives
The first thing any medical institute can do is they can understand the requirements of cloud systems in their firm and then list out all the things before applying for cloud technology. And some of the things in that list can be –
Saving expenses
Security improvement
Compliance management
Data protection and better backups
6.2 List out the Things to Switch to the Cloud
When any organization is shifting its entire medical system to the cloud, there are a lot of things to do. For this, the most important thing to understand is that some particular functions might require some improvements. Therefore, analyzing the current hierarchy of the healthcare organization and its tasks pipeline is necessary before recognizing the obstacles that are preventing better medical delivery services. So, for this, the medical institute will have to go through all the processes, improve all the things that need to be immediately switched, and take the benefits of the cloud system.
6.3 Measure the Particular Investments
The last thing to do before switching to the cloud requires specific spending. Therefore, understanding whether the business can afford it or not is very important as there are some primary expenditures that are required and they are paying tech experts. But for analyzing deeper about the investment measures, you can do the following –
Outsource Jobs to Offshore Technical Service Providers: Hiring experts from offshore software development companies is the best choice as they have the capabilities to offer the services at reasonable rates.
Hire Freelancers: Another option is to hire freelancers which can be very cost-effective. But sharing medical records with a freelancer is risky,
Create an In-House Technical Development Team: The last and most complex option is to have an in-house team of software developers and experts who can create and handle the entire healthcare cloud system. But this can be a time taking and costly process. But still, an effective in-house technical expert can help in controlling the entire transfer process.
7. Conclusion
As seen in this blog, cloud computing impacts the healthcare industry in many different ways. It enables the reduction of the cost of care, helps in improving communication with doctors and patients about the quality of treatment, and more. This means that cloud computing in healthcare is huge and it impacts in a massively positive way. This is why nowadays the majority of healthcare organizations adopt cloud solutions.