You must have heard about how the emerging healthcare software development industry has surpassed multi-dollar marks. Well, if not then it's time to give a shot as this one is going places.
Table of Content
1. The Global Healthcare Enterprise Software Market
According to sources, the market value of healthcare software is assumed to reach around $29.9 billion by 2023, with a CAGR of 7.4% from 2018 to 2023. Plus, if you go and check the past record, in the past six years the market seems to have grown by almost 30%, jumping from USD 21 billion in 2018 to USD 32 billion by 2024.
The Picture says it all! In the following post, we will walk through the concept of healthcare software development and its significance for healthcare organizations across the globe. But first comes first,
2. What is a Healthcare Software?
Healthcare software, Healthcare app, Medical software, Healthcare software solutions might sound quite familiar to you. Also, they are interchangeable at times. A medical software is mainly used to monitor, analyze and interpret a patient's medical state whereas healthcare software is any software developed for the purpose of the healthcare industry. However, it doesn't mean that it does not comprise medical solutions.
If you sit back and have a border look at today's scenario, the entire healthcare industry seems to be facing unwanted challenges in rising patient expectations and also many patients expecting lower health care costs. Of course, this does involve a high amount of risk. Knowing the reason, keeping out or staying away from software applications would be a foolish step to take.
Now as you know that Google, Apple, Microsoft and Amazon are the big daddy's in the world of software development. According to Ernst and Young, Google's parent company Alphabet has filed 186, Microsoft 73 and Apple 54 patents in Life Sciences, totaling 313 patents between 2013 and 2017! Precisely speaking, Google leads due to Artificial Intelligence and big data solutions whereas Apple swings both ways somewhere between software and hardware, developing medical devices and "patient-facing products".
Microsoft and Amazon are not lagging behind as both have made their contribution in the form of heartwarming Project Emma and affordable and transparent healthcare respectively.
The Big Four dominate but don't hog the field. The market is thriving with smaller players and plenty of room for newcomers. The more we segment healthcare IT, the more nuanced it becomes with lesser-known, yet powerful vendors, unique and highly specialized solutions and market opportunity.
The Typology of Healthcare Software Development
Medical Practice management software – Mainly used to maintain all the clinical workflow and optimize your day-to-day operations.
Electronic Health Record Software – This type enables the maintenance and management of patient data in electronic records. Every report stored incorporates information regarding allergies, laboratory conclusions, medical history of a patient, and demographic statistics.
e-Prescribing Software – The technology enables sending medical prescriptions on a direct basis to drug stores and pharmacies.
Urgent Care – This one unites numerous custom healthcare apps where patients can get emergency aid without attending the doctor's office.
Hospital Management Software – As the name implies, here you get optimized hospital management.
Healthcare CRM – The software type works with customer management for better care quality, contact management and accurate performance. Also Healthcare CRM enables professionals to share relevant information resulting in increased better efficiency.
3. Combining IT Solutions and The Healthcare industry
The development sphere doesn't seem to stop! Unfortunately, there are several medical organizations that lack experience in working with healthcare software development solutions.
On and all, the development in IT has significantly changed medical education and research all across the globe. I mean check out just the internet usage, they have increased to a great extent with palmtops and PDA. Other relevant facts about combining IT solutions and the healthcare industry include:
Anatomical three-dimensional atlases development of internal organs using computed magnetic resonance and tomography has boosted the healthcare industry in the USA.
Advanced Life Support (ACLS) and Haptics simulators are used in various clinical skills like ECG interpretation, injections, drugs, defibrillation without working on the real patient.
Advanced medical simulation technologies with VR emulate clinical procedures such as catheterization, bronchoscopy, laparoscopy, etc.
One significant advancement of IT in hospitals is the development where data collection with Electronic Medical Records (EMR) go into a single database.
4. Benefits of Software in Today's Healthcare Practices
4.1 An Experience like never before!
As a customer is a king, similarly in the healthcare sector your patient is everything to you. By incorporating medical or healthcare software you will be able to incorporate healthcare interoperability, patient engagement and offer a much more comprehensive experience for your patients. For instance, this will let them type their own information prior to their first appointment. Let me explain how this works. Well, all they have to do is use a patient portal with a Kiosk in the waiting room or from any computer(including their home).
This portal offers a wide range of services including sending reminders to patients via text messages, email, or even a voicemail message recorded by a member of your team whose voice can be easily recognized by them. In addition, they can even use the portal to check the latest lab result or order prescriptions refills, reminders about their upcoming appointments. Couldn't ask for more, isn't it!
Having dedicated healthcare software in your space not only minimizes the tedious paperwork jobs but also makes for faster patient check-in all thanks to the Electronic Medical Records. Also, this saves ample time for your staff as they do not require to type it in a patient's filled-out paper forms.
4.2 Schedules – Be always on time!
Another crucial aspect that this collaboration brings is a strong scheduling system created by a reputable software development company. Without having a proper one no matter how hard you conduct your medical practices but eventually, you will lose money as well as your patients just because you are unable to schedule things on time or unable to keep your tabs on Patient feedback and assessment forms of the Healthcare CRM.
Right from setting up appointments to rescheduling them, this software can provide you with great help. Also, your staff gets the flexibility to perform such tasks on the fly. As soon as you free up a slot in the schedule when a patient cancels, it will be available to another patient, such as one who has just called, hoping to get squeezed in soon.
What's more! These software and systems can help you with several staff-level issues, healthcare providers including overbooking doctors. You know there is a term called physician burnout. After all, even your healthcare professionals are humans they do get tired, exhausted at times. During such a situation, the scheduling system can showcase how many patients you have seen on a given day.
4.3 Billing
Fortunately, today we have a team of experienced software developers who have the ability come up with an intuitive billing application. Therefore, one no longer finds these billing tasks hard enough since there is no use of paper.
A medical billing system enables you to manage collections, generate customized financial reports, and produce detailed patient statements. So all you have to do is set up a template and you are done! Whether it's about coding claims or submitting them for payment and then tracking each claim through the revenue cycle, everything is well automated and taken good care of.
Applications for medical practices are becoming increasingly important for helping organizations save time and money and cut down on user errors. The challenge is not only to keep track of innovations in medical technology but also in the applications that run our equipment.
Now here comes the big question,
5. What Do Healthcare Software Development Companies Do?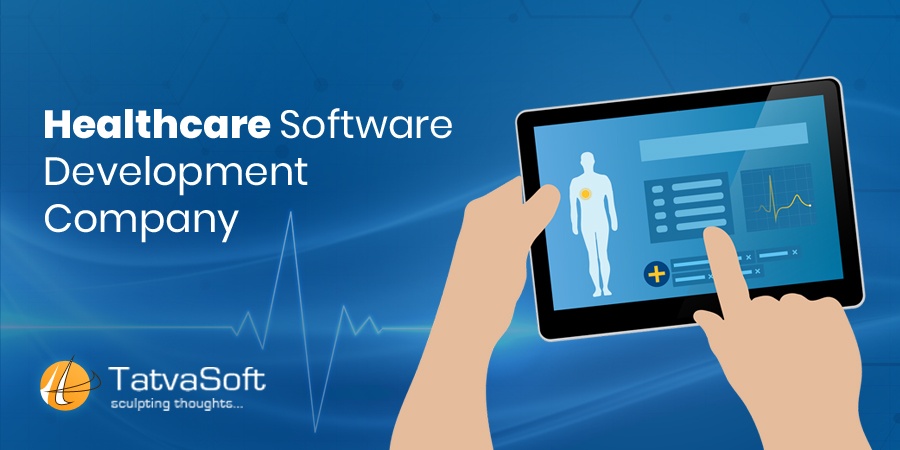 Well, the ever-increasing demand for technology in the medical realm has resulted in the rise of a number of healthcare software development companies across the world. What they basically do is that offer assistance to non-governmental organizations, hospitals, and medical schools through a wide set of optimization services. At the same time, the requested enhancement range calls for finding a truly reliable software development partner.
They offer these addition services:
Healthcare software development – With the help of technology, you can assist data management and improve care quality.
Healthcare apps – Here mobile solutions are used for tracking and communication on health state
Custom solutions – Task-oriented software or a mobile solution designed specifically on the customer's request.
What's more! Well, by availing different types of Healthcare software built with custom healthcare software development one can optimize the work with patients records, patient data management facilitate healthy communication between caregivers and patients, ensure smooth, formation and interchange of individual health plans and strategies, Providing a better accuracy of diagnoses, Cutting extra expenses and more.
6. Conclusion
On and all, opting for a healthcare software development project will assist in eliminating the inefficiencies in every healthcare organization. So this brings better outcomes and no budget wastage.