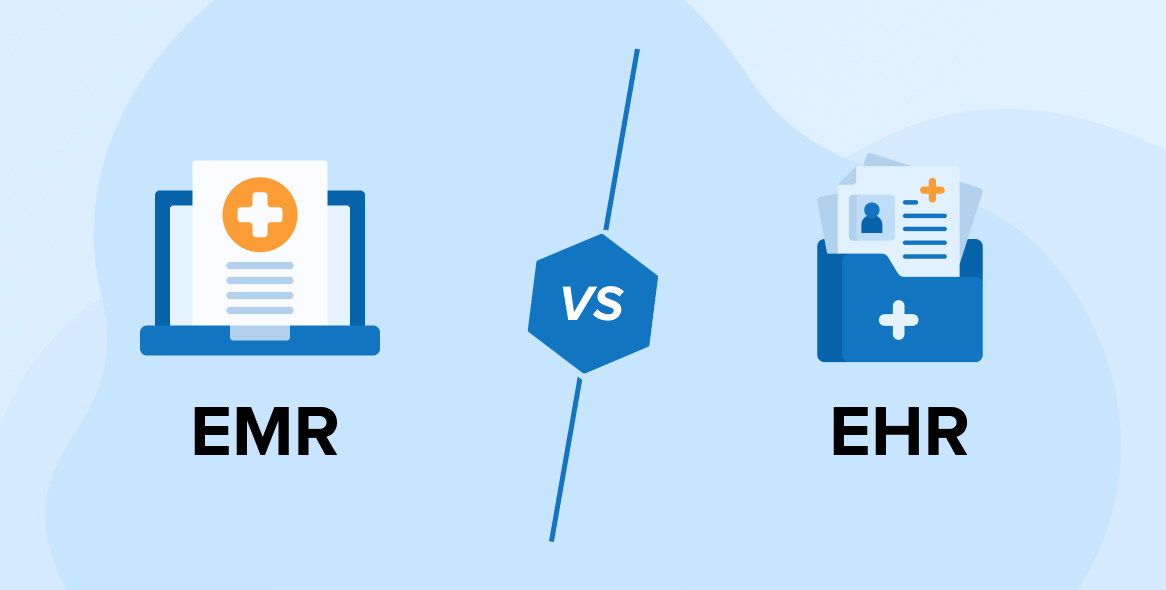 Electronic Health Records (EHRs) and Electronic Medical Records (EMRs) were developed back in 1992. They were developed to enhance medical treatments and get rid of paper records. But many of you have confusion regarding the usage differences and the services they provide.
As a healthcare software development company, we have explored this topic for you and tried to clear out the confusion between EMR vs EHR. To add more to it we have also added, What kind of benefits do these electronic medical records and electronic health records systems offer, and most important of all what is the core difference between the two?
1. What is EMR (Electronic Medical Record)?
As the name implies, an EMR (electronic medical record) is a digitalized sort of the patient's health. If you want to check out your medical history or any recent diagnosis, you will find these records in an EMR system As mentioned earlier, these records are just replacements for paper. Otherwise, everything remains the same.
Here's what cancer.gov says about the definition of EMR.

You get full-fledged data online for the betterment of patient care. Healthcare professionals such as doctors, and nurses are able to communicate effectively as they can check the data whenever they need to and prescribe accurate diagnoses, medications, and further treatment.
Everything is now working well together with these technological innovations. Healthcare organizations can focus more on optimal patient care. It is a safe bet to say that after the rise of computers and the internet, things have become pretty much interesting. In fact, healthcare providers can no longer survive without these tools since they make the transfer and management of patients records and medical histories so streamlined and transparent. In a typical EMR report, you can find the patient's medical history, immunization dates, their past, and current diagnosis, anything he or she is allergic to, lab results, and the further treatment recommended.
It may quite interest you to know that the era of electronically prescribing, i.e. e-prescribing began with EMRs. Here you get precise patient health information. There is no room for mistakes or misconceptions here Also, this one is HIPAA compliant. Here security is at its paramount.
1.1 Pros and Cons of EMR
Pros of EMR:
Here are some of the major advantages of using EMR –
Accuracy
Every clinic or hospital that deals with a patient's medical information faces some kind of difficulties in managing and securing it. This is why they require a fully integrated system like EMR that can help in managing as well as safeguarding the patient's personal and medical data. Besides this, such systems also help in transferring all the available data into the billing system which makes it easier for the accounts team to generate bills.
Quicker Access to Patient Information
With the help of EMRs, healthcare providers can easily transfer the data of their patients from one department to another. When this is possible, doctors from different domains can get their patient's history with other health issues easily which is very important.
Legibility and transparency of online records
EMR helps medical organizations eliminate misunderstandings in doctors' prescriptions and this is because the digital documents of the patient's medical history are easily generated on the system. Besides this, doctors can also edit and sign the prescriptions online and store them for future requirements.
Lower Administrative Costs
EMRs have been beneficial in saving administrative costs for almost every healthcare provider. The hospitals that are using EMRs are able to reduce the costing that goes behind medical papers, extra staff for managing patients' details, and much more.
Great Speed of Orders Initiation
The order for medicines or laboratory tests can be immediately sent with the help of EMR systems. Now, the patients don't have to wait in queue to place their orders. As soon as they visit their doctor, they can order their prescribed medicines or book an appointment for their laboratory reports suggested by their doctors.
Accessibility
Data that is stored in EMR is available 24/7 which is completely unlike the traditional medical record filing system. This helps both patients and doctors to access the prescriptions, lab reports, or prescriptions. It also eliminates the chances of information loss.
To give you a summarized version of the benefits of EMR, here's what Dr. Donna Manca writes about electronic medical records.
Multiple doctors, physicians, nurses, and staff members can go through these clinical records and it is not at all important to be at one particular location. The era of Digitization and health information technology seems pretty enticing, doesn't it?
Cons of EMR:
Here are some of the disadvantages that come with using EMR –
Prone to Hacking
There have been cases where medical records were stolen in the black market. In the year 2017, many healthcare providers faced this issue as hackers got access to their systems and patient's data got stolen. This is why, while using EMR, hospitals need to be careful in data securing.
Require Updates
Small clinics or medical providers like personal trainers and pharmacists might use the same EMR system which can make it difficult to keep the tool up-to-date and this can lead to various vulnerabilities.
Risk of Violating Privacy Laws
When clinics and hospitals along with other healthcare service providers decide to take their patient's records to a digital platform, they need to take care of the privacy policies and follow them to protect the information. Data protection laws must be followed by the organizations and their staff members.
Lack of Interoperability
Hospitals have to manage various platforms because of the lack of interoperability between different EMR platforms and this becomes costly for any healthcare provider organization.
2. What is EHR (Electronic Health Record)?
Much like an EMR, EHR (Electronic Health Record) are digital-based reports of the patient's medical information. Here is an EHR software, you can find everything from patients' medical history to their current prescribed medicines, real-time diagnosis, lab results, immunization dates, treatments prescribed, and so more.
Here EHR includes:
The contact information of the patient
How many times have they visited a doctor or any other clinicians involved?
Are they allergic?
Do they carry insurance?
What are their family records or demographic data?
Crucial details about lab results or any surgeries performed to date and so forth.
An EHR system can effectively diagnose a patient and enable clinicians to access their full information. Here they get a 360-degree view of the patient and then make the decision. Knowing everything in advance also makes them take preventive measures sooner. The scope of manual errors seems to be decreasing due to more reliance on technology. As a result, a rosy future lies ahead.
2.1 Pros and Cons of EHR
Pros of EHR:
Here are some of the major advantages of using EHR –
Improved patient care
EHRs have the capability to offer better analysis of the patient's health by viewing chat values like blood pressure, cholesterol levels, weight tracking, and more. With the help of EHR systems, healthcare providers can send electronic templates to patients, remind them about their scheduled appointments, and more. Besides this, EHR can also help in improving medical information, reminders, and clinical alerts. All these things can definitely improve the patient's health. 
Improved patient engagement
With the help of EHRs, patients can easily access their health information. This tool not only helps them manage their healthcare routines but also sees to it that the patients are healthy, and they are being active.
Enhanced privacy and security
Hospitals use EHR tools because they are specially designed in a way that they can fulfill all medical requirements with robust security measures. These types of systems help healthcare providers protect patient privacy.
Improved coding and billing
Another benefit of using EHR software is that it enables clinics and hospitals to manage coding with minimal errors. This means that each hospital can follow its own healthcare code and can change it as per the requirements. Besides this, when hospitals partner with insurance companies who will again have their own codes, an advanced EHR system will ensure that there is no error in this integration and the billing process is smooth.
Fewer Storage Costs and Demands
While working with an EHR system, the healthcare providers don't require the traditional paper and folders method where all the records were kept physically. This automatically lessens the storage space and eventually even the cost that used to go behind buying cabinets to keep the files. Besides this, hospitals can make use of the file storage room for other things like storing medical supplies.
Faster Order Initiation
As we know with EHR systems, it is easy to access patients' medical history and personal information which is very beneficial for doctors as well as laboratories. The reason behind this is that doctors can easily check the old prescriptions and reports of the patients in one place and can prescribe new treatments accordingly. In the same manner, imaging centers or labs can get access to patients' details which are essential to make further check ups done. Such details of patients are stored in a particular order in EHRs which can be easier to read.
Several disruptive technologies such as AI will be found incorporated into the EMRs and EHRs systems. Lots and lots of time can be saved since the technology will diagnose the patient by going through all the medical history of the patient on behalf of the physician prior. Here the patient-centered approach can be seen to a great extent.
Cons of EHR:
Here are some of the disadvantages that come with using EHR –
Privacy and Cybersecurity Issues
Though data storage is safer with EHR, there have been cases where hackers breach the security to get their hands on the patient's medical details and such cases happen when the organizations aren't using certified EHR systems. This is why, even with EHRs, healthcare providers have to be alert and ensure the highest level of security for their patient's privacy.
High implementation and maintenance costs
The use of EHRs is very beneficial but it comes with some financial obstacles like high upfront costs, routine technology maintenance, expensive technology implementation, transitioning from the traditional approach to the eHealth approach, and more. This is why healthcare providers sometimes don't prefer EHR systems.
Frequent Updating Required
When any hospital is using an EHR system and has partnered with other healthcare professionals like pharmacists and personal trainers who have their own electronic health record system, hospitals have to keep their systems updated as per their partners' so that they don't miss out on the details about the patient's health or appointments or reports. This frequent updating can be a bit of a hectic task.
Productivity loss
Another disadvantage that comes with adopting an EHR system is that such a tool requires time and energy which any hospital or clinic will have to constantly work on it and this can reduce their productivity on other important tasks.
3. Difference Between EMR and EHR?
According to healthit.gov, the terms "electronic medical record" and "electronic health record" (or "EMR" and "EHR") used interchangeably. Meanwhile, you will find lots of debate going on over platforms like Quora about the difference between these two.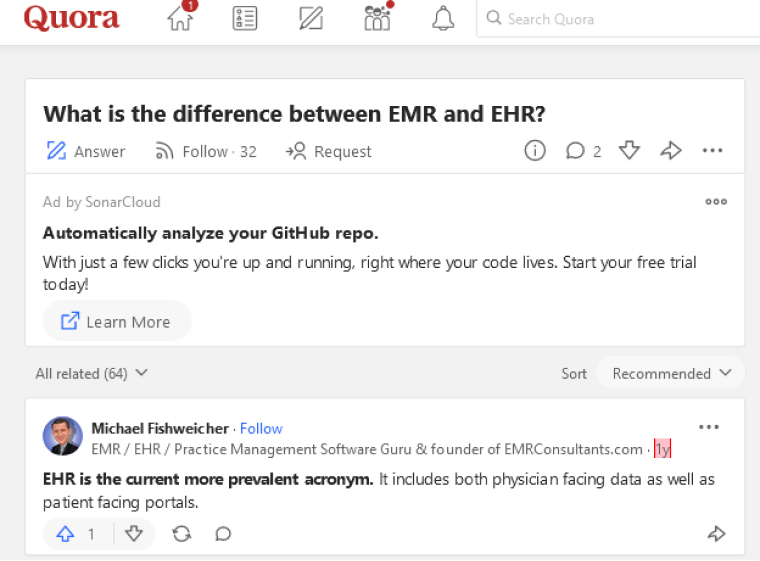 Moreover, this EMR vs. EHR debate is not limited to Quora, Take a look what people is discussing on Twitter.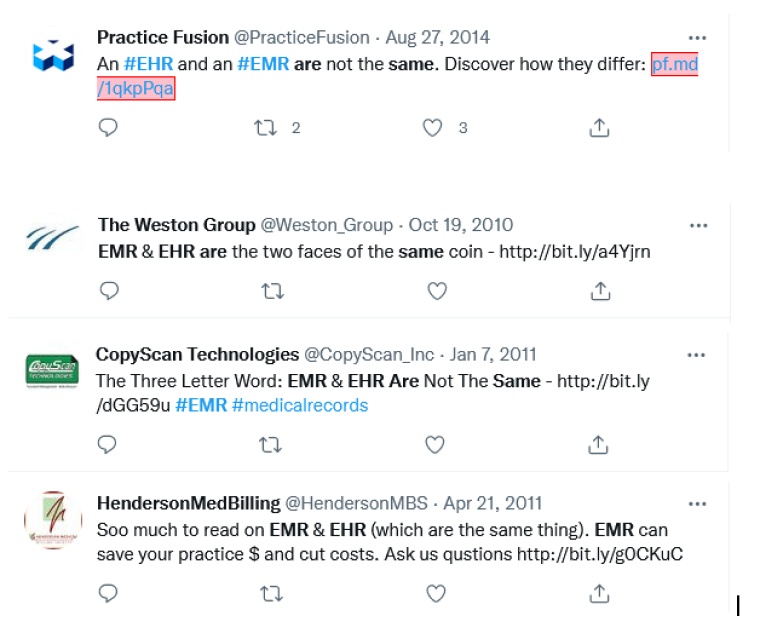 Well, you will find out what's the difference between these two below.
Over the years, EMRs and EHRs have become more powerful and robust, providing healthcare professionals with a number of tools to help improve patient's care quality and increase revenue. While there are differences between the two, EHR and EMR software offers a number of the same features and functionalities.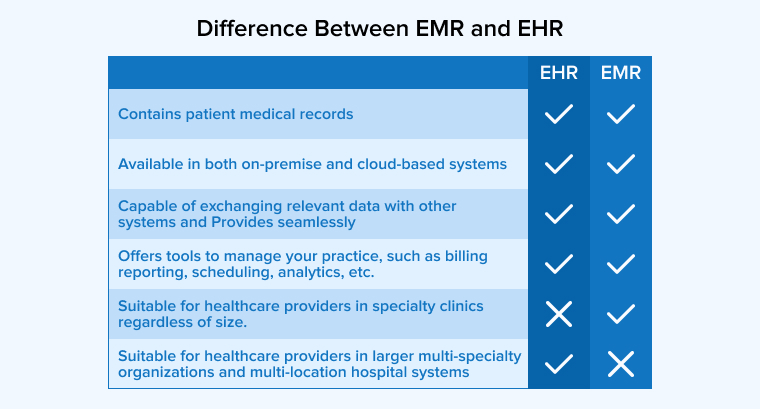 Since we have covered both EMRs and EHRs, now it's time to spot the difference between the two. One of the obvious differences is the change in the middle world, EMR, and EHR. Apart from this EMR (electronic medical record) can be considered a digitized sort of paper record. Much like those paper-based records, even this one comprises a patient's vital information starting from their medical history to their latest diagnosis reports, lab tests, and further treatment options. Whereas an EHR (Electronic Health Record) is more detailed and descriptive. In addition to all the aforementioned aspects, this one assists clinicians by recommending relevant medications and treatment. Here, one can easily communicate with their patients in real-time.
Another differentiating factor between the two is accessibility. Here professionals can access EHRs at any point in time whereas that's not the case with EMRs. This brings us to difference number three, EMR is great when it comes to cybersecurity, whereas EHR, being more informative, is more prone to cyberattacks.
With the help of EMRs, healthcare professionals can easily track and monitor health progress, get in touch with those patients who are due for checkups, and keep tabs on them such as heart rate monitoring, is the medication working, how is their blood pressure or how is their sugar level, etc. It acts as a bird-eye view for doctors, nurses as well as patients.
Whereas by using EHRs, healthcare guys aren't just limited to taking care of their patients they can go beyond. For example, here it is possible to share the entire medical information of the patient with other healthcare consultants. After all, it is all about relevant team effort. Here there is no one person responsible, it's the entire team that has to take responsibility.
4. Which One to Choose From EMR vs EHR For Your Organization?
Both EMRs (electronic medical records) and EHRs (electronic health records) are beneficial for healthcare providers as they both offer unique values. Some hospitals use both of these systems together for their medical practice. But it depends on the organization's requirements.
Generally, hospitals and larger healthcare provider organizations use EHRs as they have the capability to offer a comprehensive view of patient's health. Besides this, EHRs also help organizations to track their patient's data over time and help in creating a patient-specific health plan. On the other side, individual practices use EMRs. EMR systems have the capability to offer the easiest way to collect patient data and store it. It helps healthcare providers and patients to manage medical history and carry out clinical tasks easily.
This means that both EMRs and EHRs have their own significant values for healthcare practices. EMRs can help in focusing on single-patients and EHRs can help hospitals create interoperability. Therefore, organizations should choose any one of these tools accordingly.