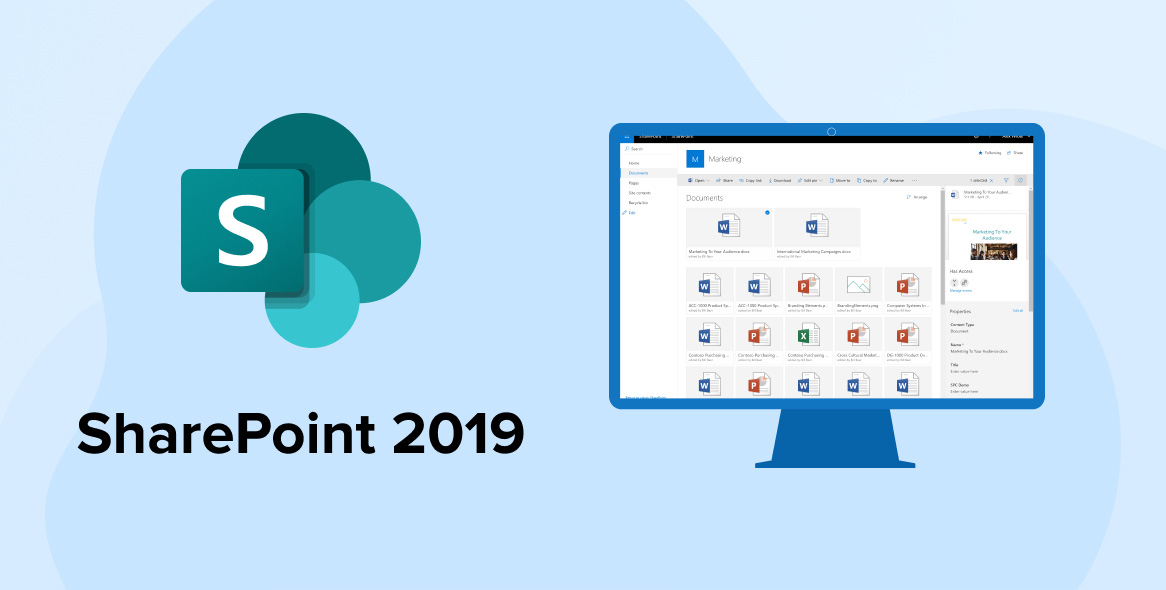 Microsoft is a leading bandwagon of technology and has been a constant innovator in all services and products they offer to different industries. Everyday there is an upgrade of new functionalities adding up on legacy Microsoft products that streamline and support existing operations and business workflows management. Similar editions to new features and resources have been added in Azure or SharePoint development services. Like in 2019, when Microsoft was on the verge of announcing SharePoint Server 2019 on-premises, these newly added features are completely focused on team collaboration and management, UI development across various devices, and how the cloud can be brought closer to existing on-premises capabilities with this new launch.
Keeping that in mind, SharePoint Server 2019 will now deliver the new features in three important areas:
Modern and attractive user experiences familiar to SharePoint Online
Content engagement across all browsers and gadgets
Powerful security and compliance policies
SharePoint Server 2019 shall represent a whole new era in SharePoint. The goal is to bring the user closer to the cloud and the cloud closer to the user. As a result, SharePoint Consultants assume SharePoint 2019 typically has "some of Office 365 features".
SharePoint Server 2019 on-premises version will be built on the strong foundational release of SharePoint Server 2016. It is a comprehensive solution for connected information work that preserves and supports structured processes.
With SharePoint Server 2019 Public Preview that is already shipped mid-year 2018, the potential users are curiously sparked with interest to know what the full version will bring with it.
What to expect from SharePoint Server 2019
SharePoint Server 2019 is expected to come bundled up with a plethora of modern features already part of and related to SharePoint Online.
One of the biggest consequences of SharePoint 2016 is that it does not have a lot of the modern SharePoint features. Fortunately, Sharepoint Developers will now have some (if not all) modern features brought in 2019 on-premises.
Below, are the new features and updates that SharePoint Consultants and Users will get in an existing features that are expected in SharePoint Server 2019 :
Modern UI throughout the product
For the matter of fact, it is important to understand how people interact with advancement in technology with more than "look and feel" perspective. Big Bets in SharePoint 2019 on-premises are listed below:
Communication sites (but no Hub sites): Enhance the social media presence for sharing data and news, showcasing a story or broadcast a message to other people in a visually compelling format. Hub Sites- a feature that blends content from across communication and team sites, seems no longer a part of SharePoint 2019.
Modern team sites: Offer rich and responsive user experience across all the teams in internal as well as external communications. It is considered to be the most expected feature in SharePoint 2019, which the cloud users thrive upon. Note: SharePoint Server 2019 shall continue to support creating classic team sites.
Modern site pages and Web parts: This enables users to share ideas using pictures, Office documents, embed videos, and more. Users will now be able to create modern pages easily and by default, mobile-friendly. Most of the modern web parts will be there too.

Modern lists and libraries: This feature provides individuals and teams better ability to access, share, and collaborate around structured data and to bring information from other systems into SharePoint to leverage business processes. This shares a similar experience to what they found in SharePoint Online.

OneDrive for Business: Make file storage and document collaboration more people-centric with new support for the latest generation of sync clients with it. The new SharePoint 2019 release surely brings in a lot of improvements with regard to usability, administration, and maintenance to hybrid architecture. Gone are the days where OneDrive lacked in on-premises services.
Modern sharing experiences: This feature provides a simplified sharing with UI which allows and supports users to share links to content with others in organization. The robust sharing experience found in Microsoft 365 will now be a part of SharePoint 2019 on-premises.
Advance search experience: Modern search experience, available through SharePoint home page, modern sites and libraries showing a compelling overview of search results easy to expand based on type, for example, people or sites.
Modern email sharing template: More available options to share email notifications which can be refreshed and used with modern template design.
Suite Navigation and App Launcher improvements: Developed new features allows seamless Suite Navigation and App Launcher in SharePoint 2019 and they can now closely be aligned with familiar features of Office 365.
Platform Enhancements
Along with new user experiences, SharePoint Development Company can provide few platform enhancements in SharePoint Server 2019:
Fast site creation: SharePoint Server 2019 will allow users to create new sites in a few seconds.
Large File Support: SharePoint Server 2019 will provide support for storing files up to 15 GB in SharePoint document libraries, which helps users to contribute modern media, large videos, audios and more. This will now increase from 10 GB found in SharePoint Server 2016.
PDF Viewer: SharePoint Server 2019 will now allow rendering PDF documents on the server without a need to rely on a PDF viewer client application.
SMTP Authentication: Users will now be able to use actual authenticated SMTP (including Microsoft 365) to send out their emails.
File/Folder Names: SharePoint Server 2019 will deliver support for a broad array of types and naming conventions to include # and % as supported characters in file and folder names across SharePoint document libraries. This will allow people to contribute and sync files containing # and % characters as prefix or suffix inside the file or folder name.
Character Restrictions: SharePoint Server 2019 will increase the maximum file path length limit from 260 characters to 400 characters, making it easier to sync highly nested content to SharePoint.
Recycle Bin restore improvements: Users with edit permissions can now restore items that they've removed themselves, and items that other users in the site have deleted.
Business Process Improvements
We know that customers worldwide use SharePoint to support collaboration, search, business process automation, and custom business service applications; and we know that many customers rely on SharePoint Server for mission-critical workloads.
Microsoft has typically described PowerApps and Microsoft Flow as its successor products to InfoPath and SharePoint Designers. Power Apps are for developers, offering wizards and templates for creating Web and mobile apps, while Microsoft Flow is a service mashup tool for orchestrating workflows. Though, there still aren't native PowerApps and Flow buttons and/or icons placed.
Introduction of a Launching Point – SharePoint Home Page
SharePoint Server 2019 will introduce a one-stop UI feature enabling users with a unified access to all of their sites – online and on-premises.
It allows users to navigate seamlessly through their intranet system, catch up with activity across their sites with just a glance, and provides a personalized view of all relevant team news in one place.
Users can now create new sites in a different web application, regardless of whether the web application is hosted on the local farm or a remote farm.
Syncing files has become easier
Next-Gen OneDrive Sync Client: Users can use the new OneDrive sync client (NGSC – Next Generation Sync Client) instead of Groove.exe to sync files in your SharePoint Server 2019 team sites and personal sites with their devices, supporting advanced features such as Files On-Demand, push notification, and IRM protection while still being easy to use.

Administration and/or Infrastructure Improvements
Users who enjoy administration and infrastructure have not been left out. Improvements in those areas are also include:
Additional documentation links for Central Administration site: Users will now easily be able to reach the latest SharePoint administration documentation and find the latest Public Updates.
Workflow manager 2019: SharePoint Workflows are not going anywhere in near future at least. Considering this, Microsoft will be releasing Workflow Manager 2019 to replace Workflow Manager 1.0. Things that can't be accomplished using the old Workflow Manager.
System requirements: SharePoint 2019 will support the following versions of SQL Server as database: SQL Server 2016, SQL Server 2017 and SQL Server 2019.
What can be excluded or deprecated from SharePoint Server 2019?
SharePoint has always been focusing on collaboration, even when it is being primarily used by the Sharepoint Consultants to build intranets system. SharePoint 2019 will follow the same principle, with new features to help people to work together on files, lists, and libraries as well, providing a new generation of mobile and intelligent intranets. However, as we understand from release notes, Microsoft will surely remove or deprecate some of the features which were the part of earlier versions:
Access Services 2010 and 2013: With the advent of Microsoft PowerApps and Flows as potential alternatives, Access Services 2010 and 2013 will remain supported, but deprecated, for the SharePoint Server 2019 release.
Aggregated News feed: Microsoft highly recommends usage of options such as Team News, Communication Sites, Yammer and/or Teams while setting aggregated news feed feature to read-only in SharePoint Server 2019.
Custom Help: The current help engine in SharePoint is expected to be removed in the future release.
InfoPath will still be supported (but deprecated): InfoPath Services will remain supported, but deprecated, for the SharePoint Server 2019 release.
Machine Translation (and Variations) and PerformancePoint Services: The Machine Translation and PerformancePoint Services will remain supported, but deprecated, for the SharePoint Server 2019 release. Microsoft recommends Power BI as an alternative to PerformancePoint Services.
SharePoint Designer: Microsoft has decided against introducing a new SharePoint Designer client with SharePoint Server 2019, while ensuring that SharePoint Designer 2013 will work with this release.
Site Mailbox: Users are recommended to explore shared mailboxes as an alternative to site mailboxes.
Site Manager: The primary functionality the Site Manager provides is now available in modern experience file move.
Code-Based Sandbox Solutions: After careful consideration, Microsoft has decided to remove support for code-based sandbox solutions in SharePoint Server 2019. SharePoint add-ins are an alternative.
The following features are not going to be available (possibly in future Updates):
Hub sites
Site Designs and Site Scripts
Site collection app Catalogs
Power BI web part
Some of major features in Office 365 will not be supportive and will remain as cloud only capabilities:
Office 365 Groups
Planner
Microsoft Teams
Microsoft Forms
Delve (though can be integrated with SharePoint 2019 in a hybrid scenario)
PowerBI (though can be integrated with SharePoint 2019 in a hybrid scenario)
SharePoint Server 2016 v/s SharePoint Server 2019
SharePoint Server 2019 will be updated to a modern experience first introduced in SharePoint Online. There will be a few differences between the modern experience in SharePoint Server 2019 and the classic experience of SharePoint Server 2016, which are detailed below.
Modern experience
The modern experience is part of several (but not all) features of SharePoint.
The following are by default modern experiences:
SharePoint home page
Lists and libraries
Modern team site and communication site landing pages
New pages
Site contents
Site usage
Recycle Bin
Classic experience still exists in existing team site pages and other site pages like wiki and web part pages.
There is no one-to-one correspondence of all classic to modern experiences.
SharePoint home page
The SharePoint home page provides a modern experience where users can easily find and access frequent SharePoint sites within their organization.
Users also have the ability to find news from the sites they're following from other suggested sites.
Additionally, users have permission to create new sites from this page.
Lists and libraries
There is a significant amount of optimization in the default list and library experiences, where you can use the command bar to copy/move files and pin documents, and apply formatting to columns.

Classic Library vs Modern Library
There are some classic features that are different or not available in the modern view. These include some column types and some customizations.
Team sites
Modern team sites are more collaborative than before.
They will come pre-populated with latest news, quick links, site activity, and documents.
As with all modern features, team sites are optimized to look great across mobile devices.Classic Site vs Modern Site
Below are few major differences between classic and modern team sites:
Home page: When you create a classic team site, web parts for Newsfeed, Calendar, and Links are added to the home page by default, while with a modern site, users will experience a section for News, Site activity, Quick links and Documents.
Branding: Using Company branding on SharePoint team sites is very common, and for classic sites we have used site themes, alternate CSS, and master pages. Although these elements are not supported on modern sites, there are other ways to perform site theming and branding.
Other differences include faster site creation, in-line editing of the top menu, and more.
Communication sites
A communication site serves the same purpose as that to classic publishing sites, but there are many differences.
In general, communication sites are easier to create and don't need publishing site infrastructure.
Differences between Communication Sites and Publishing Sites
| Communication Sites | Publishing Sites |
| --- | --- |
| A communication site is generally less structured. | Publishing sites are typically more structured. |
| A communication site does not need a master page. | Publishing sites are built using a master page. |
| It is designed to be used without sub-sites. It uses modern pages and web parts. | As the publishing portal is a site collection, it may also include sub sites. |
| While there is less structure and enforcement on a communication site, it is easy to create an attractive, mobile-responsive page without code. | Publishing sites require in-depth design and development to create customized master pages and page layouts. |
| A communication site can be created with one of the predefined templates. | Publishing sites are built using site publishing templates. |
| A communication site doesn't need activation of publishing features. | Publishing features must be activated in order to create a publishing site. |
There is not a one-to-one correspondence between publishing sites and communication sites, and no automatic way to update publishing sites to communication sites.
Modern page functionality is not enabled, by default, on a SharePoint publishing portal.
Microsoft recommends you plan for and commence creating new communication sites as and when needed.
Pages and web parts
Modern pages provide a fast, simpler way to build mobile-ready pages using modern web parts.
Pages are similar to classic web part pages and publishing pages, but are less structured and simpler to create.Classic web page vs Modern web page
Web parts: Modern pages employ modern web parts. Modern web parts are designed to be user-friendly, and they look attractive on the eye. Modern pages that use modern web parts do not need to deploy any code.
Mobile responsive: Modern pages along with other modern features are designed to be mobile-friendly across mobile devices.
Layout: When we create a classic page, we choose a layout with web part zones to use. The layout can't be changed without complexity. While with modern pages, the layout provides flexibility and can be changed at any moment of time.
Wiki pages: Classic SharePoint provides another type of page – a Wiki page. There is no modern alternative for a Wiki page.
Microsoft Flow
SharePoint workflows as well as Microsoft Flow, both will continue to be available in SharePoint Server 2019.
Though it will be easier to automate processes with Microsoft Flow.
Conclusion
With an Overall perspective, on a whole, SharePoint Server 2019 is queuing up as a vital product release for SharePoint developers. It is expected to provide continual support to users who wish to list items to be added on-premises, while leveraging Microsoft's investments in Office 365 and SharePoint Online, to bring state-of-the-art functionality to SharePoint Server. While Microsoft recommends customers to the Cloud service and to Microsoft Office 365 service continuously, it keeps an eye on releasing another significant release of SharePoint Server on-premises that brings values incurred in SharePoint Online to the On-Premise universe.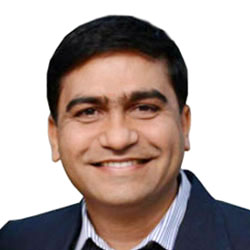 Shital Patel
Shital Patel is VP at TatvaSoft with a high-level of proficiency and technical precision in SharePoint Development. His experience of the last two decades has helped businesses to solve complex challenges resulting in growth and performance of Startups to Fortune 500 companies.
Related Service
SharePoint Development
Know more about SharePoint Development
Learn More
Subscribe to our Newsletter
Signup for our newsletter and join 2700+ global business executives and technology experts to receive handpicked industry insights and latest news
Build your Team
Want to Hire Skilled Developers?