Consider a situation, what you'd say if someone asked you about defining SharePoint and how it is used? Your answer would be Microsoft SharePoint is a web-based collaboration tool that allows you to administer secure team/project-specific sites. This works as an aid for your business operations. You are correct, however, a SharePoint can also do a variety of additional functions.
There are many questions that strike up in the minds of non-SharePoint users about the technology. As a SharePoint development company, we thought of getting a few questions into a highlight. The SharePoint-related common questions are
What are SharePoint's features?
Can it be customized as per business needs?
How does Sharepoint create a workflow?
How should I know whether my business needs SharePoint or not?
How much does a basic version of Sharepoint cost?
You might think that these are some silly questions but no these are not. These are some general concerns of large organizations that are reluctant in hiring SharePoint development companies. The end result isn't so much about the product as it is about devoting your time and attention to something more important. Such as building your company, thinking creatively, and ensuring the success of your coworkers. SharePoint has many facets that can contribute to boosting your business performance. You can get back to doing what you do best, which is thinking outside the box, by using SharePoint services.
1. What is SharePoint and How Does it Work?
SharePoint is a web-based platform that empowers business teams to collaborate by using workflow apps, "list" databases, and other online elements and security features. It also allows companies to regulate information access and automate workflow procedures across business units.SharePoint Online, Microsoft's online version of SharePoint, has deep integration features with other apps. SharePoint Online is functionally compatible with many of the other Microsoft 365 or Office 365 solutions.
2. Understanding Microsoft SharePoint Sites, Lists, Libraries, Teams, and Sites Collection
A SharePoint site is just a box if you want to keep things simple. All of your lists and document libraries are contained within this box—inside your SharePoint site. There are two types of items you'll often discover in the package. One is a column and the other is the contents.
SharePoint list is a subset of SharePoint sites. SharePoint lists include all of SharePoint's functionality for versioning, content approval, and business processes.
Furthermore, SharePoint libraries and Document libraries are the same. The table is for the papers themselves, and it comprises conventional tables for handling content or data.
SharePoint site collections are boxes connected by a structure or hierarchy. Because they all have the same superior site in common. It is also known as the root site, these boxes are generally referred to as a site collection.
With so many elements like SharePoint site collection, SharePoint site, SharePoint library, and SharePoint document library involved, let us see ways to use SharePoint effectively.
3. Top Tips on How to Use SharePoint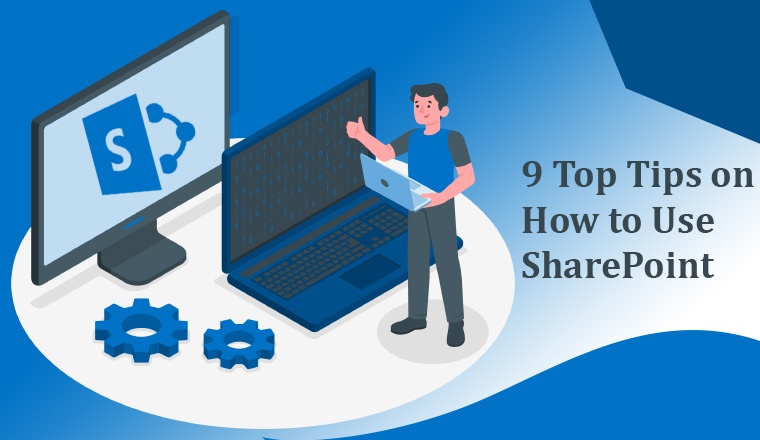 It is a daunting task for businesses to determine how to use SharePoint and identify SharePoint as a solution to support their business. SharePoint is one of the most renowned collaborative tools that is used by many enterprises irrespective of industries. To support their business, owners need to understand how to use SharePoint efficiently. Following are some tips to assist them:
3.1 Intranet
If you want to use SharePoint as an intranet substitute, you'll need the help of an IT specialist to set it up and configure it properly. Businesses no longer need to invest time and money into establishing and maintaining a distinct company intranet. That's because SharePoint Online offers all of the features of an intranet at a fraction of the price.
It's critical to remember while building an intranet with SharePoint Online that the site's primary goal is to make your users' tasks simpler. Employees want a simple and easy-to-navigate place. Whether they are accessing the employee handbook, changing their direct deposits, or downloading tax forms via the intranet.
When creating your workplace intranet with SharePoint Online, there are a few things to bear in mind. The following are the most crucial characteristics of an excellent SharePoint intranet:
Smooth Navigation – the SharePoint intranet should be simple to use, with connections to commonly used things and regular updates to keep employees informed.
Staff-focused —You're creating a SharePoint intranet for internal employees, not for customers and it should be seen in the developed application.
3.2 Content Management and Collaboration
Apart from other ways of SharePoint, one way of management is CMS Content Management System. When you utilize SharePoint as an intranet solution, you can use it to distribute data and make assets available to your team members. Your company also requires a centralized content management system (CMS). It is for business users to store, share, and collaborate on their own data. Businesses can also create team sites and communication sites for collaboration between team members.
File sharing has wide popularity and utilization these days. But file shares do not promise design and structured document storage. Employees are frequently asked to use VPN connections to retrieve files. Some team members do not have access since they have restricted authorization in management functions and remote access capabilities. With a Content Management system, you can easily manage meta databases search, document sharing, or versioning and control. If you know how then the answer is through SharePoint. SharePoint, as a content management system, also supports records management, business workflows, and custom metadata support, all of which may be accessed remotely through the internet connection without the use of a VPN or cloud storage.
3.3 Unique Document Names & Metadata Tags
To begin, give the paper a decent title—one that has meaning. It might be relevant to the project with the associated document, or it might be a tax document, for example. You can manage all the documents through a single location with SharePoint. Rather than looking through many hard disks, USB drives, DropBox, and other storage options, you may save time by storing all of the company's documents on SharePoint.
By utilizing metadata to tag documents with various properties, you may improve work and access. There is an improvement in searchability, as SharePoint offers a fast metadata-based search. If you can't recall the document's title when it comes time to look for it, you can utilize the metadata tags to locate the same document. Furthermore, adding metadata improves the accuracy and speed of SharePoint's search feature. This is especially true if you take a large number of documents to go through.
3.4 SharePoint Alerts
SharePoint Alerts allow users to receive e-mail notifications when something in a library or list changes. It is one of SharePoint's most underused capabilities. Updates to a folder, document, other files, or items, such as a task or an event, can be informed to you. Because your calendar is essentially a list in SharePoint, you can use SharePoint alerts to inform the changes done within your calendar. This is how SharePoint alerts work. It boosts time and saves other app installing needs. It is best for all types of businesses.
3.5 Create lists in Excel and Import Data into SharePoint
Some Excel enthusiasts adore the capacity to enter vast quantities of data into the spreadsheet program. Thankfully, you can quickly import spreadsheets as a SharePoint list with SharePoint. Excel spreadsheet makes it simple to use. If you want to use it then, Open the SharePoint application, then go to the Site Actions menu and select More Options, then Import Spreadsheet from the List section. Your data will now be stored in a SharePoint list that you can view from anywhere.
3.6 Business Intelligence
Another essential and preferred SharePoint development option is business intelligence (BI). SharePoint's extensive analysis functionality (using BI) may quickly become a hub for rapid and successful business analysis. It's all because of its comprehensive integration with Microsoft Office and Office Web Apps, Excel, and Access Services, SQL Server connectivity, and the ability to characterize relationships with other external data sources. In the wake of collaboration and data management, there are certain features that SharePoint BI offers:
Performance Point – It allows BI teams to create dashboards and KPIs in order to view and filter data in the form of scorecards and reports.
Power Pivot support- It helps you excel in the basic capabilities to gather data from a variety of sources and transform it into useful and usable data. Tables with Pivots.
3.7 Create a Wiki
Another approach to get the most out of SharePoint is to set up a corporate wiki that can be used as an internal information base. There is no need to have two distinct solutions because this may be implemented as part of an intranet. To create a wiki, SharePoint offers the following features straight out of the box. There are an enterprise wiki template, Wiki page library, Wiki library web parts, and the option/capability to build custom lists.
Different companies use it differently, say for instance some businesses have opted to utilize their wiki as a knowledge base. They've built a wiki to serve as an electronic guidebook for all new employees, for example. It is possible to configure the wiki so that an administrator can see what has been read and not read, as well as be alerted when an employee has completed reading the information. To make the material more secure, SharePoint allows you to password-protect it.
3.8 Encourage SharePoint Adoption
Whenever you introduce new software, the employees are reluctant to use it. The business should force rules on using the software, providing training and trick of management. Microsoft-powered SharePoint is a great way for businesses to get a faster success rate for their business. It offers the business users control access to their document/ specific document. SharePoint offers you a centralized location for all the tasks and to assign them to coworkers. Employees of your firm may access a variety of resources using the SharePoint platform. As a result, you must give proper training both throughout the SharePoint conversion and after the platform has been completely accepted. Employees from the field will be able to obtain fresh insights into SharePoint's beneficial features on a regular basis as a result of this.
3.9 Review SharePoint Add-ins
This is critical for the success of your SharePoint-based document management, as all of the best practices listed above will be useless if DMS isn't employed. You should emphasize the following factors to boost user adoption:
Progressive DMS- The more features your DMS system has, the more difficult it will be for users to comprehend and successfully utilize its capabilities. As a result, it's best to start with some simple but high-demand functionality and then progressively expand it as needed.
User Management and Training- It's critical to provide SharePoint DMS users and administrators with training on the solution's capabilities. SharePoint training should provide them with appropriate hands-on experience and explain how SharePoint DMS will aid them to manage documents, structuring document storage, sharing documents, and document version management.
Software management & Maintenance- A support team should maintain the system up to date by installing essential upgrades, upgrading UX/UI based on user input, and resolving technical issues as quickly as possible.
4. Ready to Use SharePoint?
The answer to how to use SharePoint for businesses to manage their day-to-day business activities is clear by now. In a nutshell, we have seen how uniquely SharePoint is designed and how it takes over all the business management challenges. Our SharePoint expertise will guide your IT-managed services in a better direction and your organization will gain faster success. The use of SharePoint has enabled you to develop apps, SharePoint server, SharePoint Online-based, or a mix of both types of applications. Microsoft SharePoint is power-packed and with new-edge capabilities builds a collaborative environment on the cloud, on-premise, or in a hybrid scenario.