SharePoint has a variety of tools that were created with the intent to simplify users' need of sharing and presenting information. Undoubtedly, many SharePoint users would be aware of the SharePoint Online communication site. A SharePoint development company enables businesses to take all types of benefits from the SharePoint communication sites such as easier reports, and faster and meticulous information sharing.
Here in this one, we will be understanding Sharepoint communication sites from the basic level. One of the most fantastic features of  Sharepoint is all set to make a difference. And if "how" is your question then we have reached the answer point. In this blog, we will be uncovering points about SharePoint communication sites, their features, prebuilt site designs, and the benefits of using Sharepoint sites.
1. What is a SharePoint Communication Site?
A SharePoint communication site is a platform for distributing information in a visually attractive style to a larger audience. As a fresh vision of developing team sites, it has always been at the center of cooperation. Thanks to a smart intranet vision, you may now broaden the instruments to give an out-of-the-box experience for comprehensive internal communications.
SharePoint communication sites are easy-to-use intranet engagement platforms that may be accessed from any device. These SharePoint online communication sites provide new and innovative designs to help you get started quickly and incorporate your brand. They may also promptly design sites that include SharePoint web elements to offer extensive functionality and retrieve data from other sources.
When you use SharePoint communication sites, you can easily share news, try to distinctly showcase the design of a case study, and broadcast information or messages to other people in the loop. All the designers are easily able to share sites without depending on the SharePoint home page for any kind of services. SharePoint's online communication site can be a game-changer with all the types of features it promises to offer to its businesses. Let us see the primary ones in detail
2. Features of SharePoint Communication Site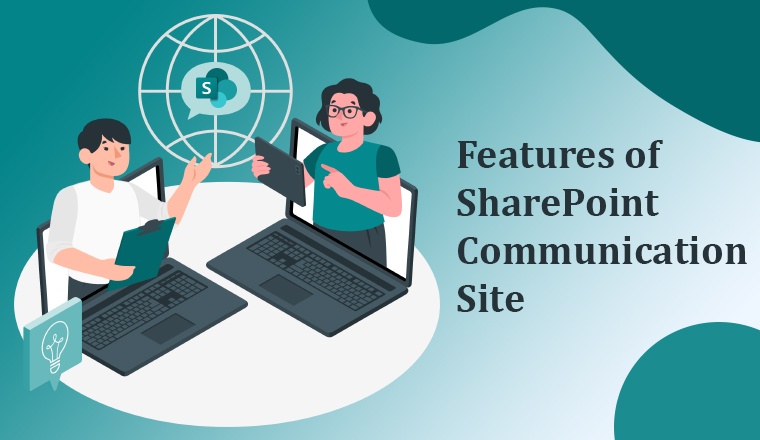 2.1 Pre-Built Site Designs
The SharePoint Communication site has many cutting-edge features to use and implement. It starts with when you initially begin to create a communication site, you will be given three basic site designs to pick from. In this SharePoint online communication site, you can select the base of the website based on Topic, Showcase, and blank, which are the default designs. These are pre-built designs that will simplify your way of choosing a site template. These come with a collection of pre-installed web elements that make it simple to add content and get started.
2.2 Document
In this type of team site, you are able to create and save documents in the same way that you can on standard SharePoint Team sites. While SharePoint communication sites aren't the best location to use complex document management features, they do allow you to connect and exchange documents that are relevant to the communication site. Microsoft Flow/ Power Automate may still be used to automate some chores and processes.
2.3 Hero Web Part
In the section of SharePoint site creation, the Hero web part is one of the pioneering features of developing a modern site. This new feature acts like a full-width web element with numerous layouts that is extremely mobile-friendly. It is very simple to tweak and change which would help to add the wow element to this release of the developed site. The results from these site templates are stunning home pages. Let us see how the hero web actually works.
In the web part, each tile is not an object. This may appear to be a web component, but it isn't. Each tile contains a set of characteristics that link to a page, a document, or an external link.
To create a site, it is not important that you have a picture for every tile. This will allow you to stay focused on the message rather than hunting for a suitable image. You need to keep updating site pages from the site pages library and add new features or manually update them. You should do it as many times as possible. This will keep up the site and improve its overall appearance and aesthetic features.
2.4 Communication Site Designs
When you develop a new site using SharePoint communication, there are three ways of actually looking at it. When you choose the first two designing ways you will be adding pre-configured web elements to your site as a starting point, making it quite simple to get going.
The three ways of doing it include:
Topic:
A template in which you can present a vast quantity of data, such as news, events, and other information.
Showcase:
An image-based template for showcasing a product, a team, or an event.
The Third Way is to Start From Scratch:
In the topic-based template, there are a few factors that contribute to making this website a full-fledged landing page that resembles an intranet home page. Some of the main aspects include:
Hero web component: This we have already discussed previously, it starts with a brand-new web part. The next thing is the News part as a Web component. Here in this section, there is an existing part of the website with the "side-by-side" layout that is pre-configured. New Events web part- This web part displays upcoming events. It's not new; it's just a display of the web portion with a SharePoint calendar list.
Showcase-based design also has some preconfigured elements that play a vital role in the site templates. When you use showcase type, this makes the website much more straightforward. Only the new Hero web element and a conventional image gallery web part are available on the home page. Its objective is to store more "static" information. It's an ideal arrangement for presenting a product, a team, or an event on a marketing site, as the description says.
3. Benefits of SharePoint Communication Sites
This communication site in SharePoint is a lucrative concept that adds an element of marketing to the site. From the advances and modernization, communication sites have become insightful and valuable in a variety of ways. Let's not forget some of the essential advantages:
When you use SharePoint Communication, your employees can use search engines to discover information on the SharePoint online sites.
The users can use photographs, graphics, and live stream videos to transform authoritative websites.
The interaction and communication can be made on a larger scale via intranet communication.
You are free to use these websites on a variety of devices, including smartphones.
The interface, including page layout, tools, and interaction design, has improved as SharePoint has evolved.
SharePoint is designed keeping customers in mind. As a result, industry-standard techniques are rapidly becoming more prevalent.
A website's content demonstrates its popularity among readers, allowing you to fine-tune your site by adding material.
4. How to Create a SharePoint Communication Site?
To begin, go to the SharePoint home page and select + Create a site from the upper left corner of the site collection. The next thing you see is a popup that displays.
Select the Communication site from there.
After you've decided on a communication location, The next set of the compulsory field is the site name, while the description field is optional.
It will show if the Site URL is accessible or not by default.
Also, choose the Communication site's default language, which cannot be altered afterward.
Select Finish from the drop-down menu. A SharePoint Communication site will only take a few minutes to set up.
5. Conclusion
Was the SharePoint online communication site new for you or was it a thing you knew but never in detail? Well, we hope, with this one, we have enlightened you with a deep idea of how SharePoint online communication sites work. How site template works in SharePoint online, how you can edit content, add site permissions, enable easier team collaboration and ultimately make it visually appealing. You can now even create a communication site on SharePoint using the above guide. Finally, you'll be able to give a boost to the generic monotonous processes using the site in SharePoint.