Are you looking around for sure-shot formulas that ensure maximum-value career-wise? Well, choose the most-driven path. If all those who have taken the path can taste success so can you. Over the few years, the development space seems to have grown in regards to prominence and eminence.
Software is everywhere around! Right from mobile devices to laptops, accounts, administrative departments, restaurants, travel industry, you name it and you will find software featuring a plethora of integrated functions. Not only for businesses, but as an individual software development seems pretty safe, productive, and efficient future
So are you prepared to cash on this lucrative field? Since we are moving in the era of automation, mobile apps, and post-pandemic life, our reliance on software continues to increase; which is not a bad thing at all! After all, it's for the general good. Before you step in, it is very crucial to know that development isn't limited to a mobile application or a website but much more than this. Let's dive into the details!
1. Why SharePoint Development is so much in Rage?
The SharePoint development services have been so much in demand, no two ways about it. After all, no other technology offers easy online document sharing as this one does. And many businesses irrespective of the industry are found looking for effective content management, enterprise applications.
Generally speaking, Microsoft SharePoint is a crucial tool currently being used by over 78% of fortune companies. And since this one has the potential to develop both online and offline based software, nothing beats it! Whether you want to secure a document or intranet or collaborate seamlessly, SharePoint is the best solution for you and developers these are the moment one must milk for. The need can be very profitable, isn't it!
Technically speaking, SharePoint is an enterprise tool that comprises a seamless amount of features and capabilities designed to keep security in mind. The main objective here is to store documents in a more effective format than other regular folders. This specialty enables businesses to stay more organized and well-settled, leading to more demand for SharePoint Solution.
2. Why Do Businesses Need a SharePoint Developer?
2.1 Helps in Establishing Effective Communication
Hiring a SharePoint developer means you are bound to receive a digital way of ensuring constant communication within the organization. Gone are the days when any of your information won't be getting lost or ignored just because of any miscommunication. This resulted in huge losses, hiring a professional SharePoint Developer for a development project can save your business soul by bringing collaboration where all staff can be in a position to see relevant information and communication promptly.
2.2 Customizable
Another acknowledging aspect to look around for developers or to become is customization. SharePoint framework is one such complex platform that comprises a unique set of tools that help get jobs done right. That's the reason why businesses often hire SharePoint experts. The development team will also ensure they build custom applications and components with ease. Through a well-customized SharePoint platform, your team will be in a position to access specific tools that are needed to complete particular tasks effectively. More to this, it would also be possible to customize the entire SharePoint experience with the right branding for your organization.
2.3 Security and Integrity
The SharePoint platform itself excels at providing security and integrity of the company's data and unauthorized use. Developers must know that it is already designed with features that will help manage permission to folders, sites, documents, lists, web applications, and any other important data. More to this, the security measures offered by SharePoint are a guarantee at both the document and item level, so there is no need for putting in the extra effort.
Now you must be wondering if SharePoint as a platform is so fulfilling, then what's the point in becoming a developer? Right? Well, further below I would like to mention certain roles and responsibilities of a SharePoint developer. Keep Reading!
3. What is the Role of SharePoint Developers?
Overall, A SharePoint developer requires to create as well as configure SharePoint websites. Apart from this, he or she must carry the ability to find appropriate solutions to enhance business activity and customizing sites based on the client's requirements. Developers across the globe usually work a full-time schedule in an office-based environment, although overtime may sometimes be required. Applicants wishing to become a SharePoint developer need an aptitude for computers and using software, as well as good interpersonal skills and the ability to spot errors that others may overlook. Fret not, in the following post we will be covering some of the basic yet crucial SharePoint development skills – Hard as well as soft ones.
Here a developer tends to carry out a wide variety of duties of course most of which depends on the organization they are working for. After going through a plethora of job listings we have come to a basic conclusion;
SharePoint Developers Typically Involve in:
Creating User Interface Applications
Test Software
Coding – Writing as well as doing all the necessary modifications
Debugging the software
Solving technical issues
An ideal developer should possess a strong understanding of Microsoft products (SharePoint, Windows Server, SQL Server) and Programming languages (C#, ASP.NET, Visual Basic .NET). Now, coming to his educational background, to become one, developers must carry a bachelor's degree in a computer science-related field in addition to extensive knowledge of SharePoint and other Microsoft products. And if you have several years of software development experience, then you will hit the jackpot. It's also advantageous for a developer to have certifications in Microsoft products, such as the Microsoft Certified Masters, Microsoft Certified Professional Developer, or Microsoft Certified Systems Engineer designations.
The main role of a developer is to create custom web parts and components for SharePoint. And that's the reason why Asp.net, C#.net, web parts, master pages, Ajax developer, detailed knowledge of the SharePoint 2007 object model / 2010 client object model, JavaScript experience is a must-have thing.
After some point, when developers think that they have achieved it all, know it all, they get a chance to provide training on using SharePoint, configuration and basic customization for admins and end-users. By doing this, they make people understand SharePoint's out-of-the-box capabilities, quickly and easily adopt new tools and processes and manage them successfully. So developers, brace yourself we are entering the core circle of the development realm!
4. SharePoint Developer Skills – A Basic Training Module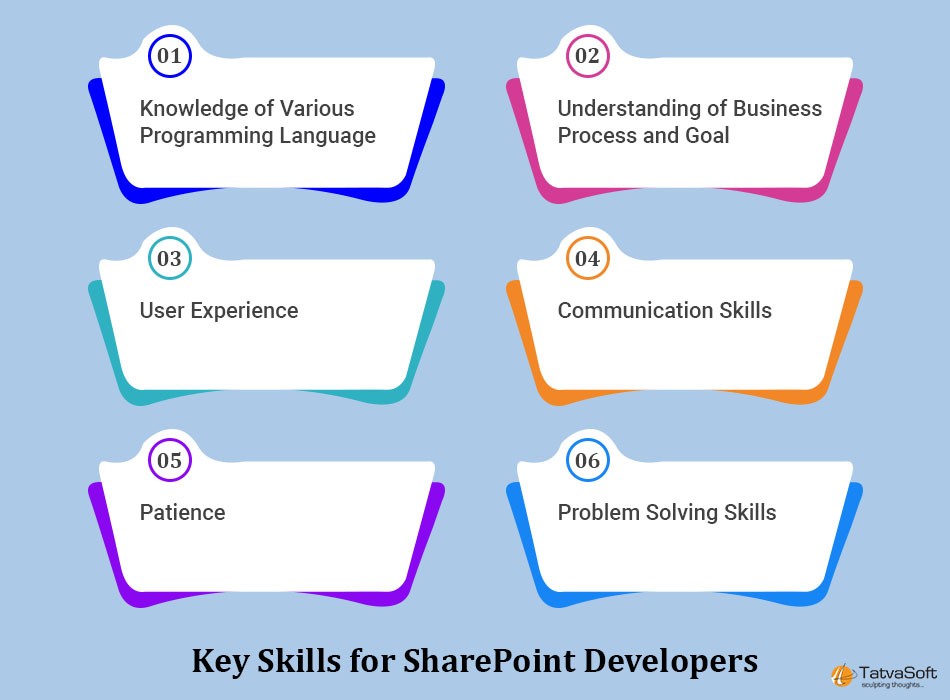 SharePoint Based Hard Skills for an Optimum Development
1. Knowledge of Various Programming Languages
Wondering what it takes to be the best development service provider in regards to SharePoint? One of the leading SharePoint development skills required is having a deeper understanding of all programming languages such as .Net, C#, CSS, HTML5, JavaScript and jQuery. Understanding different programming languages is essential to learning SharePoint. So Developers should know as many programming languages as possible to make business goals come to life through SharePoint solutions. Do you think their job is done here? Probably not! He must possess associated technical knowledge of admin and servers associated with SharePoint like SQL Server administration, Windows Server Administration, active directory control, etc. This is one of the basic yet crucial SharePoint developer skills that cannot be dodged or ignored at any rate. They also need to build custom workflows for improving functionality of SharePoint sites.
2. Able to Understand Business Process & Goals
Another interesting skill required in a SharePoint expert is to understand business processes and goals before delivering goals. If you do so, you will be doing a huge mistake. The business invests in SharePoint application development with two purposes, to make money and save their expenses. To help them achieve their goal, you must understand their business process and map it to the one offered by SharePoint to show how you can help them save money!
3. Not Ignoring the User Experience SharePoint Development Skills
Can you deliver a full-fledged development solution without knowing the expectations and pain points of end-users? So One of the most ideal SharePoint development skills is trying to put himself in the shoe of their end clients. It is not at all a good idea to start implementing something behind the doors and giving a little or no room what end-users actually expect and how they will use the system. Without knowing and understanding the end-user requirement, you will ruin everything. Also, for good user experience developers use SharePoint designer to design SharePoint websites. So, give importance to the user experience and try to deliver what is needed, instead of what was not at all expected!
SharePoint Based Soft Skills to Streamline Software Processes
1. Excellent communication skills
The aforementioned technical skills are not enough, to survive and more important succeed as a professional, one must possess excellent communication skills. No matter how obvious this might sound, but such obvious skills are often dropped out. Especially when a SharePoint expert is working in some offshore countries such as India, Ukraine, Philippines, etc. for that matter. These skills not only help build a strong rapport with clients but also helps in understanding complex business requirements and scenarios.
2. Have Patience
Another interesting development skill having an immense amount of patience. Since the SharePoint professional requires to develop an app right from the scratch, chances are pretty high of redoing things again and again resulting in frustration and quitting. In simple words, you have to be patient on your part. Be prepared to get frustrated, curse and just walk away from your computer at least a few times as you navigate the environment known as SharePoint. So yes, this one does count as crucial SharePoint development skills in the development space.
3. Problem-Solving Attitude Skills
Last but certainly not least comes problem-solving abilities. Remember you are dealing with a complex framework, problems, issues, mistakes are bound to happen. Here you need to be a critical thinker and come up with a win-win situation.
5. Are you an Ideal Developer?
It's time to build your SharePoint Skills with a new horizon and end up improvising efficiency for individuals and teams and expand your value to the business as well as your end clients. I hope you found the post helpful, In case if you have any queries regarding the topic, feel free to ask in the comment section below.