Organizations around the globe are clearly making pace with dynamic shifts of changing market demands. Migration is a critically challenging but normalized task for most of them. The strategy system behind the Migration process starts with legacy systems unable to deliver expected results and ultimately slowing down the actual process. This brings most businesses to a point where they aim to replace their on-premises infrastructures and platforms with cloud-based alternatives. So the only perpetual choice here is the SharePoint migration project plan and businesses can easily do it with the help of a SharePoint development company.
This blog post will show you how to approach your SharePoint migration strategy and go over a few tried-and-true steps to get you started. It will also show you how to create an effective SharePoint migration plan, strategy, and goals. So, without any ado let's get started.
1. Why is SharePoint Migration Important?
Identifying the problem is one of the prime aspects of getting any solutions. It is the same case with SharePoint migration as well. When contemplating SharePoint conversion, it's critical to understand your entire business strategy and present processes. You must think of everything else like what changes will project management plan, workflow automation, project management platforms, and other organizational changes in structure bring to your business flow and process.
In situations like these, it's important to be proactive and ask your team members these questions so you can better understand your company environment. As a result, you'll be better able to identify any bespoke solutions you might want. SharePoint Migration will help you put together your previous plans.
Here we are going to discuss some of the vital steps which will help you understand how to plan and create a SharePoint migration project plan template.
2. SharePoint Migration Project Plan Creation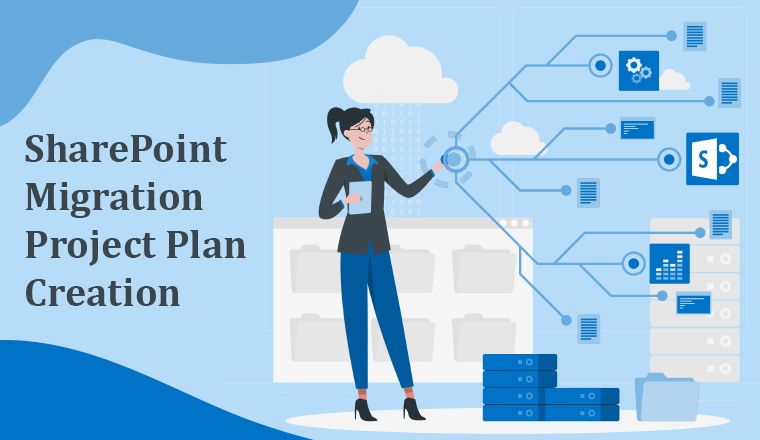 The process of migration has been changing over time. There have been many organizations who have already taken a chance and migrated their corporate need to SharePoint Online custom solutions. Other businesses might have good reasons to keep it on-premise or to their existing SharePoint migration. For all those businesses who have decided to, here is a go-to plan for you.
It doesn't matter which SharePoint environment you would like to opt-in, one thing is for sure you are embarking on a new vision for your SharePoint migration journey.
2.1 Recognize your Business Challenges
If you have decided to migrate, it is critically essential that you first identify the business challenges that can be handled by migrating to SharePoint. This is the first step this way, you can also understand how shifting to a SharePoint environment may improve your entire company processes. SharePoint Online / Office 365 provides extra functionality that may cover holes in your organization.
These are some of the reasons why you might feel the need for SharePoint migration
Your business might need high-level security features.
There should be reliable assistance and support.
Forget about physical storage and increase it by migrating to the cloud.
Adding customizable features.
Releases with new features.
These are some of the major causes that might affect your SharePoint transfer strategy so you must make a plan that is in line with your company's objectives and goals
2.2 Determine Future Strategy
While you contemplate migrating to SharePoint, you need to analyze how your overall business goes and how your company is presently working. Consider the impact on how it changes the process automation, management tactics, project management platforms, and organizational structure on information flow.
You can in fact question the team member in order to get an accurate idea about what they understood about the business environment.
This will also guide you to identify custom business solutions that you may need
2.3 Build your Migration Team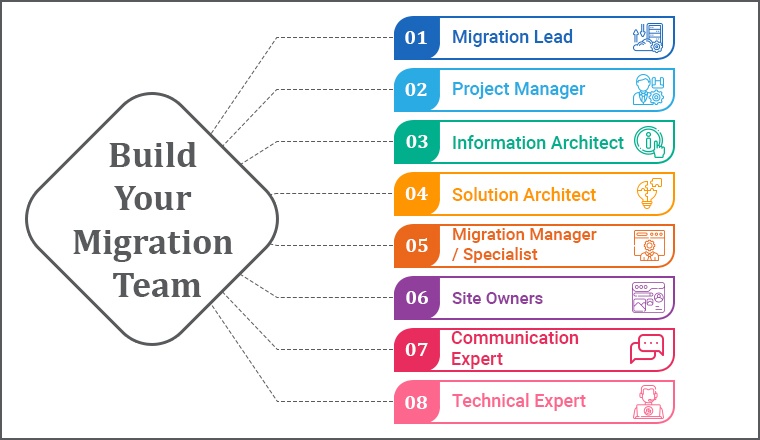 In this process of migration, there is not just one person but a team who plays a vital role in this process and planning. There are some vital players contributing to migration planning for all types of businesses. When the migrations are managed, it is considered the same way other IT projects are being managed. An ideal migration team should include the following members:
Migration Lead
This one would be in charge of leading the SharePoint migration project and the migration of teams that often report to the executive board.
Project Manager
This means the PM will be in charge of all the professionals in the process, their duties, and the project strategy.
Information Architect:
The architect will be in charge of developing all the intended actions. Thus the information architect must be a part of the team dealing with intranet modernizations and must collaborate closely with the Solution Architect.
Solution Architect:
He/She is responsible for the migration of business solutions. They must be a part of each intranet modernization team by collaborating closely with the Information Architect.
Migration Manager / Specialist:
One of the key people responsible for carrying out the migration is this one. You can get assistance teams during the migration; possesses expert knowledge of the specified migration tool.
Site Owners
Other key members are site owners who are key players in keeping sites updated as per the migration plans and also the implementation of migration.
Communication Expert
The communication expert will be solely responsible for all migration-related communication activities, the news, and announcements. This person should be a specialist in business communication.
Technical Expert:
Technical Expert will provide the best technical knowledge, training & transfer to members who are all set to migrate and the support teams.
2.4 Create a strategy for communication
Prior to deployment, it is always highly recommended to have a communication plan in place before implementing a strategy. Considering all the members of your migration team must know the SharePoint Migration process document before starting the process. You need to completely grasp the role in the process as well as the pre-migration and post-migration plans. Setting defined deadlines for each area significantly increases efficiency.
2.5 Evaluate your data environment
In the process of evaluating the order or preparing for migration, you must first manage the inventory in your current environment. You can easily move ahead with desired dates and with a definitive plan in mind before completion. Your SharePoint conversion project plan template should provide you with a larger picture of your present environment and should include:
Site collection and sites
Branding Pages
Lists and libraries
Simpler user interactive customizations and simpler file-sharing options
Manage the permissions allowed to sites, users, and groups
types of content and site column
After reviewing your inventory, you should have a clearer notion of what you don't need in your surroundings.
2.6 Managing to reform information architecture
The most indispensable need here is to organize all the items that are messed up and might obstruct the process of migration. One must consider cleaning up the environment so that the migration process becomes smoother. This starts with considering several aspects such as web parts, types of content, templates, and SharePoint. You should also include aspects like-
Adjusting permissions
Breaking down huge site collections
Organizing lists
Organizing libraries
2.7 Start running on Destination Environments
Now that you are finally done running the source side for migration, it's time to make sure of the destination environment. Process of preparing for a new environment:
Optimizing server performance
Configuring web applications
Creating backups
Testing the restore
Mapping out a metadata pan for your content
Running a test migration
2.8 Change Management Strategy
Change in management systems during migration strategies can assist in simplifying the process efficiently. Fear of change is one of the main elements producing issues in most deployment procedures. As a result, you must deploy change agents and a change management team to prepare your staff for any forthcoming changes to their present data environments. Changes in the environment may include:
URL modifications
Unexpected slowdowns or downtime
Bookmarks and document reference modifications
The migration project's duration
2.9 Make moves in little steps
Making little moves might help to migrate in stages as you create content maps, this ensures that every team knows the transformation of material as it travels from your old to the new system. If you are migrating one task it becomes more manageable but then it will simplify the process and the process will get less daunting. A successful SharePoint migration plan is a changeover procedure that includes the following steps:
Stop the upcoming migration of workflows.
You can turn the database to read-only.
Take smaller steps to back up your stuff before beginning the SharePoint Online migration.
When moving from SharePoint 2013, you must do a database attach-upgrade.
Using the SharePoint migration tool for scanning, packing, uploading, and importing documents.
2.10 Post Migration Testing
The last step in this process of Migration is Testing. Migration testing is equally important after migration to ensure that everything is working properly. In order to do this, a testing strategy is generally necessary, and specialists may be incredibly useful. The goal is to ensure that all features, including customizations and third-party apps, function properly.
You must test all the permissions and workflows.
Ensure all the data and processes are moved appropriately.
Verify and validate query performance.
3. Conclusion
We hope from this blog on the SharePoint migration project plan, we are able to burst the bubble of how lackluster and complicated the process is for SharePoint migration. There are many challenges and complications that would interrupt the process of information flow and also the overall business direction. If this doesn't work for you anytime, then start to take consultations with SharePoint development companies who are experts in providing smoother migration.