A small disclaimer: All the below-mentioned information or suggestions are strictly applicable to the Microsoft SharePoint Space, i.e. SharePoint Online, SharePoint Server 2019, SharePoint Server 2016, SharePoint Foundation 2013, SharePoint Server 2013 Enterprise, SharePoint Foundation 2010, and SharePoint Server 2010 related to SharePoint development.
After being used by over 190 million people across the globe, SharePoint does counts as the world's most popular collaboration and document management system. As for me, I and SharePoint, let's say have grown together. Yes, we both have left behind the ages of innocence to go through a more mature phase. And this seems to have turned out great so far. All these years, I have often come across people (including techies and non-techies) who either aspire to get to know about SharePoint or seem to have already started the journey craving to know more in detail. So here I am covering the basics of SharePoint as a friendly introduction. Right from what is SharePoint and how it works to its purpose, what are the common uses of SharePoint services, some of its top app development features, languages being used while developing a SharePoint app and more? So, without any further ado, let's begin!
Table of Content
1. Know The Tech
If you ask me to explain things in simple English then I would say that SharePoint enables its users to work in sync even when they are remotely connected. Technically speaking, SharePoint technology is a highly customizable and cloud-based content collaboration and management platform, keeping everyone in synchronization regardless of where they are in the world. Trust me, know learning more about the SharePoint development platform has been a huge privilege for me and I hope it turns out the same for you too.
SharePoint offers:
RFIs to different marketing and financial materials.
Any corporate content or creation of websites and company intranets just in case to keep the end-users informed regarding what's happening.
Automating some mundane workflows, etc.
2. What is SharePoint and How it works?
After COVID-19, things have changed drastically! I mean who could have thought of such a situation impacting lives all over the globe with such intensity. And this is not for time being, we have to live with it! Are your employees are working remotely or do they require to travel from one client location or meeting to another? Do they need access to various devices so they can do their jobs? If so, how employees currently accessing the content that they need? And most importantly, are your customer unable to find a relevant place to share information, an online catalog, an online Request for Information form, or an online Request for a Quote form that your customers need to fill out?
Since we have already talked about what is SharePoint. It's time to focus on what benefits it includes and trust me, they are many: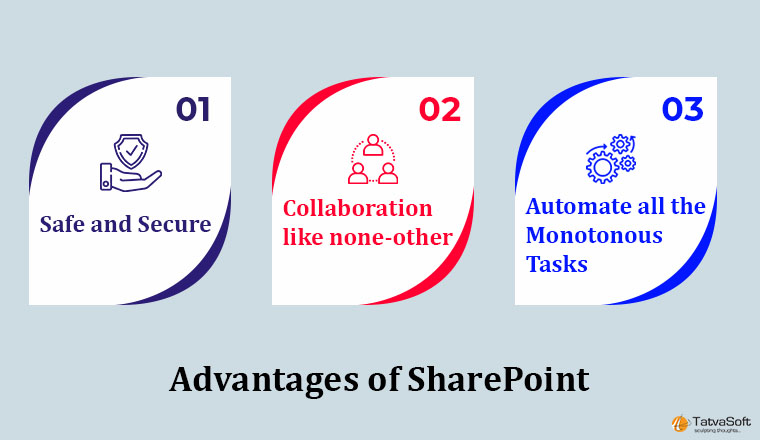 1. Safe and Secure
It may quite interest you to know that security is one such aspect that pervades every aspect of Microsoft and the SharePoint services stack is no exception.
In fact, the technology comes with several built-in security features such as. The ability to limit who outside your organization can see your content. Set permissions on who in your organization has access to certain things. Create policies to allow or block certain user behavior, and allow or block your team's access to content based on their locations.
2. Collaboration like none-other
Another interesting benefit to check on SharePoint is the way it offers collaboration services. However, the platform has been designed to enhance the collaboration experience especially when paired with other 365 office apps and services. A virtual space will be created where all the members cannot just meet but also complete tasks and collaborate hassle-freely.
All the crucial data and documents are collected at one place in particular. From here anyone can access them easily from any device and at any point in time. In addition, more than one employee can work on the same document, this is what real-time co-authoring capabilities are all about. SharePoint will always show the latest version of a document, with the option to revert to an earlier version if needed.
3. Automate all the Monotonous Tasks
In the addition to the aforementioned benefits, Microsoft Office services also excels at saving an ample amount of time and effort for the business. And when performed regularly, it does ensure consistency and efficiency to tasks. Consider SharePoint as a chain of events that happens after you do something with a document or file in your SharePoint environment. The Microsoft platform can help you automate mundane tasks, like having to collect signatures or approvals, tracking statuses on documents, providing you with notifications if/when something changes, and more.
How does SharePoint work?
Now there are three primary users of the Microsoft services, a Team, a group or an organization/business. Their main objective is to store all the crucial and relevant files (basically all) in the cloud and share them with their team or organization. You can do is by using robust permission management, and creating feature-rich available to your Teams channel.
Who has the sharing or the access control? Well, the Microsoft development platform does enable you to share files with your team, organization, and external users. Moreover, Office 365 groups can be used to control access on team sites or set up more robust permissions for sites and documents.
How do the communication and conversion take place in the Microsoft development platform? Communication using SharePoint News. News can be added to your Teams channel, too. And you can add comments and likes to SharePoint pages.
So this is the basic gist of the SharePoint development platform. Teams can collaborate by creating pages, documents or by using a shared notebook, or even better by integrating the office 365 group to bring together conversations, calendars, and tasks. Dictatorship has become a little passe' in business. It's time to spread ownership and give authorizations among users. Documents are pretty crucial for the success of a project and it's a good idea for there to be people other than yourself who can control what happens on the site. Also, do not forget to grant permissions on a site basis, instead of on individual documents.
Lastly, create attractive and effective site product pages to organize information, post news, provide contact information, and provide navigation to documents, media, and other types of information of the business.
3. The Purpose of SharePoint Development
I have been asked this SharePoint-related question a plethora of times. And my answer is the main purpose of Sharepoint lies thoroughly in its definition. Yes, a go-to destination for management to centralize their internal affairs and operations while meeting their objectives. to store documents in a more effective format than a regular folder system, and bringing an organisation together so that everyone receives critical information that's relevant to them are some of its core functions.
Successful SharePoint implementation for business does happen but only when you carry out business analytics and assess requirements seamlessly. This also includes determining all the SharePoint service models and pick the right one instead of any random option. Also train your staff on how to use the digital platform.
4. SharePoint Services are mainly used for!
Over the past 17 years, we can say that SharePoint as an office product has turned out to be one of the most integral parts of our management for every small, medium and fortune 500 companies. With SharePoint you can:
Store all the emails on a secure and centralized website for an easy archive.
Have a centralized location for tasks and assign tasks to team members. They will automatically show up in the team's Outlook 2007 To-Do List.
Large events can be organized and related details/documents can be stored effectively.
Easy collaboration with team members, earlier versions can be easily restored.
Use the efficient check-in / check-out management feature to sort your documents.
Offer a secure and private place to share documents and other information with clients and/or partners.
Gain more control over your company's documents with the content approval function.
5. Top Features of the SharePoint App Development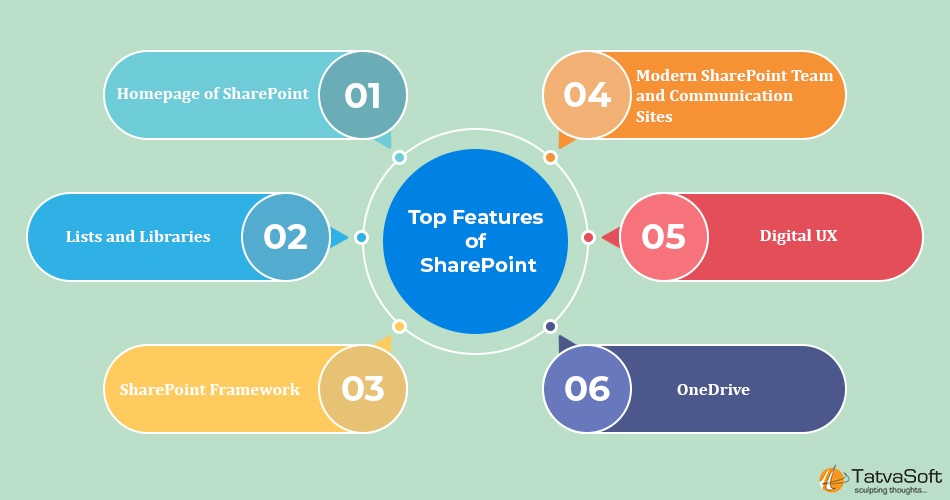 5.1 Homepage of SharePoint
Much like any other home page, SharePoint's home page also is the place where users can look around or get easy access to SharePoint sites within the organization. Users will also find news from the sites they are following and from suggested sites. Additionally, they can create sites from the home page – if the administrator has enabled the ability to do so.
5.2 Lists and Libraries
The latest SharePoint Server 2019 brings high-end support for modern SharePoint lists and libraries. Modern SharePoint Libraries, seen in the Figure below, allow users to quickly view information about their documents, including permissions and metadata. Another useful Office 365 feature brought over to SharePoint 2019 are the "Move To" and "Copy To" actions, allowing users to quickly change the location of a document to a more appropriate one.
5.3 SharePoint Framework
This feature of SharePoint, in particular, gives developers the cache to build modern web parts that function for both SharePoint Online and also SharePoint On-Premises. With this version of SharePoint, developers can make use of Webhooks for SharePoint Framework Client-Side extensions and web parts in modern experiences, list items, and also Asset packaging and auto JS file hosting from the application catalog.
5.4 Modern SharePoint Team and Communication Sites
Modern Team Sites are responsive by default, include an out of the box news publishing engine, allowing users to share the news with the rest of the team. In Office 365 most modern team sites are connected to an Office 365 Group. For on-premises modern team sites they not need any integration with Exchange to function correctly.
Communication sites are sites that are mainly used to share news, policies, and information to the users that are included. SharePoint Server 2019 includes three different templates of communication sites: Blank, Topic, and Showcase. You can view a modern communication site in the Figure below.
5.5 Digital UX
Did you know that SharePoint is known for evolving itself in regards to user experience? MS is going to introduce a new set of cutting-edge features such as communications sites, team news, modern team sites, Next Generation Sync Client (NGSC) support, hybrid support, PowerApps, and Flow for reliable access to documents from anywhere, at any point of time.
Here some of the major improvements are from O365 and SharePoint Online like document libraries, navigation, and lists.
5.6 OneDrive
Companies that have huge on-premises libraries will be glad to be aware that the latest version of SharePoint provides a greatly improved OneDrive Sync Client. It features OneDrive Sync Client support for the team and personal websites, which includes files on demand. It also provides push notification to assist in creating a reliable and fast sync experience.
Cloud was only offering these features. After the launch of SharePoint, on-premises users can now gain access to them in hybrid environments.
6. Languages used When Developing on SharePoint
You can never know this for sure. You can use any language supported by the .NET Framework, Visual Basic and C# included. So, .net language that you want of course, but the vast vast majority of SharePoint books, documentation and Code Samples are in C#. The official Microsoft SharePoint SDK Samples is only in C#. You want to use C# if you have to develop for SharePoint, especially if you're just starting.
7. Things We Covered So Far!
So this is it, Now you know what is SharePoint and how is it beneficial? The top features offered by the Microsoft SharePoint platform and which language to use when developing an app on SharePoint. I hope you find the following post needful.