After being used by over 190 million people across the globe, SharePoint does count as the finest system for collaborating and managing documents across the globe. And with this post, we will explore some more interesting aspects of SharePoint, like what SharePoint is, the benefits of SharePoint, its features, and more will be covered. So, without any further ado, let's begin!     
1. What is SharePoint?
SharePoint is one of the most popular web-based collaboration and document management platforms available in the market. It is a highly flexible solution that enables the employees to communicate information across the firm, store documents, and create an intranet that works similar to another website. It also helps in creating subsites for specific departments. Basically, this centralized system is a secure space that enables the users to access, edit, and share documents.
2. Benefits of Using SharePoint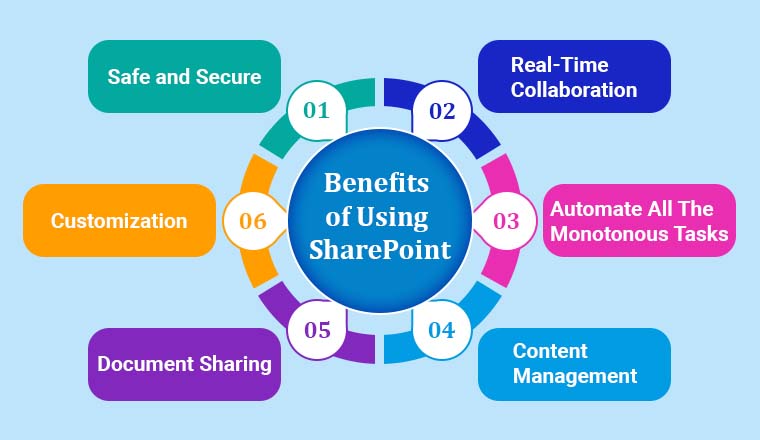 2.1 Safe and Secure
The first and foremost thing to consider about SharePoint is that this platform turns out to be the best when it comes to safety and security. SharePoint consists of interesting safety features like document control options where you can limit the usage of documents among specific users, and you can create location-specific policies.
2.2 Real-Time Collaboration
Collaboration is an essential thing for any organization and it is one of the best advantages of SharePoint. When an organization has numerous employees working on the same document, it will want to have a system that can help all the employees to access, edit, and store the documents easily. With the help of the SharePoint environment, any changes made in any document by team members are automatically synchronized and this can help in removing the issue of different versions. Besides this, employees can also have a look at the document's whole version history to know about all the modifications made by other people.
2.3 Automate All The Monotonous Tasks
SharePoint can help you to save an ample amount of time and effort for the business. With Sharepoint, tedious tasks such as asking for approvals, and notifying changes, can be automated easily. And when performed regularly, it does ensure consistency and efficiency in tasks.
2.4 Content Management
SharePoint is a technology that helps users in many different ways and one thing it is popular for its content management. It enables one to add metadata to files for saving, organizing, and tracking the content of the organization. SharePoint can force tags onto business documents as they can be used by the other team members. In addition to this, SharePoint also enables organizations with workflow tools that can help to automate the processes based on data given by end-users, disposal of data as per the business policies, and content life cycle tools that enable the team members to record depositions. With time, many Fortune 500 companies have started to rely on SharePoint platforms to handle their information.
2.5 Document Sharing
Document sharing is one of the most important tasks in any organization and when the firm starts growing, handling the paperwork becomes difficult. One cannot handle all the documents for editing, then make a remark on them, and then return them to the senders. This manual procedure is error-prone and takes a lot of time. Therefore, companies have started adopting SharePoint. It enables document sharing, editing, reviewing, and more in real-time without any hassle.
To use SharePoint, all one has to do is save the files or documents to a SharePoint document collection and offer its access to the stakeholders & other employees of the firm. And then they can access those documents, modify them, and comment on any file. The comments or remarks made by one user get highlighted to all the other employees who are working on the same documents. In this way, there is no need to inform people in the team about the updates by sending them emails and this saves a lot of time.
2.6 Customization
With the help of SharePoint development, it becomes simple and easy for the users to adjust the company's requirements. Every organization has its unique set of needs. For instance, if it is a small enterprise, it will have different requirements than a Fortune 500 firm. This is why customization with SharePoint is very essential. SharePoint development enables companies to modify the intranet site's appearance, content, navigation, and functionality as per their business requirements.
Besides this, SharePoint can be integrated with other tools like ERP, CRM, and various other project management systems. This improves the efficiency and production level of any firm.
3. SharePoint is Mainly Used For!
With Sharepoint you can:
Store the data.
All tasks can be assigned from here keeping everyone on the same page organizing both small and large events becomes easy and simple.
Easy collaboration
Sorting docs is possible automatically
High-end security
4. Overview of SharePoint's Structure
SharePoint is a technology that plays a very important role in the world of Microsoft 365. And this is because of its basic structure which helps in everything from organizing information to storing it to sharing it. To understand it clearly, here's the basic structure of SharePoint.
SharePoint Sites: Here are boxes that are utilized to manage and store information.
SharePoint Pages: Here the space is used by companies to display content on the SharePoint site.
SharePoint Web Parts: The web apps in SharePoint are designed to save a particular type of data or content.
4.1 SharePoint Sites
The SharePoint site is a simple box and inside it, all the document libraries and lists are stored. SharePoint site holds all the pages, lists, and libraries that are important for your organization. And if there is more than one SharePoint site (box), all of them are linked together by a structure as per the hierarchy. And when all these sites are together, they are known as a site collection. The main site which connects all the other SharePoint sites or boxes is known as the root site.
The modern approach of SharePoint takes all the sites as a collection and they are connected to a hub. This means that everything within this collection will share some things. For instance, lists or databases or a style library can be shared with every site in the hub. Basically, SharePoint team sites are for making connections and collaborating. Each team in an organization must have its own site collection. This can happen automatically if a new group in Microsoft 365 Groups is created. This means that an organization will have many different team sites dedicated to one project. And this makes it easier for the team members to work on their own tasks and yet be connected with other team members or teams.
4.2 SharePoint Lists, Columns, and Libraries
Lists and libraries are known as the two main pillars of the foundation of SharePoint. Let's have a look at how they help users to organize content.
SharePoint Lists
When any organization uses SharePoint to create content, it will save the data in a list. This list consists of headings with rows of data. For instance, a sales team in the firm will keep a list of prospective clients. Companies choose SharePoint for this instead of spreadsheets because SharePoint lists enable the users to interact with the data in an immersive and dynamic way. It allows team members to access, edit, and update the list without the need to start creating it from scratch. Besides this, the lists can be synchronized with Microsoft Outlook.
SharePoint Document Libraries
SharePoint libraries are used as a containing space between the teams' individual lists. And for each client, one must have a separate library that will help them access the document and content associated with that focus.
SharePoint Columns
When one opens lists and libraries, he can see information organized into multiple columns. These columns are just like file tags but the use of these tags is more complex and it comes with three main functions –
Categorizing of documents into lists
Adding additional data (metadata) to the content
Organizing content for storage and search functions
The categorizing method helps the users to find the data easily. And to categorize properly, one must organize the data into multiple columns and then assign everything to multiple categories. And from there, one can easily sort, filter, and group the information in a more intricate way.
4.3 SharePoint Pages
SharePoint pages are something that helps organizations present content to end-users. The two main types of SharePoint pages are –
Destination Pages: These are the types of pages that contain the bulk of the content that end-users are looking for. These pages are created around a specific topic. For instance, when an organization creates a team in Microsoft Teams for Employee Success, a dedicated SharePoint site is created automatically to save the content that is related to the team.
Navigation Pages: These are the pages that enable end-users to navigate easily through the business site. For instance, the home page of the SharePoint intranet is a type of navigation page that enables any company to present different content categories. Basically, navigation pages are something that must be carefully presented as they will affect how the end-users are able to move through the site.
4.4 SharePoint Search
SharePoint is a technology that is replacing the need for outdated filing systems and the process is a bit challenging as the shift of digital files can be tough. But with the SharePoint search tool coming into the picture, an organization can consider how much data is normally created. For this, the user just needs to enter the right keywords and the tool will display the required file.
5. Conclusion
As seen in this blog, SharePoint is one of the best technologies, and with each passing day, it proves itself a very viable Microsoft product. It helps organizations handle piles of documents and various other data in one place. Besides, SharePoint also ensures easy access, proficient, and secure solutions for organizational management. It also offers easy integration with different software to collect data and manage the business workflow. Basically, it is the perfect solution for data sharing and collaboration.