Since its inception in 2001, Microsoft's SharePoint has been quite a rage! More and more businesses started to harness the power of collaboration after its release. Often known as one of the best web based application platforms in the Microsoft Office server suite across the globe. And why not, the SharePoint does help several organizations to reduce costs and minimize risks. In this blog post, we have tried to add some of the most useful benefits of SharePoint with examples. In this blog post, we have tried to add some of the most useful advantages and disadvantages of SharePoint development with examples.
Right from storing documents in a more effective format than a regular folder system to bringing an organization together so that everyone receives critical information that's relevant to them, Microsoft SharePoint offers it all!
"Our industry does not respect tradition. It only respects innovation." "If you don't jump on the new, you don't survive." "I don't want to fight old battles. I want to find new ones." All these quotes are truly said by Microsoft's CEO Satya Nadella.
1. Meet Microsoft SharePoint!
Before we get into its SharePoint benefits, significance, Pros-cons, let's start with the basics. Microsoft SharePoint can be defined as a website-based collaboration platform that uses workflow applications, "list" databases and other web parts and security features to empower business teams to work together. As a business, by using SharePoint platform one gets full control to access information and automate workflow processes across the entire space, just the way you like!
Till now this Microsoft service has succeeded in boosting a user base of nearly two hundred million spread across the globe. And businesses, if you are looking for a platform to help team members in software development projects collaborate and communicate meaningfully, look no further than SharePoint. Still not convinced, but as soon as you are done reading the post you will start looking for Sharepoint Development for your upcoming development project.
Mainly used to store, share, collaborate, and access ample data from multiple devices without restraint, by using Microsoft SharePoint business users can create sophisticated web apps. So now there are two fundamentals of developing SharePoint applications followed by most SharePoint developers.
Windows SharePoint Services or WSS – Number one, it is basically content management and deployment used principally for file and folder storage as well as management. It only offers the basic functionality expected from a content management system.
Microsoft Office SharePoint Server or MOSS – Number two, it is used for integrating the functionalities of SharePoint into Microsoft Office applications. it allows saving a document as part of a web app.
1. Common yet Finest Attributes of SharePoint
All versions enable employees to create websites and deploy them at the same time.
A collection of the website template for web development is the default option
Define the individual user rights based on the lists.
There is the default provision to create types, lists and user groups.
One can define the individual user rights based on the lists.
Glitch-free user information security is provided.
An array of application components like blogs, wikis, etc remain ready for use and setup.
The website UI can be set up as per the preference of the client.
2. Significant Aspects of SharePoint
1. Documentation
Gone are the days when you had to choose the traditional way of storing documents. With SharePoint, you can easily get the context around your folders saved on the server. For example, it becomes way easier to track the running version history for a single document and record the changes. In simple words, you end up getting more information comprising of the history and context of the document saved in the document library. Among its multiple versions, Microsoft SharePoint also offers cloud storage to store files and share documents.
2. Simpler User Experience
SharePoint as a Microsoft technology is pretty complicated but way simpler and consistent when it comes to user experience. Being highly integrated with client-side applications such as email and web browsers, nothing can stop the platform from offering an interactive user experience, the same way most of us interact with general content, processes and business data. This seamless integration is combined with robust and outstanding functionalities that promote product adoption.
3. Collaboration Like None Other
The core aspect of Microsoft SharePoint is that it is a collaboration platform. The following feature enables all the team members to stay connected and informed throughout the project's lifecycle. Now we are sure there are ample organizations that aren't geographically connected but with SharePoint, all the branches of an organization located at different places can connect seamlessly. This platform offers a smooth and efficient approach to team-based work enabling a free flow of information and can streamline business processes throughout the organization. This, on the other hand, promotes better decision making.
Now let us consider SharePoint from a business perspective for a while. How can Microsoft technology help our businesses prosper?
2. Benefits of SharePoint for Business And End User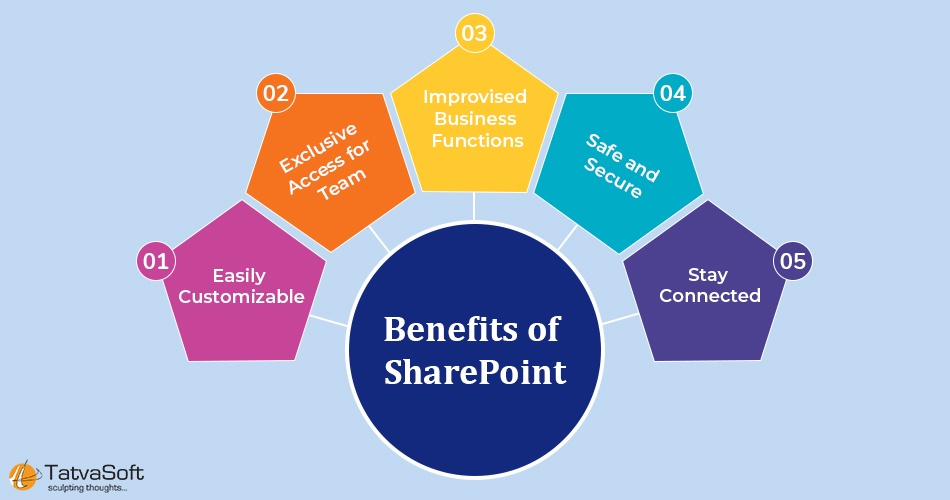 2.1 Easily Customizable
By incorporating a SharePoint application, businesses can not just create but effectively customize all the pages required. And not only this, SharePoint enables its end users to edit the design by themselves if not satisfied with the existing one. These custom features give everyone on board the feeling of power/control as if everything is in their hands. So here customization is possible in such a way that employees end up designing the process just the way that makes equal sense to them. WYSIWYG – what you see is what you get. So even if your staff isn't techie enough of non-technical users and doesn't know how to code. It's totally fine! Doesn't matter though!
Also, the power of customization gives a power of familiarity to the employees. Everything including the smallest business information or the entire workflow is possible to manage without much hassle.
2.2 Teams Get an Exclusive Access
It may quite interest you to know that as soon as Microsoft's SharePoint has deployed itself as a part of the Office 365 environment, it did end up creating a virtual workspace (SharePoint Online) with team-only access where different teams can meet, collaborate and carry out tasks without much hassle. Here your team members cannot just create a project, but also end up deciding who can participate in it and you know what is the best part of all this? They get to decide who can participate in it and what access each member will have. Moreover, you don't need to disturb your IT department now and then for these small issues.
One SharePoint app and you are done! But do keep in mind that only the authorized members can access the documents located on the SharePoint server. You can also adjust access to the server depending on the flow of work.
2.3 Improvised Business Functions
Sit back for a while and think about the workflows, how your day is being managed? What are your day-to-day tasks or business activities? So Right from initiating the plan to managing and reporting, how are things going on? SharePoint offers to route a document or an item for approval to collecting some valuable feedback, collecting signatures, tracking an issue, project or task, routing documents for publication, etc.
In addition, the technology incorporates a wide range of out-of-the-box workflows which are mainly designed to automate these processes and more. Employees can even integrate them with familiar client applications, email programs, and web browsers (like Internet Explorer, Chrome, Microsoft Edge and Firefox) for a simple and consistent user experience.
2.4 Safe & Secured SharePoint Development
Data Securing is no longer an option. It has become mandatory for several organizations of course, due to the ever-increasing security breaches. And SharePoint itself is the best when it comes to security. Using SharePoint, we can easily specify security settings as well as storage and auditing policies to comply with rules of industry. Maybe that's the reason why both businesses and IT departments love this Microsoft service in particular.
However, there is limited access to information based on roles and requirements, still it's possible to store all company information within the intranet. In simple words, the information is not available to regular internet users as it is stored within the intranet which does require crucial credentials to access and cannot be searched easily.
2.5 Stay Connected
You know SharePoint works at its best when it pools resources with Office 365 Groups. And after witnessing SharePoint's success because several small, medium and big businesses have been leveraging the power of SharePoint technology. The tech giant has been making consistent efforts to make that happen since last year. It's a work in progress and the idea is to ensure that the collaboration of SharePoint team sites with Office 365 Groups will augment the existing sites with shared conversations and calendars. You can also set permissions for single or multiple users in the Office 365 group.
Time to explore the most crucial benefits offered by Microsoft SharePoint.
3. Pros or Advantages of SharePoint
3.1 Integrated with Microsoft Office Suites
One of the finest advantages of using SharePoint is that the technology integrates with all Microsoft's suites/services and even third parties. Almost all businesses run on word, Excel and PowerPoint, do you agree? And all of these are offered by the tech giant itself so there is no doubt that the SharePoint technology won't respond well to these platforms. Also, whether you are a business person or a software developer, we are sure a lot is going on on your plate. So what you can do is try setting up time-saving automation and make sure they aren't just limited to Office 365 but with other apps too.
Try using a solid email tool! I am sure it will be quite beneficial in the long run!
3.2 Business Intelligence
Another crucial advantage of using SharePoint is that it allows users to collect and publish relevant data that is stored on the portal and accessible by the relevant organization. However, it depends on the SharePoint installation itself whether the data can be published or pulled from the various sources including Excel, OneNote, and Microsoft SQL Server. This optimizes the business process by ensuring the necessary information that the user wants.
3.3 Centralised Administration
One of the most interesting benefits of using SharePoint is centralized administration ease. Here administrators can quickly access operation features such as security settings, coll, back up sites and SharePoint site data, perform restorations, and update privileges all on a single dashboard.
3.4 Ease in Document Management
Where do you get a technology that offers detailed document management?
With the help of SharePoint Document Management System, you can manage, track, store and structure your document in the most productive way. Following are some more things you can do using SharePoint:
Information about who's work on them and track changes across different collaborators
Manage document security and permissions
Search vast document libraries in search bar to find what you're looking for (though the poor search is one of the disadvantages of SharePoint)
Go paperless with scanning and capture tools
Enter and manage document metadata
3.5 Ease of Use
Above all, no other platform can offer such ease of use like SharePoint does. Incorporated with several features and tools like Power BI, MS Flow, Microsoft team, etc., employees can respond quickly according to the business needs and this increases productivity of businesses. On and all, creating and maintaining business solutions such as creating dashboards, web portals, scorecards, and business data connectivity without having the technical knowledge becomes way easier with the help of SharePoint Solution. Of course, all this has happened never before!
4. After Benefits, it's Time to Know the Disadvantages Of Microsoft Office Services
Of course, I cannot be biased to emphasize just the benefits of using SharePoint and not the disadvantages. Yes, you read it right the platform possesses a fair share of controversies as well.
4.1 Complicated Maintenance and Setup
Though SharePoint is easy to use it is way complicated in regards to maintenance and setup. You know many of you have this misconception that you can just buy Sharepoint and do some setup and get started. So this is not the case! SharePoint does have some out-of-the-box functionality. And you can build useful things with just those functions. But if you want features that meet the needs of your company, you'll need to work with a developer. That's one of SharePoint's weaknesses.
Even if somehow you have managed to set the SharePoint application up and make relevant customizations, frequent updates can break your customizations too. So you'll need more development to get things working again. And then there's maintaining the whole system. You need to track who's using what. How your resources are organized. And make sure that your company is using SharePoint efficiently. That takes a lot of time.
4.2 Quite Expensive SharePoint Development Services
One of the most significant drawbacks of the platform is that it can cost you. There is no such fixed price. In fact the pricing most of the time depends on the deployment model chosen: SharePoint on-premise, SharePoint Online and hybrid. Regardless of this flexible pricing, cost still remains an obstacle. Unfortunately, most organisations think about blowing out their budgets. And you know why it happens because the cost isn't just limited to licensing it does include customization, deployment, infrastructure, operation of software and hardware, migration, implementation, training and administration.
4.3 Need Extra Support
Unlike other technology, office technology requires extra support as you won't find such a dedicated team within your business who can work through the implementation phase and ongoing maintenance with third-party providers. Again I will say this is a costly, time-consuming and daunting move for the company.
5. Is too much Information Overloaded? I Hope Not!
After going through all the advantages and disadvantages of using SharePoint we are sure you must be confused, right? Well, don't be! No matter how controversial these office platforms are, they are the ones that will anyhow help you in becoming more productive. So that means better results for your bottom line.
We hope you enjoyed reading the post! In case if you have any doubt or query feel free to mention it in the comment section below.