Businesses have imbibed remote working so deeply in us that this has become a brand new style of working. In that terms, Technology has also equally contributed to making this style of working worthy. Enhancing your teamwork and collaboration has got easier with Microsoft Teams. It is one of the easiest and quickest ways to work online while attending online business meetings, sharing documents, and much more than just doing regular business communication.
When you use Microsoft Teams as a workspace, it is not limited to a business type. Businesses of any size, industry, or type can use this product. Microsoft teams are scalable and convenient solutions for business communications. Companies have benefited a lot from this. As a SharePoint development company, we thought it was a good time to discuss more this Microsoft product. In this blog, we will be seeing what Microsoft Teams is in detail and then jump into the main benefits that it offers to businesses of all sizes.
1. What is Microsoft Teams?
Microsoft Teams is a chat-based collaboration platform. It includes features such as secure document sharing, online meeting rooms, and more. It's a useful tool for maintaining business communications while working online.
Online communication is significantly easier when you use shared workspace software like Teams. It is already in use by almost all industry types which include hundreds of businesses, organizations, schools, colleges, and universities. It's particularly useful for teams in very large firms, companies with a significant number of employees, or teams with a large number of team members.
We'll now move on to the benefits of Microsoft Teams.
2. Top 9 Key Benefits of Microsoft Teams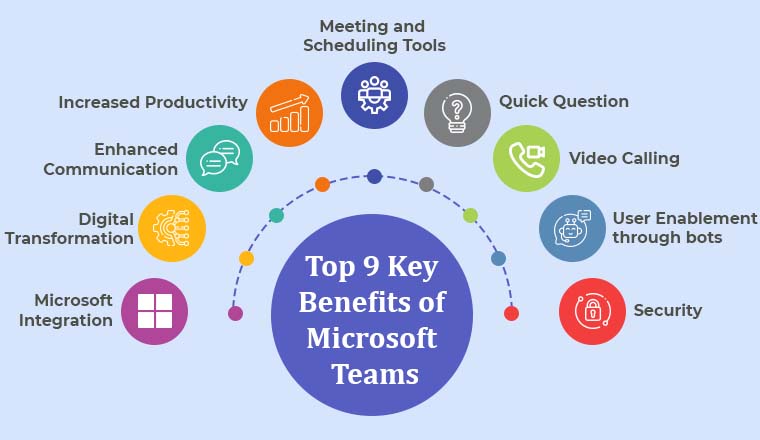 2.1 Microsoft Integration
Microsoft Teams is fully connected with Microsoft 365 and integrates chat, meetings, meeting notes, and attachments, allowing many organizations to collaborate smoothly from anywhere. It is a one-shot solution because it contains all essential assets such as calendars, files, and emails that may also be shared.
You will find Microsoft tools from Word, Excel, Skype for Business, to PowerPoint all on one platform. Microsoft SharePoint, OneNote, Planner, Power BI, and Microsoft Graph are some of the apps that are also included in Microsoft Teams. This technology is continuously upgrading and becoming up to date and offering scalability to its users, and it is simple to add people to the community as your company grows.
Among all these, it also brings third-party tools to a centralized location.
2.2 Digital Transformation
When you are moving all your needs to digital platforms, you are ideally moving online. This means you are digitally transforming and there are newer technologies that will contribute now, which eventually will make your application better and improved. We are living in a tech-savvy world where we see technologies making a difference for businesses. Thus, company leaders need to upgrade their business by adapting digital solutions for their companies.
When you use Microsoft Teams, you are ultimately transforming your business into a digital workplace and taking complete leverage of digital applications. This is definitely one of the top benefits of Microsoft teams as you don't have to find a partner for multiple tasks. They will provide everything from tip to toe like data storage locations on the cloud, email services, data access information services, and access to the latest productivity tools for your ease of marketing team and other team members. This means you are on a digital transformational journey and can work from anywhere anytime, and on any device using Microsoft teams. This helps you to overcome the limitations of hardware or software preferences.
2.3 Enhanced Communication
Communication is the primary aspect for any business to pave its success path. This goes the same for Microsoft teams. This platform offers wide-ranging benefits but the most visible difference is the way it enables communication across devices and platforms using one single software development service. Microsoft Teams app is all about better communication and business benefits.
For businesses, this cloud-based platform with integrated Microsoft products is a game-changer. Microsoft Teams is a business communication platform that eliminates the waste associated with traditional office collaboration. It is most suitable for the collaborative projects of the organization. Teams make sure that communication is limitless and not just to your desktop apps. But mobile devices are also an inevitable part of it and contribute effectively to communication and collaboration. These Microsoft Teams features make the interaction and communication between team members more engaging and reliable.
2.4 Increased Productivity
Another advantage of Microsoft Teams in the office is its reliable connectivity. Employees can respond to client messages and interact on essential business topics without having to wait. They can send or receive emails, decreasing the time lag between team members who may not have access to their emails. There are important shared files, apps, meetings, and more that can have accessibility from a single shared workspace, resulting in a more streamlined and simplified end-user experience.
Additionally, it also saves time for moving in tandem from one app to another and sometimes being clueless about how each one functions differently. From within the platform, you can quickly reference a previous chat from another team member, download a document, ask a quick inquiry, and much more. Virtual meetings are now easier with MS teams. This definitely helps to stay productive and the way they work will ultimately improve turnaround time, user experience, and overall result in profitability.
2.5 Meeting and Scheduling Tools
It is bizarre to manage and schedule meetings, invites, given special access, and othering Microsoft Teams syncs with your calendar and pulls in all of your existing appointments, as well as suggesting times when all of the other attendees in each dedicated Team are available.
You may also pick whether the meetings are private or open to the public in Microsoft Teams, which is very beneficial if you're doing volunteer training or brainstorming. You don't have to worry about scheduling a new meeting now.
You and the attendees can both post about meetings in a separate chat thread, set agendas, and submit pertinent papers after you've made it. When you use Microsoft teams, you can use Skype for business to join and hold meetings in an HD video, or it can be VOIP, and additional dial-in audio options, for connection. MS teams calling boosts the process of scheduling meetings and project management.
2.6 Quick Question
What if you want to communicate with your coworker or friend about an event that's outside the office. It can be anything related to the office as well. Will you drop an email for everything? No right. Chat is the quickest and easiest way to connect to your coworker and ask questions without tapping or diving deep into your inbox looking for an answer.
This enables businesses to easily communicate internally. You can even have conversation names, create group chats, and teams chat, and search for files in these conversations.
Categorized communication is the way of the wise, and you're in luck since you have Microsoft Teams. It is free for communication. So, you are free to use GIFs, share images, and other media just like you use in other collaboration apps to personalize your communication.
2.7 Video Calling
It's simple to use or access Microsoft Teams as a video or voice calling alternative to traditional telephony. Microsoft Teams allows up to 300 team members to be on a single call.. It can ring on both a desktop and a mobile device at the same time. The call manager/voicemail and call groups feature in Microsoft Teams are comprehensive. For the calls to external numbers, you can simply route through Microsoft Teams through SIP or VPN networks. You can utilize a headset or the built-in audio on your desktop, laptop, or mobile devices. You can save on costly handsets if you use Teams as your main corporate communications platform.
The implications of using Ms teams are limitless. In fact with the help of Microsoft Teams, you have the ability to screen-share and collaborate on documents while in the conference call or video calls. Microsoft Teams makes video conferencing an easy affair. To avoid this, you can also share a specific window within your conference call.
You can delegate control to another meeting participant if you need assistance presenting or demonstrating anything. You can also record the conversation to listen to it in the future. This means you'll both have control over the screen sharing, and you'll be able to regain control at any time.
2.8 User Enablement Through Bots
Now that we have almost reached the end of the top benefits of Microsoft Teams, you must believe Microsoft is a master of all these professional tools. This company addresses the minute needs of the business with its services and is no less than a blessing for business. Some of you might know and others might get shocked by knowing that Microsoft has created a set of 20 helpful Bots also known as virtual chat agents. These bots assist Microsoft Teams users with completing a variety of tasks in the most effective manner.
These bots are empowered with Artificial Intelligence in which each one has its own knowledge banks. Each bot has a specific job role like there is T-Bot that answers frequently asked user questions about Teams. There is another Bot that can assist with voting/polling with coworkers. One of the bots can assist with travel arrangements if you need to get to a meeting or fly internationally. Some Bots can generate scheduled reports from a variety of platforms that are Microsoft's or external as well.
2.9 Security
Microsoft Teams offers many of the same security advantages to an organization as the rest of the Office 365 package. Multi-factor authentication and Active Directory single-sign-in are two examples. This not only keeps it secure but also decreases the amount of work for your IT team. It also reduces the amount of complexity your users have to deal with. This clearly implies that you'll be subjected to the same robust compliance and security standards as it needs to.
3. Conclusion
In the end, it would be right to say that Microsoft is the Jack of all Trades which means you can leverage unexplored benefits of Microsoft teams. Microsoft Teams offer everything that a business team member wants, it could be anything from chat-based collaboration, document sharing, free real-time chat communication, secure online meeting rooms, or an AI-powered bot to perform scheduled tasks. All these features make it different from other collaboration platforms.