In today's tech-based world, there is no simple, on-point, convenient, and easy way to handle files or documents or any type of data. For this, specific types of applications are used. SharePoint offers such an app for both Android and iPhone users. There are various apps or add-ins that can be installed with the help of a SharePoint development service provider which makes collaboration tools work smoothly. They also offer new functions to the existing SharePoint pages.
And with IT advancement hitting hard in the market, SharePoint has become the most flexible platform in offering applications that can make user's life easy by fulfilling all of their requirements with a perfect solution. There are more than 1500 widgets and features in the Microsoft Store that can be used with SharePoint applications to make the client's life easy.
To learn more about SharePoint applications in the Microsoft store and see what type of features these apps have to offer, let us go through this blog.
1. Top SharePoint Apps From Microsoft Store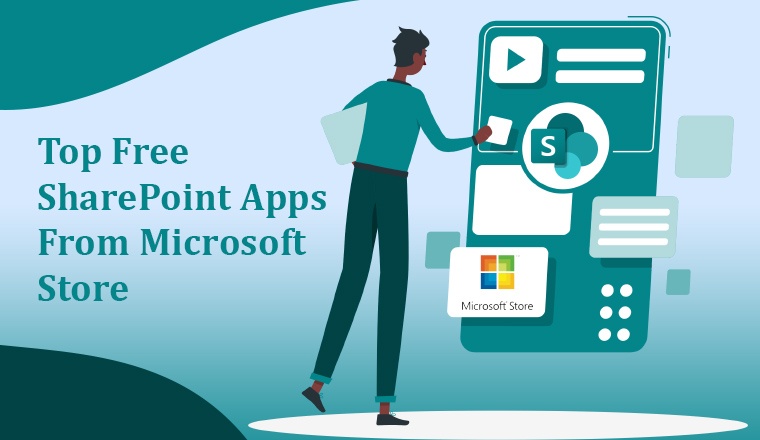 Here are some of the top SharePoint apps that people prefer to use from the Microsoft store –
1.1 My Locations
My Locations is one of the most used SharePoint applications from the Microsoft store. This application enables the users to mark any location on the world map. And this can be done with the help of a rich user interface view. It is one of the SharePoint sites that can be utilized in many different cases. For instance, if any business organization has different branches in different locations, then one can mark all those different office locations on this application. Or if someone owns a retail chain business, he can mark all of his store locations. This application comes with new and exciting features every now and then. And this is why customers like to use it.
Features of My Locations
Save Locations
GPS Maps
Import and Export GPX/ KML files
GPS Location
Current Address
Track Location
Save Location Widget
Location Sharing
Directions
iPhone friendly
1.2 Word to Wiki Online (Lite)
Word to Wiki is one of the most popular SharePoint sites that enables the hosting of Word compatible format documents in a SharePoint document library. These documents get published as wiki articles. While the user is publishing the resources, he doesn't need to reload the graphical content, all the folders of the content will be automatically uploaded to a picture library of SharePoint. Word to Wiki Online comes with a free version and in this version, one can search the product, download it, and then install it from the App Store. You won't find any type of ads or gimmicks in this application. There are some team pages on the app store where you can add your suggestions or feedback for improvement.
Features of Word to Wiki
Multiple document processing
Metadata mapping
Asynchronous processing
Cross-site and site collection publishing
Automated publishing
Section publishing
Support for SharePoint 2010
Cross farm publishing
1.3 Password Generator – 3 Pro
When you are working in an organization, you are generally not allowed to change the password of the app you use or you might not be given its permission. But with SharePoint coming into the market, companies have started giving this permission to a particular group of employees. For this, the Password Generator application can be used. It is an application that enables you to set up the password of your SharePoint files. All you need to do is set this app on a SharePoint site. It will also help you in reducing the number of calls you have to make to the Help desk center.
Features of Password Generator – 3 Pro
Change SharePoint site or files password easily.
No requirement of Help desk services.
1.4 myFAQ
myFAQ is an application that enables the integration of the 'Frequently Asked Questions' function into SharePoint . The myFAQ app enables the colleagues of one company who are working together on a particular project to find the answers easily without any hassle. Here all the Frequently Asked Questions can be arranged as per the user's requirement or priority. And its customization comes with a simple design that can make data visualization straightforward.
Features of myFAQ
Customized FAQ list
Easy access to Answers
Top Cloud Services for colleagues of the same team
1.5 Word it!
Word-It! is a popular SharePoint application that enables users to export data from SharePoint to Word documents. One can export anything from their own Word templates to content to heavy pages. You can use Word it! application in SharePoint 2016, SharePoint Online, or any latest SharePoint version.
Features of Word it!
Offers School or Work account
Easy to share documents from SharePoint to Word
Allows to share any type of Word templates
Enables uploading Word documents with Macros template
1.6 Documents Shared with Me
Documents Shared with Me is an application that enables people to see all the shared documents in public libraries. All the documents listed in public libraries are present in this application and anyone can get direct access to those files. For some particular files, only selected users can interact. Besides this, the users are also allowed to select what will be displayed in the application and how it will be displayed. This means that one can customize the sharing of documents. Besides, the users also get a sidebar view of the file or document they are currently working on.
Documents Shared with Me application works perfectly fine with SharePoint 2013, SharePoint 2016, and SharePoint Online.
Features of Documents Shared with Me
Access to listed documents in public libraries
Sidebar view of currently working files
1.7 Youtube Feeds
Youtube Feeds is an application that fetches the public videos of users and then displays them on a slider. It comes with extensive configuration options for the selection of videos, different slider options, set users, different sorting options, and more. It is a SharePoint 2013 Application. YouTube Feeds is also compatible with sites that are public-facing.
Features of YouTube Feeds:
Fully configurable using app properties.
Works perfectly fine with public-facing sites
Can easily specify sorting as per relevance, time, and more.
Configurable properties like autoplay and title feed.
Offers attractive sliders.
1.8 Dropbox Import
Dropbox Import, one of the most valuable SharePoint-based applications, is used to import dropbox files to any document library that is attached with SharePoint. It allows the users to import their files easily without any issue to the document library of SharePoint and while the file is getting imported, the size limitation of the file is measured as per the SharePoint configuration in one's system.
Features of Dropbox Import
Easy file import functionality.
Measuring file size according to the SharePoint configuration.
Free to use app
Dropbox Import offers school and work accounts to clients.
2. Conclusion
As seen in this blog, there are many different types of SharePoint apps available in the Microsoft store. And these apps and their services enable users to import, export, share and explore data or documents easily.