SharePoint is one of the most popular enterprise-ready platforms. Enterprise level organizations implement and customize SharePoint with the help of SharePoint development company to simplify their websites and create subsites for other teams in the company. SharePoint offers information exchange systems and persuasive communication sites to the organization that wants to have sites with enterprise-grade security. Top fortune 500 companies prefer to use SharePoint because of the benefits it has to offer. To learn more about SharePoint, see how it benefits companies, and how to create a SharePoint site, let's go through this blog.
1. What is SharePoint?
SharePoint is a very popular document management platform that comes with a customer-oriented and highly configurable web-based system. And it is integrated with Microsoft 365 which makes storing and sharing files easier. Basically, SharePoint is a content management system that enables organizations to have a secure workspace to communicate and coordinate with their team members, track their schedules, create tasks, and keep any project details in hand.
2. Features of SharePoint
Some of the most popular features of SharePoint are –
Collaboration
When it comes to SharePoint, one of the things that developers like about it is its collaboration feature. It is a very strong feature of SharePoint and SharePoint Online. SharePoint enables businesses to bring people together with the help of different types of collaboration like web content management, enterprise content management, discoverability of people, social computing, and more.
SharePoint offers collaboration with the help of Apps. And it also enables the developers to customize, extend, or create Apps for SharePoint & manage collaboration.
Interoperability
SharePoint has the capability to offer collaboration with the help of interoperability such as-
Enables creating and deploying SharePoint sites & custom solutions that can easily integrate the business data with Office.
Web and Office-based document integration.
Integration with other web technologies and deploying web applications to the cloud.
Extensibility
SharePoint not only supports collaboration and interoperability but also extensibility. With the help of a solid set of app development tools, a rich object model, and a growing developer community, SharePoint is expanding every day. And one of the best examples of it is the notion of the cloud in SharePoint. The cloud in SharePoint has come up with new App models like
New forms of authentication with the help of OAuth.
New ways to develop, deploy, and host the applications in SharePoint.
New practices of data interoperability with the help of services like REST and OData.
3. Main Benefits of SharePoint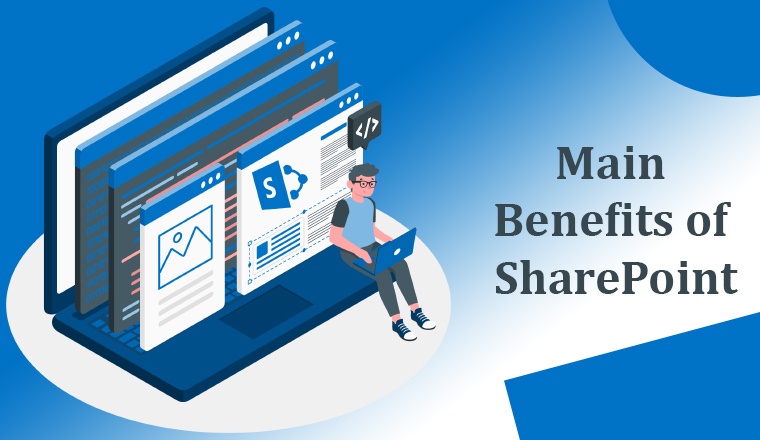 Some of the major benefits of SharePoint are –
Ease in User Experience
In today's time, we come across new technologies every day and the busy schedule of IT people doesn't allow them to learn every latest technology. This is why having an easy-to-learn and use technology or application is preferable. In the same way, SharePoint Online is easier to understand and use. SharePoint is a unified platform that enables techies to create native client-desktop applications. It also helps in simplifying the way team members interact with content, business data, and processes.
Security
When it comes to technology, security is a major concern. Having a technology that can secure the business application from fraud schemes, cyber-attacks, and system hacks can be very helpful. And the main reason behind it is that these things can leak sensitive information about your client's business and result in a poor reputation and compromise the integrity of the firm. This is why app development companies prefer SharePoint. It secures the data and doesn't allow it to let out or get it hacked in any way.
Centralized Administration
SharePoint enables companies to use a broader set of tools for managing the platform. It offers a centralized administration panel that can handle all the system-specific settings, app management features, setup wizards, restore, backup, and upgrading capabilities.
Document Management
SharePoint enables users to manage their documents with ease. You can manage the files, share them with other team members, edit the files collaboratively, authorize the documents with a sign, and publish them to the relevant SharePoint users. Besides this, SharePoint also secures all the stored documents with advanced features.
4. How to Create a SharePoint Site?
Here are the steps that can be followed by development companies while creating new SharePoint sites –
Step 1: Determine Site Structure
When any SharePoint developer starts site creation, figuring out which site will fit all the overall SharePoint environment is a must. To understand this, the business and its structure are very important. If the company you are working for is a small firm, you can create a single site collection and enable the hosting of all the business project sites and content on that single site collection. However, if the SharePoint developer is going to work for a bigger organization that has its own hierarchy or structure, then keeping the project manager in the loop becomes necessary. The main reason for having specific structures and different site collections for it is that sharing content with external users will be safe.
Step 2: Collection Structure Determination
Every site collection in SharePoint has its own top-level site and all the sites are developed in addition to this top-level site. This concept helps in having a perfect hierarchy for future project sites. And even if there is a requirement to immediately create a new project or new site template, there are chances that in the future you would like to save some new project information that has common project teams in the same site collection. Therefore, having a perfectly determined collection structure for your new SharePoint site is very important.
Basically, a proposed structure of the SharePoint team site or project will have to use a Top-Level site as the entry point. This can be possible with the help of common content, dashboard, or links of all the modern team sites. In addition to this, all the sites must sit directly under the Top-Level site.
Step 3: Create your SharePoint Site
After the collection structure is decided, it's time to find the "Create Site Button" on the SharePoint homepage. It is at the top of the active sites page. Then start creating the site as per the pre-decided details.
Step 4: Choose Site Type and Options
Now, the next step of creating a SharePoint site is that you will have to choose, the most common options are the Communication site and the Team site. Both types of SharePoint sites offer configuration options. For instance, Communication Sites generally use Showcase, Topical, or Blank design. Here, Topical is a design type that is used when a site contains a lot of images and text content. While the showcase is used when you have to display image-centric information, the Blank design enables the developers to create a site completely by themselves.
Step 5: Give Title and Add Description
When it comes to choosing a site name or title, SharePoint will confirm whether the chosen title is available or not. After the confirmation, generate a site email using the selected title. And after the process of choosing a title is done, the next step is to use the description box to offer a brief synopsis of the SharePoint site and its purpose.
Step 6: Set Privacy Options
Once the title and description of this site are specified, you can choose the privacy option between private or public. Private means that the details will be seen by specific team members or a group of people, while public means that is available to the entire organization.
Step 7: Add members
The next thing to do is add group members. Populate the emails and names of people that have to be a part of the SharePoint site.
Step 8: Finish
The last thing is to check all the entered details and complete the website.
5. Customizing Your Site
By far we have seen the ways to create a SharePoint site, now we will go through some points and see how you can customize the SharePoint site by adding new features and functionalities or changing the site's look and feel. Here are some of the options for customizing your site and home page.
Change the Theme
If you want to change the theme of your site, SharePoint offers many different options for that. You can select from a classic theme, or modern theme, or can create a customized theme that can represent your business and can fulfill the requirements. Each of these options comes with advanced preferences to add colors, layout, or fonts.
Change the Logo
SharePoint comes with advanced features that enable you to change the logo of your site whenever required. For this, there are some steps that you will have to follow and they are –
Step 1: Visit the SharePoint site and click on the Settings button and go to the Site Information.
Step 2: Under the site information there will be a logo option, find the change button next to it and click on it.
Step 3: The last thing to do is browse and choose the new logo and save it.
Customize the Site Header
You can customize the size of fonts and background of the site's header. For that, you can follow the below-listed points –
Step 1: Go to Settings > Change the Site's Look > Header
Step 2: Choose the Standard Header Layout option or the Compact option
Step 3: Click the Change button to add a site logo
Step 4: Choose a header background to make the changes in its color
Step 5: The last thing to do is make changes.
Include a Site Footer
If you want to change the site footer, SharePoint offers that option. You can customize the branding purpose or navigation control. For this, you can follow the below-listed point –
Step 1: Go to Settings > Change the look > Go to Footer
Step 2: Toggle the visibility of the Footer to set the site's footer.
Step 3: Then, you can click on upload to add the new footer image and it will be automatically resized.
Step 4: The next thing to do is add a name to the footer and switch it to On.
Step 5: Click the Save button.
Step 6: After you save it, the footer will be added.
Add Pages
You can create a new page on the SharePoint site and also copy the existing design to it or create a new design. So, if you wish to add and publish a new page on the SharePoint site, follow these points –
Step 1: Go to HomePage > Select +New > Page
Step 2: Select the template for the page
Step 3: Add the page title and save it
Step 4: Add a new name to the page
Step 5: Add new Web Parts to the page
Step 6: Click on the '+' button to add text or document.
Step 7: Then you can click on the 'Save as draft' button to save the changes you have made.
Step 8: The last thing to do is click on the publish button to make it visible to your audience.
Add Components
Now, let's see how to determine the modules that might be required in the project. When it comes to having a site in SharePoint, there is no one-size-fits-all template as every company has its own requirement list. And because of this, having modules that can match the common needs is necessary. Here's the list of such SharePoint web modules –
Announcements – When the employee developer wants to publish a project or make departmental announcements or share the document libraries with the team, the announcement module is a must.
Calendar – The calendar is a module that enables the users to store and track project information like deadlines, upcoming meetings, and more.
Contact List – There is a module that enables specifying a list of contacts for the SharePoint users team. And it is helpful for storing contact information like addresses, numbers, emails, and other relevant data of the users.
Tasks – It enables the users to save the tasks and assign them to themselves and other SharePoint team members.
Document Library – One can save different documents and files for a single project, department, or team.
Issues Log – Issues Log is used to store a log of the recent project problems. These issues might not be the tasks.
6. Conclusion
As seen in this blog, SharePoint is a collaborative platform that can be used to create a new site and offer collaboration options to the organization's team members. It helps businesses grow and become completely digitized in this modern era. After you have created a SharePoint site, it can be used for collaboration and communication in a firm. If it's a client, then they might need to hire an in-house expert to keep the SharePoint site working smoothly.