Since the data evolved, document storage and management became complex and haywire. To solve these challenges, enterprises have started looking for document management systems. SharePoint by Microsoft is a blessing in disguise for enterprises to manage documents. SharePoint is used by almost 200 million people, and Microsoft was named a Leader in the Gartner Content Services Platforms Magic Quadrant Report for 2020. Large businesses utilize SharePoint as a content management system. SharePoint is the hub for content and team collaboration in Microsoft 365. It supports document sharing in OneDrive for Word, Excel, PowerPoint, and 320 other document types.
Increasingly, we have seen many businesses whose current document management system is not meeting business requirements and are considering using the SharePoint document management system. The integration with SharePoint boosts business operations and smoothens collaboration. Thus, we decided to bring out the benefits and best practices of SharePoint Document Management that would assist you to manage your internal organizational documents effortlessly.
1. SharePoint Document Management System Benefits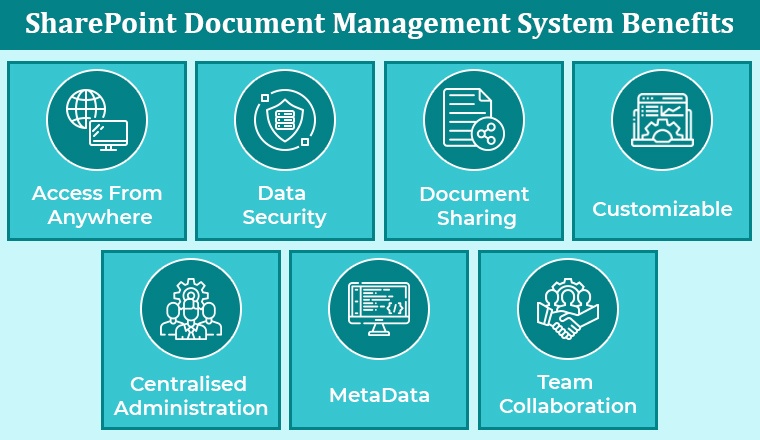 1.1 Access From Anywhere
SharePoint is available as a desktop application (PC or Mac), a web application, and a mobile application. You may browse all of your digital documents from any location and at any hour.
1.2 Data Security
SharePoint is for those who desire peace of mind about digital security and legal conformity. You can be certain that only authorized people will have access to customer and staff data. Additionally, you may define audits and storing regulations. Additionally, you may configure permissions for files, websites, publications, lists, and web apps in SharePoint.
1.3 Document Sharing
How will you get input from colleagues on a document? Do you write a text and then distribute it to colleagues for editing and commenting? Do all visitors return documents with their revisions to you? If this is the case, you are collecting all modifications and remarks into a single file yourself.
SharePoint provides a far more intelligent method of managing content responses, comments, and modifications. A document can be saved to a document library. Several people can access and update the file through the application of access, workflows, and permissions. You will receive a single edition of the file including everyone's input. The article's comments are automatically aggregated.
1.4 Customizable
Around 65% of firms that use SharePoint customize the program. This implies that firms that employ SharePoint may tailor the program to their own needs and tastes. Adaptability is critical for bigger enterprises that want customized functionality from their systems.
Additionally, it is compatible with third-party protection technologies in the event that the business requires a different level of protection than that provided by the program.
1.5 Centralised Administration
SharePoint may be the most effective method for centralizing management. Certified admins can gain accessibility to this consolidated repository by tapping on certain sites.
You may refresh content in a variety of ways, such as SharePoint updates, software control features, restores and recoveries, SharePoint farms, system setup, application configurations in particular, and security configurations.
1.6 MetaData
MetaData is one of the key SharePoint features. Metadata is excess info about files in SharePoint that you can monitor. Here you can upload and tag documents and later on search those documents based on keywords and tags. Consider it similar to directories on your document sharing, except that you may define various metadata fields.
For instance, your file sharing may have a directory structure organized by division, followed by a project. However, some initiatives span numerous sectors. How can you centralize all of the business data associated with these cross-departmental works?
You might establish a row in SharePoint for each division and another for each task. Then, given any (or both) of these rows, you may search and arrange. Thus, you might quickly search for "Project ABC" and discover SharePoint documents that are being operated on by three distinct divisions.
You can also use content types for organizing document information like document templates and metadata. It takes some time to adjust to this new method of file organization. However, after you have done so, your team will be able to locate files far more readily than ever before.
1.7 Team Collaboration
Teamwork is critical for every business's survival. SharePoint, on the other hand, benefits team cooperation and interaction. The system has edition controls that enable you to track each modification made to a file. Additionally, your team may send content and changes in real-time. Additionally, they can boost their quality and profitability using it.
Now, let us go through the SharePoint Document Management Best Practices
2. SharePoint Document Management Best Practices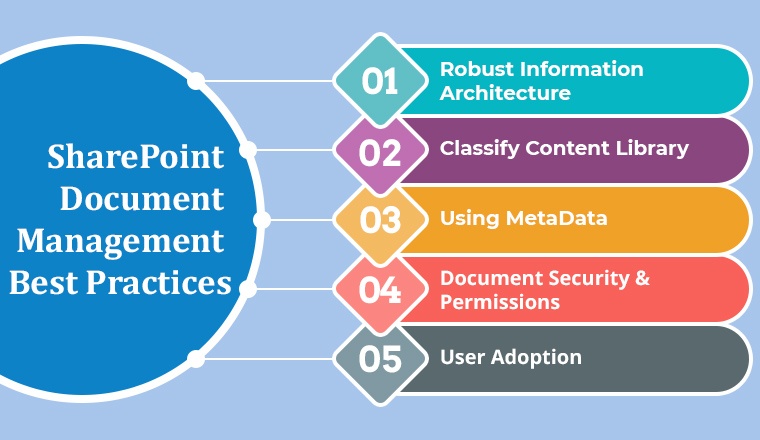 2.1 Robust Information Architecture
Utilize the preceding SharePoint capability to enable precise and simple content organizing and easy search:
1. List – SharePoint List is used to storing non-editable files such as emails, notifications, and schedules for meetings.
2. Libraries – Libraries are used to store modifiable files such as agreements, bills, and guidelines, as libraries enable collaborative authorship. For storing documents, you can rely upon lists and libraries.
3. Classification – Classification of documents according to date, customer, and task. Additionally, the categorization of documents can be used to limit access to critical data.
4. Metadata – Metadata that enables monitoring of documents based on their text rather than their physical location. For instance, a document may have two labels (a customer's and project name) and be findable in either direction, yet there is no duplicate of a file in the DMS.
5. Column indexing – Column indexing improves the speed of big lists and libraries by allowing SharePoint to swiftly examine the data contained in a column.
6. Library views – Library views enable you to show SharePoint material in a handy format, such as a timeline, an Excel-like spreadsheet, or a Gantt chart. Additionally, you may construct bespoke perspectives by altering the arrangement and amount of rows on a page. Additionally, these perspectives can be configured for private or public usage.
2.2 Classify Content Library
Understanding the structure of the hierarchy is an important best practice when you classify the documents in folders. SharePoint DMS helps you to organize it if you have a basic structural notion in mind. How do you want to organize your file hierarchy? As we know that we can place any document anywhere but the Document Centre is usually the top level or either as a separate site collection or as a subsite of a larger site collection. We can classify the structure under the Document Centre which will look something like this:
You can start with the SharePoint library and inside it, you can keep folders for each operation or process or department and then the files date-wise or in any order that is convenient to you. Let's see what each of these contains.
What do Document Libraries contain?
You may create as many document libraries as you like, and partition them any way you like. You may have a distinct document library for different departments of your company, or even for each client. The information linked to such categories can subsequently be stored in these libraries.
Folders and Files
You may have folders inside the document library to further divide files. For example, you may have folders for all of a department's key functions or for the user they serve in a document library for that department. You may have various files for each project you've done for a user in a client document library or separate files for quotations. Also, there are files that are managed chronologically as per convenience.
2.3 Using MetaData
SharePoint and OneDrive both have quite robust metadata capabilities. Documents can be allocated a variety of data and properties as follows:
Long-form explanations, employing rich content
Reference digits or identifiers, which are frequently produced automatically
Dropdown menu data, containing many selections and values retrieved from other sources
Assuring that relevant metadata is added to files provides a variety of advantages. It significantly simplifies the process of locating papers. Additionally, it simplifies the process of recognizing a file without reading it. Effective metadata can also aid in the application of record management and storage standards if your documents require them.
As valuable as metadata is, avoid biting off more than one can handle with it. Each document does not require 10 distinct characteristics, and visitors are unlikely to fill up so many columns in any case. Balance the requirement for explanation with realistic considerations of use.
2.4 Document Security & Permissions
Managing a document is not a child's play. This has been realized by many enterprises of different domains. When it comes to document usage, managing, and securing them there are basically two options. You basically have two options when it comes to rights in a Document Centre site: establish permissions by Document Centre or per document library. By default, the platform assigns access to SharePoint sites and libraries based on their structural hierarchy. As a result, if you establish permissions at the Document Centre library, the rights will apply to all document libraries. The security is stringent and the rule allows access to authorized users only.
A user will have Read Only/Visitor access to the Document Centre at the very least. To put it another way, anyone having Document Centre access will be able to open any file in any library or folder in the hierarchy. This doesn't allow any user to modify the contents of any file, but they will have access to the data and managing documents.
2.5 User Adoption
This is critical for the success of your SharePoint document management system, as all of the best practices listed above are useless if the document management solution isn't employed. It should be easily adopted and hence, you should concentrate on the following factors to boost user adoption:
Make simple Structure
It goes with simpler input and richer output. Hence, if you have multiple features in your SharePoint Document Management system it will complicate the process. The more features your document management system (DMS) has, the more difficult it will be for users to comprehend and successfully utilize its capabilities. As a result, when you are starting to use SharePoint DMS, it's best to start with some simple but high-demand functionality. Then later you can progressively expand it as needed.
Training and Feedbacks
It's critical to provide SharePoint document management users and administrators with training on the solution's capabilities. SharePoint training should provide them with appropriate hands-on experience and explain how SharePoint DMS will assist them in their regular job duties. Much as it is equally important for companies to take feedback on how the DMS works and get its changes done in the development process before the next time they use it.
Maintenance
A support team should maintain the system up to date by installing essential upgrades, upgrading UX/UI based on user input, and resolving technical issues as quickly as possible.
3. Final Words
Are you still overwhelmed with the fact that your important documents are not organized and you won't be able to find, store and share documents when needed? Well, then a Microsoft-empowered SharePoint Document management system is a go-to option for your organization and business processes. We have tried to bring forward all the points that will help you to use SharePoint document management effectively for your business. When you start managing the document or piles of documents, focus on the primary building pieces of SharePoint DMS's efficiency. This should compulsorily include intricate information structure, strong documents, and data security if you want to get the most out of it. Also, User adoption is an indispensable aspect that serves as a foundation for these blocks for your business to enhance on a regular basis.