Enterprises are unique in the way they manage their operations as there is so much that they create, design, and deliver regularly. Therefore for every unique action, there should be an equivalent source for managing such bespoke activity. Enterprise Content management is one of the most arduous tasks for businesses to regularly meet. Microsoft is a leading name in Content management system and without much guesses we know that it is SharePoint that is a leading name in content management system (CMS).
Challenges to managing content can be quite a herculean task and will definitely result in unexpected loss. The reasons or challenges can be anything from no organizational focus or no clear decision or action or lack of contribution of major stakeholders, incomprehensible changes and many more. If the content is not managed on aptly, there are chances of bigger failures occurring at once. So, to overcome this, leveraging the benefits of the SharePoint content management system (CMS) is the right option. But still there are companies unsure of the potential of SharePoint and don't know in which aspects will this outperform. So, brace yourself because we are going to highlight all the essential aspects of ECM- enterprise content management system (CMS) and also what makes Microsoft SharePoint a wise choice for your business.
1. What is ECM?
An enterprise content management system is a simple reference to technologies that are used to manage, collect, store, and transport documents digitally. It is a one-stop shop for any businesses in need of a content management system. In a nutshell, ECM software can make it easier to manage and monitor unstructured company information, enhancing efficiency and business productivity.
Having said that, it is important to note that not every ECM works effectively with an organization. To fully realize the potential of an organization's content management requirements, your developed ECM must be both flexible and feature-rich. It must also have significant capabilities for handling papers and producing business records in the most efficient manner. This is where we introduce the concept of utilizing Microsoft SharePoint as an enterprise content management.
2. Why Choose SharePoint For Enterprise Content Management?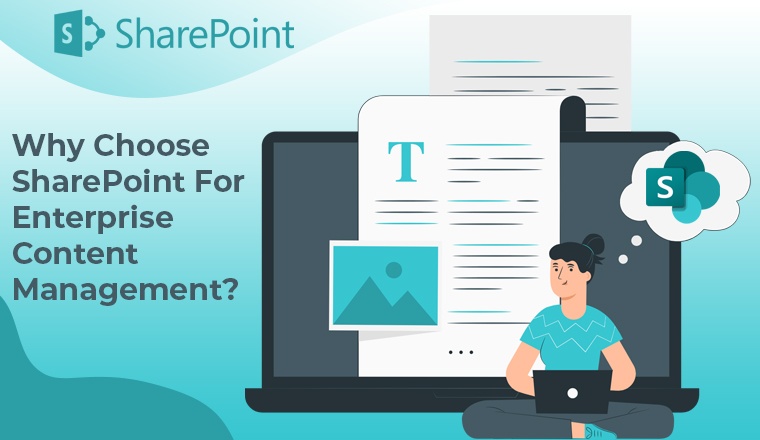 A SharePoint CMS is a content management system that can be easily integrated into a SharePoint site. Many renowned websites have used SharePoint to manage and publish material online using popular content management systems such as WordPress or Joomla. This can be used across any publishing sites. There are multiple added features that are part of SharePoint development included in the development of sites. Enterprises, particularly those who currently use SharePoint for internal document management or other applications, might easily choose to use SharePoint to satisfy their  requirements throughout the content life cycle.
SharePoint is capable of managing almost all types of content management systems and that's the only reason, it is more preferred by businesses.
2.1 Document Management System
Document management system goes as per the name. It is a process of effectively managing documents of all types. SharePoint performs well when it comes to increasing system productivity through efficient document management. Enlisted below are some of the management features of SharePoint which can play an important role in providing the essential help in document management:
SharePoint functions are like hubs, gateways, or even a centralized system for all business-related information and content.
Stakeholders can easily pinpoint the site they want to discover, utilize, share info, retrieve, and use its information for further tasks.
Within document management, SharePoint also enables you to create the sets and groups of people you want to organize and discover the data or content you're looking for.
SharePoint will make things easier for the users, as for each document it grants a unique ID as an identifying code. Then for further tasks, you can even categorize the docs involved into levels or tiers depending on their relevance, distinct nature and specification.
SharePoint works well with Microsoft Office utilities like Excel, Power BI, etc.
2.2 Records Management System
Record Management is a complex task, no matter how much meticulously you perform the tasks. So, when you choose to automate its processes, you must consider SharePoint which will offer customized data handling changes to be seen in real time by all stakeholders. Along with handling custom data, SharePoint can also make the final product storage easier to fetch and analyze. This eliminates the need to go the extra mile in order to transmit paper copies for legal, medical, or financial reasons. It also makes files accessible to everyone with an internet connection and in an orderly fashion. Finally, SharePoint enables for the locking of these documents as well as periodical file audits for further security and final approvals. Users that use SharePoint for record management can not only export its material, but also maintain track of holds placed on specific content.
2.3 Digital Asset Management System
The digital assets are now the company's greatest asset. So to safeguard them is their priority. With SharePoint everything gets easier and quicker. Social media asset libraries are also included in this category. Libraries in SharePoint's digital assets have been customized to help in the process of aligning audio, visual, and video assets. The inclusion of diverse content implies a variety of functionalities that are not included in standard libraries. There are thumbnail views also used to support assets and browsing, popups playing video from document folder
Additionally, SharePoint also has built-in players which allows you to play audio files as well as video files from team sites, publishing sites, portals, etc.
2.4 Web Content Management System
The last component of SharePoint ECM is concerned with the administration of web content. SharePoint's web content management caters to all users' needs, whether they want to publish material for the web or decorate it to provide a uniform look. Because of the popularity of reusable templates, users may easily generate website content. Using the same template for several pages also ensures a consistent appearance. Overall, SharePoint web content management is cost-effective as it allows to build intranet, extranet and internet sites.
3. Other SharePoint Benefits
There are a plethora of benefits that SharePoint as an enterprise content management platform can offer. To start with one thing is that it employs SharePoint as the business content management system (CMS). This software overall reduces the overall cost. It is always ready-to-use that has been freely available for a long time. There are few features of the application that are paid and users are required to purchase a license. SharePoint ECM is available at a reasonably normal price.
The SharePoint platform is extremely secure when it comes to content management. Organizations implementing SharePoint should not be concerned about the privacy and security of their data or data loss prevention, whether they should consider dual authentication or file encryption.
Third-party assistance is available through SharePoint. SharePoint provides support for hundreds of needs, contractual duties, and regulatory compliances. True, there are other suppliers who provide assistance for certain services; however, none of them cover everything. It is just SharePoint that does this.
4. The Closing Words
You will find that there are other ECM systems also available, but there is some special offering that makes SharePoint stand out from the breed. Because you have SharePoint already in place within your organization, it makes more sense to start with it. You won't need to search further due to its powerful features and functionalities. The option for you is to always choose someone who works to bring out the best for you. So that you don't have to manage content and content related activities alone. When it comes to designing, architecting, and installing your SharePoint ECM solution, have a qualified SharePoint partner on your side who has been there, and will be there for many times in future as well. They will surely assist you in a seamless and effective setup while also maximizing the benefits of your SharePoint ECM.