What's the Difference between SharePoint Modern Team Site vs. Communication Site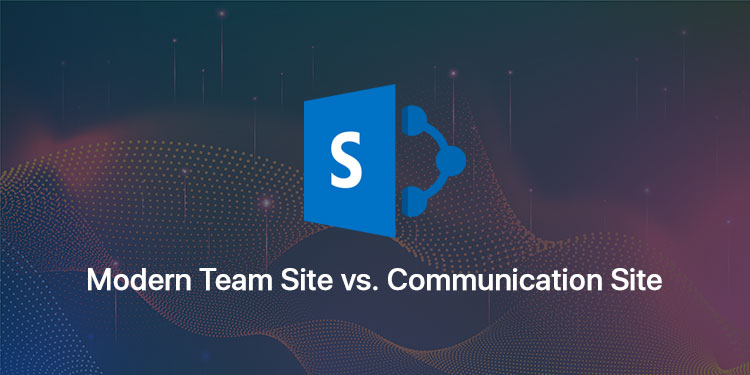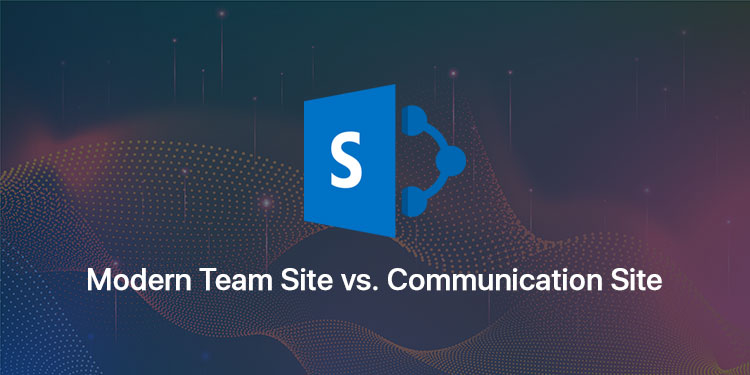 Over the decade, Microsoft has introduced many new functionalities in on premise and in cloud-based SharePoint platforms – Office 365 (i.e. SharePoint Online) for appropriate SharePoint development. New UI experience called modern UI experience is introduced in Office 365 and it will also available in SharePoint 2019 on premise version soon. Various new features are provided with modern UI experience in SharePoint Online. One of the new features is SharePoint Communication site – a new site template which creates massive confusion due to similar look and feel with SharePoint modern team site.The big question user faces during site creation in SharePoint Online is: From modern team site or communication site, which site suits to your requirement better?Let's dive into the brief of modern team site and communication site to understand the difference between these sites.
What is SharePoint Modern Team Site?

A SharePoint team site is a great place to share content, information and apps between you and team members. For instance, you can use a team site for group of users who work on same project to store and collaborate required files, store and manage list of data you required on daily basis. On a team site home page, you can set links for important files, external links, recent site activity and web pages. This will be very convenient to keep track of the work progress and task management.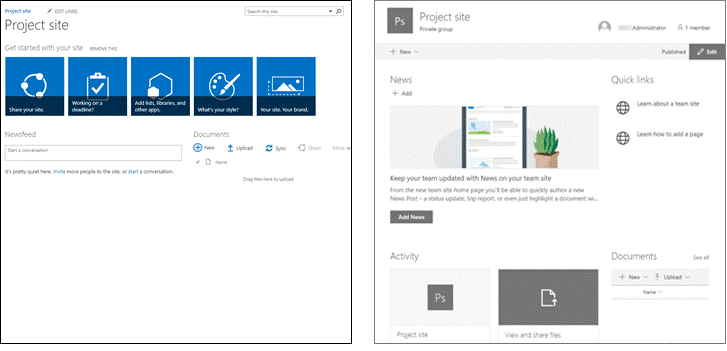 Microsoft has updated UI with new modern UI experience for team sites in SharePoint Online. With the modern UI in team site, the new Office 365 groups feature is introduced.
What is Office 365 Group?

Best way to describe Office 365 group is to collaborate with a set of people and to set up a collection of resources for these people to share. These resources can be shared OneDrive, Outlook inbox, shared calendar or a document library for collaborating on files. Conventional team site has different web parts, document libraries, task lists, etc. Office 365 group is essentially a pre-packaged team space that allows you to store, share documents, see team conversations and can add/remove team members very easily along with conventional team site features.Microsoft Teams – unified communication platform is provided that is tightly coupled with Office 365 group for sharing files, chit chat with team members, video meetings, etc.Microsoft has made great effort in delivering a service that enhances productivity of teams in organizations and integrates with company's existing office 365 subscription. In modern team sites, Office 365 groups are tightly coupled with site and most of the users – team members can contribute in sites therefore, it can be a great resource for team collaboration.
You can create new team site in SharePoint Online from here.
What is SharePoint Communication Site?

A SharePoint Communication site is very helpful to share information with others. You can share news, reports and other information in a visually compelling format. And it is available with modern UI experience.User can create site with a blank site or choose one of the site designs, each of which comes along with a default set of web parts. The options available are:
Topic: to share information such as news, events and other contents.
Showcase: to use photos to showcase an event, team or product.
Blank: to create your own design.
You can create new communication site in SharePoint Online from here.
Basically, communication sites are introduced with the concept of broadcasting information to users. A small number of users can edit the content of site and large number of users are the readers of the site. For example, you can use communication site to share news, images and organizational events with your employees where group of users can update the content and others can only read and access the content in site. Communication sites don't come with an Office 365 group. Though communication site and modern team site both have same new look and with same OOTB web parts and navigation, this makes communication site differ than SharePoint modern team site.
Let see below matrix for few criteria in which these sites are different:
Criteria

Modern Team Site

Communication Site

Primary Objective
Team Collaboration
When you want to create a place
where the members of a workgroup
or project team can collaborate on
project details, plan tasks; events or
exchange ideas, you want a

team site

.
Showcase, Share a service, Tell a Story
When you want to broadcast news,
tell a story or share content for
viewing or showcase services or
people, you want a

communication site

.
Authors in site
All members are content authors in
site who jointly create or edit
content in site.
Few members are content authors
and large number of members are
content readers or consumers.
Governance in site
Governance and policies are defined
by

team

.
Practices are aligned to get work done.
Governance and policies are defined
by

the organization

to manage
consistency of experience and effective
management of organizational information.
Quantity
Expected to have a lot of sites in one tenant.
Based on number of projects/teams/workgroups
running in organization.
Expected to have a very few sites in
one tenant.
Based on functional area or major topic.
Behaviour during site creation
New Office Group will be created
and coupled with site. Sites are


Public

by default.
It prompts you to set privacy settings
and add users in site during site creation.
Office Group will not be created.
Sites are

Private

by default.
Examples

Project team collaborating together
to complete the deliverables and manage tasks.
Occasion party planning committee
arranging the annual social gathering.
HR colleagues—everybody who works in HR.
Official Committee — diverse
leadership groups inside the association.

For intranet, Governance and Training
Travel group publishing rules about corporate travel
Policies and procedures
Micro-site for a new corporate activity
Assets for the sales team for a product or service
Conclusion
The capabilities of both Communication Sites and Modern Teams Sites are evolving. I hope this brief introduction on sites will help you to choose right site for your purpose. To keep on notch of the emerging changes, it's a good idea to follow the SharePoint Blog.