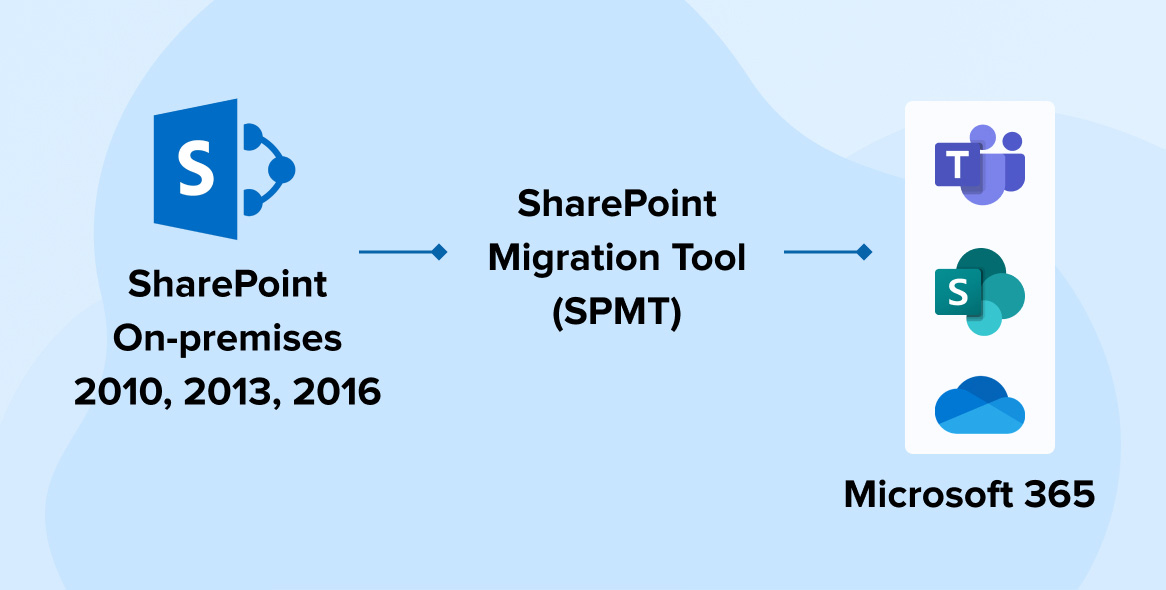 SharePoint is one of the most popular platforms in the world which not only enables secure collaboration but also helps in managing and storing content. With SharePoint Online coming into the market, the number of SharePoint site collections has exponentially increased. Prior to that, businesses were using on-premises SharePoint versions like SharePoint 2007, SharePoint 2010, and SharePoint 2013 to migrate their traditional versions of SharePoint to Office 365. And the reason behind it was the features of Office 365. Office 365 comes with user-friendly functionalities that help users easily migrate from any other SharePoint version to Office 365. Office 365 is a cloud based platform of various Microsoft products like Microsoft teams, Outlook, Word, PowerPoint and many more. To know more about it and get a step by step guidance to migrate on-premise SharePoint to Office 365, let's go through this blog.
Getting Ready for Migration
Many, if not all, SharePoint migrations are deemed as failures by organizations even when the content moves from source to destination. Although the actual migration process is simple to execute, the only challenge is to make sure the users are prepared for pre-migration stuff. There are certain mistakes that a company needs to avoid both while and after the migration process. A bit of planning before actual migration to Office 365 will help you serve your exact needs, which in turn will help SharePoint consultants in managing SharePoint development services more effectively.
This blog from our SharePoint Team will walk you through fitting ways to keep in mind while migrating from on-premises to Office 365.

Establish a Thorough Inventory of Your On-Premise Environment
SharePoint users can make effective decisions and estimate time to be spent on the migration process by preparing a detailed list of everything in the current environment. Though the migration process is tedious and lengthy, recording the below information makes it easier to plan and adhere to migration deadlines.
Site Collections and Sites
Lists and libraries (including those lists/libraries which crossed threshold limit)
Pages
Custom solutions
Branding
Additional UI customizations (JavaScript's, custom menus and more)
Workflows
Content types and Site columns
Permissions, and Users & groups
User alerts
Records
Retention policies
All files having a dependency to another file using a URL
Blocked file types
Perform an Audit on Your Old Environment
Migrating irrelevant/unwanted data from SharePoint server on-premises to Office 365 will not help the cause of a successful migration. SharePoint Consultants should invest enough time to locate, delete or reorganize data that can eventually help perform a smooth migration process.
Check and delete orphaned users
Delete empty SharePoint groups
Reorganize users with explicit permissions back into groups
Remove unwanted or unused custom content types, site columns, and workflows
Decide for sites that haven't been accessed or modified and if user still need them in Office 365
Ensure you migrate the most recent version of the document by asking users to check-in documents currently checked-out, including those that have never been checked-in
Locate large site collections
Break them up into multiple site collections
Locate large sites
Promote them into site collections
Delete duplicate entries/content
Clean up items containing too many custom permissions
Delete unwanted versions from your version history
Redefine list and libraries with too many columns
Reorganize large lists/libraries
Structure SharePoint Online to Face Migration
Presumably, upgrading some new features of SharePoint On-Premises server might not be the same in SharePoint Online but there will be alternatives for those features in SharePoint Online. Also, SharePoint developers need to take a look and consider different Office 365 plans, each having a set of available features for the migration process.
It is recommended to do a bit of research and pre-check to make sure the features available in SharePoint on-premises are all in-place in Office 365 and to avoid regret later.
Map SharePoint Online architecture with your SharePoint on-premises as far as possible
Run a test migration
Highlight any unsupported elements
Plan for metadata mapping on your content
Observe your customizations
Convert customizations to work on the destination, if required
Supported Scenarios to Migrate Content to SharePoint Office 365
There are various supported scenarios to upgrade to SharePoint Online (Office 365).
Copy Files Manually
This method includes moving files manually to the destination using the SharePoint Explorer view service. It is the least practical method to carry out the migration process, as the items/documents lose all the related metadata such as "Created By", "Created date", "Modified By" and so on. This method is least recommended for SharePoint consultants as we cannot have all the items/documents created and modified all at the same time and by the same person carrying out the migration process. Thus, the integrity of documents is not persisted, and it doesn't work for most cases.
Use Office 365 Migration API
Using SharePoint migration tools to upgrade to Office 365 may sometimes limit larger migrations while in some cases the migration may even stop. Microsoft introduced a newer way of migration Office 365 Migration API for developers to solve this issue. The approach improves migration speed considerably by leveraging Azure. Users need to send their content inside a migration package in Azure, where a scheduler/timer job runs to import your data in SharePoint Online.
Though migration API works best with simple migrations having a few lists/document libraries while for larger volumes of migration, it takes too much of an effort and is quite complicated to set up.
Microsoft FastTrack
Microsoft FastTrack facilitates the free migration of data from the source environment to Office 365. It is available for all customers with Office 365 tenants having 500 or more licenses. FastTrack enables file sharing across SharePoint Online. It guides administrators with tools and documentation to perform configuration steps for both Office 365 and the source environment. Please note that ownership history and previous versions won't be migrated to Office 365.
Custom Solutions
We can develop a custom utility to migrate content from SharePoint on-premises to Office 365, but the amount of effort, time and support that goes into it is huge and not a feasible approach.
Third-Party SharePoint Online Migration Tools
The most used method for SharePoint Online (Office 365) migration is through a third-party migration tool. There are various third-party tools available in the market. We can choose a SharePoint migration tool (SPMT) based on our requirements and the amount of content or data to migrate. A third-party tool simplifies migration by reducing time and gets everything done with minimal effort that goes into the migration process.
Communicating with End Users
One of the challenges before moving to Office 365 is making the users aware of the change and the results of the migration. SharePoint consultants need to bring to users' knowledge the reason for migrating to SharePoint Online(Office 365) and the duration during which the process should be taking place.
Make sure users are aware of the below points before starting the migration process
Downtime during the migration process
Reason for migration and results
Possible changes in the environments
Changes in URLs
Bookmarks
Hard-coded references to documents (e.g. Excel macros)
Approximate timeline for the migration process
Starting the Actual Migration Process
The actual migration should not be too complex if you follow the above remedies. It will eventually come down to dealing with detail that pops up that wasn't considered in the first place. Once again, you need to make sure each and everything is in its place.
Workflows
Complete or stop running workflows about to be migrated
Scenarios for Migration
Migrating from SharePoint on-premises to Office 365
Use a third-party tool to granularly migrate SharePoint On-premise to Office 365, considered as most recommended
Post-Migration Steps
Before you let users access SharePoint, make sure everything is up and running in your SharePoint Online environment.
Test your SharePoint Online environment
Ensure that the migration of content is successful
Run/test workflows after the migration are done
Check user permissions
Create a backup of the SharePoint Online environment
Remove access to SharePoint server on-premises
Considerations for Custom Solutions while Migrating to Office 365
It may happen that you end up migrating solutions you no longer need into a new environment. Therefore, it is advised to create an inventory of all the custom solutions before migrating to Office 365. Migration is the best time to recognize what you don't need any longer in a new environment and leave behind. Make sure of the dependencies one solution has over the other (farm solutions – WSPs and sandbox solutions) and map those solutions to carry out-migration in the right order to the target environment.
Create a list of farm solutions in your SharePoint on-premises environment. Although farm solutions work in SharePoint, they can't be deployed to SharePoint Online. As is the case with sandbox solutions, it is recommended to stay away from them in SharePoint Online. Sandbox solutions with code will discontinue working and it is best advised to convert sandbox solution artifacts and provision them in add-in/app mode in Office 365.
Key Points of Consideration while You Migrate to Office 365
It may prove to be difficult to convert custom web parts to add-in mode.
There is no solution to timer jobs in SharePoint Online (Office 365). You will have to look at certain alternatives and solutions that can retrieve the same result. E.g. Azure Web Job.
You'll need to rewrite event receivers to retrieve the same results as on-premises mode and look for a way to host event receivers somewhere in the cloud.
You may need to consider cloud services such as Azure Web App, PowerShell, etc. to deploy declarative artifacts.
Instead of using custom fields in SharePoint Online or creating a new field for it, you can consider using Display Templates that can help you retrieve the results you want.
Based on the selected migration approach, you may require considering item IDs in lists and libraries you are using in your logic as item IDs may change during the migration.
Public-facing sites cannot be migrated to SharePoint Online (Office 365).
The publishing pages can be migrated but they may not work desirably due to changes in the provided master pages, JavaScript and CSS files. Inventory the pages that leverage page layouts and perform test migration.
The Windows AD users are no longer able to connect the SharePoint Online and to do so it is required to migrate AD users into Azure AD.
Best Practices for Planning a Migration to Office 365
Avoid performing migration all at once and work your way by starting with smaller units and then larger and so on.
Keep the files and folders in Read-Only mode in Office 365 file share initially during migration.
Make a detailed analysis of your existing information architecture before migration and avoid making migrated content look like web-based file shares.
Keep in mind that, to users, sites are just hyperlinks they can browse through and it is important to make users believe that the content hasn't migrated at all.
Use a hybrid approach to decrease the change users need to undergo.
Report all the content that is being migrated.
Group data that share similar metadata and optimize the use of content types.
Have knowledge regarding the effectiveness of SharePoint Online (Office 365) before migrating, thus ensuring a seamless transition.
Conclusion
Organizations worldwide need to make optimum use of the cloud offerings and migrate their business to the cloud, while reducing complexity and controlling cloud expenses. Cloud service brings in a lot of positive changes in the way your teams collaborate. Selecting the best approach and choosing the best SharePoint on-premise migration company are probably the most important step in planning migration project from SharePoint on-premise to Office 365 for your business. So, it's crucial to perform some research and plan governance which best suits your needs.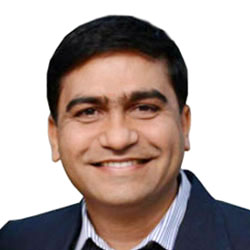 Shital Patel
Shital Patel is VP at TatvaSoft with a high-level of proficiency and technical precision in SharePoint Development. His experience of the last two decades has helped businesses to solve complex challenges resulting in growth and performance of Startups to Fortune 500 companies.
Related Service
SharePoint Development
Know more about SharePoint Development services
Learn more
Subscribe to our Newsletter
Signup for our newsletter and join 2700+ global business executives and technology experts to receive handpicked industry insights and latest news
Build your Team
Want to Hire Skilled Developers?