Microsoft Forms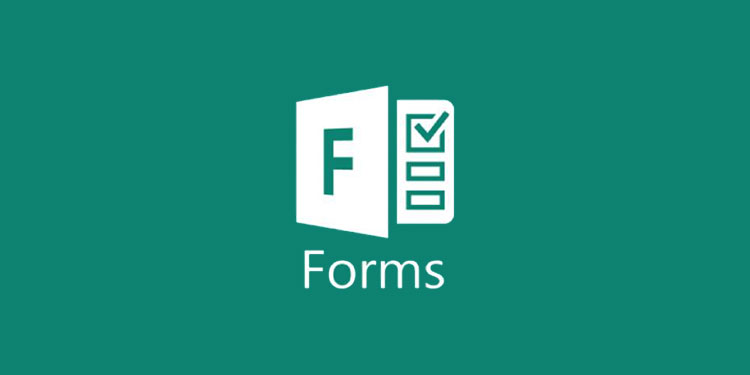 The Office 365/SharePoint Online provides a facility to carry out a survey via its Survey app. To create a SharePoint Online survey, a user must have appropriate permission on the site. This survey is available within the SharePoint Online. The SharePoint Online doesn't support the public facing sites thus for an end-user to access/submit a survey, he must require to authenticate into Office 365.
In June 2016, Microsoft has released Microsoft Forms (formerly Office Forms). It is an application for creating online surveys or quizzes. It is a better solution for people who are not much familiar with the SharePoint. As Microsoft Forms is a cloud service separate from the SharePoint Online, it doesn't require an authenticated user of Office 365. It allows access to the external guest users and thus facilitates to collect the responses from the users who are not having O365 tenant accounts.
This online survey is available for Office 365 Education subscriber users. It allows educators to create quizzes and surveys with automatic marking. Your data can be easily exported to Microsoft Excel. You can easily create, run and analyse results from quizzes and surveys. By simply sharing a QR code or link, your family and friends can access your form from virtually anywhere through internet, on any device and at any time. With the real-time responses and automatically generated charts, MS Forms makes it easy for creators to quickly understand the results and take the right next step.
Many people around the world are using MS Forms to create surveys, polls or quizzes. If you are new to MS Forms then you start by creating a survey form and quiz. The strengths of the MS Forms are its simplicity and its ease of use. MS Forms collects the real-time responses from surveys, polls or quizzes and provides them to the end-user to analyze those responses in a very friendly, analytical and visualized manner.
Day by day Microsoft is making efforts to improve MS Forms from its users' perspective by keeping a focus on bringing the richer intelligence capabilities and deeper administrative controls. Microsoft is going to announce its new feature in the MS Forms. Let's explore some of the features.
Improved intelligence

Microsoft is going to introduce its innovations around intelligence in MS Forms: Design Intelligence and Ideas. Based on the context of survey, MS Forms intelligently suggests sets of questions, related questions, or choices for options for your form. Its Design Intelligence can help you quickly create a clean and concise survey. While with its Ideas, you don't require to be a data expert to do analysis of the collected data for making the better decisions thus it saves the time to aggregate every response manually.
Design Intelligence
Imagine you're an Event Manager who just organized an event over the weekend for 500 attendees. On the next working day your manager asks how to make the next event even better. Now, it's great opportunity to send out a survey! This is the best time to send out a survey within a short time window of an event and capture attendees while they're still engaged, so you need to act fast. In MS Forms, you type the heading of the survey: "Contoso event feedback." Forms directly provide a suggested set of questions.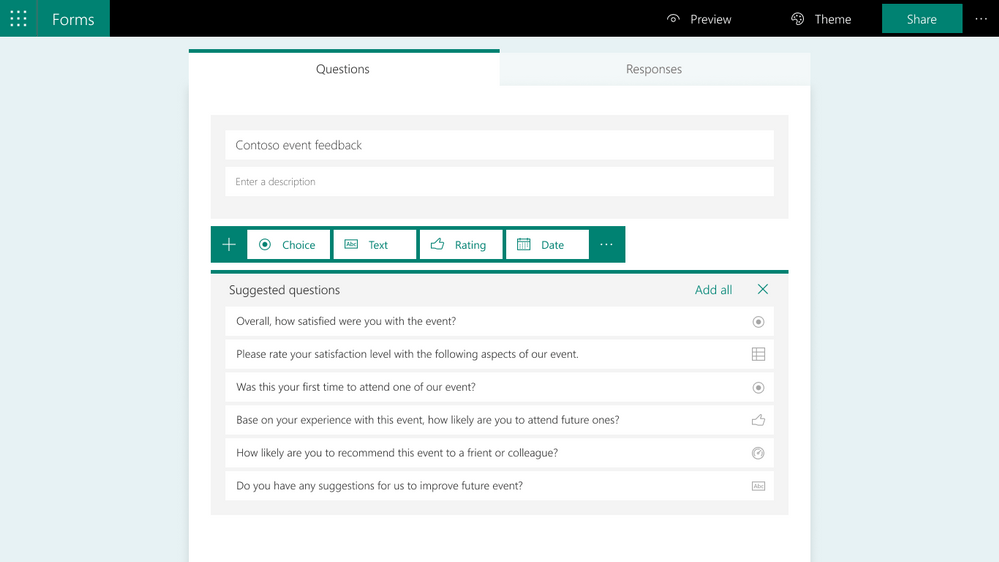 You select all suggested questions and more additional ones including, "What is your title of the job?" There will be other recommendations as well, when you type an option, "Sales", it provide as "Research", "HR", and "Legal". You pick the ones relevant to your organization.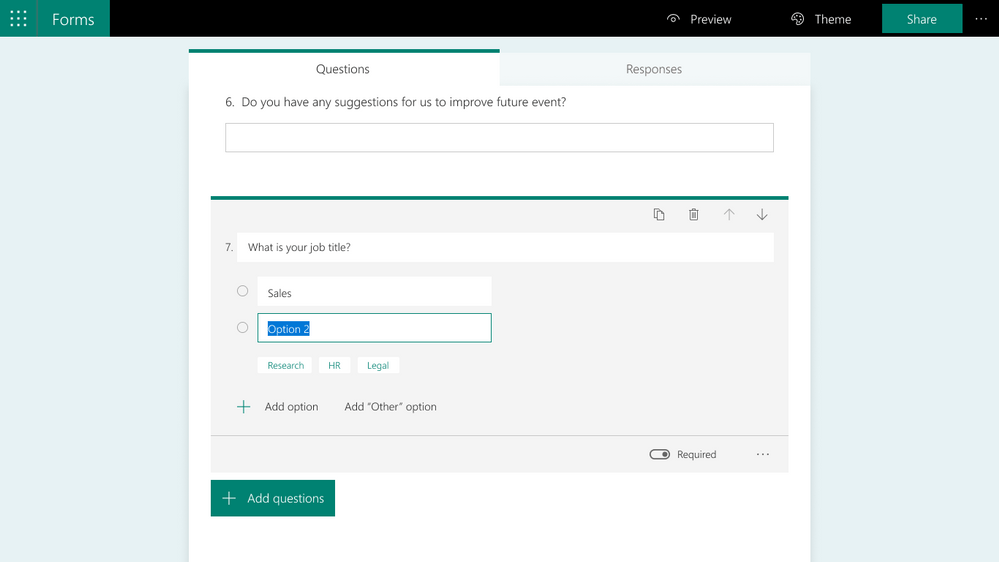 Based on your question about title of the job, MS Forms provides more suggested questions for your survey. As an example, you can select gender question.
It's Done!!! With just 8 typed words and 10 clicks, Forms design intelligence helped you craft a survey in few minutes and it's ready to send out!
Forms Ideas
You just sent out an event survey and collected a great number of responses from Microsoft Forms. Now, your next step is to analyse the data and find actionable information under the mass amount of responses. Now, navigate to the Responses tab and click on Ideas.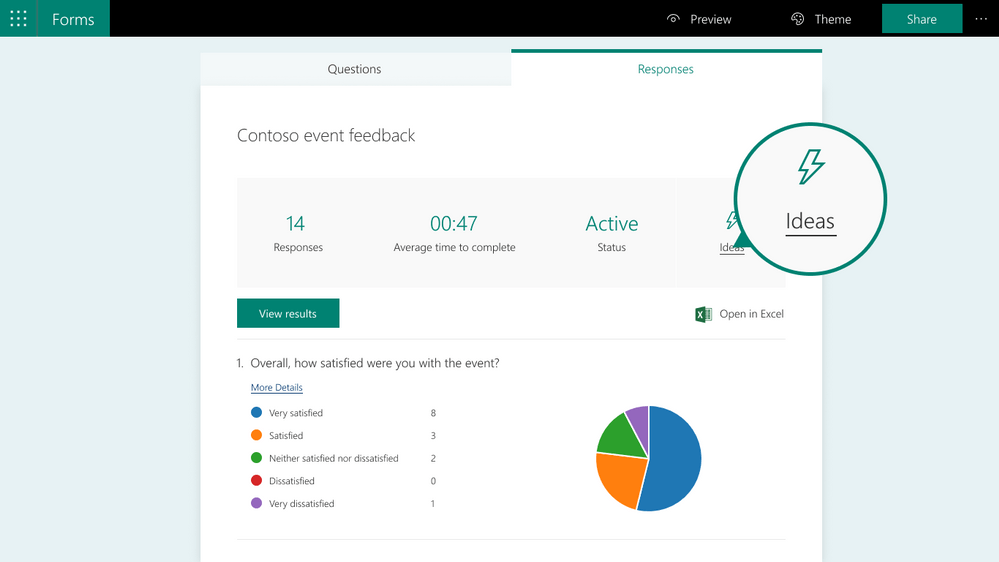 Forms Ideas will provide you with different analysis approaches to study your data.
Cross distribution analysis:
Cross-distribution analysis provides the output of the collected data as shown in the below image: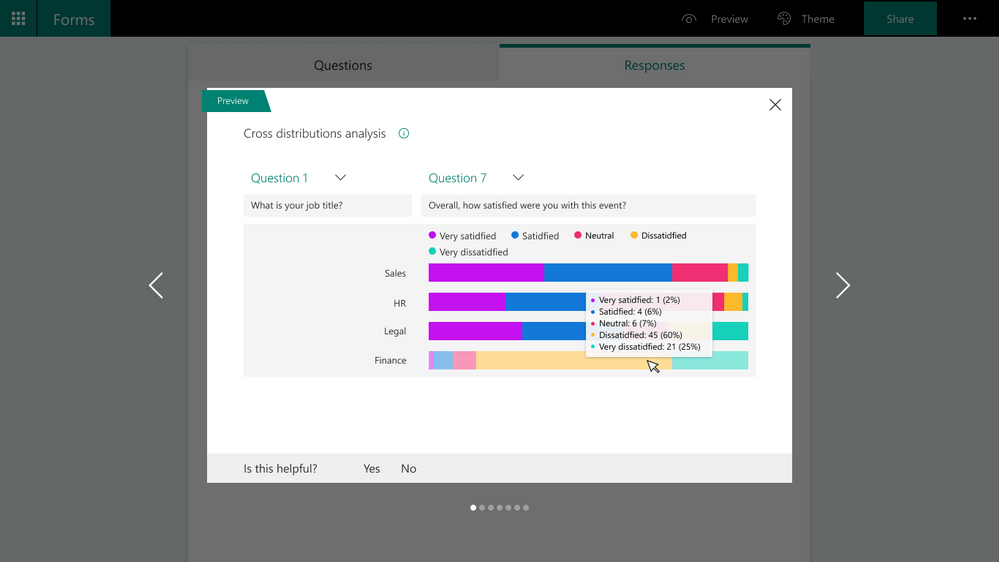 Through this you can examine how attendees from Sales, HR, Legal, and Finance are, in comparison, more satisfied with the event than those from Finance.
In the event, a lot of great sessions around the topics in Sales, HR and Legal, but it has less sessions topic about Finance. So, here the attendees who are interested in Finance did not get the information they're looking for. With this insight, you can analyse the next event you should learn attendees job roles ahead of time and plan sessions to cover topics for all attendees.
Association rule analysis:
This idea provides the linkage between multiple questions. The association rule analysis finds patterns between questions in the form. It's proposed to identify strong rules discovered in your form using some measures of usefulness.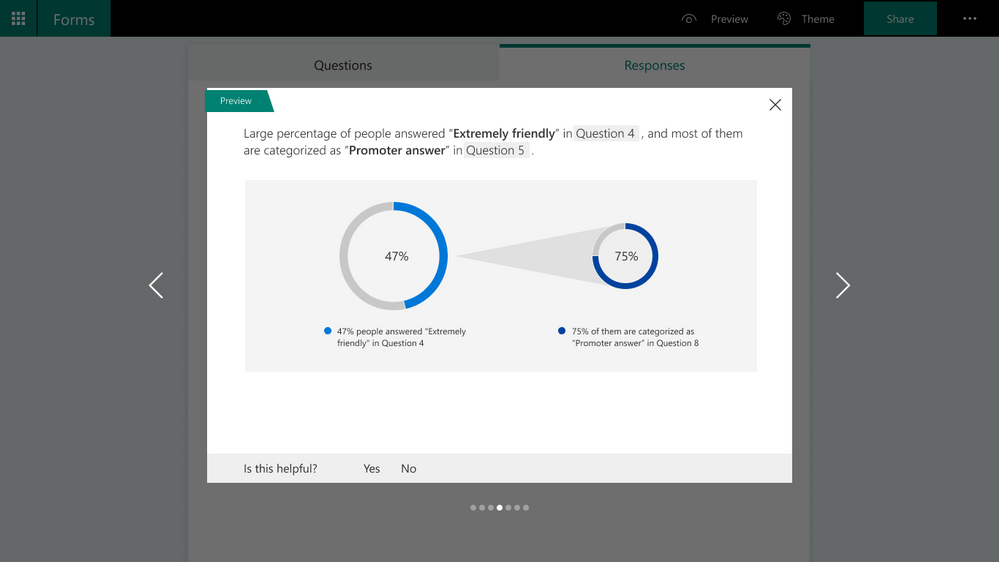 In your survey data, you will find that people who thinks the staff was "Extremely friendly" are very likely to be the Promoters. Such information can be used for decision about marketing activities.
Correlation analysis:
Another Forms Idea is Correlation analysis and it shows how there can be a consistent pattern between two questions. For example, you can see that people who answer high in question A always answer high in question B. And same time, people who answer high in question C always answer low in question D.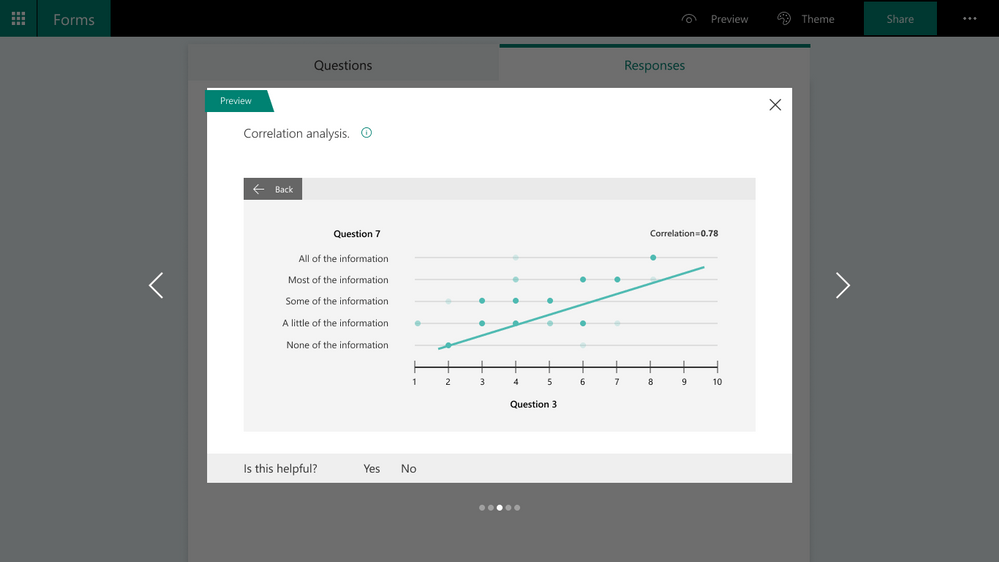 In your event survey, the data shows that attendees who received information prior to the event have a higher score of NPS (Net Promoter Score). And the attendees who did not receive enough information prior to the event have a lower score of NPS. By this insight, you can conclude that event details should be communicated with participants well ahead of time.
Sentiment analysis:
Forms Idea helps to you organize the feedback into 3 buckets: Negative, Neutral, and Positive. In your last event, people feel positive about the experience. Among the positive feedback, your customers thought the speaker have great content, gave a great speech, and felt connected with your team. That's great to know!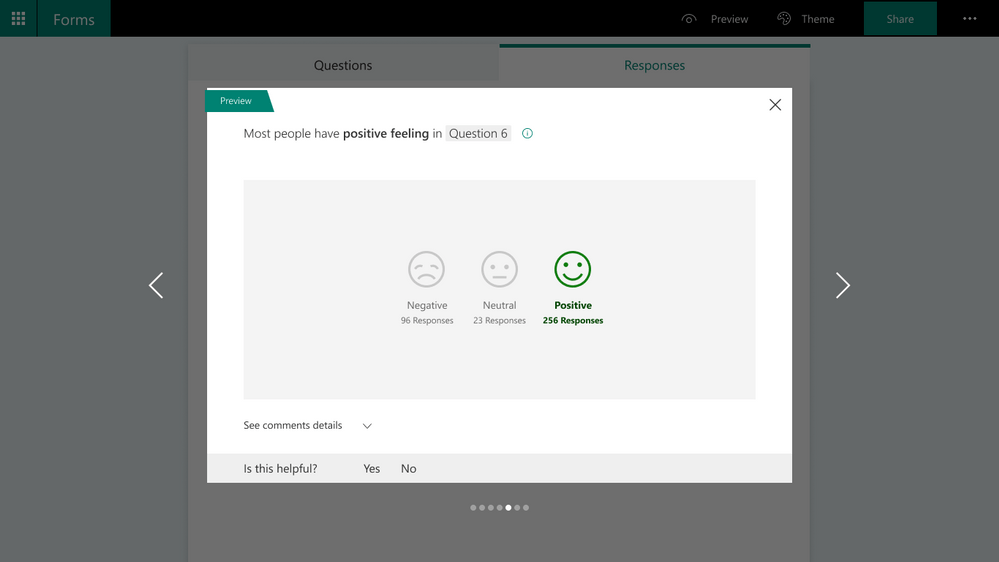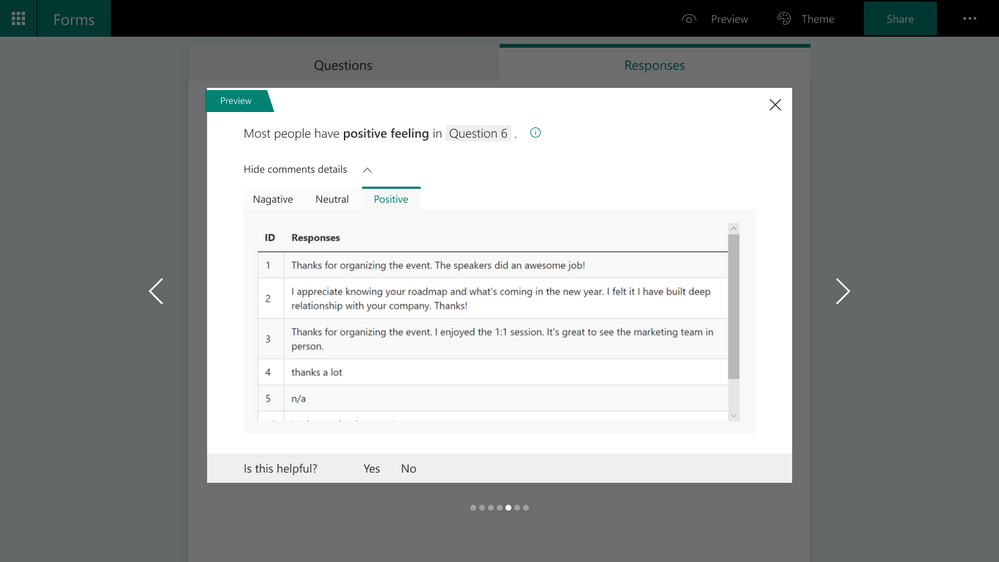 New question type

In the survey created through MS Forms, Net Promoter Score (NPS) questions can be added. NPS questions are the default technique for estimating respondent assessment about a specific movement. The most common use case for NPS questions is client dedication, however they can likewise be utilized to comprehend the accomplishment of preparing courses, corporate occasions, and that's only the tip of the iceberg.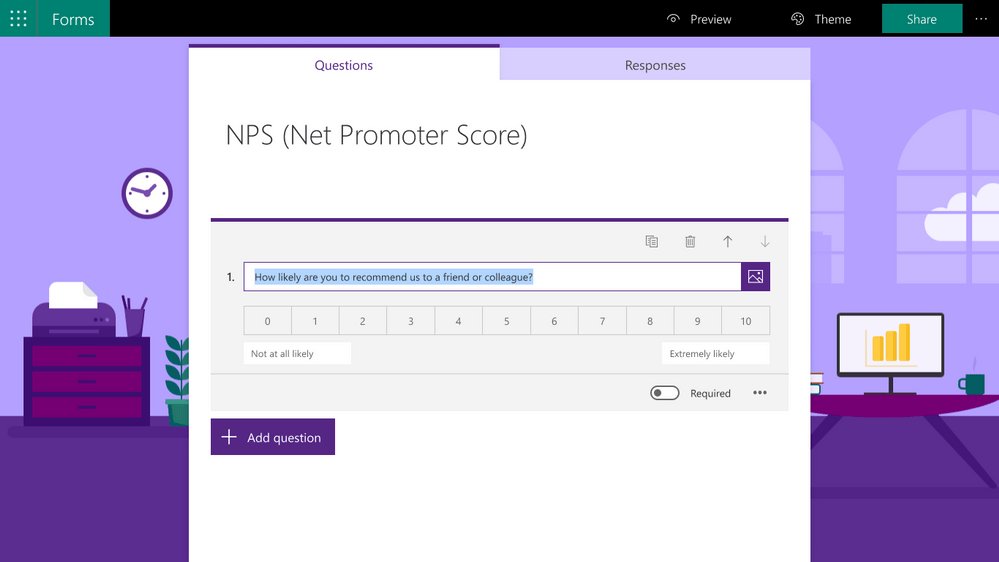 Scaled Likert questions—for instance, do you "Strongly agree," "Neither agree nor disagree," or "Strongly disagree" with a specific proclamation—help you check respondent conclusion about explicit parts of your business. When answers are submitted, MS Forms gives you a natural outline of your Likert results, total with imagined diagrams and charts.
Branding enhancements

MS Forms will highly represent your company's identification with improved customization for survey logos, themes, backgrounds, and "Thank You" pages.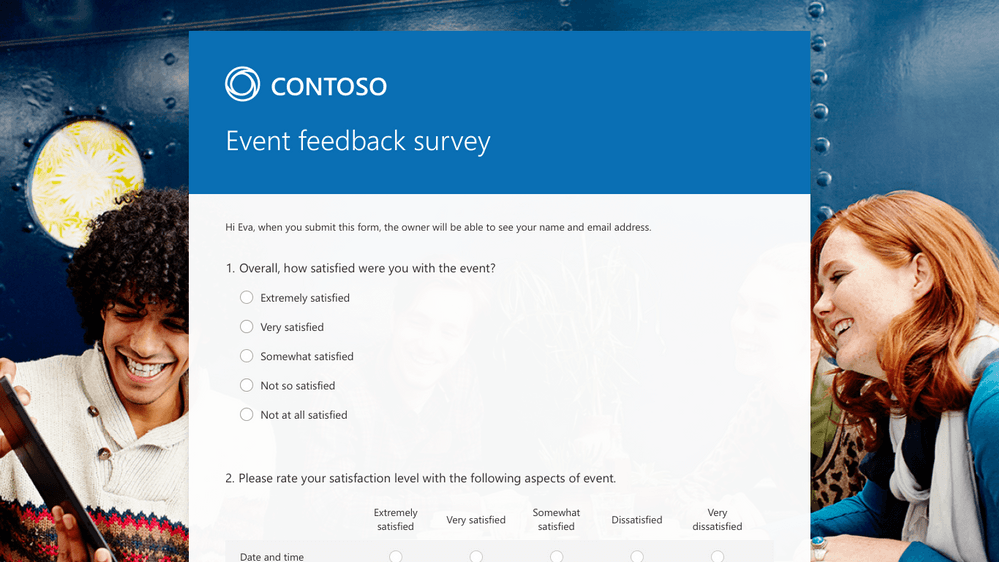 Greater administrative flexibility

Microsoft has added a few improved managerial abilities to make overseeing Forms less demanding. One of these is proprietorship exchange, which empowers form owners to exchange their form to an Office 365 Group. Once transferred, the form turns out to be a part of that group, is appeared in its very own tab, and can be overseen by any group member. Also, administrators will certainly use eDiscovery in the Office 365 Security and Compliance Center to identify and export content found in Forms. (This component is being developed and will be accessible for all clients soon). At last, since Forms is a member of the Microsoft 365 family, it is consistent with the EU's General Data Protection Regulation (GDPR).
Accessibility improvements

Like other Microsoft 365 products, MS Forms has full openness support with features like screen reader, keyboard navigation, and boosted contrast. Microsoft is always improving accessibility experience to enable all clients to accomplish more by following Microsoft Accessibility Standards (MAS).
Screen Reader
Individuals, who are visually impaired or with low vision, depend on a screen reader to enable them to distinguish and read components on the screen.
Each element on the MS Forms is plainly comprehended by giving better factors without ample amount of information.
For instance, "Private" in a group form is never again read a solitary word however communicated all the more unmistakably as "This is a private group" when you move focus to group forms name.
Keyboard Navigation
Keyboard accessibility is a standout amongst the most essential parts of web availability. Customers with constrained mobility depend on a keyboard to get to all functionality. Individuals who are visually impaired ordinarily utilize a keyboard for navigation. Microsoft provides full navigation abilities to all components so customers can effectively achieve any task via a keyboard. Moreover, it provide keyboard shortcuts to key actions, for example, erasing a photograph by squeezing the "Delete" key on the keyboard.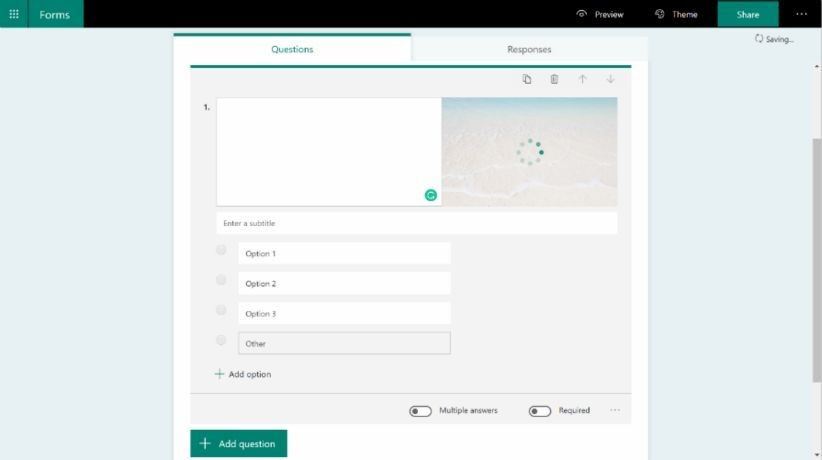 Boosted Contrast
Boosted Contrast includes Color Contrast and High Contrast.
MS Forms' Color Contrast mode provides the 4:5:1 contrast requirement for text and background to leverage MS Forms clearly for people having low vision. While using its High Contrast mode, MS Forms is adapted in a user interface.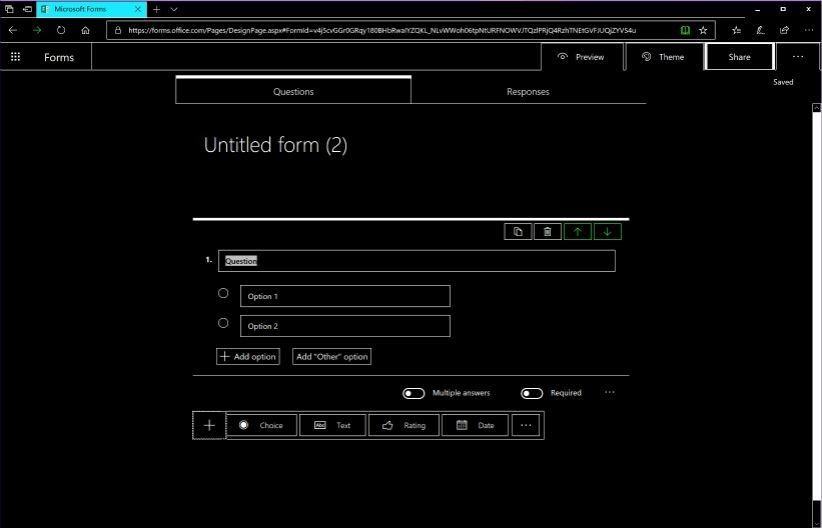 Conclusion

Microsoft Forms enables customers to make effective custom quizzes, surveys, questionnaires, registration forms, and that's just the beginning. Through MS Forms, you gain valuable bits of knowledge about your respondents. You can utilize the new features of the MS Forms as per your need. As MS Forms is belonging to Microsoft family, it can be integrated with Microsoft Teams, Excel, SharePoint, and PowerPoint. With advancements like these, MS Forms is a quicker, more intelligent, and increasingly adaptable approach to get the data you have to settle on better business choices.