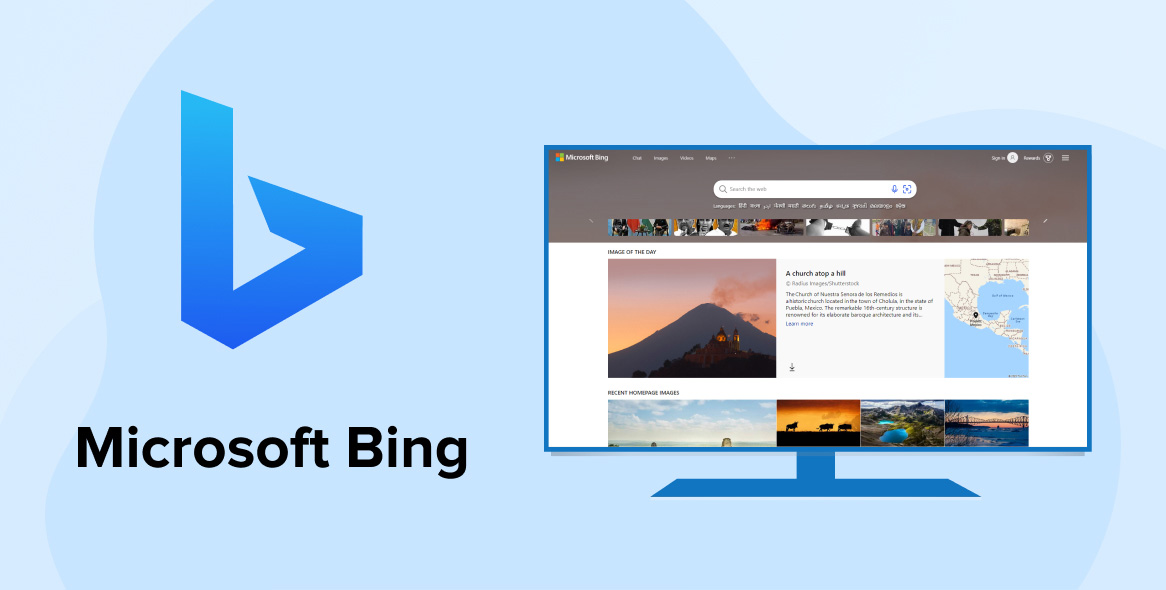 Microsoft Search in Bing smoothly combines the search and the internet together in one experience. It's a very easy, efficient, powerful, and safer way to get the right information at the right time in any browser and on any device using Microsoft Search with Bing. No matter we're searching for answers to common questions, people, or internal sites and resources, we can use Microsoft Search in Bing throughout our workday to get answers faster, be more productive, and work smarter.
So basically, Bing web search + Office 365 contents = Microsoft search in Bing!!!
If you are a SharePoint consultant and want to know about Microsoft search in Bing, let's dive into it in more detail.
Microsoft Search with Bing can be Used to Find Following Entities
People
Find upcoming events or meetings you have together, contact information, org chart details, group memberships, and other files through Microsoft Search in Bing. You can find for 'me,' your name or work alias, or a co-worker's name or alias Including both the first and last name will return the best result, but, if you only know part of their name, Microsoft Search will show you the result that best matches your search and, if possible, offer to show more information.
Groups
Using Microsoft Search in Bing, you can find a group by its name or members, explore groups in which a person belongs, and search their shared content. Just like you search for a co-worker or yourself, enter the name of a group or group alias to see contact details, group owners, members, files they've shared, and conversations as well.
Resources and tools
Easily locate internal resources, tools, and many more. Bookmark results include a short description of the site or resource along with a link to it. For example, many organizations will create bookmarks for benefits, HR, career info, IT support, and time off reporting. Q&A results will usually include this same information as well as a short answer that may have the info you need and a link if you wish to learn more.
SharePoint sites
Microsoft Search in Bing lets you find SharePoint sites in which you have sufficient permissions to view the sites. You'll be able to see the site results on Bing, but not individual pages from the sites. SharePoint site findings include the site name and location.
Files
Quickly find your files or content created by you or your co-workers on which you have permission to view or edit. Microsoft Search in Bing results include the file name and location, and you may also see a short snippet of the content, who modified it earlier, and when. SharePoint consultants can find SharePoint and OneDrive for Business files, including Word documents, Excel, spreadsheets, PowerPoint presentations, OneNote notebooks, PDFs, and many more. Search for 'my documents,' 'my presentations,' or you can include a topic or someone's name, for example, 'docs about tax codes' or 'files by John.' File results show at the top of the results page, and other web results show under it. They aren't specific to your organization.
Conversations
Find private Microsoft Teams or Microsoft Yammer conversations or conversations between you and your co-workers on which you have permission to view. Conversation results of Microsoft Search in Bing include the name of the person who sent it if it's a Teams or Yammer conversation, a snippet of the message, and the conversation date Attachments you are authorized to. You can search for a topic or a person's name and click the Conversations tab. For example, 'send me the deck' or 'Amy Turner.' Conversations will show at the top of the results page; web results appear under it.
Some Key Admin Features of Microsoft Search with Bing
Enterprise Bookmarks
Enterprise bookmarks help to find sites, tools, and other information within your enterprise. It promotes the best possible results for your user's work-related queries. The more bookmarks you publish, the more value and benefit you add for users. You can create, publish, import bookmarks, and thus manage it. Also, you can manage bookmark status like Published, Draft, Scheduled, Expired, and Suggested.
Enterprise Q&As
Answer the most frequently asked questions in your organization. Enterprise Q&As provide the best possible answer for your user's work-related questions. Users can easily discover them when they enter keywords you've associated with them on Bing. You can create and manage Questions and Answers in bulk and manage them using the Bing admin portal.
Locations
Find addresses and locate your organization's buildings, offices, and other workspaces on a map. It helps your users find following locations like addresses and locate your organization's building locations, offices, and other workspaces on a map. They can also use Bing Maps to get directions, see what's nearby, and more. Same here, you can easily manage to add and delete the location in bulk as well.
Management
Configure, create content, and define search keywords and phrases. As part of Microsoft Office 365, Microsoft Search section is easily deployed by enabling it in the Microsoft 365 admin center. Once enabled, a quick configuration to set a logo, name, and color and give users access is all that's needed to get set up. From there, authorized users can sign in to Bing with a work or school account and get work results when they search.
Analytics
Understand how your organization is using Microsoft Search in Bing. Get insights into all important points like bookmarks, Q&As, users, content, and everything. Review top search queries and analyzes impressions by result types.
How Microsoft Search Keeps Your Info Secure?
Microsoft Search uses several ways to secure your content and information:
Microsoft Search results appear directly from the same trusted cloud used by Microsoft Office 365.
Bing does not save any work content or information in the public web index. You can only see work results when you're signed in with your work or school account to Bing.

Microsoft Search will only return the information you are authorized to see. You may have permission because you created the files or information, they've been shared with you or with a larger group that includes you, or they're stored in folders or locations you have permission to access.

Microsoft Search doesn't use your work searches to improve public web results or to improve Bing.

Microsoft Search doesn't let advertisers target you or anyone within your organization.
Why Microsoft Search?
This might be the very first thought we all have while reading this. After its features, let's dig into major benefits.
Save time with Intelligent Search
Microsoft Search supports AI to provide boundless, contextual, and relevant results, to bring us the data from our organization and the web in a single experience.
Get enterprise-grade protection
Microsoft Search requires Azure Active Directory authentication to access results from the Trusted Cloud. Only Azure Active Directory authorized users can only see the content they have access to. Search queries are identified, and logs are separated from public Bing search. This level of protection for data is not there anywhere else in the industry.
Easy to administer and available everywhere
Configuring Microsoft Search is simple—we can enable it from the Microsoft 365 admin center and customize settings, including your logo, name, color, and more. Users who are authorized can access it on any device just by signing into Bing.
One place to search across Microsoft 365 apps
Microsoft Search gives together results from various sources in Microsoft Office 365, including SharePoint, OneDrive for Business, Teams, Yammer, Groups, and more. Finding relevant results is as simple as a search.
Share authoritative information and answer questions
Provides the information and answers our users need to complete tasks, like policies, benefits, tools, resources, and more in work results. We can also target specific groups, like new hires or remote workers.
Find shared files
Microsoft Search uses advanced query understanding to make searching shared documents and files simple. Find documents you're collaborating on and files you are authorized to access.
Complete tasks faster
Integrate PowerApps with your content to enable task completion within work results.
Reduce support costs
Reduce costs and make users self-sufficient by embedding custom answers to common questions and minimizes the need for them to contact your help desk, IT department, or support team. Configure Microsoft Search with Bing in your office site.
Configuring Microsoft Search with Bing in Office Site
To configure Microsoft Search with Bing in your office site, follow the below steps:
Go to your office Admin Center → Setting → Service & add-ins:

Search and click "Microsoft Search."




Turn the switch on in front of Step 1 below screenshot and then click on "Get Started" of Step 2:




You will be redirected to Bing for the business dashboard page:




Go to the "Connected Services" section and enable items you want to show in search results.



Done !!! we are all set now.
What's New Here Than Normal Bing Search?
If we search the word "TatvaSoft" normally in Bing, it will give results like below.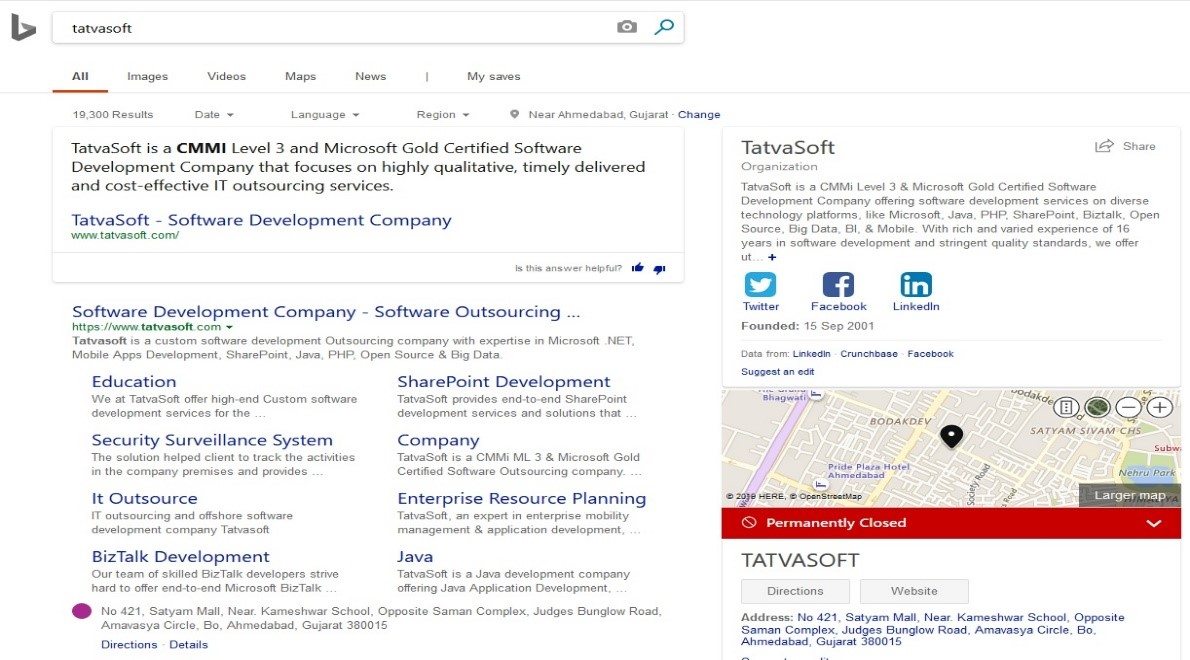 Now let's see how we get results from the official site which we have configured. Visit https://www.bing.com/ and sign in with your office account:




After signing in, try to search for something related to your office site content, and you have permission to access that content.



For example, if we search the keyword "TatvaSoft," the below results will appear from the site: As we can see, now there is a section added for "Microsoft search" just at the start of the search results. Inside it, we can see relevant data results from office sites related to our keyword "TatvaSoft," like documents, sites, etc.
You can directly search from the Windows Cortana search box as well:
For example, if we search the keyword "document" in the Windows Cortana search box: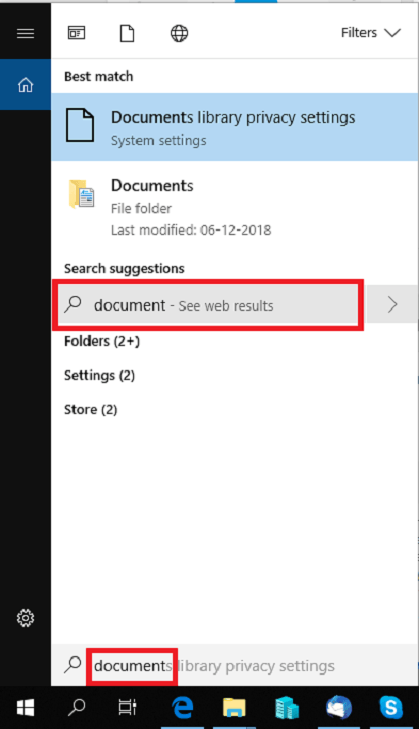 It will redirect you to Bing search and give results from the official site as well!!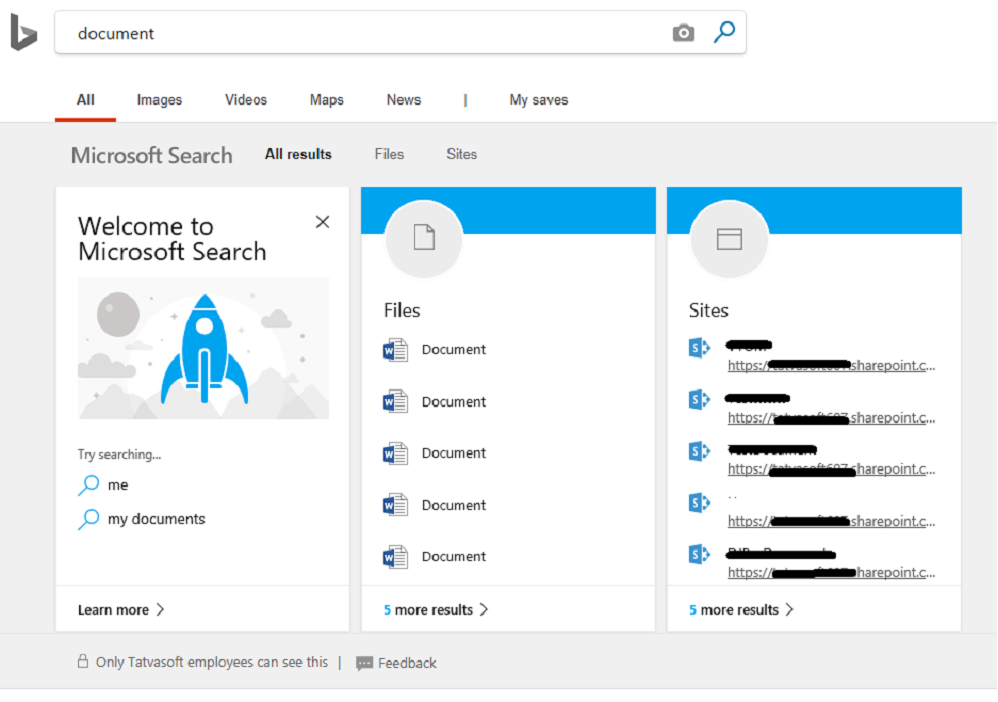 With the web search, we can also get results from our office site as well in a single place! Not just files and sites, this search can do many more things. Let's dive more into it for more information.
Adding and Searching Bookmarks
Let's see how we can add a Bookmark in the Bing admin panel and can see in the Bing search.
Inside the Bing admin panel, go to "Bookmarks" → Add bookmark. Then enter the necessary details and click on Publish.




Now go back to Bing.com and search "About TatvaSoft" you will see your book as a result below.



Adding and Searching Q&As [Question n Answers]
Just like bookmarks, we can also set up Questions and Answers and see them in Bing search. To set up the Question and Answer, Go to the Bind Admin panel→ Q&As → click Add Q&A. Then add the necessary information, and click "Publish."




Now go back to Bing.com and search "

What is MS Search with Bing

?". You will see the results as below.



Apart from adding bookmarks and Q&A, the search experience for users can also be improved through adding building locations, floor plans and acronyms.
Conclusion
This enterprise search experience increases efficiency and is less time consuming by delivering more relevant search results for the organization than a normal search. Microsoft Search in Bing securely retrieves information from your company, school, or workspace—like files, company data, people information, and sites—as well as public web results, and displays them in a single experience.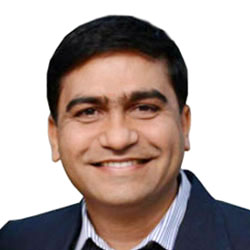 Shital Patel
Shital Patel is VP at TatvaSoft with a high-level of proficiency and technical precision in SharePoint Development. His experience of the last two decades has helped businesses to solve complex challenges resulting in growth and performance of Startups to Fortune 500 companies.
Related Service
SharePoint Development
Know more about SharePoint Development services
Learn more
Subscribe to our Newsletter
Signup for our newsletter and join 2700+ global business executives and technology experts to receive handpicked industry insights and latest news
Build your Team
Want to Hire Skilled Developers?