Every industry has seen some major changes over time and the one being the pure reason for the change is none other than the Software development industry. Today software development itself is a major phenomenon. As a result businesses irrespective of their industries have moved into high gear. I might find this pretty surprising if you don't have an incredible software idea but you can't put it into practice as you don't have the required skills to do it? If so, it's time to choose a custom software development company but not any random pick. Now before you make a choice, it is very crucial to figure out whether you want to pursue off-the-shelf solutions or reap the benefits of custom software development.
Knowing what you want at first means half the battle won!
1. Either you Choose Off the Shelf Software or Bespoke Software – You Got Nothing to Lose!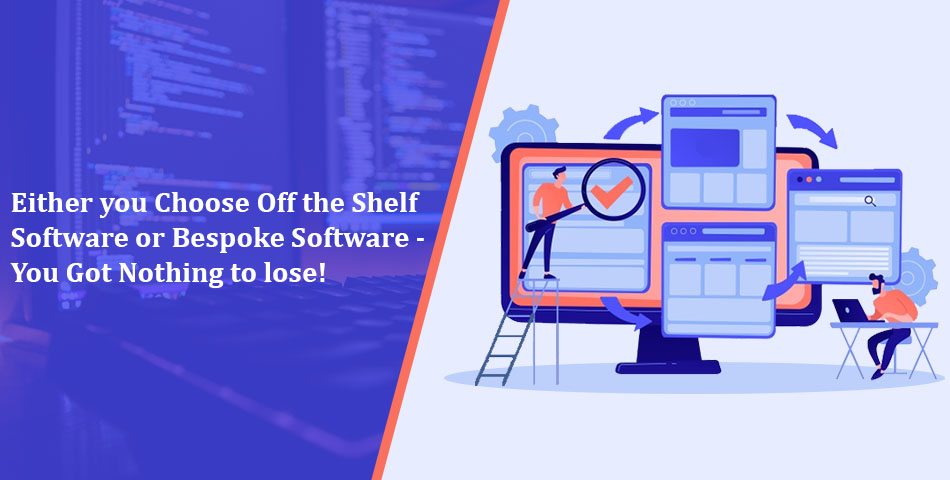 Both the concepts are of a kind! I mean as the name implies, a custom software solution ensures that whatever software app is designed, it is right according to predefined needs of the requester. Whereas off the shelf software solution is more kind of a ready to use package. It's more like instant noodles! Mainly created for the mass market, such software applications are meant to assist businesses in their growth to a great extent. Also, a tailored solution tends to offer way more features and functionality than off the shelf would.
An Off the shelf software or Commercial off the shelf software (COTS) are mostly meant for in-house use. Say, for example, Microsoft Office or Adobe Photoshop. Whereas creating custom software solutions, you will receive software right based on your specific business needs and requirements. Moreover, you must be wondering why such solutions are created in the first place? Simple to assist brands on their journey of self-enhancement. The customized software development solution can lead to high efficiency, quick customer retention and increased ROI. Custom software solutions are designed by keeping security concerns in mind hence they mitigate external threats.
Custom software = "bespoke" or "tailor-made"
Off the shelf software ="ready-made" or "commercial"
Have you ever wondered why these readymade solutions are called off-the-shelf? Well, do you remember the times when you had to visit a store to buy a product. As soon as you pay for it, you can take it to your place and start using it.
Moving on! Both the development process offer tons of benefits for the would-be user, down below I would like to mention a few of them for each. So without any further ado, let's begin!
2. Pros of Custom Software Development
2.1 Target Solutions
Target solutions can only be achieved if the product is created according to the specific needs and requirements. . Unfortunately, businesses till date are unable to get over the fact that off-the-shelf software can be irrelevant for them at times.
You see every business is of a kind. There is no cookie-cutter solution available which I think it's great because that is what can make the difference. When you mix red and yellow, you will achieve orange as a result. Not blue, not black, and not green just orange. So if you don't want orange. Firstly, you should stop choosing red and yellow all the time.
2.2 Personalized Software
Unlike custom software, ready-made software solutions may grab your attention at first since they are cost-effective but does that mean they are good for the long run? Probably not! And if you are looking for a product or solution that could last for the long run, try choosing a personalized or a customized software instead of a ready-made software.
Also since you want a customized software, you will be knowing what's happening, how are they carrying out procedures so there is no chance of unexpected surprises.
On and all, custom software belongs to your company and no one else.
2.3 Scalability
As your business grows, your needs might also increase. Purchasing an off-the-shelf software solution might seem easy at first but not necessary means it will remain the same. What if all of the sudden, it doesn't support your business?.
Even though small companies can consider Off-the-shelf solutions as it is pretty much understood that they may not have an adequate budget. Choose custom software development because you do not need to purchase additional hardware in case you want change in existing systems.
When a business decides to develop a customized software solution they get endless possibilities to grow sometimes beyond expectations. After all, nobody wants to strangle themselves just because their software is unable to catch up? Overall, it's for the greater good.
So that's all, these were advantages of custom software, now it's time to seek for the benefits of choosing an existing software.
3. Pros of Off the Shelf Software
3.1 Initially Cheaper Option
Unlike custom software, an off the shelf product will definitely be considered as the cheapest way of purchasing a software. The initial cost is extremely low. But again, cost-effective products don't have to be long lasting or ideal. Initial investment of custom development is little high as compared to COTS but they offer all the features which are not in COTS.
Wondering why? well, pre-made products are created with a clear objective; ie. for the mass market. Also, I don't need to mention that they have been used by several businesses leading to the same results. How can you make a difference? The cost reduces from time to time.
And since bespoke software or custom software development is built from the scratch, the cost seems pretty high to cover the time.
3.2 Very Instant
If you are in a hurry and have a limited budget, without a doubt choose COTS instead of custom software. Like I said before, this advantage comes from the fact that these solutions are built pretty much in advance, more or less you can call these a pre-existing product. So buy and install it. Instead of going through all the hurdles of sorting out different custom software development companies.
3.3 Try Before You Buy
As the name implies, a customized software probably means there is no trial. Your product will be developed right from the scratch especially for you. This means that unlike building custom software, you do have to try before you buy an option.
Most development team offers specific kinds of solutions such as some could be in the form of trial and error while others might be given away at a discounted price, etc. Such solutions are tested ample of times before being sold.
Even after knowing all these advantages of custom software, some businesses restrict themselves from choosing customized software development services. Just because they are unsure of the fact that their industry wouldn't be appropriate enough. So that's the big question! Which Industries Can Benefit from Custom Software development? Time to unveil!
4. Industries Reaping the Benefits Of the Custom Software Development Space
Well, before even I get there. I would like to say that every industry could use custom software development. Sit back and think about your company for a minute, do you think your business processes could be more effective if it melded with custom software? Of course yes, recall the advantages of custom software! I mean how much amount of time and energy could be saved on those manual and monotonous tasks. Also, you shouldn't neglect potential ROI, your one decision of choosing custom software development services can result into. Tailored products offer competitive edge and high performance in long term perspective. Now, let us find out how are these various industries performing best practices for custom software development to achieve these business goals?
4.1 Healthcare
Healthcare itself has been pretty much a complex and complicated industry. And therefore it becomes very crucial to have custom software or bespoke software to streamline all the hospital-based procedures and critical functions. As the matter of fact, the industry deals with an immense amount of patients personal information
, laboratory results, and reports, Its pivotality cannot be ignored. Therefore, incorporating automation becomes extremely important.
Over the years, custom software development services have made the lives of hospitals, clinics, and healthcare providers very easygoing. Right from the concept of telemedicine to cloud-based electronic health record systems, on-premise and cloud medical solutions, ambulatory software, interoperability, these custom software development services or tailor-made software have worked wonders.
4.2 Recruitment
Another interesting industry vertical gaining benefits of custom software development services in the HR industry. Today most of the recruitment projects are carried out digitally. Also, custom softwares is used to automate the day-to-day administrative task. So what exactly can custom software development do?
All resumes can be stored in the cloud build custom software
Filtering CV's with a single click is now possible
Communication becomes easy with all the candidates
Speeds up the hiring process and provides continuous support
Data can be analyzed easily
4.3 Real Estate
Last but not least, real estate is leaving no stone unturned when it comes to making the most of a custom software. Right from building a house to completing a sale or managing a property, each process can be streamlined.
5. Conclusion
So that's it! These are few common yet crucial examples that always work. Other industries making the most of custom software development services include entertainment, fintech, eCommerce, retail, and more. Looking for your custom software? TatvaSoft is a reliable name to consider to streamline your businesses in the best possible manner. We can help you address your problem with custom software developed for your growing business.