It is not required to construct your own development team in today's technologically advanced society. Numerous small to large enterprises outsource mobile app development services to avoid the difficulties of recruiting and enjoy a streamlined development process.
How can you make wise decisions and prevent costly errors while building a successful app? If you are eager to learn more about how you can use an outsourcing model with the help of an app development company, scroll and read down to this article that explains how to practice offshore mobile app development while adhering to best practices. Let us dig in!
1. Mobile App Development Outsourcing vs In-Housing
In-housing App Development
Companies who choose an in-house development team feel that it is significantly less expensive, speedier, easier, more efficient, and skilled.
In-house app development allows the parent firm to manage development processes according to their preferences.
In-house App Development Advantages:
It increases operational visibility throughout the development process.
It provides the overall power of the development operation.
While picking cutting-edge technology, several possibilities are provided.
In-House App Development Disadvantages:
Particularly for network design, startup expenses are relatively significant.
After spending an excessive amount, credentials and licenses that are required for purchasing program codes and project management tools can be received.
There is a danger of incurring additional expenses if your developers become stalled in the middle of a project and other advisors are required.
Outsourcing App Development
Assigning your mobile app development project plan to a competent mobile app development company is smart if you want to save substantial time and money while obtaining a high-quality product that gives genuine value.
Mobile App Development Outsourcing Advantages:
Instantaneous commencement of activities and absence of market procedures.
Minimal risk, given the majority of development and execution costs are fixed.
Experienced mobile app developers complete projects more quickly due to their better skills and practical knowledge.
Allows the business to focus on other crucial business processes.
Mobile App Development Outsourcing Disadvantages:
Lack of oversight throughout the entire development procedure and loss of creative capital.
Reliance on another firm for the development of your main company operations.
The intricate nature of products and even modest insignificant modifications increase total prices.
Pricing for outsourcing development services is decided on an hourly basis.
Mobile apps are one of the most often and widely utilized aspects of smart handsets. Mobile applications are also the primary emphasis of tablets. Clients, businesspeople, workers, educators, and the broader population use these applications.
2. Benefits of Outsourcing Mobile App Development in Detail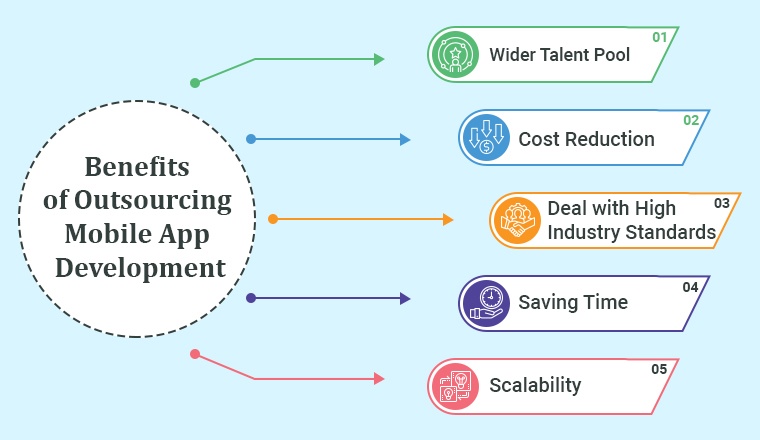 2.1 Wider Talent Pool
Outsourcing firms satisfy a vast array of business requirements, thus they undoubtedly employ a vast array of professionals including developers, quality assurance engineers, and project managers. In addition, you are not bound to a specific area and have access to a worldwide pool of app developers.
2.2 Cost Reduction
In offshore locations like India, China, and Eastern Europe, the expense of living is much cheaper than in the United States, the United Kingdom, and Western Europe. Consequently, even the greatest hourly pay in India will be less than the cheapest hourly costs in the United States. In the United States, the annual compensation of a junior iOS developer begins at $43,000. Similarly, the average annual compensation of an iOS developer in India is $6733.
2.3 Deal with High Industry Standards
A trustworthy app development agency can provide you with personnel that adheres to the most effective development methods and agile approaches. On the basis of their expertise with comparable projects and their deeper understanding of current trends, they may frequently offer more efficient alternatives that will offer your business a head start.
2.4 Saving Time
Assuming you do not already have a workforce of professionals capable of developing a mobile app from the start, you will likely find outsourcing to be more time-efficient. Hiring a cohesive dedicated team of developers with suitable skills will save your cost and effort on recruitment, onboarding, and staff maintenance.
Eventually, talented outsourced mobile app developers may attain the same level of success as in-house developers. The secret to winning in this situation is locating a dependable app development outsourcing company, and that is the work you will master.
2.5 Scalability
Scalability is another incentive to employ a reputable app development service provider. This indicates that development can be ramped up or slowed down as needed. You may simply increase the size of the outsourced app development team if you want additional manpower, or reduce the size if there are fewer tasks to complete.
3. Options For Outsourcing Mobile App Development
If you employ an internal team to create your application. Regarding choices, there is not much else to say. On the other extreme, outsourcing is fairly diversified. If you have chosen to outsource app developers, you will have majorly 3 choices:
Employ an application development outsourcing firm.
Employ independent freelance mobile application developers.
Utilize a commercially available software solution.
Your decision will rely on the required scope of work, the sort of application you are creating, and your finances. An off-the-shelf solution may be the best option if you're developing an app for an established firm and don't want anything very elaborate or completely unique. Especially so if you are short on time and money.
For simple software, opting for hiring outsourced app developers or freelance developers is also a viable option. Freelancers often have one or two specializations in which they excel. If the functionalities you want are within the app developer's realm of expertise and degree of experience, you might realize significant cost savings. Some freelancers also collaborate with others, establishing teams similar to those seen in outsourcing firms. In this scenario, it may not be necessary to hunt for independent developers, designers, and quality assurance professionals.
When your program becomes more complicated, outsourcing software development from a reputable firm becomes evident. With specialized outsourced mobile developers, you receive all the professionals you may want, like Android and iOS programmers, UI/UX developers, engineers, site supervisors, and industry experts who are seldom found among freelancers.
When constructing a smartphone app from scratch, an outsourced team is unquestionably the best option. Regardless of the choice, you select, the guidance on how to identify a reliable outsourcing company is generally the same.
Let us compare all three options based on their benefits and drawbacks:
3.1 Pros and Cons of Outsourcing Mobile App Development Company
Advantages:
A full team is formed and assigned immediately.
All including pricing and task scope is codified.
Expert, multifaceted professionals willing to assist when required.
Planned development procedure.
Disadvantages:
Costlier than freelance developers and off-the-shelf alternatives.
Companies might be less adaptable in their operations than independent contractors.
3.2 Pros and Cons of Freelance Developers
Advantages:
Less expensive than most firms.
There are some really gifted programmers out there.
Disadvantages:
Freelance developers often have tight platform and technology specialties.
Absence of assurances and customer protections.
Coordination and time management can be problematic at times, particularly if you are in separate time zones.
3.3 Pros and Cons of Off-the-Shelf software
Advantages:
Often the least expensive choice.
Quick to launch.
Numerous functionalities are added immediately.
Disadvantages:
Not always achievable because there may be no method to execute your proposal.
If you choose to migrate to a different system, it is tough to adapt and to switch over.
May provide more functionality than you require.
UI/UX design will likely become standard.
No rapid updates and adjustments in reaction to market conditions.
4. Models For Outsourcing App Development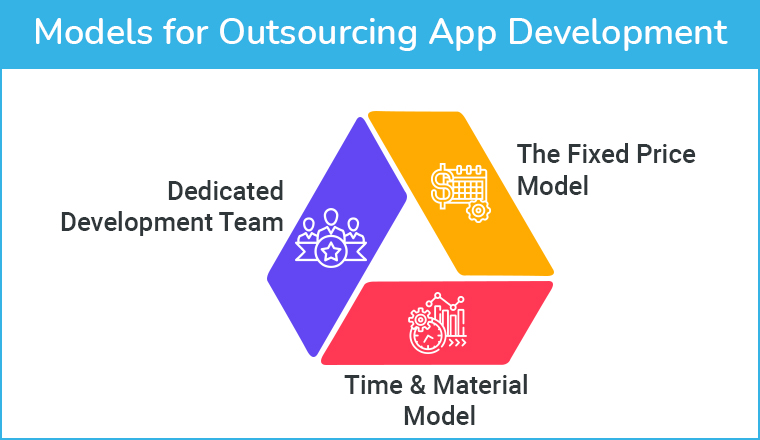 Now that you're aware of the benefits and drawbacks of outsourcing mobile app development, it's time to examine the distinctions between primary types of mobile application outsourcing.
1. The Fixed Price Model
Before outsourcing app development, this sort of methodology is the optimal choice for large businesses that already know the desired outcome. This business model is not appropriate for startups that require an adaptable strategy for the app development process.
The fixed pricing concept demands much preparation and research beforehand. You get an agreement on the final product and pricing before development begins. It indicates that you cannot make adjustments to the development process once it has begun. When such adjustments are required, they will incur additional costs and development time.
If you choose this approach, you and your vendor will need to spend a great deal of time developing thorough project specifications. Before beginning the process, you and the client should get a complete grasp of the eventual objective and outcome of development.
2. Time & Material Model
This methodology for outsourcing app development provides ample room for development pivots and abrupt modifications. The entire development process is separated into many sections with a predetermined end result, which is preferred by a number of businesses. After delivering a result, you may schedule activities for the subsequent development stage and make additional adjustments even during development.
Outsource app development cost in this model is calculated based on the number of hours professionals invest engaging in your application. Before agreeing to engage with a vendor using this business model, you still receive an initial project estimate and timeframe.
3. Dedicated Development Team
If you opt to outsource app development to a specialized team, you gain a lot of benefits, including adaptability in terms of modifications, more commitment to your project, and enhanced team management. The specialized staff is comparable to a remote IT department of your firm, with improved connection and development management.
If you are unsure which business model is ideal for your job, have a glance at the table below, which compares the most common outsourcing strategies for mobile app development.
| | | | | | |
| --- | --- | --- | --- | --- | --- |
| Model | Cost | Timeline | Flexibility | Scope of Work | Invoice |
| Fixed Cost | Predefined | Fixed | Low | Predefined | Milestone basis |
| Hourly | Paid on houly | Decided By The Team | Medium | Need basis | Based on consumed hours |
| Dedicated Teams | Fixed Monthly Cost | Decided By The Team | High | Product Backlogs | Per developer |
5. Steps to Outsource Mobile App Development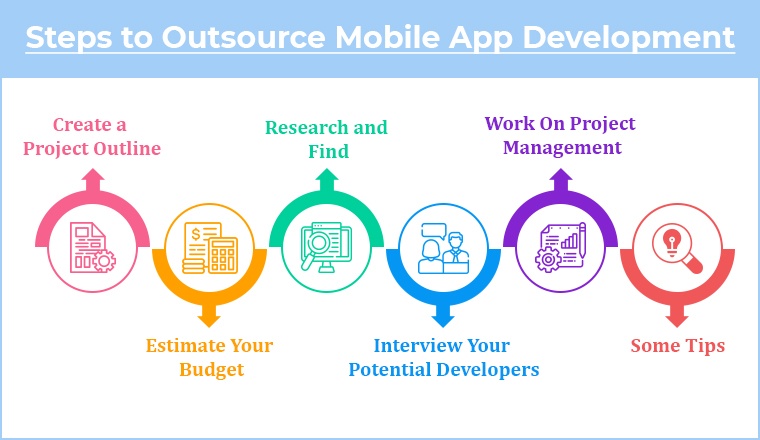 Now that you have an app idea that actually excites you, you are prepared to go further. What follows? For those businesses who have decided to outsource app development rather than build an in-house team, here are six steps to assist you to get started.
These steps address all of the fundamentals including defining your future product's specifications, looking for an outsourcing firm, and other considerations.
5.1 Create a Project Outline
Building an outline for your project is as exhaustive as feasible. To prevent communication errors, you must express your thoughts. Specifically, since you are dealing with third-party app developers rather than your own workers. Following are a few questions to be responded to:
What is your application's primary purpose?
Who are the intended recipients?
What tasks and characteristics do you desire?
What issue should this app tackle for its customers?
Do you wish to develop an Android or iOS app? Perhaps both?
What essential corporate principles do you wish to implement into this application?
What is your price range?
Remember that when software development services are outsourced, the expenses are often carried by the firm. You may even expand the study by considering visual appeal and usefulness, although these factors typically arise much afterward in the procedure and are simpler to explain. Consequently, you should have a firm plan and a distinct goal. Companies that lack it may outsource mobile app development and get disoriented.
5.2 Estimate Your Budget
With appropriate research, you will establish how much money you can invest in your application. This cost estimate will help you decide whether to hire a freelance app developer or a company. Outsourcing firms are not pricey. In reality, they are rather cost-effective when viewed in their totality.
5.3 Research and Find an App Development Company
There are 3 software development outsourcing approaches in terms of geography: onshore, nearshore, and offshore. 2020 and 2021 show that outsourcing is as successful as ever, therefore you may choose to explore outsourcing as your top geographical priority.
You can outsource competent software engineers from Asia for less money without sacrificing product excellence. India especially is renowned for its high concentration of IT developers.
Another significant benefit India offers is cheap labor costs and qualified professional developers. And, as previously said, we cannot undervalue the significance of cost and talent. Especially when you outsource mobile app development.
The simplest approach to assess the cost of producing a mobile application is to determine the number of hours required to construct each element of your app and then divide that amount by the pay rate of your preferred developers.
This subject has previously been addressed, so you are aware that North America and Western Europe have the highest hourly wages for developers. If you are on a tight budget, offshore outsourcing may be your best option to outsource application development.
The "value vs money" controversy is a prevalent misperception regarding outsourcing, but it has long since been outmoded. You don't have to pick between quality and affordability; you may have both if you find a suitable option for your requirements. There are several outsourcing businesses for mobile app development that may give you good services.
And if you are considering ways to outsource with all available benefits, you may want to explore outsourcing in Asia. China and India are often favored for IT outsourcing among developed nations because they can deliver skilled labor at a reasonable cost. Therefore, when all factors are considered, there are virtually no negatives to it.
5.4 Interview Your Potential Developers
After investigating the programmers, you may create a shortlist of those you feel suitable for your work. Then you may consult them individually.
Approach them and inquire about the appropriate expertise, app development method, prior works, customer testimonials, and rates. This will help you choose whether or not you would want to collaborate with them. You may also address time zone variances, project management systems, and communication technologies as well as other factors that influence the outsourcing of app development.
5.5 Work on Project Management
Communication plays a significant part in app development's performance. Ensure that project management and administration are organized when developers begin their job. You may utilize several software solutions to facilitate outsourced team communication, task tracking, file sharing, and so on. In industrial organizations, the Project Manager is accountable for client contact and the administration of all development teams' procedures.
6.6 Some Tips
During the entirety of the app development process, maintain a connection with developers and stay abreast of the situation. Dealing with an app development outsourcing firm will provide you with a project manager who would also keep you informed. If you've opted to deal with freelancing, take a moment to choose how frequently you will need them.
Additionally, as the business owner, you must formalize your connections with the app developer. Most development companies will almost always have a formal agreement. However, some independent developers may be hesitant to make anything official. This is a signal to be vigilant.
6. How to Outsource App Development Without a Risk?
6.1 Consider Time Zone
You should constantly be aware of the appropriate moment to put a job on hold. For fruitful project development, it is advised to have 4-6 overlapped hours with your outsourcing partner. Furthermore, utilize this time wisely and prioritize the most vital activities.
6.2 Signing NDA
You can have the developers execute a non-disclosure agreement prior to the commencement of your work. This legislation prohibits them from sharing your information with third parties without your approval.
Even without an agreement, a reputable mobile app development business will maintain your data secure. Typically, a non-disclosure agreement is necessary for novel concepts and companies.
6.3 Ensure Money Back Guarantee Policy
It is imperative that you have a cash guarantee in hand. If you are unhappy with the grade of the job, you should not be required to pay for it. Ensure that the contract contains an appropriate clause addressing this threat.
6.4 Don't Pay Large Sums of Money Upfront
This is a standard strategy that protects developers against dishonest customers. Nevertheless, you may also shield your business from unethical professionals by paying in portions for at least the initial few weeks of your partnership.
7. Cost to Outsource Mobile App Development
Let's discuss actual figures.
Based on the area of the staff, the expense to design a simple mobile app might vary from $25,000 to $50,000, but a complicated app with several functions would cost roughly $100,000 to $200,000 to outsource.
To provide you an idea of the app's price based on its category, examine the following typical app categories:
Software for Real Estate – $12,000 to $15,000
A communication software like Whatsapp – $50.000 to $130.000
Matchmaking app like Bumble – $80.000 to $200.000
App for city guides – $25,000 to $50,000
App for social media – $30,000+
Accounting app – $40.000 to $70.000
Taxi scheduling software like Uber – $25.000 to $100.000
8. Conclusion
Given the number of organizations and independent programmers in the industry, locating a respectable mobile app development outsourcing company is not simple. However, partnering with a reputable firm is not only advantageous for your business model but also enjoyable. In this article, we've attempted to present you with the most important tips and ideas for effectively outsourcing mobile app development. We hope you found it helpful!