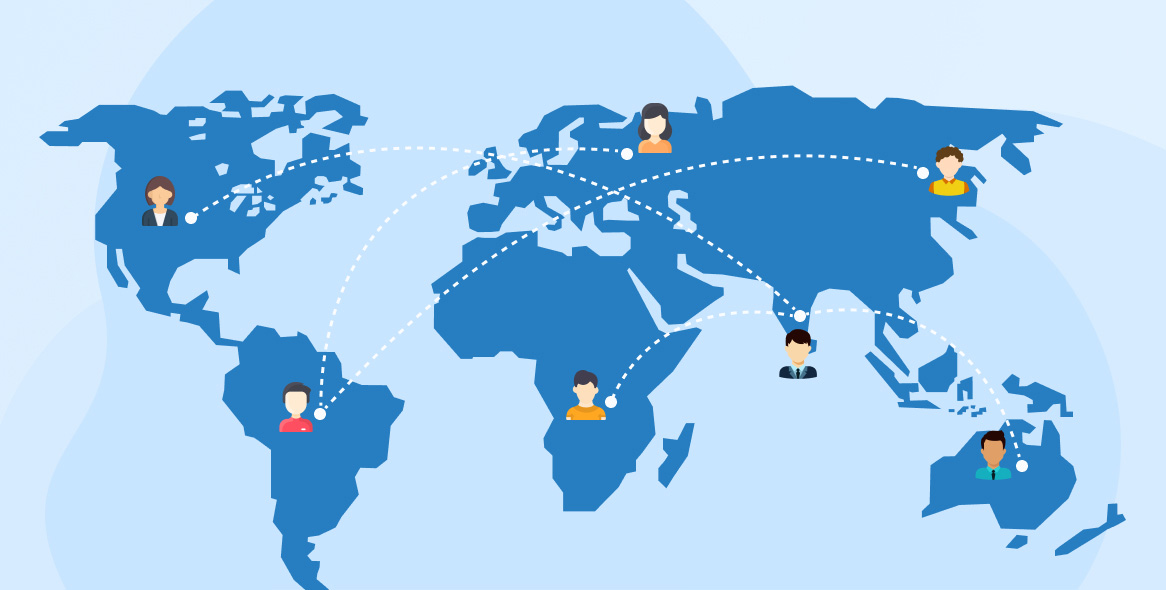 One of the leading Global Thought leaders Janet Yellen, an American economist once said "In the long run, Outsourcing is another form of trade that benefits the economy by giving us cheaper ways to do things." Now if we fast-forward the time to the current date, all of this is coming true.
When it comes to offshore outsourcing, the reality of current times was predicted by many thought leaders in the past. Usually, there is a rift between two simpler terms which often seems to have the same meaning. The two ambiguous terms are "Offshoring" and "Outsourcing". Let's start with understanding each term in detail.
1. What is Offshore Outsourcing?
"Offshore outsourcing" is a process of strategically engaging or contracting third-party services to get the desired work done in a country other than the actual business location. Offshore companies can be located in a different continent and yet work in synchronization. Using their technical prowess and organization's capability, they deliver cutting-edge business solutions.
Offshore Outsourcing – combining offshoring and outsourcing. To elaborate the term "Offshore", it means distant location. This means an offshore location is far away from the client's business location. And "Outsourcing" means the process of escalating the tasks to an external organization which is authentic and has proven expertise in offering cutting-edge technology services considering primary and convenient business locations.
The term Offshoring initially started in the late '90s and for many of them, this concept was ambiguous. Now that this concept has come a long way. Previously, businesses chose to outsource in order to reduce operating costs, drive innovation, get the benefits of a lower cost of investment, and higher profitability ratios. Primarily it was only a cost-effective agenda of offshore outsourcing. However, in current-day scenarios, in addition to cost-effectiveness, there are numerous other benefits that offshore outsourcing services offer like improved qualitative software, access to global talent, and flexible and talented business professionals which have made Offshore a global choice for most businesses.
2. What is the Difference Between Offshoring and Outsourcing?
After a quick brief on offshoring and outsourcing definition, it's time we understand the concepts from the grassroots level. Outsourcing could mean differently at each level if we look to outsource, we can have multiple options such as nearshore, offshore or onsite outsourcing. Based on these specific criteria we have created a differentiator table based on specific parameters that make both Outsourcing and Offshoring. 
| Parameters | Offshoring | Outsourcing |
| --- | --- | --- |
| Definition | Offshore outsourcing allows businesses to contract with different companies located in countries far away from clients' business location. | Outsourcing is a process of collaborating with third-party businesses offering a plethora of options available to get the work done. |
| Advantages | Cost and a globally accessible talented pool of resources are the biggest and essential factor in Offshore outsourcing. | Apart from Cost, skills, expertise, convenience and infrastructure benefits, there are many more additional perks of Outsourcing. |
| Growth | Offshoring assures that the business will get all the benefits despite being at distant locations. The targets are always met and accomplished successfully. | Utilizing various ways of Outsourcing that ensures all your business objectives are met and the developed software is profitable and value-driven for business. |
| Traveling | Businesses cannot go every now and then to visit the offshore office in case they wish. That is not a cost-effective approach when it comes to traveling. | Depending on the outsourcing type, companies choose they can visit the nearest location with minimal traveling cost compared to the Offshoring business. |
| Limitations | Trust and security are the factors why offshoring is not chosen. | Non-transparent working approaches with maligned requirements communicated can lead to loss of business. |
3. What Are the Types of Outsourcing?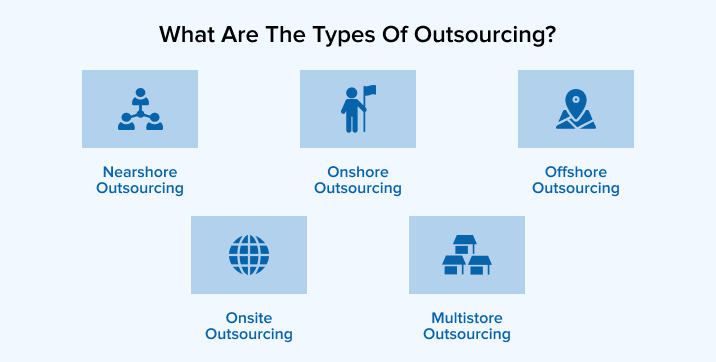 Outsourcing services are in their throes when it comes to advancing business process and getting aid to a competitive edge. Businesses are contracting to various third party businesses by aligning their needs with respect to three major factors- location, relationship, and contract. There are innumerable other reasons that contribute to outsourcing depending on what business requirements are.
Statistics say that "Outsourcing dropped from 11.9% in 2017 to 9.4% of IT budgets in 2018. However, it increased to 12.7% in 2019."- Statista
These statistics clearly state the rise of outsourcing business functions and so there is no second thought on how businesses would uplift their graph by outsourcing their demands to other leading businesses who are experts in this field. There are different outsourcing types like Business Process Outsourcing, System Services and Innovation. However, outsourcing is also classified based on locations. So here are some of the ways businesses can outsource.
1. Offshore Outsourcing
Offshoring is a subset of Outsourcing where all the benefits of outsourcing services are the benefits of offshoring business functions. As discussed above, offshoring is a process of hiring a company located in a distant location like a different country or a country located in a different continent. Most businesses are reluctant to contract offshore because of the cost it takes to travel when they decide to visit the offshore location in unforeseen situations.
2. Nearshore Outsourcing
The trend of cross-border trading is gaining a lot of attention with businesses able to leverage access to newer talent and capability. We can define the nearshore outsourcing model on the basis of the nearest location or neighboring country. The businesses trust the outsourcing company and to partner for their custom business needs. The advantage here is businesses can visit the country since geographically it is a nearing region and will cost less when deciding to travel.
3. Onshore Outsourcing
Onshore outsourcing means escalating tasks to a business located at the same location as the client's business location. We call this type of approach onsite outsourcing. Here the business has full control over the outsourcing partnering company. Hence the most accessible and convenient way of outsourcing offers quicker benefits.
4. Onsite Outsourcing
Onsite outsourcing is a method of outsourcing where the outsourced service provider sends its professional and experienced workforce to the on-site client place. The onsite function is constrained with time. In comparison, this kind of outsourcing paradigm appears to be related to the rise in employees, but the only discrepancy here is that local or national firms are their first choice here.
5. Multi-shore Outsourcing
Businesses have distinct needs to achieve specific objectives. To enhance multiple processes at the same time, companies contract to multiple outsourcing companies and leverage multiple core business offerings. Mostly large enterprises use multisource outsourcing to keep up their work and manage the business models effectively.
4. How to Get Started With Offshore Outsourcing?
Every individual company has a unique business focus that needs to be achieved. On account of that, businesses either enhance their in-house skills or take the help of other experts from Offshore outsourcing companies. So how should a company start this plan of action of outsourcing offshore services?
1. Understand Why Your Business Needs this?
To start with, businesses should understand the need to outsource and what profit will it bring to their business foundation. If there is a competitive benefit that businesses could achieve with best-in-class work done by experts.
2. Evaluate in-House Skillset
It is righty said- "Strengthen your business by outsourcing your weaknesses". And this will help businesses go a long way with their software or app developed. Offshore it outsourcing can be of numerous types by most of the business outsource IT to get the best results from IT experts.
3. Determine a Roadmap with Budget
The step before finalizing a company is to determine a budget, timeline, date of launch or project, which type of outsourcing to be chosen if offshore, which offshoring location to be specific, and more importantly, what is the budget they are ready to invest in this business.
5. How do I Choose Offshore Outsourcing Partner?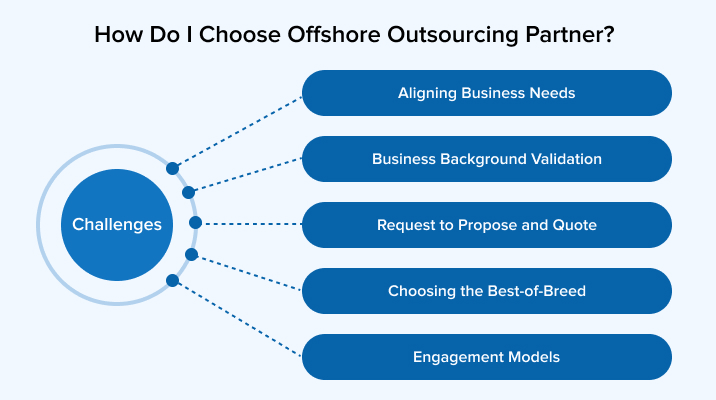 An offshore outsourcing company will make your business win many battles of coping up with the latest technology trends. But the majority of businesses are not sure which business model to choose and how to decide on an offshoring partner. This process is not as simple as going to a nearby vendor and asking them to help with their services. You need to meet certain factors while you choose an offshore outsourcing company for your business. So, to simplify this process of choosing the right offshore partner to increase profits, we have narrowed this process into specific steps. Let get into the process.
1. Aligning Business Needs
The first and foremost evaluating criteria for selecting an offshore outsourcing company is to examine whether the business can offer its services. In an ideal scenario, businesses can go and visit the company and understand what they are trying to sell. But in the offshoring business, this is not possible to go and visit the company. Here transparency and lucid communication plays a key role and so when your needs align to the outsourcing partner's offering, measure them based on transparency and communication.
2. Business Background Validation
Once you have shortlisted the companies you want to partner with for outsourcing, the next big thing is to assign this to your business team. The team will now start researching the background of each shortlisted company and their service offerings with a more legit way of moving ahead to outsource.
3. Request to Propose and Quote
When you narrow down the list to a smaller list of companies, it is the right time to create an RFP. Businesses can now quote their prospects and propose business requests. If the given criteria meet in terms of budget, timeline, or technology needs then the business will go ahead giving a green flag to the potential partner.
4. Choosing the Best-of-Breed
This process has now become simpler with the above-mentioned measurements, choosing the best of the breed means to check if each of the requirements addressed meets the price quoted and the timeline decided. In this process, you should avoid loopholes.
5. Engagement Models
After the whole decision on which business partner to choose, it's now time to choose a method to engage with the shortlisted business. The engagement can be flexible based on the projects or a dedicated development team or a short-term engagement model. This is based on the requirements and objectives that the business targets to achieve.
Some of the Cutting-edge Qualities to Look for in an Outsourcing Vendor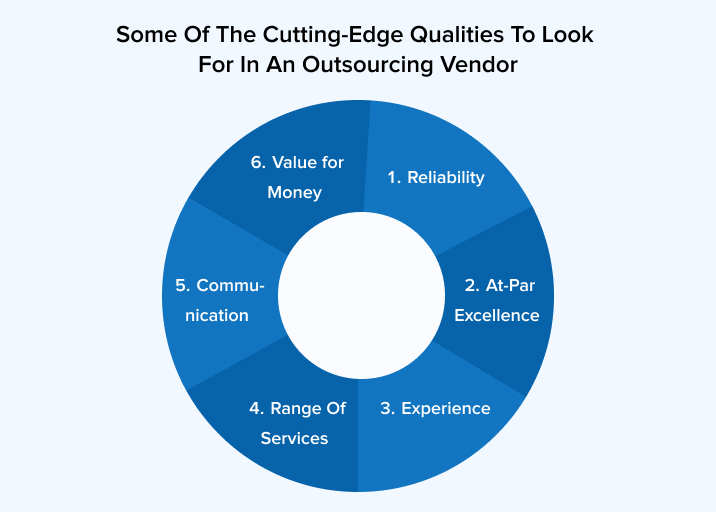 1. Reliability
Trust is one of the key factors that any organization should look for in their offshore outsourcing company before they offshore their business activities. If there is a lack of trust, businesses cannot function seamlessly.
2. At-par Excellence
After trust, the next important factor is quality, if a business can offer qualitative products then nothing better than that. Reaching quality benchmarks will make businesses stand out from the race.
3. Experience
An experience is an added advantage for businesses to trust an experienced offshore outsourcing software development company. With experience, businesses can solve all types of complex business challenges and enable business with exceeding business results.
4. Range of Services
Variety of services is another business aspect that businesses should look for in their outsourcing partner. With the involvement of multiple technologies, the output will be more advanced and modern for current business scenarios.
5. Communication
A transparent and timely sharing of updates via any communication channel will enable businesses to be well-informed about their work and the timely progress report.
6. Value for Money
If the invested amount does not return a profit, there is no point for the business to spend on outsourcing business. Outsourcing was and will always be a way to improve business processes in a low-cost method.
6. Financial Engagement Models for Offshore Outsourcing

The focus on engagement models is as per the needs, desires, and convenience of the clients with an assurance that the needs are met with full-reliability, flexibility exceeding quality benchmarks. The business may have their reasons to choose the type of engagement models and all of this can be based on the certain market value of the company, experience, type of services they offer, reviews, ratings, and cost. The three generic ways of dividing the offshore outsourcing engagement models are into three certain categories namely.
1. Fixed Cost Model
A project engagement model where the price of the offshoring project is fixed beforehand when deciding the scope, project requirements, and timeline of the project. This model is useful if you do have any initial plans, estimations, and extensive research about the project. The change is not appreciated in the model because it is a fixed price model. In case you need any modification in the later stage, they may charge you extra from the estimation.
Suitability of this Type of Model
Definite and well-planned requirements
Small and medium projects with no big alterations
Faster implementation and faster outcomes
Restricted budget
Pitfalls of This Model
No flexibility
Limited clients control
Changes may cause repayment
2. Dedicated Development Team
In a dedicated development team, the business has the option of hiring or augmenting their team with a specialized team of experts consisting of all tech-savvy business managers, designers, developers and QA and project leads. This type of engagement involves skills, expertise and trust in the resources hired to achieve the business goals of this specific company. The team can either be at the client location or maybe working remotely.
Suitability of this Type of Model
Variable and evolving requirements
Large size projects with flexibility
Significant control of client on resources
Cost-effective
Pitfalls of this model
Needs proper process Planning
Higher time investment
Difference of opinions
3. Time and Material
In this type of engagement model, businesses need to pay as they go. This means when a business opts for this type of engagement, they would pay for the work only after it is delivered. Factors like time and material are primary contributors in this model and thus the metrics here revolve around the technology stack used and the payment model measured on a timely basis (hourly, monthly or weekly). For changing business needs and long-term varying goals, this model is apt and will provide maximum profitability.
Suitability of this type of model
Offers flexibility & continuous client monitoring
Update the price as per the changing market dynamics
Scalable requirement modification
Low-risk involved
Pitfalls of this model
Lack of control over the scope
Budget can overlap
It does not have a fixed Launch date
7. Offshore Outsourcing: How to Choose Software Outsourcing Destinations?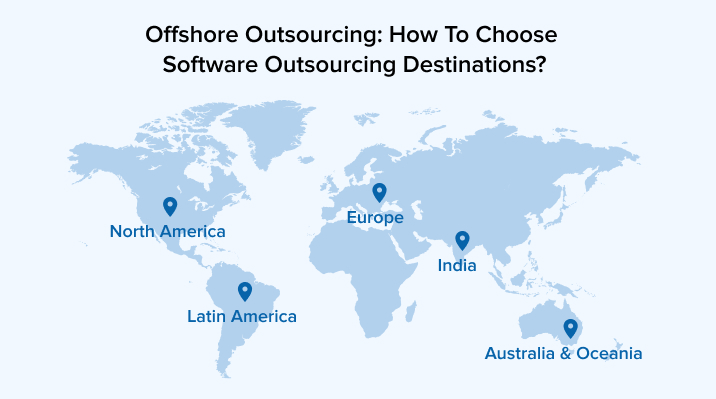 The cross-border trading trends have leveraged businesses to access a global talented workforce by using outsourcing as their firm method of doing business. Outsourcing offers business three major types namely onshore, offshore and nearshore. For each type of outsourcing, there are developing countries like India and developed countries like the US that outperform in IT offshore outsourcing and show outclass results. Whether it is their nearest geographic location that is nearshoring or off the shore which is an overseas location. Many countries nowadays are also offering financial incentives and tax benefits to persuade foreign companies.
Based on certain criteria and market research, there are regions that offer promising results and impeccable business profitability and hence are favorable destinations for offshore outsourcing services.
1. India
Undoubtedly, India is the most favorite outsourcing destination from all the Asian countries with millions of technology leading businesses and innovative and talented professionals in the Indian Outsourcing market. We can say one of the prime reasons for outsourcing software development services to India is cost-effectiveness. They spare no effort in reaching all technology sectors and have augmented businesses with their expertise and experience for all sizes of businesses from startups to enterprise level. India's strengths as an offshore outsourcing location are service quality and integrity.
Average hourly rate range- $25-$60, as per the outsourced business size.
Offshore Outsourcing cities Bangalore, Hyderabad, Chennai, Mumbai, Delhi, Gurugram, Ahmedabad
2. Northern America
This region has the biggest global tech disrupting countries in software development business like the USA and Canada. Their experience and proficiency in the technology stack are unparalleled and it is the world's leading technology development center with best-of-breed business companies in Silicon techno hub and other regions of America. They have all the technological availability that makes them a highly developed nation and as a result, they charge more in comparison to others.
Average hourly rate range $75-$350, as per the outsourced business size.
Offshore Outsourcing cities: Seattle, San Francisco, San Jose, Dallas, Phoenix, Waterloo, Vancouver
3. Australia and Oceania
Even though these nations are not large in terms yet they are apparently in demand when it comes to technology. Their transparency to startups and innovations in technology makes them a leader in the domain of software growth. These countries concentrate on years of experience in software outsourcing to appreciate all types of technology techniques, whether standardized or non-standardized. Their only limitation is their separate geography that complicates the travel route.
Average hourly rate range- $90-$150, as per the outsourced business size.
Offshore Outsourcing Cities- Melbourne, Sydney, Wellington
4. Latin America
Software Outsourcing destinations are growing exponentially at a good rate, Latin America and its cities are gaining a lot of attention in terms of outsourcing tasks. This region has projects in abundance from medium-sized businesses and millions of software developers to cater to this need effectively. They have a large government-supported outsourcing market, but their policies vary and the services they offer may be devalued.
Average hourly rate range- $40-$75, as per the outsourced business size.
Offshore Outsourcing Cities- Monterrey, Mexico City, Tijuana, San Juan, Belo Horizonte
5. Europe
Europe is the largest continent in terms of area, number of software companies and economy. Their business arena is confined to onshore outsourcing and believed it to be a cost-effective method of software development and pay high wages to local developers. They follow GDPR and the level of security of outsourced data is therefore high. They provide qualitative, but very costly, services. Their services offered are primarily related to their businesses' local needs and not global ones. Eastern European countries, however, are comparatively different.
Average hourly rate range- $35-$175, as per the outsourced business size.
IT Hubs: London, Paris, Berlin, Amsterdam
Offshore Outsourcing cities- Warsaw, Kyiv, Minsk, Kishinev, Sofia, Prague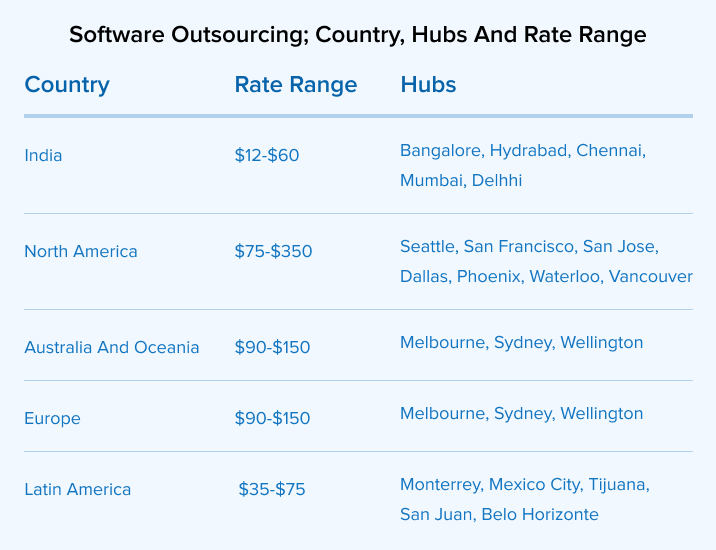 8. Offshore Development Team Structure
For any business owner before deciding to outsource, it is essential to understand the team structure and then initiate offshore outsourcing. Though this wouldn't be an ideal way every business processes but the majority of them do.
1. Project Manager/Manager
The PM is the communicator between the development team at the offshore location and the client. For all the communication involved in the process, the PM would streamline the work and pass information to the team. The PM has a vital role in this phenomenon because they keep both team and client posted about the project changes and modified targets.
2. Development Team
The team consists of developers, designers, QA engineers who are the key players in this new-edge project development and validation. For a large number of developers, there is an assigned team leader who manages the overall tasks excellently.
3. QA Testing Team
The QA will determine that developed projects match the final output. There is a general standard of evaluation that makes businesses manage the project effectively through various variations and testing methodology.
9. What is a Software Development Agreement?
Any organization willing to get support from another organization is obliged to sign a legal contract. It is necessary to establish roadmaps to communicate the legal roles and rights of each party to avoid any future conflicts. We can call this arrangement a Software Development Agreement.
A Software Development Agreement is a two-party partnership, one of which is the paying company and the second the supplier company. This arrangement is designed to conform to the laws concerning the provision of aid, service, and maintenance in the construction of the whole enterprise. When they intend to share their vision with offshore outsourcing companies, businesses may have several questions. The structure of NDA is determined with rules and other variety of options such as code ownership, intellectual property rights, patents and other terms & conditions that influence the outsourcing project.
With more precision, this agreement can be defined by specific rules that need to be adhered to by both parties. So basically there are two major types of agreement.
Project Software Development Agreement
Non-Disclosure Agreement (NDA)

10. Non-Disclosure Agreement NDA and its Purpose
"NDA is one type of software contract used in the software development business to protect companies from any breach relating to classified and proprietary details during outsourcing and at the time of engagement is known as the NDA-Non Disclosure Agreement."
This agreement is made because all the company conditions have been readily communicated by the two companies and their time and expense parameters are in agreement. In any case, the arrangement will contain a list of details that the individual wishes to keep private. This arrangement is not limited to business plans produced exclusively for digital products or source codes or other analytical information that cannot be revealed to the media. In this clause of NDA, businesses can decide on what to keep confidential and what not.
Enlisted are some of the major fundamental attributes included in an NDA
The introductory section where both the business type and background are explained.
Mentioning the confidentiality clauses for what should be public and whatnot.
The agreement validity.
The parameters considered and omitted in the software agreement.
Rules of penalty for cases where clauses of NDA are overlooked.
Types of NDA
1. Unilateral Non-Disclosure Agreement
Uni-means one and lateral means sideways and in the same regards unilateral means the one-way contractual agreement between two parties. The prime focus here is out of the two parties only one will take complete responsibility in case of any information breach. The first part here is the client company partnering and the second party is the offshore outsourcing service provider. The recipient is the second party who needs to sign the document to adhere to the scrutiny of the agreement by neither manipulating the information nor leaking it to some third party. These unilateral agreements come with mandatory clauses that cannot be manipulated by any bearer. Majorly, you involve freelancers and consultants in this agreement.
2. Mutual Non-Disclosure Agreement
The mutual NDA is an agreement created by involving two parties based on the mutually agreed rules on the confidentiality of the information between the two parties. Majorly, this type of mutual NDA is considered fair between the parties giving equal rights to both.
3. Terms and Conditions of Agreement
In all the terms and conditions, a Software agreement – an NDA encompasses rules that need to be adhered to by both the business parties and maintained throughout the tenure of business. These terms are made to clarify businesses about their rights and regulations of the agreement. Your NDA must answer the following questions given below:
What is the timeline of the created NDA?
How much does an ideal term of NDA mean?
What is the proprietary information included in an NDA?
Which terms are an exclusion to confidentiality?
What are the obligations of the agreement and its confidentiality?
4. Deemed Confidential
A strategic form of information to portray through NDA that warns the business to prevent them from any kind of data breach. This part of NDA specifically notes which information is confidential and which information is not confidential. Without any misunderstanding or loopholes in the disclosing party, this segment will expand on a clearer understanding of details. To be specific, this always leaves both the businesses in a verbal agreement which creates confusion in the future about the pact. This oral information, which must be confirmed in a written form by the disclosing party to notify the receiving party in order to keep it confidential, is also considered confidential.
11. What are the Advantages of Offshore Outsourcing?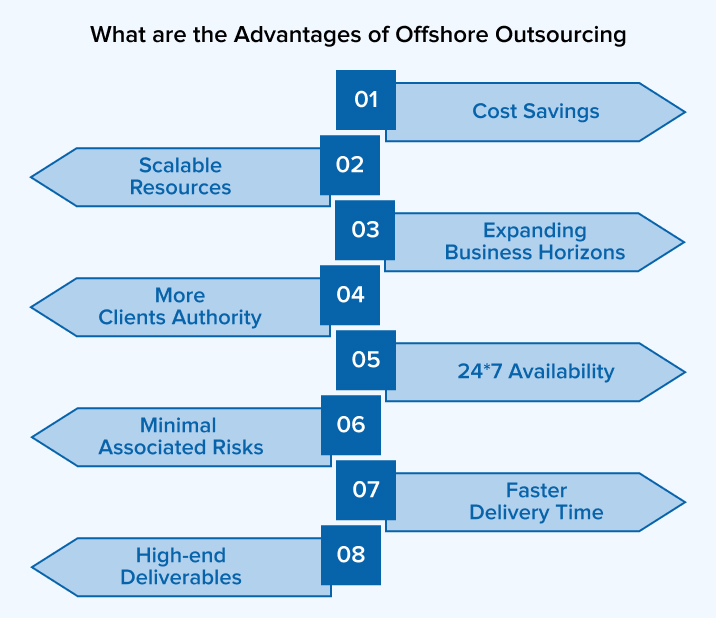 It is a common practice to outsource work to offshore locations. This benefits businesses in multiple ways. The practice of outsourcing a part of business to an offshore location is called Offshore Outsourcing. The rise of competition and other favorable rules applied by the government in cross-border trading has advocated offshoring. Most Companies tend to offshore outsourcing to offer businesses to countries where work is challenging but modern western culture allows finding minimal waged professionals to work harder. What are some of the obvious benefits of Offshore outsourcing, let's get into the details of each.
1. Cost Savings
Your business will receive massive cost benefits for businesses making it a most opted choice of outsourcing. The most obvious reason is cost savings. Offshoring workers in a developing country is an optimal choice because it offers a lower cost of business operations, lower labor costs, technology, tools, infrastructure, and development. After evaluating the job done by offshoring, the ultimate output will be better in terms of quality, timeliness, cost, and customer support services.
2. Scalable Resources
During uncertain times of ramp down or fortunate days of great business day, the count of resources varies, and here is where offshore outsourcing comes into the picture. Offshoring offers businesses an opportunity to scale up and down resources as the state of business is.
3. Expanding Business Horizons
If the business has chosen an offshore outsourcing partner and this benefits the business in the long-term will allow them to grow their business offshore. By choosing to offshore, companies can easily focus on their core business tasks and in return it helps them to perform operations efficiently. Businesses can have an office in the offshore location for their hired employees and can strategically grow their business.
4. All Rights Reserved
The client gets to decide if they want to Offshore or not. It is the client's choice and they always have an upper hand on how to successfully run the business.
5. High-end Deliverables
By choosing excellent, proficient, and high-skilled workers your business can expect to receive the best work with efficiency and timeliness. It is their niche skills, expertise and technical prowess that will ensure top-notch qualitative applications.
6. Faster Delivery Time
Offshore companies can create an entire team at the same cost that you spend on hiring an in-house employee. We can process the workflow rapidly using multiple development teams and quality assurance with no restrictions and hassle-free outputs. This enables us in a short time to deliver quality results.
7. Minimal Associated Risks
For any business Offshoring offers a financial cost-cutting in terms of infrastructural costs, hiring new employees, adding up their payrolls, additional investment on infrastructure, enhancing core competencies, and many more other technical concerns.
8. 24*7 Availability
The offshore business professionals ensure their availability as per the client's timings. Say for instance, if the client is a US-based company and the offshore company is located in India, then the employees can work as per the standard business hours of the US for 100% technical support for businesses as required.
12. How does Offshore Outsourcing Reduce Costs?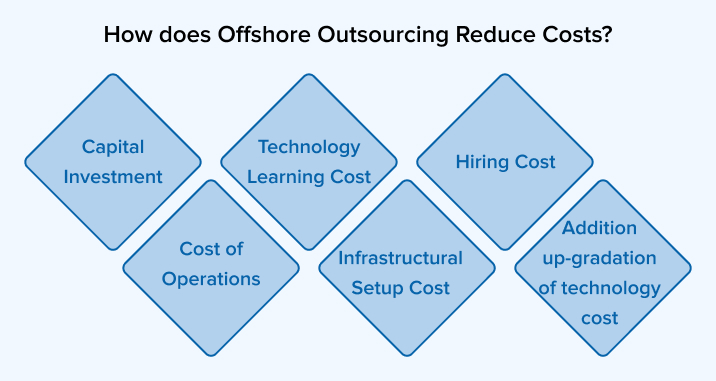 There has been a lot of discussions already on what type of benefits offshore outsourcing is capable of offering. The main one of them is it helps to save money. But now, we need to know which one benefits the most out of all other types of outsourcing benefits. Here are some of the untapped cost benefits that offshoring offers.
1. Capital Investment

Offshoring prevents businesses from investing hefty amounts in any new technology, instead offers experts to take care of the software development with less risk and cut costs of capital investment.
2. Operational Costs

Businesses can now operate seamlessly multiple tasks by offshoring their weaknesses to experts of other countries at a price that is economical and worthy.
3. Technology Learning Cost

If a business is freshly starting to invest in a technology platform, some initial tasks would require training and expertise, so there can be additional tasks involved in that section.
4. Infrastructural Setup Cost

When you want to develop an app using a specific technology, you might need to install the technology stack required for that in all the systems and this is an additional development cost.
5. Hiring Costs

Empowering businesses with technology expertise need high-skilled and experienced resources and need an extra budget for hiring the resources while the project is initiated. And after the project is completed, the business may not be able to afford such high-paid resources.
6. Addition up-gradation of Technology Cost

Technology up-gradation occurs periodically and to keep business up and running, you need to be advanced with technology.
13. What are the Challenges of Offshore Outsourcing?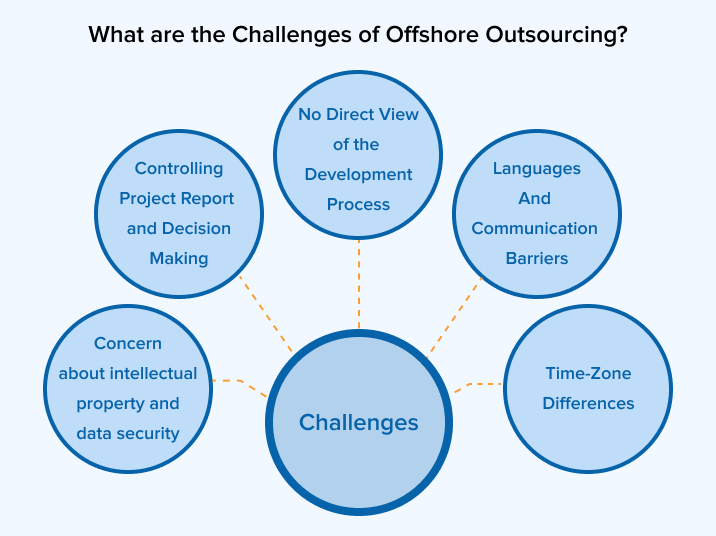 Businesses around the world have been hesitant with the thought of offshore outsourcing and they have their calculations and reasons for not outsourcing like costs, technology stack, operational savings, and others to save more for a successful outsourcing relationship. Here are some of the reasons or qualms of offshore outsourcing.
1. Concerns about Intellectual Property And Data Security

Most of the businesses prevent themselves from outsourcing to an offshore location because of security risks or incorrect use of data sent to the outsourcing company. Businesses without NDA agreement can also perform information breach activities like leaking the information to third party companies knowingly or unknowingly.
2. Controlling Project Control And Decision Making

Most businesses think that if they outsource their work, the outsourcing company will take the charge and control the process of app development. Also, the decisions on quality control, what should be developed and how will also be taken by their experts.
3. No Direct View of the Development Process

As we know, offshore location is distant geography, probably in a different or opposite continent altogether. So transparency to the process of software development is one of the reasons why businesses do not feel right to outsource.
4. Language And Cultural Barriers

Outsourcing to a country where there is an unknown language and cultural barrier that doesn't allow businesses to have faith in the offshore partner.
5. Time-Zone Differences

Time-zone plays an important role when deciding to outsource because for countries like India and Canada when Canada starts working, it's time for Indian employees to conclude their day. So this is also a reason why most organizations do not outsource.
14. 7 Tips to Manage Offshore Development Team Effectively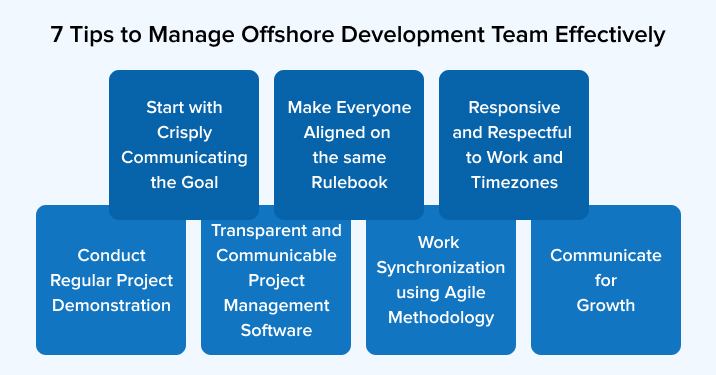 For most businesses, it has been a complex task to manage their Offshore team efficiently. Offshore outsourcing creates a lot of stress on the outsourcing company which gets distributed among the team members of the company who decided to outsource. This majorly occurs due to inexperience or inefficiency to cater to the outsourced company's business needs. So, let us concede and come up with some essential tips that will be helpful for businesses to manage offshore development teams.
1. Start with Crisply Communicating the Goal

The outsourcing business must understand the business goals that are targeted and want to be achieved. Share everything about the business goal aimed to be achieved using this software developed. So if the outsourcing business knows in-out of the goal so it will be easier for them to articulate the process and develop the app.
2. Make Everyone Aligned on the Same Rule-book

Yes, this is a very important step for businesses to understand that everybody is on the same page before developing a product or service. Businesses around the globe have different methods and standards of working and hence to narrow down in the same boat is of extreme importance. Aligning every business stakeholder with this need will make them achieve the target goal without any misunderstanding.
3. Responsive and Respectful to Work and Time-zones

Offshore business is located at a complete opposite location and their standard of working may differ from the outsourcing company. Time Zone is an added advantage to businesses for concurrently working round the clock for their business. In remote working, time zones add the benefit of time overlap when you conduct online Meetings and skype calls.
4. Conduct Regular Project Demonstration

After completion of every single milestone, ask businesses to give a demonstration of how it works just to gain the trust of the business and show them their continuous effort of working towards the client's goal. This demonstration will benefit the offshoring business as they can incorporate the changes as soon as the project is under development.
5. Transparent and Communicable Project Management Software

A collaborative software approach that allows businesses to keep track of regular activities through transparent project management software. This software enables businesses to have rapid access and view to all the information about the project starting from the progress of the project, project data, team members involved, and similar other information.
6. Work Synchronization using Agile Methodology

All the team members of the both offshoring business and the client needs are at different locations and hence to work cordially they need to sync up work regularly. Syncing work on a daily or weekly basis will allow the business to show the appropriate work done and how much will be the actual timeline of ongoing tasks even though the outsourced team and the client are working in an agile environment with different time zones.
7. Communicate for Growth

Whenever there is feedback or an opinion towards the ongoing development, it should be apt and progressive. This makes software development more efficient and high performing.
15. Concluding Thoughts
In this tech-savvy world, where customers are driven by fast-paced software changes and technology advancements, it is time for businesses to stay ahead of the competition in the best way they could. This narrows down with the thought of leveraging the capabilities of experts and partnering with outsourcing companies. Offshoring is the viable way to achieve a competitive edge. Turning to an offshoring partner is a matter of trust and communication. In this blog, we have tried to cover all the dominating factors that could make offshore outsourcing essential and beneficial for businesses. Offshoring has always benefited businesses with aids such as enhanced processes, boost productivity, scalability, improved business operations and offer profitable results. So, without much ado, choose the best fit team for your offshore outsourcing business.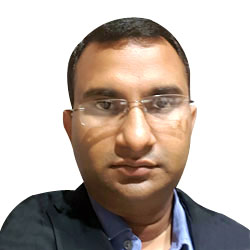 Kamal Sharma
Kamal Sharma is a VP of TatvaSoft which is a custom software development company. He is an accomplished Business Strategist and Tech Visionary with wide-ranging experience in the technology sector. He leads the business operations of the company and creates vision & strategic goals for his colleagues.
Related Service
Offshore Software Outsourcing
Know More About Our Offshore Software Outsourcing Services
Learn More
Subscribe to our Newsletter
Signup for our newsletter and join 2700+ global business executives and technology experts to receive handpicked industry insights and latest news
Build your Team
Want to Hire Skilled Developers?