Are you willing to diversify your business and that too without any excess price? Well, in today's times it is the most natural thing to do. One of the easiest ways to expand your business is by outsourcing or offshoring.
Over the years offshoring and outsourcing are two buzzwords that are often misinterpreted. The main objective of both outsourcing and offshore software development is to enhance business processes and business operations. Both the concepts turn out to be beneficial in several ways such as they enhance productivity, offering solutions at a lower cost, offering more qualified specialists, and access to advanced technological outcomes.
As the title implies, the following blog focuses on what is outsourcing, what is offshoring, why one must consider hiring a reliable outsourcing or an offshore software development company in today's times, and the key differences between the two, i.e. Offshore vs Outsourcing.
Before spotting the difference, let us discuss each one in detail.
1. What is Outsourcing?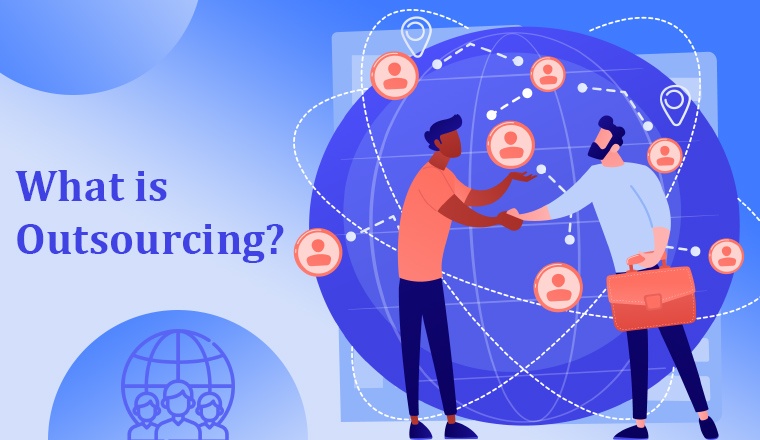 Outsourcing refers to the process of delegating a portion of business operations or procedures to a third-party provider. Until now outsourcing was considered more like a spare wheel, chosen when only needed. After the COVID hit, things really changed. It forced companies to go remote working to complete tasks. The term no longer is limited to non-essential, peripheral activities, in fact, outsourcing has strived its way to the core company's operations.
In fact, several resources state that the global outsourcing market reached $85.6 billion by 2016. In all, outsourcing is a tried and tested strategy. For example, IBM can be considered for managing IT services and FedEx supply chain for third-party logistics services. However, this is not it several multinational corporations tend to outsource from individual independent contractors, temporary office workers, and freelancers.
Before proceeding further with why companies outsource; it's time to understand how outsourcing works. In simple words, outsourcing is all about managing relationships to a great extent. It may quite interest you to know that this is pretty much more serious than those service-level agreements or partnerships. The entire relationship between the business and offshore outsourcing companies is based on pure trust.
Another aspect of outsourcing your business process in developing countries is that companies may choose different ways to outsource IT services. For example, onshore – you can choose to outsource within your own country, nearshore – you can outsource to a neighboring country, we are talking about the one in the same time zone, offshore outsourcing – somewhere to a different country. Especially in developing countries such as India, the Philippines, Vietnam, etc where you can leverage the full ability to reduce costs.
2. Benefits of Outsourcing
If you thoroughly intend to maximize your business productivity and reduce manufacturing costs, outsourcing is the best decision to take. Over these years the hiring process has become the new normal so that many companies can focus on their core business model instead of unnecessary business activities. When a company outsources, it ends up gaining a high-end competitive advantage. Unlike in-house teams, here you don't have to have too much on your plate. You will take the decision and let others run the trains.
Further, let us see the benefits offered by outsourcing.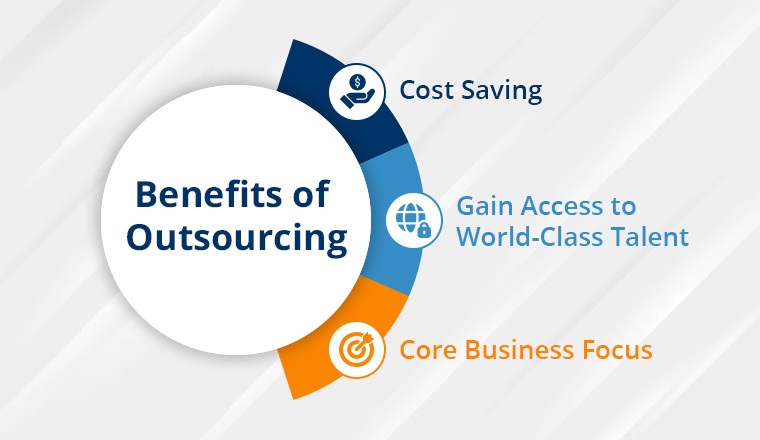 2.1 Cost Savings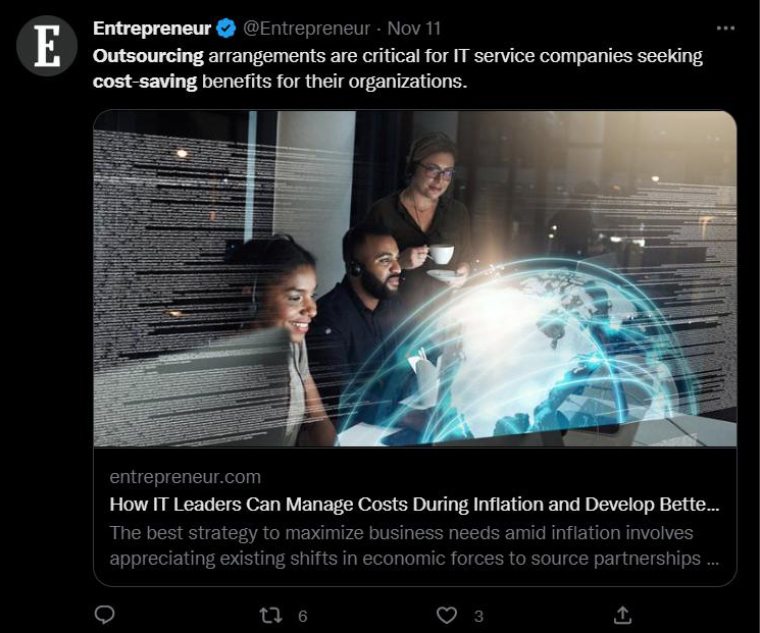 Of course, the price has remained one of the major concerns for businesses to consider both outsourcing and offshoring right away! Also, isn't it quite intimidating to produce goods or acquire services at much lower prices? You may ask how.
Situation 1 – Generally startups or small to mediums sized businesses lack in terms of technical expertise. And hiring an in-house team of experienced and skilled programmers could be quite a costly venture. By outsourcing an experienced software development company, you can be assured of receiving the best possible outcomes without having to spend a hefty price.
Situation 2 – Many of you ask me about hiring seasoned programmers instead of outsourcing. Now what happens is when you do that you might not know at first but sooner you will find a huge hole has been dug in your pocket. No kidding! Right from recruiting programmers to training offshore employees, providing salaries, and incentives – all add up and turn out to be quite expensive. With outsourcing, you just have to pay a fraction of the amount.
2.2 Gain Access to World-Class Talent

Another crucial advantage of outsourcing business activities not in the same country is you get access to a world-class pool of talent. Miles no longer matter as long as you have the best team with specialized skills at your service. If you have the entire world to explore then why compromise? Plus, when you outsource developers it can bring some pleasant surprises too. Developing countries like India tend to offer 24*7 round-the-clock services. All you have to do is mention your requirements and see how they come up with a better product.
Also, you no longer have to be worried about staying connected or poor communication as you have a plethora of options ranging from video chat to project management tools and prototyping around. Any breakthroughs or potential issues like cultural or language differences can be discussed in no time.
2.3 Core Business Focus
As we mentioned before, you can focus on your present and potential business strategies. Expanding and surviving in the competition doesn't literally mean you have to get detached from your core objectives and focus on diversification. With outsourcing, it is possible to kill two birds with one arrow.
This, in turn, streamlines your business processes and helps to free up and allocate more resources to other processes that help make the business tick.
3. What is Offshoring?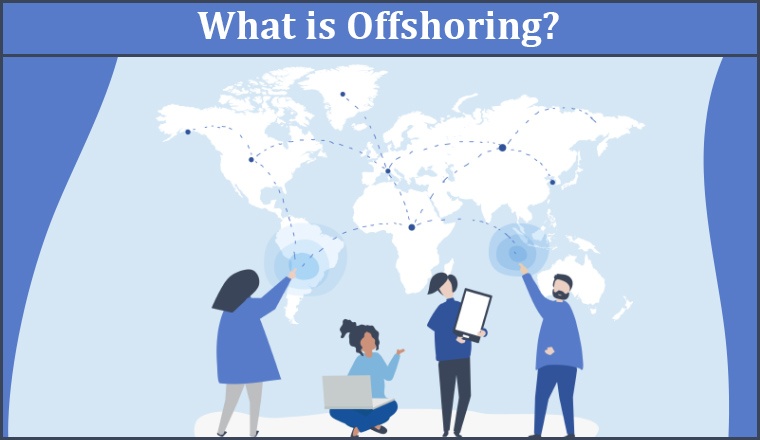 Hope you are quite clear about outsourcing. Now it's time to take offshoring into account. Conducting offshore operations means the business performs all these activities in another country. Politicians often blame Offshoring for transferring jobs to another country or in other words "stealing jobs" but it can be extremely beneficial for companies. In simple words, relocating some of the company's operations abroad. Right from conducting offshore manufacturing to accounting, maintenance and development, this method offers companies complete control over everything
Imagine when you get the liberty to relocate workspaces from costly countries to developing countries, everything will become so cost-effective right from telecommunications infrastructure to offshore production costs. Saving money is inevitable here. Offshoring has benefited a wide range of U.S. enterprises, from small to medium-sized firms with just local operations to huge multinational organizations with a global reach. Even offshoring has its types such as:
Services Offshoring – As the name implies, here companies tend to set up units to carry out service-related operations such as information technology, customer care, marketing, accounting, sales, human resource, and many more. For example, offshore third parties moving their R&D departments to a nation where the technical human resources are both highly qualified and relatively cheaper than the local staff.
Production Offshoring – Next type of offshoring is production-based offshoring. When a company establishes its manufacturing unit in another country, to import the finished products for selling it in the domestic market, it is called production offshoring. By combining offshoring you are creating your own external organization that might result in reduce costs, a skilled workforce, 24*7 operations, streamlined procedures, and a lot more.
4. Benefits of Offshoring
Since we have covered what is offshoring, it's time to focus on why companies consider an offshore development partner. What are the real business benefits of offshoring? Let's find out!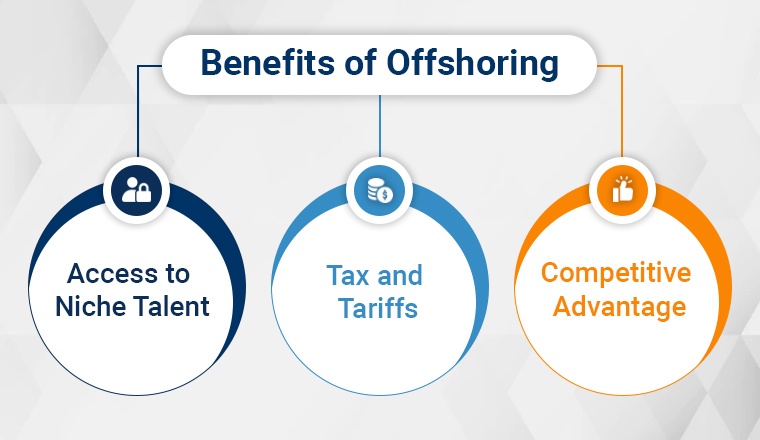 4.1 Access to Niche Talent
Hiring software developers or choosing an agile offshore software development company has been insanely tricky and moreover pretty much an expensive venture. Fortunately, we have both outsourcing and offshoring at our services. Now, do you think it is feasible for you to hire $100+ an hour for a capable senior developer? In developed countries, 250,000 software engineering jobs are currently unfilled and the numbers are increasing day by day. Though colleges are pushing IT and engineering hard, there's an inevitable delay and much time involved in this process before those graduates trickle into the industry.
4.2 Tax and Tariffs
Another reason why offshoring is considered one of the leading industry trends is the location. In developing countries, taxes are lower than in your home. After all, rates of offshore software development across the globe are different so it's obvious taxes will also be different. And the economic policy of the governments of these countries is also tempting for those businesses who want to outsource. Apart from low taxes, availability plays a huge factor here. Since we are talking about working in a different time zone with a workforce ready for 24×7 operation, more and more business opportunities are created for the company. As per the client's business, it allows diversified service at all times and meets their ever-growing demands. This results in better quality service and a higher level of customer satisfaction. Also, you gain a high-end competitive edge.
4.3 Competitive Advantage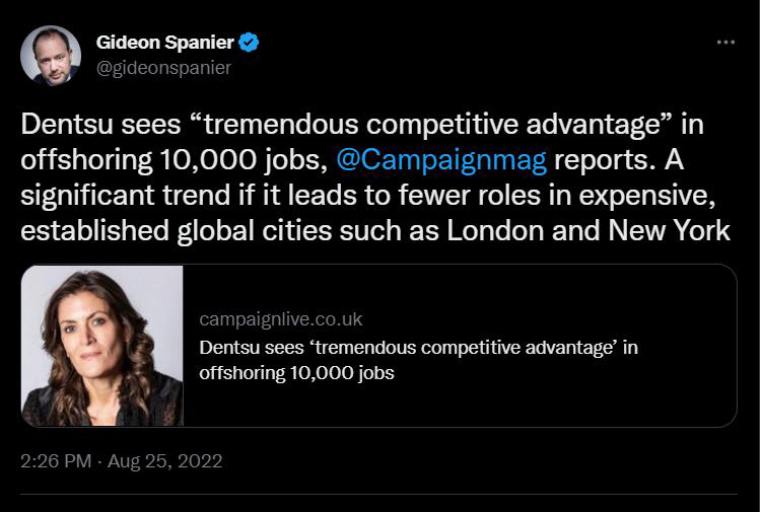 Poor infrastructure and a limited number of skilled professionals nearby can never give you a competitive advantage. It can result in project failure. Even with huge time zone differences, if you are able to find a reliable company among other countries that excel when it comes to competing on a global stage then it's totally worth the risk. Also, one shouldn't avoid the fact that the constant demand for efficient customer service makes it more challenging for companies across different industries to stay relevant.
5. Key Differences Between – Offshoring and Outsourcing
The confusion between " offshoring " and " outsourcing " is one of the most commonly misunderstood aspects of the global supply chain. So what exactly are these two terms? Time to spot the key differences between outsourcing and offshoring. Let me elaborate on this in the form of a table. Take a look!
| | | |
| --- | --- | --- |
| Factors | Outsourcing | Offshoring |
| Define | Outsourcing can be done both ways either in the same country or overseas. | Offshoring can only be done overseas or at least outside the onshore country. |
| Benefits | Getting the required expertise, and cost-effective labor, you can concentrate on your core activities | As for offshoring, you can easily surpass certain rules and regulations, cost-effective labor, and a fast way to enter new markets. |
| Objectives | To focus on the key business activities and operations. | To find labor at a low cost. |
| Activities performed by | Those people can only perform such tasks who aren't your employees. Say for example – a team of the best software developers | Those programmers can only perform offshoring tasks who are employees of the organization. |
| Quality Control | Here the quality of the work may fluctuate depending on who is working on your project. | Here work will be delivered according to a specific quality standard. |
| Approach | Quick solution to accomplish tasks – ideal for ad hoc or per-hour projects | A long-term approach to scaling your business |
6. Conclusion
Both outsourcing and offshoring – companies found basically choosing any kind of external provider to conduct their internal operations will be beneficial. Although if it suits their business strategy and operations, they can even consider combining offshoring and outsourcing. Also, you can easily focus on your core competency. The following post on offshoring vs outsourcing will definitely guide you in making the onboarding process easy and hassle-free. So that's all for now, in case, if you still have any doubts or queries, feel free to mention that in the comment section below.