Offshore, Offshore outsourcing is everywhere! The term "offshore software development" seems to gain traction with time all across the IT industry. Onshore and offshore are basically two sides of the same coin named development. The following post focuses on everything about offshore software development services, what is it all about, how offshore outsourcing is beneficial, how do you hire offshore developers, tips to keep in mind while hiring offshore development services from reliable companies like TatvaSoft.
Table of Content
1. The Sudden Rise in Offshore Development
The concept of extensive development is not new in the software development industry though! Gone are the days when businesses were stubborn and stoic when it came to asking for a helping hand. Slowly and steadily as people are looking around for more and better options, the idea of hiring an offshore software development company arose. So many businesses or leading companies were pretty skeptical at first, but the more they learned and explored about, the more it began making sense.  
The term "Offshore" is literally another name for outsourcing. Now offshore is a term that represents the type of development work where you are giving project operations to another software development team in a different location. (it could be in your own country or in a different country). In some cases, it can be a different continent due to which customers might face the time zone difference. Fortunately, these days it is no problem, courtesy of various superior quality remote team management tools and best video conferencing software, handling all work efficiently and collaborating with providers from all over the world.
Whether you want to create an app, a website, a chatbot, an inventory management system or any other digital product, we are sure that there are zillion things to take care of, like team management, deadlines, technical details, etc. Therefore, it is advisable to delegate the crucial part of responsibilities to specialists, there is no need for heavy focus on project management and other things.
According to sources, 80% of the largest global companies are preferring software development outsourcing because of the huge benefits it provides. Why you should hire offshore developers? Now it will make sense for a couple of reasons.
Imagine you are running a smaller company, you are not always sure how long you'll need a developer, so contractors can be more beneficial for smaller projects. At the same time, it is difficult to find the most skilled developers in the region you occupy. Further, we would like to mention some common scenarios where businesses would like to hire offshore developers.
To reduce expenses for software development
Require global exposure
If the local resources aren't compatible with an organization's development project
1.1 Pros of Offshoring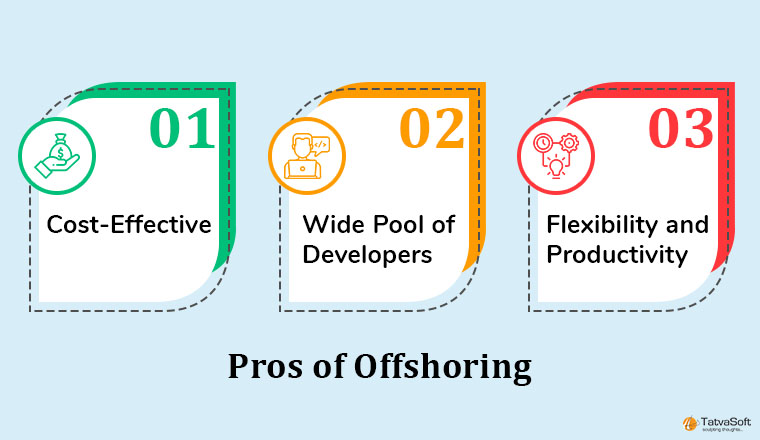 1. Cost-Effective Option – Maintaining an in-house team can be pretty challenging and costly at the same time. By outsourcing software development, you don't have to invest in IT infrastructure or spend time recruiting, hiring, and training employees. They pay only when the project assignment is under development. That sure makes the development process smooth and cost-effective.
2. Wide Pool of Developers to hire – Another advantage of offshore development is the global talent pool of skill set. You get to hire a wide range of talented developers and programmers for your business. Successful survival asks for continuous innovation and quality work and this is possible only when you gather a bunch of software engineers, developers, experts, programmers and brainstorm, something unique will take place.
According to the custom business requirements,  you can hire offshore software developers following the highest standards in software development.
Offshore development is also an excellent way of testing out the available resources that will help the organization before making any huge commitment. Ultimately, the organization will realize that the outsourcing partner with the best developers adds value in the long run.
3. Increased flexibility and Productivity – Another interesting advantage of hiring offshore developers is the enhanced amount of flexibility and productivity. In fact, failing to measure the success of products can be pretty disastrous in the long run. In most scenarios, organizations often prefer to hire offshore software developers and leave everything including all project management related duties to their offshore development partner, so that they can focus on their core competencies. As soon as you hire offshore developers you are eligible to choose junior developer, designer to  project manager. Furthermore, they can add or remove any of the programmer or designer at any moment for valid reasons.
If an organization is not a complete IT-based organization and only requires the completion of a few development-related projects, then to handle their own IT department takes large operational costs and isn't that necessary. Leaving these complex IT tasks to an offshore software development company cuts out major complications and frees up time that they can spend on more tasks for the core business.
2. Offshore Developers – Roles And Development Responsibilities
Now before we hire offshore developers, it is very important to know their roles and responsibilities for a better perspective. Let's begin with their responsibilities first!
Provides a status report of outsourced team activities against the plan or schedule
Inform if any tasks are accomplished or any issues encountered in between.
Ensure all the deliverables are prepared to satisfy project requirements, schedule
Coordinate and track the reviews, documentation, test activities
Serve as a focal point to communicate and resolve interface and integration issues with other teams
Escalate issues that cannot be resolved by the development team
Coordinates meetings with the functional management to discuss project impediments, needed resources or issues/delays in completing the task.
Coach and help develop team members, assure that the team members have the necessary education and training to effectively participate on the team.
Facilitate problem solving and collaboration.
Coordinate with internal and external software development teams (on-site/offshore) as necessary.
Establish meeting times, places and agendas, Ensure discussions and decisions lead to closure.
An offshore developer ensures that you will receive these:
Quality Software – The project manager may be able to identify an issue, he may not be able to resolve it. However, your chosen developer can identify the source of the issue and work with the offshore developers to resolve it.
No missed Deadlines – As mentioned, lack of training and educational opportunities can slow down even the best offshore software developers
Back-up for emergency situations – In the case that your software project runs into a major issue, you may not want to wait for your offshore software developers to work on it later that day. Having a senior developer on hand ensures that problems can be resolved on time if the circumstances arise.
3. How to Hire an Offshore Development Team?
Though an offshore development team can bring advantages, it brings its own challenges as well. Your offshore developer is solely responsible for building your development team. They oversee the recruitment process, administrative work, setting up the office space, and all the day-to-day tasks. However, building a successful relationship with your offshore outsourcing partner and your team, requires a decent amount of effort, especially if you want the desired results. So, as a client, what you can do is follow best practices of offshore software development for a smooth hiring process.? You will find several articles on best practices to conduct offshore software development projects.
Further, we would like to mention how to establish a successful collaboration between you and your offshore development team.
3.1 Define Your Goal
Well, you should know that your offshore development team is not just any mere team that works for you for a day or two. But, they are a value-adding extension of your existing team and are in it for the long haul. Therefore, your work doesn't end by just assigning them tasks. You have to show them a bigger picture.
If somehow your offshore software development team does not understand the vision of your product, what you wish to achieve through the product, and where you see your business in the next 5 or 10 years, they simply aren't going to be invested enough. And that's why it's so important to discuss the long-term goals and strategies of your business with your offshore team.
Offshore developers often don't work as quickly, or as intuitively, as many onshore teams do. As such, you'll want to ensure that your team has a solid understanding of what you want out of your project. By nailing down as much as possible about your software project before getting started, you'll have a better chance of sharing a clear vision with your team and, therefore, a higher potential for success.
3.2 Develop a Good Communication
In today's digital age where meetings can be held seamlessly without any hesitation or issue. Still, it is very crucial to develop a system of communication that makes proper sense for everyone. Offshore teams and remote working seem to be increasing because of the ability to instantly connect with anyone. I mean with so many virtual tools, one can feel like you are having a face-to-face meeting and mark up a drawing board in front of all users. Of course, the tools that will work best for your team is dependent on your specific business needs. Good communication is vital for your team to succeed and is a little bit easier when making use of available tools.
3.3 Manage Time Difference
Differences in time zones can be pretty daunting and challenging especially with offshore development when working with remote teams. However, by using overlapping hours, you can mitigate this challenge. And just like cultural differences, it is crucial to plan for the difference in working hours. Your offshore team from any outsourcing destination could be anywhere between 8 to 15 hours ahead of you, and by factoring in that time difference, you can build a more efficient schedule for your local and offshore teams. Overlap meetings, scrum calls, and weekly catch-up call to ensure that communication between both your teams is not affected because of the time difference.
4. How to Get Started?
Let me show how the process of hiring the best offshore developers looks like and how a perfect offshore development team looks like. Hiring process is as below:
1. Create a detailed job description
Make sure you have listed the features and functionality of your project. All the right skills a developer has to fit the job.
2. Choose a team with a proven track record
Do not forget to look for websites such as Clutch. Also, see if they have a profile on LinkedIn and find out which clients they have interested in these days. If possible, contact their previous clients and ask if they can recommend this remote development team. Keep in mind to analyze their skill set. If you're a non-technical founder, make sure your technical co-founder (if you have one) is truly dedicated. And if you don't have a technical co-founder, fret not! There is always an option to hire a consultant (an experienced tech person). He will help you in making the right decision if you have hesitations.
3. Do not fall for the cheapest quotes
Unfortunately, businesses often fall for the cheapest quotes. Make sure you do not make such a mistake. Focus not on low but on cost-efficient rates. With the cheap quotes, you may end up paying more at the end of the project because someone else will have to rewrite the poorly written code. And once again — never feel ashamed to ask for Stack Overflow or GitHub profiles of developers to check the code quality.
5. Things to Keep in Mind While Hiring Offshore Developers Team – The Interview Round

Interviews are your chance to test the waters before hiring offshore developers and investing crucial time in training. Interviewing a remote developer can be challenging and tedious. In order to save your energy from this tiring process, you need to act smart from the beginning. Follow these guidelines and you will be good to go!
5.1 Remote Work Experience
Of course, remote work experience in development doesn't show a candidate's suitability but it does emphasize on a candidate's comfort level and readability. Also, before you hire offshore developers, do not forget to through their previous work and see whether developers were able to comprehend or not. This will certainly help you in tailoring the interview for your upcoming development project. Hiring someone or a team of high quality offshore developers with the right skills and right attitude can make a huge difference.
5.2 Able to Use Various Tools
Collaboration apps, emails, time management skills, tracking software, messaging apps, video calling, and conferencing; these are all important and necessary part of a remote team. Make sure all your offshore developers have these tools.
In fact, it is advisable to take interviews via similar tools to test their ability. It will help you assess the offshore developers via cues and check their basic talent apart from soft skills. Are they able to operate the tools? Are they comfortable using software that is already being used in your organization by the existing remote employees or in-house developers? Do they have minimum tech requirements at their personal workspaces?
5.3 Time-Tracking
When you happen to work with remote developers or the main challenge to hire developers working offshore is tracking time. Some remote workers find it difficult to keep track of time and continue working even after the day is over. On the other hand, some lose track of time and lag at work.
Fortunately, Most managers and remote developers stick to the tracking software. Therefore, you can easily check their daily, weekly, and monthly tasks as well as the progress of the project.
Lastly, a few questions to ask before you hire an offshore development team:
Do the developers have experience working with U.S. based companies?
Are they familiar with Agile development?
How will your offshore developers help your company save time and money on software development?
Will the same developers initially assigned to the project be on the team for the duration of the development effort?
Who receives the source code and related materials and eventually owns the completed project?
6. Conclusion – Hiring Developers for Your Startup is Not Easy, but Doable!
However, there is no scientifically proven technique to hire offshore developers or dedicated offshore development team and conduct perfect recruitment. It takes a lot of subjective analysis and evaluation to make it happen. You will first have to understand & define your core beliefs and then search for a candidate who can match your organization's work frequency.