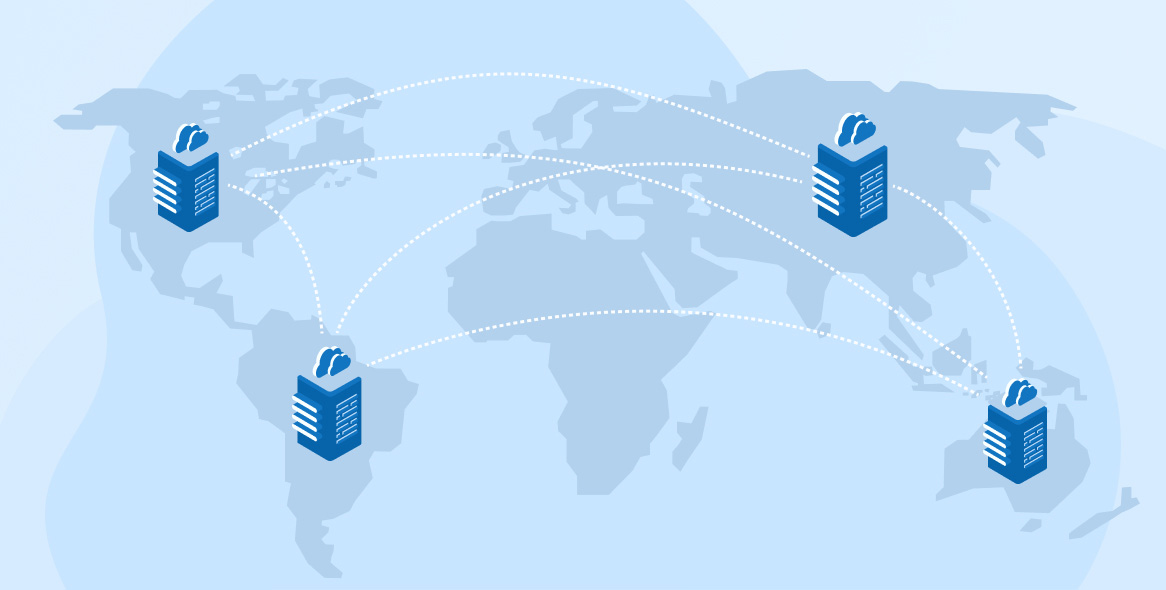 1. Introduction to Outsourcing Software Development

Businesses around the world are experiencing a topsy-turvy ride in the uncertain times of economic downturn. In 2020, every business is holding tight with their finances and yet want to outshine in this highly competitive world of technology space. Outsourcing software development can help businesses to embrace technology solutions, improve business productivity and streamline operations. Hiring an outsource software development team to manage specific requirements of enterprises with a deeper understanding of business goals is what businesses need.
Outsourcing software development services is a smart choice to upscale businesses and see faster results without worrying about the technology side. But for that, we will have to start with what outsource software development is, what are its pros and cons.
Software Outsourcing is defined as "A method of employing a third-party service provider or expert to develop a software project. Outsourcing software development has become prudent for every business to continuously evolve. It is challenging for businesses to stay abreast of changing technology trends, manage overall operations, within budget and also gain an edge over the competition. This makes hiring a software outsourcing company a strategic decision for efficient, cost-effective, and successful software development. Previously, this outsourcing method was more inclined to the financial stature of the business, but now there are hundreds of influencing factors responsible for outsourcing software development. So why exactly do businesses utilize software development outsourcing services when they already have in-house teams? What benefits do they get?
Global Software Development Outsourcing has a market value of USD 333.7 billion in 2019. It is expected to grow to USD 397.6 billion by 2025, with a CAGR of 4.5% during the forecast period (2020 – 2025).-Source
2. Difference between Software Development Outsourcing and In-House Development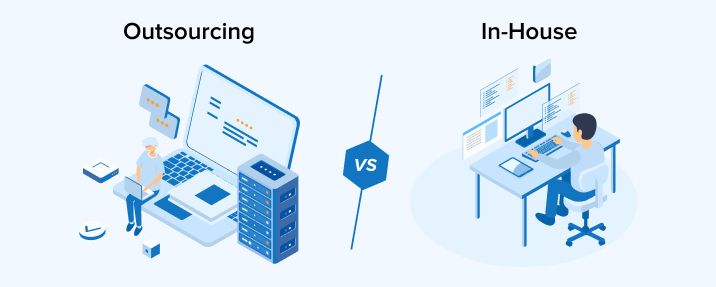 Uncertain times have taken a toll on businesses driving them more towards modern custom software solutions and applications. To progress in the right direction, businesses need to seek help from experts and pave their path ahead. But for businesses, it is challenging to find expert software developers in a limited period to meet fast-approaching deadlines. Amid all these uncertainties, it is more challenging to maintain an in-house team and train them in case of any technical inefficiencies.
In-house software development and software outsourcing services are generally two different methods of development. It is not always cost or lack or inefficiency that probes businesses to opt for software outsourcing. But there are numerous reasons for it and to understand that, let us start with the primary understanding of what in-house development is.
1. What is In-house Software Development?
Any business, whether from the software industry or from any other vertical with a set of IT resources or a technical department to look after their software development needs and solutions. In-house development means that the employed resources are easily accessible and expertise over the cutting-edge technology aspect of the business.
Specifically, if we talk about software outsourcing companies, the software development process may differ from one company to another. The biggest limitation here is the right skill set and the amount of technical knowledge of the hired employees. These resources aren't inefficient, but their knowledge needs upgrading with time. The pros of having a skilled in-house team are 24*7 availability and you can modify their work as per the technology changes.
But in-house development is an expensive option because of the numerous expenses involved. Like the recruitment process, infrastructure investment cost and high payroll demanded by software professionals. Plus, the availability of potential talent is limited compared to software outsourcing companies because of limited vicinity.
2. What is Software Development Outsourcing?
"Software development outsourcing involves hiring an individual or a team from external sources to handle some or all of the software development projects."
Speaking about the perks of software development outsourcing then the biggest one is cost-efficient in terms of time and money. But if you are employing freelancers or contractual employees, the rules of employment will be different. In comparison to in-house teams, there are risks associated with success and failure ratios. Hence the company's brand image can get damaged with the same possibility of business profitability and enhanced cash flow.
Holistically speaking, the true value of outsourcing software development processes lies in the potential benefits it is capable of offering in the longer term. Your business has access to hiring global talent from anywhere in the whole world. So, while you think that your business should hire only the best mobile app developer, then you must tap the potential of outsourcing that gives you access to top-notch mobile app development experts who may live on a different continent.
Undoubtedly the results may vary at every level of partnership with the outsourcing software development company. Your business needs to take control of the outsourcing team because now they have become proficient with years of expertise in providing outsourcing services to various customers globally.
3. Tabular Representation on the Contributing Parameters of Both the Types of the Development Process
| | | |
| --- | --- | --- |
| Parameter | Inhouse team | Software Outsourcing |
| Cost | Operational and investment cost of the In-house team is higher. | Software Outsourcing is cost-efficient and user-friendly. |
| Client Engagement | The in-house teams perfectly bind with culture and offer a higher engagement rate. | In Software outsourcing, it is difficult to find like-minded and experienced software development companies. Hence there is a risk of a cultural gap. |
| Communication | Transparent and approachable communication with the in-house team. | Software development outsourcing also provides better communication if partnered with the right company. |
| Control | With an in-house team, there is complete control over all processes and tasks. | Software Outsourcing offers limited control over the development teams. |
| Risk Ratio | For the in-house development team, the risk ratio of project failure is less compared to hiring employees from outside | Outsourcing business is potentially at higher risk because of the unknown external resources who are living far away (may not be in the same city). |
| Business Profitability | Good to moderate level of profitability depending on how advanced the technology solution is built. | Software Outsourcing guarantees a higher level of expertise, experience and cost benefits. |
3. What Makes Businesses Decide to Outsource?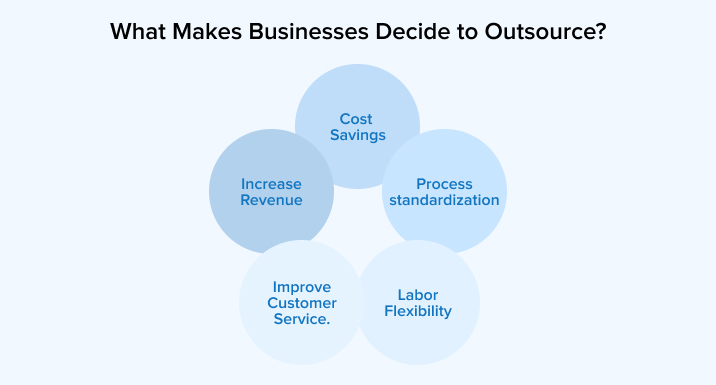 Certainly, multiple influential factors probe businesses to decide to opt for outsourcing software development projects. Previously in the 19th and 20th centuries, businesses never used outsourcing as a business practice but this has eventually changed with time. Unaware of the potential benefits, most of the business never considered outsourcing. So, what made current day businesses outsource.
1. Reduce Cost and Expenditure
Money and time are the two impactful reasons why most businesses decide to outsource. Rather than employing full-time employees on payroll and investing in infrastructure and other licensing and training costs, it is better to outsource. Outsourcing is the most viable option for businesses to reduce their expenditure and improve profit margins.
2. Improved Efficiency and Focus
With specialists taking over the overall projects and services, there is no question of the familiarity or knowledge of technology. They only take up the project if they have expertise in that specific field and capability in the same business arena.
3. Flexible Solution Offering
The businesses must now accommodate change quickly in these changing dynamics. For this, they have to enable agility in all their entire development processes in order to meet current market needs and demands. With the ability to outsource their services, businesses can now cater to changing needs easily and stop looking at the escalating cost of hiring and other technology investment.
4. Globalization of Talent
Internal resources are limited to a city or state, no resource travels from one country to another. To access global talent, Outsourcing will be the best option for businesses. Access to the globalization of talent by hiring remote developers, designers and working from offshore to give a boost to your business with their services.
5. Higher Strategic Time
If you have an expert to work for your business, it frees up most of the time you spend and adds up value to other essential tasks. While your outsourcing business is managed at the backend by experts, you can now invest your time and knowledge in making decisions that can lead to greater productivity.
6. Build Productive Partnerships
Outsourcing can help businesses to build and sustain their organizational goals. If you partner with the right company, your business will be able to improve efficiency, productivity, improve the quality of the product and create a scalable work environment.
7. Meeting Customer Expectations
Most of the time, it seems challenging to meet customer expectations. It may be because the business is grappling with several other functions that hinder the end goal of meeting customer expectation benchmarks. Software Outsourcing companies help you magnify your efforts in customer satisfaction by building high-performing modern apps.
8. Increasing and Scaling Team Skills
As per the demands of changing technologies businesses have to pace up hiring and releasing resources as per the need. This is not always feasible. Here, Outsourcing is a saving grace where businesses can easily hire the software development team as per the project needs. they can even scale up or down the resource as per the project demands.
9. Reaching a Broader Market
Changing customer demands needs to be addressed with an innovative approach. Outsourcing companies come with diversified experience of catering to business from various geographies. Their standard practices have helped businesses meet expectations and reach a wider audience.
10. Stay Ahead with Technology
Market Disruptions are a threat and an opportunity for businesses, only if they know how to have an upper hand in technology. Partnering with the right software development outsourcing partner will help your business gain a competitive advantage over peers that promise innovation and sustainability.
4. Software Outsourcing and Its Types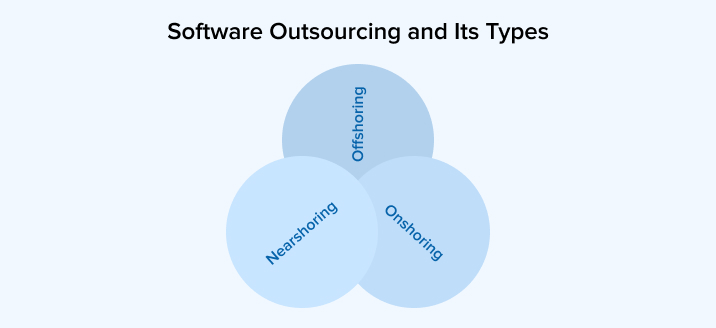 The cross-border trading trend has offered businesses to leverage a newer stream of talent and capability. An outsourcing model is defined based on how they align across these three major factors- location, relationship, and contract.
With a wide list of services, it is vital to uncover the types of software development outsourcing methods. Among the list, there are different types of software outsourcing services like
Onsite outsourcing
Onshore outsourcing
Nearshore outsourcing
Offshore outsourcing
Multi shore Outsourcing
Staff augmentation model
Managed team outsourcing
Project-based outsourcing
Out of this, the two most renowned and largely accepted are NearShore Outsourcing and Offshore Outsourcing. Both these models play a large role in providing fruitful results to the client. Let's start with understanding all the types of software outsourcing models and for more convenience, we have also accumulated a list as per the pricing and budgetary aspects.
Choosing the Best-fit model for Software Outsourcing
To harness the capability of the best-of-breed software outsourcing partner, you must know the models of engagement for businesses. Depending on the feasibility of the business, these models are categorized into:
1. Nearshore Outsourcing
As the name suggests, Nearshore outsourcing is an outsourcing model where geographic proximity is taken into consideration. The tasks/ projects outsourced will be performed by the people of the country or from the neighboring countries. For instance, if a company is based in the USA, then they outsource their services to countries nearby like Mexico and Canada. The countries within the limited vicinity are preferred in nearshoring with a fundamental goal of traveling. This enables them to travel whenever needed and can be easily communicated. Plus, the other advantage is they speak the same language, follow almost the same standard practices, so there are no cultural differences.
2. Offshore Outsourcing
In the Offshore Outsourcing model, the part of work or full work is outsourced to any feasible country. It depends on how well it suits the business needs and optimizes overall processes. This outsourcing model is an aid to optimize the overall budget and prefer to hire from a global pool of talented resources with hourly rates or monthly costs. For many businesses, time zones play a significant role in remote working. As a result, there is an added benefit of time-overlap during e-meetings and internet calls.
3. Onsite Outsourcing
Onsite outsourcing is a type of outsourcing where the outsourcing company sends their proficient and high-skilled employees to the client location- Onsite. The period of onsite work is limited. Moreover, this type of outsourcing model seems relatable to staff augmentation. The main difference here is local or country-wide companies are not preferred herein onsite outsourcing.
4. Onshore Outsourcing
In the Onshoring type of outsourcing, the business can contract to any other software development company within the country but not within the same company. Even if the same company is located in a different state, it won't be considered as onshore outsourcing. It should be a different company in any location within the country.
5. Multi-shore Outsourcing
Multi-shore outsourcing can be defined as employing many companies concurrently based on their location and service provided. This type of engagement model is safe and often used by large corporations for their distinct business needs that are catered to by nearshore and offshore partners.
6. Staff Augmentation Model
With Staff augmentation, businesses are leasing their employees to another software development company. The business can add resources to their team as per the business requirements temporarily to augment their workforce and achieve business goals.
7. Managed Team Outsourcing
In the managed team model, the client hires a team that can be onshore or offshore and manages their day to day development process. The client's in-house project manager regularly communicates with the outsourced team as well as assigns and verifies tasks. So key decision-making rights remain with the in-house project manager.
8. Project-based Outsourcing
In Project-based models, the majority of the responsibility is on the outsourcing provider and how he handles the projects. The outsourcing provider is the task-master of development projects who manages the requirements, owning the projects from beginning to end.
5. Onshore Software Outsourcing vs Offshore Software Outsourcing: What to Choose?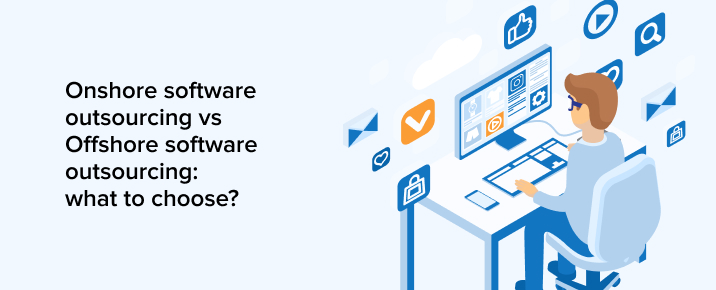 After a thoughtful projection of all types of outsourcing services, the most common debate lies between onshore and offshore outsourcing. Most businesses are confused about which type of model they should consider outsourcing. To shed more light on this, we have gathered information on both the types and portrayed it through this comparison table:
Onshore Software Outsourcing

Offshore Software Outsourcing

In this type of Onshore Outsourcing, the talent is restricted to one region or country.
Offshore Software Outsourcing offers businesses access to a global workforce.
Local labor costs are higher as they know that the business has limited options in the country.
The hiring of a highly expert team at lower costs is promised using offshore Software Outsourcing.
The biggest advantage of Onshore Outsourcing is that they don't face any language barriers or cultural differences.
Businesses may face language barriers or cultural differences when outsourced to a foreign country.
There are not many time-zone differences in inshore locations since they are closely aligned.
There is a huge time zone difference which may prove a barrier in communication.

The Onshore development team is easily accessible and available compared to the Offshore Outsourcing business.

Accessibility can be an issue because of the time and money it would take to travel. But thanks to technology, this is no more a hindrance, offshore employees are available at the tick of the clock.

Onshore outsourcing limits the number of developers and software development resources.

Sky's the limit for the number of developers available in the Offshore outsourcing business.

Onshore location offers less flexibility in business offerings.

Offshore Software Outsourcing offers multiple flexible options

.

Businesses face lesser risk in terms of security and low-quality services.

There is a risk associated in terms of security and low-quality services.

Trust factor is never an issue in Software Outsourcing.

Since it is an offshore location, a lack of transparency in work can lead to weakened trust in service offerings.
There are multiple ways businesses can collaborate with other businesses and software development outsourcing companies. The above mentioned were based on location preferences, now let's discuss other types of engagement models based on financial aspects and budget.
6. Software Outsourcing: Financial Engagement Models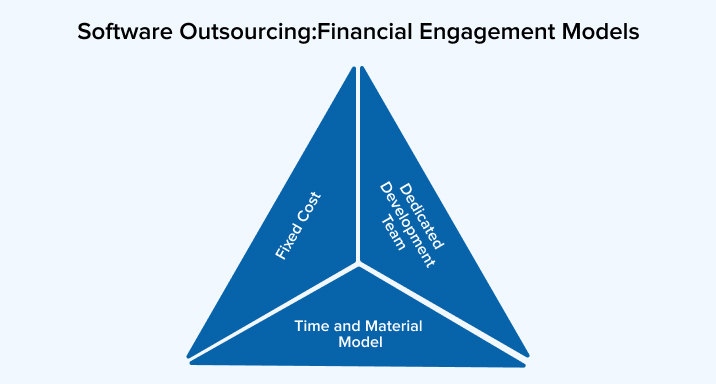 1. Fixed cost
The fixed-cost pricing model does not work on estimations but the payments are fixed and deliveries of software services are limited. The changing demands of businesses are noted, documented and aligned to service offerings accordingly. These services can include anything from custom software development, mobile app development, website development, or any other cutting-edge software development services. In case any extra tasks apart from what is mentioned in the contract is requested from the client, then the client has to pay extra for that task.
In this model, it is advisable to discuss all the norms before imprinting them in a contract. It is a cost-effective method where the customer can decide the cost they would like to spend and then take action.
Which type of companies should go for this model? Companies with
Small Projects with limitations
Limited budget
Clear requirements
Faster results
2. Dedicated Development Team
In a dedicated Development Team method, the end customer is assigned a set of developers for their time-specific project. In this method, the client is billed as per the services offered. As per the project needs, the resources are chosen depending on the skills, experience, and expertise. The client company can manage the resources on their own and even assign a leader to report them within their company. If the client wants, the resources can also work at the client company or can work remotely on the company's behalf.
The resources can be a business analyst, project manager, software developer, graphic designer, or any project lead depending on the business requirements.
Which type of companies should go for this model? Companies with
Long-Lasting projects and relationship
No restrictions on budget
Requirements are evolving with time
Project may get frequent changes
3. Time and Material Model
The time and Material model appeals to all the users who want a flexible pricing model. This pay-as-you-go method allows users to pay as per the tasks delivered. This is a perfect fit for businesses whose requirements keep changing and there is no long term goal. There are short-term goals that the business wants to achieve.
Which type of companies should go for this model? Companies with
Dynamic business requirements
Short term objectives
Limited budget
7. Assessment Parameters to Evaluate Software Outsourcing Vendors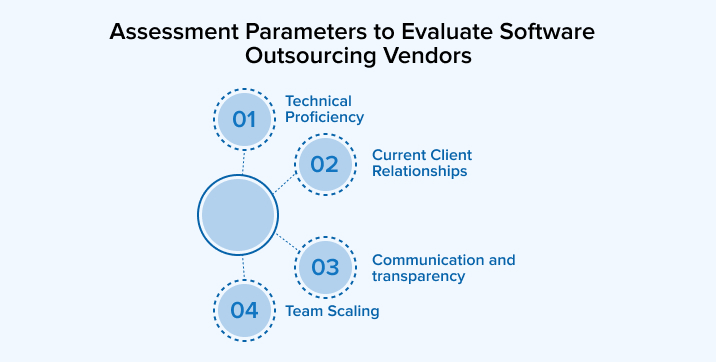 After the types of business models involved and the number of benefits businesses can leverage by partnering with a modern software outsourcing company, it's time to partner with the right company. To select a specific business partner, businesses must have some evaluating parameters or checklist that would help them to sieve out the best fit for their business needs. When you collaborate with outsourcing partners, they may promise you to offer exceptional business benefits but may not fulfill your expectations when it comes to complex and challenging applications. So here there are certain essential parameters required for businesses to scrutinize the process of selection.
1. Evaluating Technical Proficiency
When you are investing an amount in an offshore company, it is of extreme importance to understand and know the level of technical proficiency and experience the custom software development company possesses. No project can be the same, every business has unique business requirements and that requirement needs special skills. Evaluate the skills and experience of the potential outsourcing company and understand what they are capable of offering.
2. Validation of Current Client Relationships
Client testimonials are another way to validate an organization based on their work. Understand the type of client, their business offering, their relationship with previous clients can also be an influential factor in assessing an IT outsourcing vendor. Also, to be precise in judging, there are independent sites showcasing client reviews, outsourcing company reviews, etc. The existing client can be contacted too via email to have a clearer vision.
3. Communication and Transparency
Working with any individual or an organization needs to be contracted with the foundations of trust. Whether you partner with a nearshore company or an offshore business, it is important to be bound by trust. Transparent communication brings trust to this outsourcing business. So in case, if you find everything on point but no transparency, think wisely before making a decision.
4. Team Scaling
Scaling of resources is an important aspect of the software business. In the case of meeting deadlines or recovering delays, team size has to be increased. A software outsourcing company should have enough bench strength of software developers to provide additional resources and speed up the projects.
8. Setting Up Your Software Outsourcing: About Outsourcing Destinations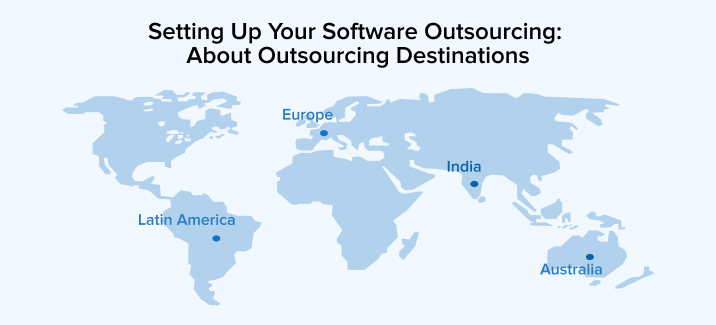 Every business has its own unique business needs and to fulfill that they call for help from different companies located nearby or offshore. In such cases, people are reaching out to software outsourcing companies as per their needs or nearshore locations. But nearshore locations cannot always be advantageous. So to simplify this method of selection, we have filtered out a list of popular outsourcing destinations all over the globe.
1. India
The Indian outsourcing market has millions of companies and supremely talented professionals who work cost-effectively compared to other countries. In terms of market space and types of technology, they haven't left any stone unturned. They have been offering all types of cutting-edge solutions to businesses around the globe. The amount of innovation in startups and big shot enterprises is proliferating in India, it is commendable with integrity and quality of service.
The typical hourly rates range from $15-$65, depending on the size of the company partnered.
Software Outsourcing city hubs: Bangalore, Hyderabad, Chennai, Mumbai, Delhi
2. Northern America
Their expertise in the emerging technology stack is unbeatable. With the best in a lot of businesses in the Silicon Valley hub, it is one of the world's largest technology development sectors. The skills and engineering expertise is excellent. These countries are extremely stable since they are developed countries and have all the technological availability which makes them charge high compared to others.
The typical hourly rates range from $75-$300, depending on the size of the company partnered.
Software Outsourcing city hubs: Seattle, San Francisco, San Jose, Dallas, Phoenix, Waterloo, Vancouver
3. Australia and Oceania
Though area-wise these countries are smaller but technology-wise they receive the highest technical attention. Their openness to startups and technology innovations makes them a leader in the software development genre. These countries focus on years of software outsourcing experience appreciating all types of technology methods whether standardized or non-standardized. Their major limitation is their isolated location that complicates business to travel.
The typical hourly rates range from $100-$150, depending on the size of the company partnered.
Software Outsourcing city hubs: Melbourne, Sydney, Wellington
4. Europe
This is the largest region with a higher number of software development companies and with higher economies. Their IT sector typically believes in onshore outsourcing as paying wages to local developers is a cost-effective method. They follow GDPR and thus the security level of data outsourced is high. They offer qualitative but very expensive services. Their offered services are mostly concerning the local needs of their businesses and not global. However, eastern European countries are comparatively cheaper than those in the West and countries like Poland, Belarus and Ukraine. They have a very large IT sector providing nearshore outsourcing services to many western European companies.
The typical hourly rates range from $35-$175, depending on the size of the company partnered.
IT hubs: London, Paris, Berlin, Amsterdam
Software Outsourcing city hubs: Warsaw, Kyiv, Minsk, Kishinev, Sofia, Prague
5. Latin America

Latin America is an ever-expanding region with software outsourcing destinations that are exponentially growing at a good rate. From a medium-sized market, now they have over a million software developers and a striking volume of projects and developers to choose from. They have a large outsourcing market supported by the government but their policies are varying and so there can be a devalue to the services they offer.
The typical hourly rates range from $40-$70, depending on the size of the company partnered.
Software Outsourcing city hubs: Monterrey, Mexico City, Tijuana, San Juan, Belo Horizonte
9. Importance of Software Agreement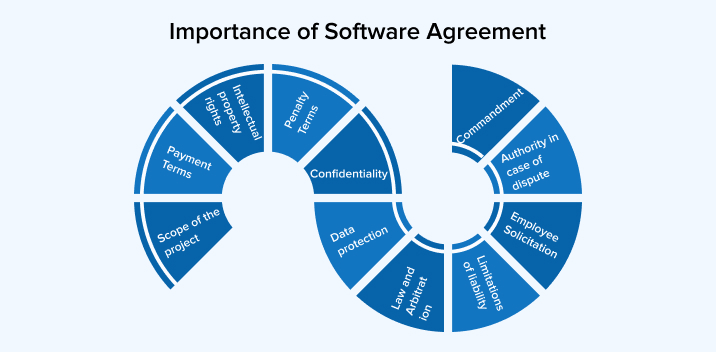 Every business that seeks help from another business is bound to sign a legal contract. This contract is briefly called a Software Development Agreement. To prevent the event of future disputes, it is important to create roadmaps and mention each party's legal duties and rights.
A Software / Project Development Agreement is an agreement between two parties, one (the company that pays) and the second (the supplier company). To elaborate, this agreement is ascertained to abide by rules that govern the provision of assistance, support, and maintenance facilities during the development of the entire project. Businesses may have multiple questions as they plan to outsource an offshore company. Their development process should be fixed with structured intellectual property rights for businesses. It should clearly state what should be made public and what should not be, ownership of source code, patents, terms and conditions, and similar vital issues before completing the outsourcing process.
To put more light on this, when businesses consider outsourcing, there are agreements bound by rules which should be abided by both parties. There are two types of agreement
Project/software development agreement
Non-disclosure agreement
As per the business needs, a company might need to work with cross-border companies. Because of the different rules followed in each country, these agreements are difficult to enforce. This makes companies hesitant to work with offshore businesses. That is why many companies prefer to work with offshore companies that have registered offices on-site. This makes the agreement easier to enforce even in case of disputes.
Scope of the project
In general, everything from technical system designs, development tools, methodology, or any other systems required to complete the project is included in the scope of the work. Besides, everything required during development, and post-development support is also included. It also includes technical documentation agreements like all hardware support, source code repositories and hosting support repositories.
Payment Terms
It also considers the convenience of payment when the scope of work is decided. The payment models can be fixed based on the requirements. Businesses can choose a monthly cycle for payment or can adopt a fix-price model or a pricing model based on the material used and time invested. The choice of the payment model should be done at the time of the software agreement and included in the agreement at that moment.
Intellectual property rights
The intellectual properties of a business include the right to a patent, trade-marks, IP access, copyrights, topography rights, data extraction from database rights, the right to protect source code, and other forms of equal property rights. This impacts the business ecosystem when outsourced. These norms have the same effect and may persist to have similar rules anywhere in the world.
Penalty terms
In any case, If the performance of the request is not met or there is an incident of a data breach then for any penalty payable, enterprises must be prepared for this damage. In such instances, if both parties agree on a penalty amount, companies can fix it. Businesses can have fair compensation if the business needs are not met.
Confidentiality
Customers often have to disclose business secrets while providing company requirements to the custom software development company. Customers and suppliers must agree not to disclose any type of project information, business models, market strategies, trade secrets, know-how, patents, copyrights, financial information, sales distribution strategy, internet and e-commerce strategies or any such information which may be written. In the software agreement, electronic data can be collectively referred to as "Confidential Information".
Data Protection
Over time, a company may have gathered a lot of information such as personal information such as name, address, email ID, phone number, etc. Law has kept it mandatory to keep this information protected. There are heavy financial penalties in countries such as the US and UK in the event of violation or misuse. The European Union has GDPR rules of its own. While outsourcing providers of software development services may gain access to data for development or maintenance. To prevent future disputes the role and responsibility of suppliers related to data protection should be clearly defined in the development agreement.
Law and Arbitration
Businesses have started including a clause of arbitration in every software development contract created nowadays. Arbitration is generally an out-of-court proceeding wherein a neutral third party element is called an arbitrator. He/She hears the allegations and evidence of both the parties and makes a binding decision. This is an alternative method to resolve disputes by adding a clause for arbitration in SLA.
Limitation of liability
Here it is provisioned a clause in SLA (Service Level Agreement) that specifies the amount and type of damage caused by each party to other undertakings in different circumstances. It is essentially a duty to compensate for some failure to function when the service's development needs are not met. However, a service provider can always put up a condition for maximum penalty applicable depending on the cost of the project.
Employee Solicitation
If the recipient has significant access to the outsourced company's developers, then companies may want to include a provision concerning the same in their Software Agreement. This could restrict clients from employing service providers employees and vice-versa for at least 12-24 months. Sometimes, the other party may not agree to do so. Having a policy in that reference can restrict the customers from hiring the employees of outsourcing companies. This can also apply to employees working on offshore projects based in different countries.
Authority in case of disputes
In the event of any dispute between the parties, the undertakings should be aware of the fact that the case will operate at the place of jurisdiction referred to in the agreement. If the manufacturer is offshore and the court location is your location, then it is always helpful.However, if the supplier refuses to appear in the court, in case of any dispute, then it is challenging to enforce the agreement. Hence, you should include this also in the clause.
If the judicial location is the location of the supplier, then the local court can always enforce the agreement, but there will be a huge loss of time and money in traveling several times and hiring lawyers at the location of suppliers. So it is always advisable to deal with a software company that has a registered office in your country while outsourcing work to offshore companies. Also to maintain the judicial location as a single country for the supplier and your company. This will be beneficial for both parties, as they can easily enforce the agreement in the event of any dispute.
11. Commandment
By adding a clause that gives you the right to injunctive relief, you can protect the business from breaching the agreement. This clause simply says that the other party can obtain the permission of a court against the disclosing company and can prevent the violation act from them. In the case of money issues, injunctive relief is quite a late move.
10. NDA in Software Outsourcing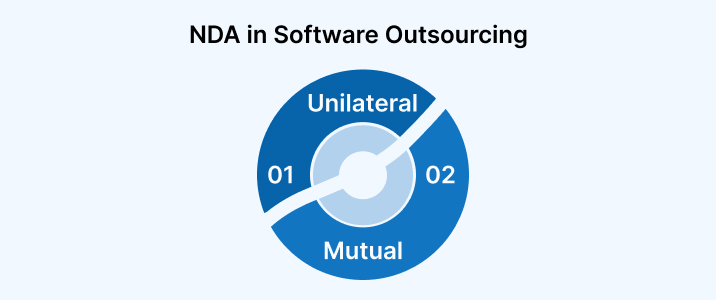 NDA- commonly known as Non Disclosure Agreement is another type of software agreement used in software development business to prevent businesses from any disputes related to confidential and proprietary information during the outsourcing business at the time of engagement.
Keeping in consensus all the business requirements, criteria and time in this agreement for two businesses. The agreement can include a list of information that the customer wants to keep confidential. This agreement is not limited to business plans or source codes or software products or any analytical details only. These facts can not be made public. But what they want to keep secretive under the NDA norm and what they want to keep public depends on the company.
Some of the fundamental factors of a Non-disclosure agreement include
A preface to both the parties and their business backgrounds
To determine the confidentiality clauses like what should be kept confidential and what not
The term limit of the agreement
The inclusions and exclusions in the agreement
Penalties in case of not abiding by the clauses of the NDA
Types of NDA
1. Unilateral Non-disclosure Agreement
Unilateral NDA, as the name suggests, is a one-way NDA where there is a contract between the two parties. The sole owner of the information is the first party (the company that is partnering to outsource) and they release it to a second party (the recipient). The recipient signs the document and agrees to maintain the project's confidentiality without manipulating it or leaking it to any third party. Agreements should include these mandatory clauses wherein no confidential information will be used for their benefit. Most freelancers and consultants prefer to choose such agreements.
2. Mutual non-disclosure agreement
The mutual NDA is for situations where confidential information may be shared by each side and maybe agreed upon to keep it confidential. This kind of NDA is generally done as it is considered fair to both parties.
3. Terms and Conditions of Agreement
Just like other software agreements, an NDA also comes with terms and conditions and it is considered to be an essential part of an NDA. While creating an NDA, it is equally important to crisply maintain the terms and conditions to be ideated and included in the agreement. When reading an NDA, these are some of the fundamentals questions whose answers should be
How long should the NDA last?
What is the reasonable timeframe of the term?
Which of the proprietary information will be included in it?
What's excluded from treatment for confidentiality?
What are the obligations of the agreement and its confidentiality?
If you get answers to the above-mentioned questions then you will have a clear perspective of what is included in terms and conditions of the NDA and what not. These questions are vital because, after certain years the cost of obligations rises and depending on the industry the agreements keep on changing.
4. Deemed Confidential
The elucidated form of which information is to be transmitted through a Non-disclosure agreement is precisely documented to prevent a company from any violation. This NDA section clearly states which data is confidential and which is not confidential. This section will elaborate on a better understanding of data without any confusion or loopholes on the revealing party.In particular, oral information concerning the pact always leaves both parties in ambiguity.This oral information of the disclosing party has to be confirmed in a written format to notify the receiving party of what needs to be kept confidential. This is termed as deemed confidential.
11. Benefits of Software Outsourcing to India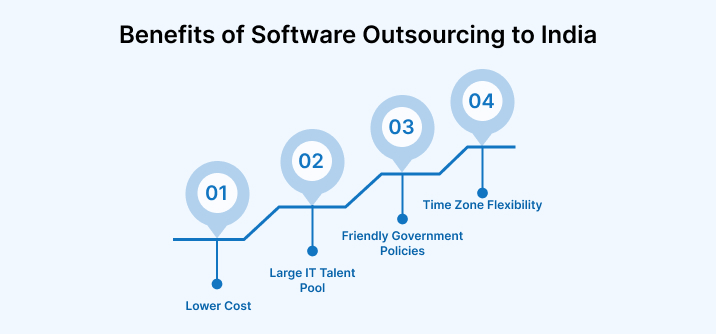 As most of the industries are embracing the technology revolution, every business wants to come out as an emerging technology company. To do that, businesses may need help from other businesses to grow. Many countries consider India as one of the most favorable and renowned destinations for outsourcing but what does that business think is India capable of offering? Let's dig deep to understand what lucrative benefits software outsourcing to India can offer to other businesses.
Pricing Benefits
The cost factor has always been one of the most influential factors for businesses to outsource. India offers significantly higher and qualitative services at a cheaper rate compared to western countries. Their flexible pricing structure suits every business need from a small size to a higher level.
Large IT Talent Pool
With the abundant amount of talented resources available in India, there is undoubtedly no work that software outsourcing companies cannot offer. The workforce in India possesses the requisite expertise to provide the best technology and infrastructure services with adequate knowledge of cutting-edge technologies that are changing business dynamics every single day.
Friendly Government Policies
Democracy in India is extremely supportive of cross-border businesses and their stable democracy always advocates friendly government policies. Subsequently, India has the maximum number of certified ISO companies which adds to their authenticity of work and offers superior quality and high-performing applications.
Time Zone Flexibility
In India the time-zone is an added benefit offered to businesses that outsource to India. The 12-hour time difference between India and countries like the USA and Canada enables us to tap on every opportunity and improve time-to-market, efficiency, and productivity. India is a flexible option available for all countries by offering 24*7 services.
Software Industry Size
There is a massive expansion of technology through major technology companies such as Accenture, Infosys, IBM, TCS and Wipro with their skilled employees all over the world. They developed their model of software outsourcing and emerged as a leader in the field of the software industry. This is a clear illustration of why India is the most popular option for outsourcing software. Also, India offers wide-ranging custom software outsourcing services that encompass the development of software applications, system integration, business process management, business intelligence, database management, and consulting services.

12. Important Steps for Software Development Outsourcing

Once you have decided that you want to outsource, now it's time to select a company based on the competency and capability of the business offerings. Keep in mind that it is a process that takes time to become a fruitful partnership for both sides. Here, we have gathered some software outsourcing best practices that each customer should take while outsourcing software operations to minimize risks and find the best outsourcing company.
Determine your needs
Outsourcing has countless benefits that it offers to businesses so how should a business decide on which company to outsource. Once you determine your need, align it with the outsourcing companies' business offering and you will find the answer to your question. To answer this, the most common concerns that customers bring to the outsourcing provider is:

Lack of company reliability
The cost of offshore labors
Understand which projects require external software developers
The need to hire developers that can work independently.
Find the target outsourcing location
We have simplified this section by portraying a crisp difference between multiple outsourcing regions, their pros and cons in the previous section. That will make you understand their hourly rates, which industries they serve and everything about the location. Find an ideal software development outsourcing company according to your needs.
Get to know the vendors
To fetch an outsourcing partner is a herculean task but the following few steps will make this process simpler and effective.

Start with searching about the company, read reviews, ratings, domain and technology expertise, and portfolios.
Drop an initial email to get in touch with the officials and propose your business requirements.
Once there is an agreement, discuss NDA, project estimations, payment methods, delivery schedules, etc.
Pay minute detail on communication and response time.
Do not forget to do a vendor comparison for getting better options from the breed.
Decide on the collaboration model and kickstart your project.
Test the skills of employees
Testing the skills of the software outsourcing company is imperative to understand whether they will be able to process your idea into a real-time working web and mobile app. Ask for a demo, or a pilot project from the employed resources and this will give a better picture of how the partnered company will provide software development services.
Befriend your outsourcing team
Being cordial with the outsourced teams will benefit the business in the long run. A friendly working environment and collaboration is a boost and motivates businesses for long term engagements.
13. Sum up
To conclude the whole discussion on why businesses should prefer to outsource drills down to multiple advantages that can be harnessed from software development outsourcing. From results like improved productivity, agility, and sustainable business outcomes, software outsourcing is a new norm for the majority of businesses to concurrently manage their mundane operations and other essential business functions. Every outsourcing business out there is ready to listen to your custom software outsourcing demands and fulfill them by their tailored business offerings. So why wait? Go ahead and exploit the opportunities.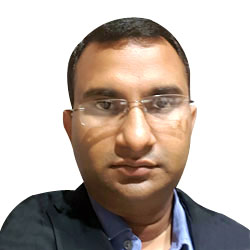 Kamal Sharma
Kamal Sharma is a VP of TatvaSoft which is a custom software development company. He is an accomplished Business Strategist and Tech Visionary with wide-ranging experience in the technology sector. He leads the business operations of the company and creates vision & strategic goals for his colleagues.
Related Service
Software Outsourcing
Know more about our Software Outsourcing Service
Learn More
Subscribe to our Newsletter
Signup for our newsletter and join 2700+ global business executives and technology experts to receive handpicked industry insights and latest news
Build your Team
Want to Hire Skilled Developers?