Software outsourcing is a multi-dollar market, and the market is propelling with a speed beyond imagination. There is a surge in the adoption of outsourcing software development and is anticipated to grow in the upcoming years too. The reason is apparent, that is because of the benefits software outsourcing providers offer and how the outsourcing industry has evolved.
In 2019, this IT outsourcing market has reached 92.5 Billion dollars and has not seen any lower figure even in the year 2020. – Statista
Growing business is not a cakewalk, they need to strategize ways to achieve benefits from it. More and more companies are outsourcing their software development needs nowadays. Business process outsourcing is also evolving very rapidly. With benefits like reduced costs, huge numbers and easier access to talent, and potentially faster time-to-market, it's no wonder that outsourcing software development projects are gaining traction. 
However, businesses are in a dilemma on how to manage and harness the benefits of Software outsourcing services for businesses. To bring a resolution to this, we have decided to help businesses of all sizes from startups to medium size to enterprise-level businesses. Let us create an exploratory blog for all types of businesses who want to leverage the services of outsourcing providers. 
Here are some of the Software Outsourcing Best Practices curated through research, analysis and real-time experience of our customers. We will discuss each one in detail
Table of Content
Now, these were some of the best practices which we will be discussing in detail. This will be an insightful experience for all the business entrepreneurs, established leaders and small-large business owners. So, let's delve deeper into each of these best-fit practices.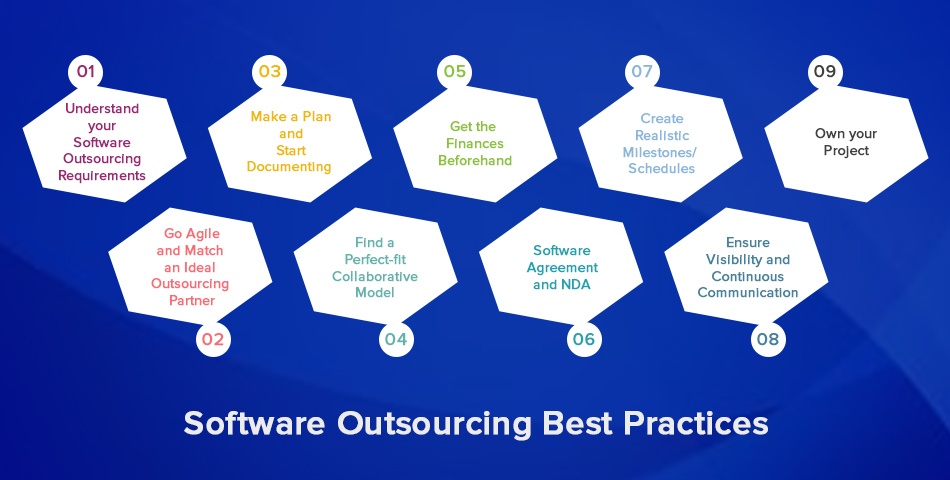 1. Understand your Software Outsourcing Objectives
The first step in this best practice approach is to understand your business objectives. Conduct deep research for your own business to analyze if they need software outsourcing partners for your unique needs or not. This is a very crucial step because it can impact your overall software development process. A sizable portion of your many companies think that this a profitable approach to outsource but until your business needs it. 
Software Outsourcing is not generalized. This means that it is not fixed that outsourcing will benefit all types of businesses. Project success also depends on many other factors. Hence, it is said to validate internally whether your business needs. 
For instance, we see most of the software development companies turn to adopt cloud services for their businesses. But if you perform exemplary in developing web applications with low storage needs then there is no point for businesses to invest in cloud computing or services. You should consider an outsourced team which must fit your project requirements.
The fundamental reason for outsourcing is to make business teams free from monotonous work so that they can focus on the strategic aspects of businesses. Teams will be more productive and more efficient to deliver projects on time without compromising on quality. It is essential to define project scope and requirements.
2. Go Agile and Match an Ideal Outsourcing Partner
It is imperative for businesses to choose an ideal outsourcing partner. Choosing a partner is elaborately explained in How to Choose a Vendor?. Vendor selection process is a very crucial step. But it is very important from a business perspective that the needs are met. Other than meeting your needs, it is also important to verify the business you decide to contract. There are various ways of verification like online reviews, technical skills, business portal, client testimonials, their own website and others.
Most organizations are using agile methodology for more successful completion of projects. It's a modification- driven approach which allows a business to incrementally change their final objective and delivery models. 
Using the Agile approach in the business, companies can get multiple benefits such as:
Effective Team Management
There is no strategy required for businesses when they adopt an agile approach because experts of the projects take care of everything. They are proficient and are hired in the approach who outperform and deliver outstanding results.
Concurrent Workflows
Agile follows a continuous methodology where multiple tasks occur at the same pace. This saves time and offers businesses more strategic benefits.
Higher Efficiency
The whole Agile team is responsible for estimating, planning and delivering the workload, unlike in conventional planning, where a PM plans everything independently. As a consequence, both its planning and execution are the responsibility of the team that knows the project. It increases the chances that objectives will be clear and achievable.
Ideal Desired Product
The time and budget are fixed according to Agile software development, and the product is delivered iteratively. The product is tested after each iteration. The team or the customer can make changes if necessary and repeat the process.
3. Make a Plan and Start Documenting
When we say make a plan, this clearly means start defining a timeline on how to execute the project. This plan should be a balance between timely deliveries meeting quality benchmarks.
Also, it is very important for businesses to document each and every minute details when collaborating with a third party company. Non documenting the process can lead to communication gaps and failure for a function and wastage of time.
Make sure your list matches the specific criteria of your business objectives and plan accordingly. There can be multiple people you deal with for your project and they may have different roles and duties to perform. Thus documenting the details will be helpful for businesses in the longer run. This will be a futuristic ideology that will help businesses identify essential criteria.
4. Find a Perfect-fit collaborative Model
To find an ideal match leads companies to outsource in order to overcome development constraints such as delivery delays, mission-critical bugs, hindering growth, and slow digital transformation. Businesses can choose any kind of outsourcing model that best suits their company and their needs.
As per the standards, businesses can collaborate with other businesses based on three major types of model
Dedicated Team Model
In this model, businesses have access to specialized teams who work dedicatedly for them. A fully functional, talented pool of resources will be fully committed to your business to upscale its technology arena to a much higher level. These are a few of the advantages of the dedicated development team.
Fixed Price Model
Before partnering with a software outsourcing company, there is a fixed budget assigned to the team. They have to work according to the budget, scope and duration to achieve that goal.
Time & Materials Model
A specific amount is decided for an hourly or monthly basis and as per the materials use and time invested, IT outsourcing businesses charge.
5. Get the Finances Beforehand
Once your bank upon an engagement model, it is now time to estimate the budget. You also need a budget for scheduling, the hiring of resources and other efforts of the project.
You should have a fixed budget keeping all these criteria in mind. It doesn't mean you should go cheap with outsourcing, your business should be prepared for any unforeseen events. There should be a budget for such occurrence of processes which may demand to spend some extra budget.
6. Software Agreement and NDA
Ask relevant questions to the Software outsourcing business. Security of data and apps developed is an integral part of custom software development. Create strict service level agreements to make sure that your projects get all expected benefits and improve the business environment. Ask about intellectual property rights, know about their internal policies so as to understand how securely they deal with data.
You must take care of how a business adheres to the standards of DPA (Data Protection Act) to understand cyber-vigilance and safeguard the development environment. It is prudent for businesses to develop apps with the utmost security and standards. During  contract negotiations, it is also important to manage the outsourcing relationship with the outsourcing team.
Our advice to this would be to draft a software agreement to overcome this overarching challenge. If you want to safeguard your business from any data breach or security concerns that may arise later in the phase of development or deployment. Then, make a Software agreement or an NDA between your business and third-party business. This helps business to secure their ideas and business plans.
7. Create Realistic Milestones/ Schedules
We all have heard that "To error is to humans". This means as humans we make mistakes but to identify the error at the right time can turn a bane into a boon. It is always good practice to constantly monitor tasks because that would lead businesses to save their cost, time and resources. Because the development process goes wrong anywhere it will ruin the whole objective of development.
Thus it is advisable to make a realistic target or milestone to achieve. These will be like mini objectives that keep a continuous track of what function is developed at which sprint. Also, how the development of the next functionality works for the existing ones.
8. Ensure Visibility and Continuous Communication
In the software Outsourcing sector, especially in offshore outsourcing, it is essential to maintain two-way communication. Continuous communication will solve major technical challenges and align business with designated objectives.
Make sure you use a transparent channel for monitoring business activities, this will build a strong alliance between both the parties. Managing outsourcing relationships with service providers is crucial to avoid significant risks. Start with communicating goals, add daily tasks list, take an update on tasks completed,  Ask questions and seek clarification to all unclear aspects. This approach will build your app to be robust and super-efficient.
9. Use Project Management Tools
From the scratch of your project, it is advised to manage the timeline, budget, project status, resources and all other vital factors necessary for the project. Project management tools are an efficient way to collaborate and get visible access to ongoing processes. You can streamline, collaborate, share files, keep tasks on hand and stay informed about each aspect of the project timeline.
Examples of best Project management tools are Asana, Jira, Trello, Proofhub. These powerful tools give you solutions to complex management problems.
Final Words
Finding a Software Outsourcing company that matches your needs is like a silver lining for businesses who want to expand and grow. It is a lengthy and challenging process to find a perfect fit. And that's the primary reason we decided to portray our expertise into a blog and craft the best practices that would help progressive business. Collaborating with a business is not an easy task, we hope these steps will help you find an ideal partner for your business needs.