Businesses are completely wrapped under the thought of reinventing their business effectively with more intelligent operations and streamlined business processes. For this, they have found an interesting and smart way of doing it i.e- Outsourcing. India has been their most preferred destination for software outsourcing or any other type of outsourcing services.
Most technology giants like Google, Microsoft, and Apple are scaling their businesses by outsourcing their secondary services to Indian outsourcing businesses. And the responses are overwhelming because the outcomes are progressive and surpass the expectations.
The reason for considering India as their preferred outsourcing destination is because of many reasons. The first and foremost is cost-effectiveness, efficiency, a talented powerhouse of resources, and proven results make India one of the top outsourcing destinations. So, if you are a business impressed with the superior results surfacing on the web, then it's time for you to have a reality check. Let's deep-dive into the strengths and weaknesses of Outsourcing through this blog. To start with putting some limelight on the universally accepted definition of Outsourcing.
1. What is Outsourcing?
Outsourcing refers to the practice of contracting out services or job activities to a third party. An outsourcing endeavor with a technology provider in information technology can include a wide range of functions, from the complete IT function to discrete, readily defined components like disaster recovery, network services, software development, or quality assurance testing.
Enterprises have an option of outsourcing IT services either inside their own country-onshore, or to another country in the same time zone which is called nearshore outsourcing, or to another country that is a more far away country which is called offshore. Cost-cutting has long been a goal of nearshore and offshore outsourcing.
There are many new-edge technologies whose services can be harnessed under the hood of outsourcing services, So, here we are going to see all types of latest outsourcing services that have successful outcomes in the market.
2. Most Common Outsourced Services in India
According to clutch Small Business Outsourcing Statistics Businesses most commonly outsource more technical tasks, including their accounting (37%), IT services (37%), and digital marketing (34%) responsibilities.
2.1 Mobile App Development
Here is what a Quora professional Max Titov has to say about Why one should outsource Mobile app development.
Nowadays, one of the most popular reasons for outsourcing Mobile app development is because the world is drowning in smartphones and smart apps. Every minute there is a new innovation that keeps you in a dilemma whether to use this current one or move ahead with the latest one. Your innovative and unique mobile app idea can be accomplished using an outsourcing app development company with all of the necessary features and functionalities that make it a success. Whether you need native app development or cross-platform app development, you can get it done quickly and easily by outsourcing service providers.
2.2 Software Development
As previously said, India is a global leader in the IT outsourcing industry. Multinational corporations can fill talent gaps by outsourcing software development, app development, and web development to India. Software development outsourcing has become a popular trend when it comes with multiple unpredictable benefits apart from getting access to top-notch professionals. Outsourcing software development is a resolution to cut down on operational costs in favor of your company's development process. Apart from receiving greater profits, engaging in software development outsourcing brings more professional experience too for the company. You can also accomplish the time of finished projects with efficiency in tasks and execution too. And the best of all is to tap into a large pool of IT expertise.
2.3 Digital Marketing
The ever-expanding scope of Digital marketing is the reason why most businesses are outsourcing Digital Marketing. Being present in the digital ecosystem isn't sufficient for any brand. They need to establish a presence, become visible online, and make a lasting impact on their users. This is why internet marketing is so important. Outsourcing digital marketing services can help you develop your online presence and raise online exposure in order to generate higher sales. Similarly, SEO outsourcing- an integral part of Digital marketing has gained a lot of focus and popularity in recent years. This has allowed businesses to avoid difficulties while saving a lot of money.
2.4 Information Technology (IT)
In software outsourcing, IT outsourcing is very common. You can also call them IT outsourcing. With the increasing need for software technology and digital platforms, it is very important to stay ahead of the competition in the corporate sector by making the right use of Outsourcing services. IT outsourcing can considerably assist firms in gaining a competitive advantage. IT services necessitate specific knowledge as well as the right tools and technology. As a result, there is an inherent requirement to train personnel and establish the necessary infrastructure. This procedure can be both costly and time-consuming.
Enlisted here are some of the essential IT support services required by any industry such as
Technical Support, Software Development, Website Development, and Mobile App Development.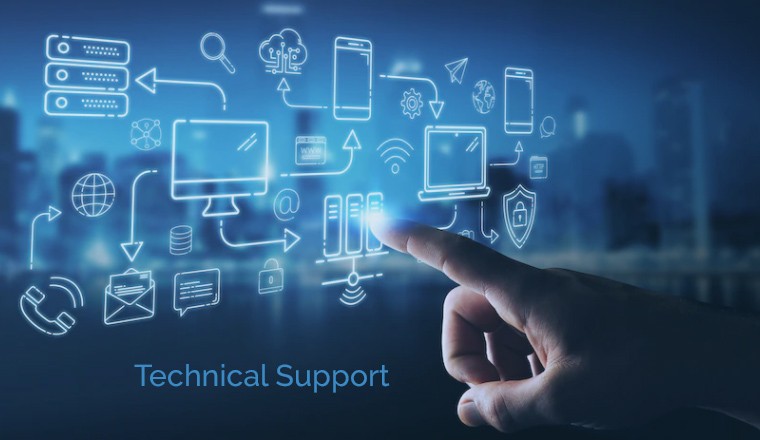 Several organizations prefer to outsource to India and the reason behind it is that the Indian software sector has competent software engineers and already has the requisite infrastructure in place.
2.5 Knowledge Process Outsourcing (KPO)
Another popular term that made Indian outsourcing more popular was the successful outsourcing benefits of KPO companies. Yes, during the initial years, the KPO industry boomed with the integration of outsourcing in it. Basically, KPO entails the outsourcing of fundamental, information-related corporate functions.
The following are some of the most important tasks that necessitate information processing:
Financial and Investment Research
Research and Development
Data Analysis and Interpretation
To do these high-level duties, one must first grasp the nature of business and the underlying technology. It also necessitates the processing of massive amounts of data. As a result, it necessitates a workforce with advanced degrees and competence in specific fields. This necessitates a significant investment of resources, time, and effort. In such a case, it is more practical for enterprises to outsource.
2.6 Customer Support Services
The last but not the least common industry of outsourcing services is Customer support services. Whether you own an e-commerce site or a software development firm, you must answer your customers' demands and concerns. However, handling a large number of client calls and responding to their emails can be time-consuming and exhausting.
You can engage call centers to attend to your client's demands because it is not a particularly technical duty. They will have all of the committed employees and technology required to provide round-the-clock service. This frees you up to focus on important business activities that require the involvement of your employees.
3. Pros Of Outsourcing
One of the most pivotal reasons why businesses consider outsourcing is because of the advantages it offers to enterprises. Outsourcing is becoming more common in the commercial world whose demand has skyrocketed. Consider it a basic process, an operation in which tasks normally performed by your workers are performed by someone else outside the organization. Largely, there are many benefits that outsourcing offers, and here are some of the major benefits.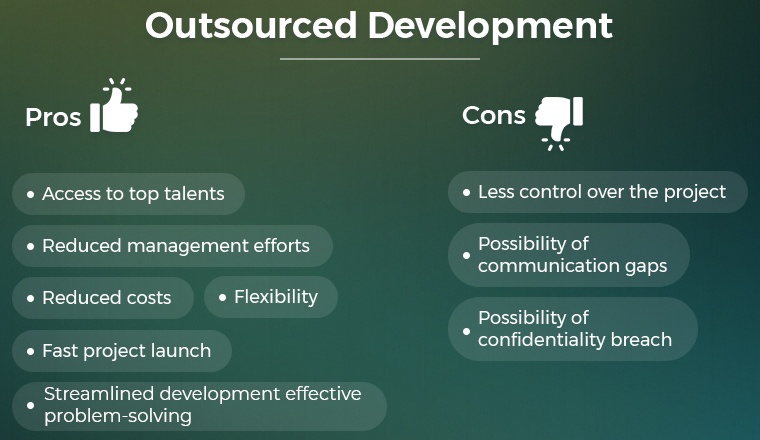 3.1 Large Talent Pool
This becomes one of the popular reasons why businesses want to outsource to Indian service providers is the availability of a vast pool of skilled professionals. The scarce resource pool has never been there in India. Every year, India's various colleges and institutions produce a large number of qualified professionals. Most of them are well-versed in world-class business methods and cutting-edge technology, allowing them to complete their responsibilities efficiently.
This ensures that Indian outsourcing companies have access to the necessary skill sets to continuously deliver high-quality work. The professionals in India work as per the client company's geographic timings and offer help 24*7. USA, Canada, and Australia are some of the major countries benefiting from the time difference and these talented pools of resources.
3.2 Cost Savings
One of the biggest perks of contracting Outsourcing services to Indian companies is that it boosts your bottom line. It is like when you have fewer expenses to pay along your value chain, the total cost of goods or services offered can be lower. This technique boosts your brand's customer competitiveness. The cost of labor is one of the most significant expenses a company incurs each year. Payroll costs can account for more than 40% of a company's total budget in some cases. By choosing to outsource, you get access to a global pool of professionals whose financial standards of living may differ greatly. An IT expert in the United States, for example, makes roughly five times the wage of an entry-level IT worker in the Indian outsourcing industry.
3.3 Well-Developed Infrastructure and Technology
Infrastructural investments are one of the smartest investments that companies should make. In short, If you are a business whose revenue is based on varying projects and their demands. Then you must not invest in infrastructure for your business. One of the largest benefits of outsourcing is that you can scalably use infrastructure without spending millions on it.
Instead of partnering with a software development company, this may help your business to not just save on cost but also face other issues efficiently too. You will no longer have to overcome causes of delays, or occurring slew because of issues. Everything will be managed by a third-party outsourcing partner. There are numerous IT outsourcing companies in India that can assist you with your outsourcing needs. Even startups and SMEs in India are now utilizing innovative technology tools to create exceptional web solutions. Even when investments are made, the gap can still be too high. The reason for this is that power capacity is being stretched as a result of international connectivity. So, you as a business will not have to suffer anything.
3.4 English Proficiency
If we go by the statistics, then India's English-speaking ratio will radically increase. There are over 300 million English-speaking people, and it is anticipated to have over 2 billion English-speaking people by 2050. This surely qualifies the language barrier as one of the fallacies surrounding outsourcing to India.
Also, compared to other countries, the ratio of English speakers compared to native speakers is more. Hence, businesses no longer have to seek an English-speaking country that charges more than India does.
It's time to see both sides of the coin, which clearly means if we know the pros, we must also know the cons.
4. Cons of Outsourcing
4.1 Cultural and Time-Zone Differences
One of the most critical reasons why businesses do not look for outsourcing is because of time zone differences and cultural barriers. Foreign businesses should be aware that cultural and time zone variances exist while outsourcing to India. Time zones can be an impediment, especially in urgent circumstances, as some offshore teams can take up to 24 hours to resolve a single issue.
Your resources will be free and can also adapt and accommodate the vendor's social and cultural traditions. This includes native language and accents, which cause communication issues between parties. One of the distinct things about outsourcing companies is that India produces maximum remote teams that speak English fluently.
4.2 Data Security Risk
Another essential reason for not considering outsourcing is the data security risk factor. When companies outsource, they may lack certainty about how your service provider will treat your data, putting your data security at risk. To address these concerns, Outsourcing companies have started considering introducing NDA- non-disclosure agreements with their outsourced service providers.
5. How to Find a Good Outsourcing Company in India?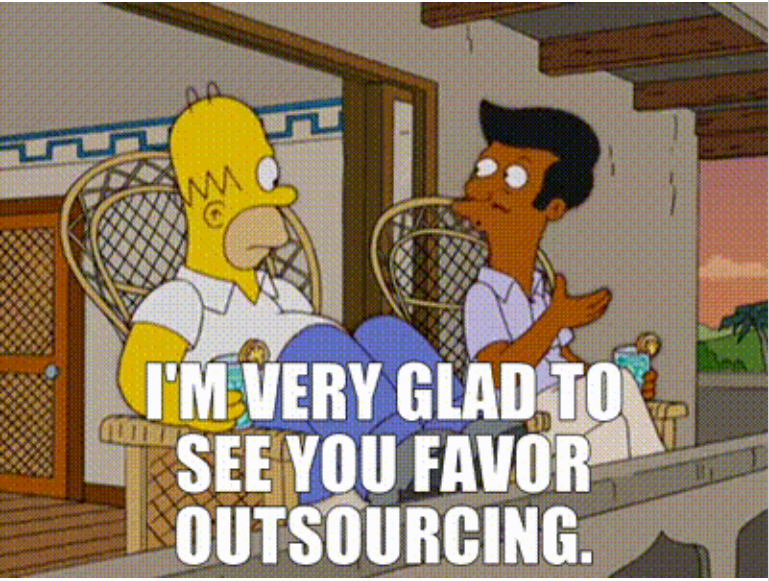 The process of hiring the right outsourcing company demands your business to do research. But, now that many businesses have already adopted outsourcing for their businesses, this process has become easier than before. This means you can easily go by client testimonials or get to see the actual project built or through similar other ways the outsourcing compass services can be testified.
There are major four steps to be followed to see if the chosen company is apt or not?
5.1 Define Your Project Requirements
Before you even start looking for the ideal IT outsourcing partner, sketch down a rough notion of where you want to go. You'll have a clear direction to pursue as well as a better understanding of the type of partner you need if you define your goals and have a decent idea of your project requirements. You'll know whether you require a partner or if an advisor or assistance will suffice.
5.2 Check For Proven Track Records
The second thing to bear in mind is to maintain track of the company's growth statistics. Analyze the company over the last few years to see how they've done and in which they are going. Learn about the kind of customers to whom they have provided software development services, as well as the number of projects completed.
5.3 Online Marketplaces
When you are looking for offshore outsourcing partners, some of the most obvious sources can deliver the best possible results. There are numerous readily available internet markets that make offshore IT outsourcing more accessible and manageable. These online marketplaces expose organizations to hundreds of vendors located all over the world in order to give the most relevant matchmaking and optimal outcomes for fundamental project management requirements. You can search by talents, region, category, services, and reviews.
5.4 Protect Your Data and Intellectual Property
Signing an NDA is a sure-shot solution for businesses to protect and safeguard the company data. With this, you can ensure that both parties can seal the information under this agreement. Your trade secrets, intellectual property rights, code details, and several other details are easily concealed under the NDA.
6. Key Takeaways
Finally, we have understood that as technology evolves, businesses also wish to remain competitive in this dynamic global market. You cannot afford to overlook the benefits of outsourcing and neither can ignore the cons. A leading software outsourcing company can assist you to gain a competitive advantage over competitors if you are seeking help or services from an Indian outsourcing firm. The Indian outsourcing market has companies offering comprehensive and superior offshore services with qualified professionals who are brighter and smarter performers.