Outsourcing started in the 1700s when manufacturers wanted to shift their business to another country and they hired laborers at a lower rate. In the modern era outsourcing software development plays a major role in the IT industry. It has always turned out to be advantageous if you know what benefits it offers and whom to partner with. Around the world, there are numerous best countries to outsource software development. In this blog, we have highlighted the top 7 countries as per the leading qualities that they possess and the characteristics that make each of the outsourcing destinations special.
Several companies have found success by outsourcing their software development needs. It can aid the company in cutting costs without compromising the project's quality. Several businesses have given serious thought to it, seeing it as essential to their continued existence in the online space.
If you decide to outsource domestically, though, the costs might already be high. As a result, if you hire a remote workforce or switch to offshore software development methods, you may finally get those inexpensive pricing.
The next big question is which nations are ideal for software outsourcing. This article will provide you an overview of the finest offshore software development countries to locate the best software developers working in the field.
1. What Makes a Country Good for Outsourcing?
The location to which you outsource your project will depend on several aspects, all of which should be taken into account. A company's decision to outsource is contingent on a number of factors, several of which are listed below.
1. Cost
Admit it: your money will be the determining factor in which nations provide the finest software development services abroad. When deciding where to locate a development team, it is helpful to get an idea of how much similar teams in other countries charge.
2. Technical education and skills
Without a doubt, that is a crucial consideration when identifying the top offshore software development destinations. You need the team developing your software to be well-versed in the most effective methods of ensuring high effectiveness, dependability, and protection.
3. Project-related technology experience
Experience with the associated project and technical abilities are preferred over academic credentials when hiring software developers.
Whether you're looking to recruit a Python programmer, cloud architect, or quality assurance expert, be sure to question them about their prior work with the necessary tools and frameworks. Your chosen technology partner should have no trouble setting up a technical job and interview for you, as well as providing references from previous clients.
4. Developers' ranking and rating
We seldom try new restaurants by placing takeout orders. This also applies to services, especially expensive ones.
Data research centers reliably gather evaluations and ratings from past clients to provide developer rankings that assist firms select the best nations for offshore software development. Among these aspects are the availability of resources, customer satisfaction, recruiting frequency, turnaround time, and so on. With this information, you may zero in on a more manageable set of results.
5. Resource availability
While deciding where to outsource, it's also important to consider the accessibility of necessary resources. Furthermore, we are not referring just to human resources. For many reasons, multinational firms may decide to alter or discontinue some service or product offerings in reaction to happenings throughout the world.
2. Best Countries to Outsource Software Development
Outsourcing has just opened up more and more opportunities for businesses to choose from the global companies with offices located anywhere in the world. When there are so many options then what restricts businesses from software development outsourcing. There are factors such as budget constraints, non-matching skill set, inadequate knowledge of technology. And lack of trust in the software development team, team located too far, and travel cost are some of the common reasons for a business to not choose software outsourcing.
In this blog we will be exploring multiple facades of outsourcing, what makes a country or a company an ideal destination for outsourcing. And lastly, all the positive and negative aspects of software outsourcing can be displayed to make the topic crystal clear for businesses of all sizes and verticals.
To start with let's see which are the most popular destinations for outsourcing and what makes them the most favorable ones. So, here we have curated a list of 8 countries that are the most preferred destinations for IT outsourcing.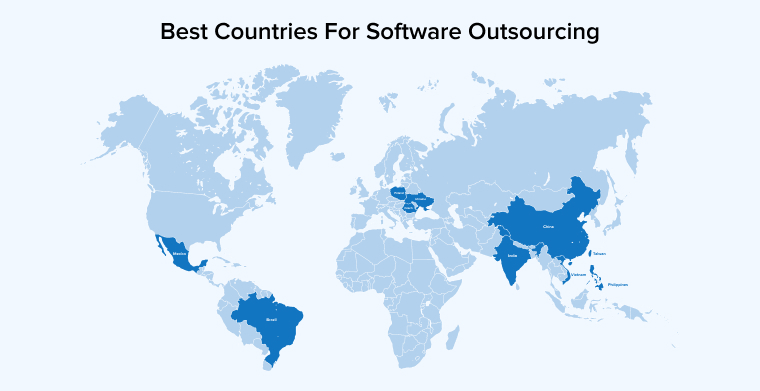 2.1 India
According to research by Statista– India is still the global leader in IT outsourcing.
It has been many years now that the Indian outsourcing market is constantly evolving and offering cutting-edge business services. It is among the top outsourcing destinations in the world. India owns a large outsourcing market with highly qualified software developers with high level of English proficiency. So the Indian workforce is smart, reliable, and tech-savvy which makes most businesses outsource their essential business functions. Every year thousands of excellent software developers graduate in India.
India is at the top, with an index of 7.07, according to outsourcing figures, followed by China and Malaysia, which have 6.31 and 6.11, respectively. It is worth remembering that when it comes to sheer financial appeal with lower development charges and inexpensive employees. The cost of IT outsourcing in India ranges from $12-$60 which may vary depending on the complexity.
India has its own characteristics of being one of the largest and popular destinations for software outsourcing and the reasons can be justified from the following perks that a list of Indian software engineers can offer.
Global talented Workforce
The Indian outsourcing market has a talented and skilled set of employees with high proficiency in English as well as technical and domain expertise.
Higher Infrastructural Excellence
With a large variety of technical service offerings, India offers businesses higher infrastructural benefits with the operational efficiency and software they have.
Favorable Government Policies
Cross-border trading is a convenient option for globalization and thus Indian government is quite liberal in terms of trading and development.
Proven Best Results
As a favorable outsourcing destination. India is in this business for the past two decades and has helped businesses boost profitability and gain rapid success.
International Worthiness
The quality of work and benchmarks achieved are no less compared to other countries. All the deliverables are developed using international standards and practices.
These reasons make India one of the best software outsourcing countries in the world.
2.2 Vietnam
Rising as one of the leading countries for outsourcing software development services. Vietnam has been ranking high with its rapid growth and high-quality service offerings. Their advancement in this sector started some two decades ago but now they host some of the big and humongous IT service companies from the race.
The main inclination towards this side of companies is the reliance and support in cross-border trading that these companies offer. Neighboring to China geographically, this country has shown 90% of lower product development charges with quality benchmarks and updated infrastructure services. The locals have a good educational background and in the technical background, they are immensely sound with AI and AI-enabled services.
It is also another affordable IT destination that can be hired for hourly rates in the range of $15-$45 per hour as per the project requirements.
2.3 Brazil
Brazil has been nominated for high GDP growth in 2020 at R$7.348 trillion, or US$1.363 trillion, according to the International Monetary Fund (IMF). In terms of GDP per capita, Brazil is the 83rd country in the world with a value of US$6,450 per inhabitant.
Brazil-one of the most favorable IT outsourcing countries for businesses to provide software development services. Additionally, it has been popular in offering all-inclusive software development services in almost all types of software development languages and technologies.
With over millions of English speakers, when it comes to recruiting a Brazilian developer to work on your app development project, connectivity is not a concern. The software development company with talented web development developers charge average hourly rates in the range of $20 – $50 an hour.
2.4 Ukraine
Ukraine proves to be the most promising and favorable destination among businesses who look for outsourcing and there are multiple reasons behind it. Best-in-class education and best tech infrastructure, talented software engineers with expertise in different programming languages, quality of work, value for money are some of the most vital reasons. So businesses consider Ukraine as one of the most favorable destinations for outsourcing.
Ukrainian software developers had an overall score of 88.7% across all HackerRank challenges, according to HackerRank statistical analysis. Other than that, the Ukrainian government focuses hard on the educational aspect. So they have a talented tech pool of IT professionals, they offer all types of cutting-edge services utilizing the technical expertise and largely speaking English speaking resources. Most of the large software development companies such as Intel and Microsoft are already investing in Ukraine to outsource software development services. This also allows other small and midsize businesses to take benefits of their services that offer software project success with a wide spectrum of software development services.
2.5 China
Unquestionably, whenever you hear of outsourcing you will hear China. One of the strong inclinations towards China is because they have been growing as a leader in offering all types of innovative services. The largest number of software development services that China has set up makes them a game-changer in the world of technology.
The industry size and IT outsourcing market of successful software development services are estimated at more than 30,000 professionals. With outstanding abilities rated at one and two- states HackerRank Programming Olympics.
The top 5 reasons why businesses prefer China as one of the leading locations for outsourcing is because of the following 5 points.
Lower labor cost
High-end tech-related services
Faster delivery cycle
Highly-Efficient
Flexible and reliable services
2.6 Philippines
To meet the demands of growing industries, the Philippines has also experienced a quiet revolution that has reshaped the outsourcing software development market. The IT Market in the Philippines is booming at a very fast rate. The country is culturally close to most western nations, although the third-largest English-speaking nation in the world is also glorified.
A leading university in the Philippines conducted a study that proves the English literacy rate of 94% calculated from over 30000 graduates with incomparable technical Proficiency and academic skills.
The most common reason for businesses to outsource software development project to developing countries like the Philippines is:
Language Proficiency
Talented Resource Pool
In budget software development programs
Exceptional work ethics
Stronger Government Policies
Time zone difference is a bonus point
2.7 Mexico
One of the reasons for outsourcing services to Mexico is because it is nearer to the USA as well as Canada. This makes Mexico a nearshore location for offering outsourcing services to countries like them. Mexico is an English speaking country and is considered to have a great diversification for each type of industry. From the electronics market to production, manufacturing everything is offered in Mexico.
These are some of the reasons why businesses tap on Mexico as one of the top countries in North America. Their outsourcing companies and resources make them more competitive in terms of pricing and benefits.
Mexican Cost-effectiveness
Companies operating in Mexico have access to modern infrastructure that is simpler and affordable.
Nearer Proximity and Demographics
One of the main benefits of having the advantage of economies of scale is to have all types of industry nearby. And the ability to cater to them with our skillset.
High-qualified Talent Pool
The country boasts a 93 percent literacy rate and it is the fact that Mexico's software developer is cheap, its workers are also qualified.
Trade Free Agreements
Mexico is one of the countries that is a strong exporter of goods around the globe. They offer a wide variety of trade-free IT services to countries partnered with them which has encouraged other countries as well to outsource. All these factors combined make Mexico one of the best countries for outsourcing software projects.
So, these were the best countries for outsourcing that may fit your need for outsourcing. With this, we have discussed all the major points which make these countries the top software development outsourcing destination. Now we will be swiftly moving towards what qualities make an ideal software outsourcing country/company.
2.8 Poland
While it is actually in Central Europe, Poland is more commonly associated with Eastern Europe.
Recent research indicates that Poland can compete with Ukraine thanks to its tens of thousands of highly educated software engineers working in over two hundred and fifty enterprises across the country.
Poland was ranked as the eleventh most desirable outsourcing destination in a study conducted by Kearney Global Services Location Index last year. The number of available software developers in Poland is substantial, and the country is also very inexpensive.
Poland is home to some of the biggest concentrations of these, with major cities like Warsaw and Krakow serving as hubs for the country's technology outsourcing industry.
Programming languages like Java, Structured Query Language, Python, and C++ are all widely used.
Clutch and Upwork report that the hourly pricing for offshore software development in Poland might be anywhere from $25 to $100. Affordable options in the $25-$50 range can be found in less populous places like Katowice.
2.9 Taiwan
In 2023, Taiwan has become one of the top outsourcing destinations in Asia. Taiwan is ranked as one of the top 50 mega nations for technology transformation, enterprise development, and business outsourcing services, and is widely recognized as one of the four Asian Tigers.
Both Clutch and Upwork list rates between $25 and $49 per hour.
Java, PHP, Ruby on Rails, and ASP.NET Core are all widely used programming languages.
Taipei is one of the nation's top high-tech hubs.
2.10 Czech Republic
In 2023, the Czech Republic ranks as one of the world's top outsourcing hubs. As a result of the low tax rate of around 19%, multinational corporations may confidently invest in the growing IT industry. There is a wealth of resources available to help students of all levels of study find successful careers once they graduate. Over 150 thousand software technology experts work in the nation each year, with Brno as the leading center.
This European nation is responsible for producing Google's Czech equivalent, Seznam.cz, as well as the widely used anti-virus program Avast, which works closely with Microsoft Windows, Android, and iOS. Games like Hidden & Dangerous, Euro Truck Simulator 2, and ARMA: Armed Assault are all being developed by Czech studios.
Clutch and SalaryExplorer report that the going wage for web developers is $25-50 per hour.
Java, PHP, C, C++, C#, Python, Ruby on Rails, and Swift are all well-liked programming languages.
Main Locations: Prague and Brno.
3. Final Words
Through this blog, we tried to portray the significance of the outsourcing task for every business. Before jumping into the hunt for a trustworthy service provider, consider both these countries and their specifications. If the project is of critical importance, not only would you need technical expertise, but you would also need appropriate guidance.