Are you looking for top software development companies in India?
If yes, We provide you with a list of top software developers in India that offer custom solutions to meet their clients' business requirements. There isn't any bigger market than India around the world. That's why most companies from the US, Europe, and other countries opt to outsource software development projects to India.
But it is extremely difficult to find the right software development partner amidst a highly flooded talent market. Therefore, we're here to help you crack that code. After conducting thorough research, we have measured almost every software development company in India using industry standards and customer satisfaction rates.
As per that, We were able to compile a list of top software development companies in India that can turn your ideas into reality or deliver tailor-cut solutions to overcome your challenges.
So, without any further ado, let us dive into the details.
1. TCS – One of The Top Software Development Companies in India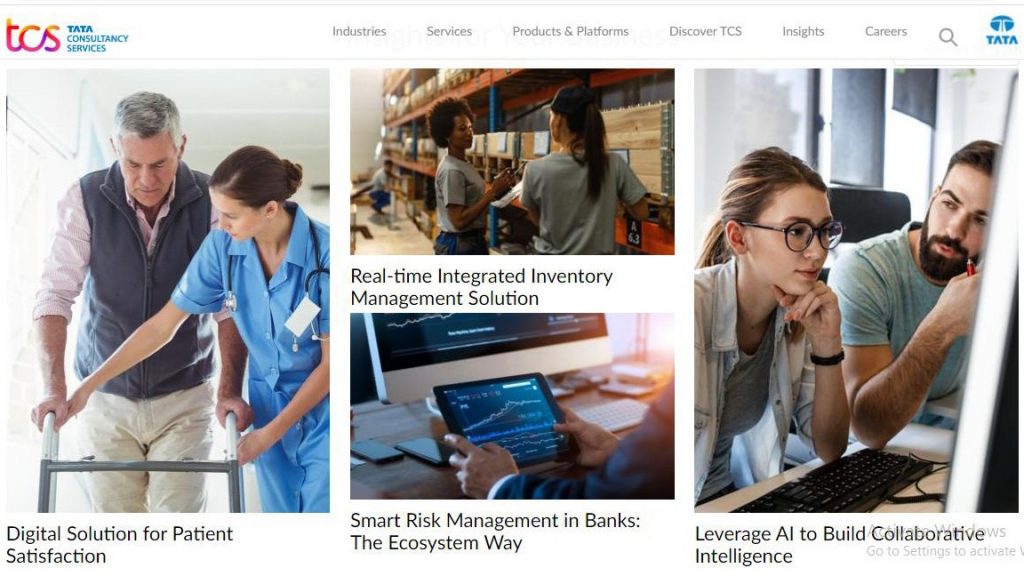 Tata Consultancy Services popularly known as TCS was established as a division of Tata Sons to help their clients create a better future and delivering innovative software solutions. To deliver the promised results and be the catalysts for change, this software development company brings the combination of technical expertise and business intelligence to the table. TCS is a global leader and the best software development partner in digital services, IT, and business solutions. They collaborate with their clients to strengthen, transform and simplify their businesses.
Although the size of this software development company is bigger than any other organization in the industry with 509,058 employees and representing 155 nationalities across 46 countries in the world, experts here believe that it is not the size that defines the winner in the software development arena, it is the customer experience that defines the brand.
This software development company offers its top notch-quality software development services in many industries including Banking & Financial Services, Consumer Goods & Distribution, Communications, Media & Technology, Energy, Resources & Utilities, Education, HiTech, Information Services, Insurance, Life Sciences & Healthcare, Manufacturing, Public Services, Retail, Travel, Transportation & Hospitality and more.
Some of the most popular software solutions provided by Tata Consultancy services are as mentioned below:
PRODUCTS
TCS BaNCS™
CHROMA™
TCS Connected Intelligence Platform™
TCS Customer Intelligence & Insights™
ignio™
TCS Intelligent Urban Exchange™
TCS iON™
Jile™
TCS MasterCraft™
TCS OmniStore™
TCS Optumera™
Quartz™ – The Smart Ledgers™
TAP™
PLATFORMS
TCS ADD
TCS BFSI Platforms
ERP on Cloud
TCS HOBS™
The TCS network is a group of TCS partners that help the software agency deliver the right solutions to their clients. It involves many business software providers, niche technology developers, and IT infrastructure vendors like AWS, Google Cloud, IBM, HP, SAP, Microsoft, Salesforce, Oracle, Actifio, Acquia, Adobe, Allotrope, Aodocs, Appdynamics, Apigee, and Appian.
The software developers at TCS are proud to say that they have become what they have always strived to be. But in the journey of becoming the world's largest IT consulting enterprise, there is so much that they have learned and applied n what they do i.e. The TCS Way.
When you take a look inside the TCS, one of the top software development companies in India, you will find innovation, continual learning, contextual knowledge, or a purpose-led approach to transformation. They are in it for good, shaping a better future, and scaling technology for transformation. TCS has made it possible by nurturing an enterprise-wide culture of innovation. Living agile is the TCS way. Therefore, they have the world's largest agile-ready workforce. And this workforce is capable of delivering various off-the-shelf and custom solutions for services as mentioned below:
Software Development Services:
Cloud
Consulting
TCS interactive
Analytics and insights
Internet of things
Blockchain
Enterprise applications Development
Cognitive business operations
Conversational experiences
Automation and AI
Custom Software Development
Web Applications
Engineering and industrial services
Cybersecurity
Quality engineering
Major clients :
General Electric, Sony pictures, Nielsen, Bank of America, Johnson and Johnson, Toronto Dominion (TD), Aviva, Terex, ABN Amro, Morgan Stanley, Toys R Us, British Petroleum, Walmart, SBI, ICICI, Deutsche Bank AG, SAP AG, ASML Holding NV, Infineon Technologies AG, and ABB Ltd.
Global Locations :
India – Office No: 104, Godrej Millennium, 9, Koregaon Park Road, Maharashtra – 411001
USA – 3010 LBJ Freeway Suite, 400 Dallas, TX 75234
Canda – 25th Floor, 400 University Ave, Toronto
United Kingdom – Fairfield House, Binns Road, Edge Lane, Liverpool L7 9NG
Official Website link: https://www.tcs.com/
Social Media Links:
2. Wipro – Top Rated Software Development Company in India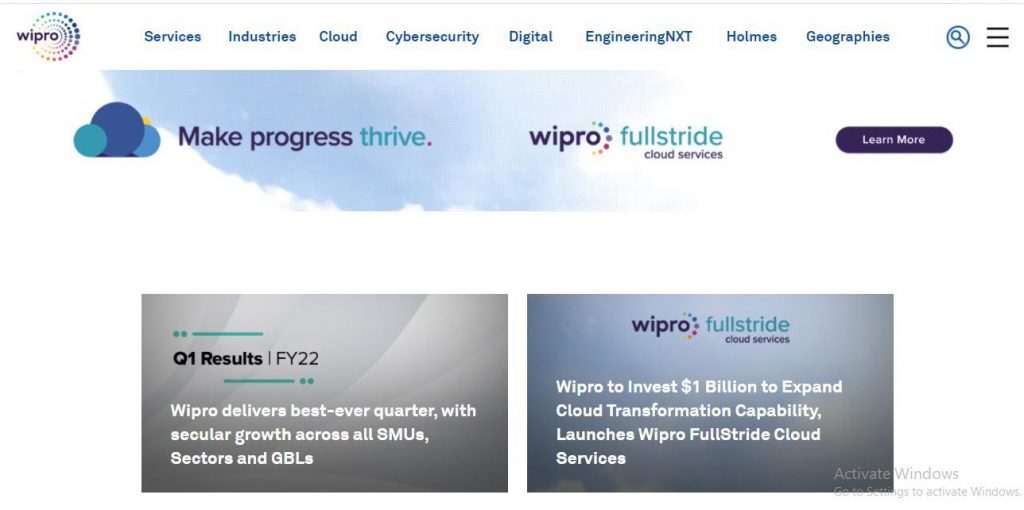 Wipro is a leading global IT, consulting, and business process services company. It is one of the top software development companies in India to help its clients become successful and adapt to the digital world by leveraging the power of emerging technologies like cloud, analytics, cognitive computing, hyper-automation, robotics, mobile apps and more.
With more than 200,000 employees serving their clients across six continents, it is one of the top software development companies around the world because of its good corporate citizenship, a strong commitment to sustainability, and more importantly, its extensive portfolio of services.
Wipro has a large panel of skilled professionals that have a very long experience of providing software services to many industry verticals like Aerospace & Defense, Automotive, Banking, Capital Markets, Communications, Consumer Electronics, Consumer Packaged Goods, Education, Engineering, Construction & Operations, Healthcare, Insurance, Medical Devices, Natural Resources, New Age Markets, New Age & Media, Network & Edge Providers, Oil & Gas, Pharmaceutical & Life Sciences, Platforms & Software Products, Industrial & Process Manufacturing, Professional Services, Public sector, Retail, Semiconductors, Travel & Transportation, and Utilities.
Since its establishment in 1945, this custom software development company is running on its core values. It is reflected in the consistency of the behavior of professionals working there. The values are as follow:
Be passionate about client's success
Be global and responsible
Treat each person with respect
Unyielding integrity in everything we do
And mind that, these are not just some plain words. Making these values the essence of their work, Wipro has been able to deliver some extraordinary work that has led them to achieve some awards and recognitions. Let us have a quick look at a few recognitions from a long list of achievements that this software development company received in the last three years.
Wipro ER&D awarded as "ER&D Organization of the Year" by NASSCOM at Engineering Innovation and Excellence awards, 2021
Wipro ER&D awarded as "Service Delivery Excellence of the Year, for Automotive Infotainment" by NASSCOM at Engineering Innovation and Excellence awards, 2021
Wipro wins "Global Breakthrough Partner of the Year" from Pivotal Software in 2019
2019 Working Mother & Avtar Most Inclusive Companies Index (MICI): Declared as a "Champion of Inclusion"
Member of Dow Jones Sustainability Index (DJSI) 2019, World, for the tenth consecutive time
Even amidst the time of the pandemic, this software development company has managed to achieve the best quarter results ever through remote working which has led to secular growth across all SMUs, Sectors, and GBL's.
Software Development Services:
Data analytics and AI
Consulting services
Mobile App development
Infrastructure services
Digital operations and platform
Software as a Service (SaaS)
Big Data
Blockchain
DevOps
Cybersecurity and enterprise risk
Enterprise ops transformation
Custom Software Development
Product lifecycle management
Industry 4.0
Major clients:
Vodafone, Telenor, HSBC, Citi, Domino's (some location), Lloyd's, Airtel, CITI Bank, NIC, MetLife, DIAL, BHEL, Airbus, AIB, Bristol, Cisco, Lenovo, Levi's, Michelin, Morrisons, Thames Water and more.
Global Locations:
India – Doddakannelli, Sarjapur Road, Bengaluru – 560035
Canada – 2275 Upper Middle Road East, Suite 102 Oakville, ON – L6H 0C3
Australia – Level 17, 201 Miller Street, North Sydney, NSW – 2060, Australia
Official Website link: https://www.wipro.com/
Social Media Links:
3. Infosys – Most Trusted Software Development Company in India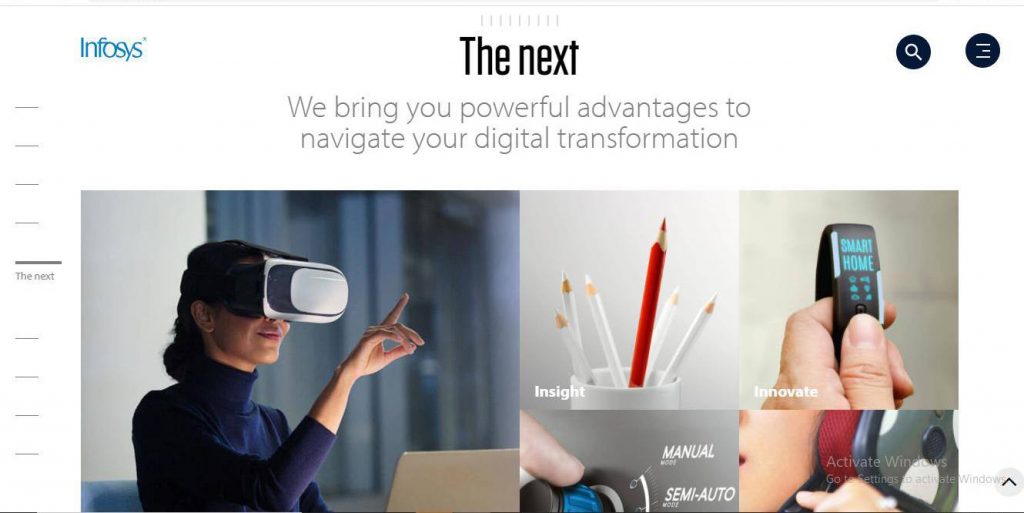 Are you seeking powerful advantages that could navigate your business through digital transformation? If yes, then Infosys is the perfect software development company for you. It is a global leader in next-generation digital development services and consulting. It's been 40 years since they are providing offshore software development services to their clients spread across more than 50 countries around the world.
With a large experience in managed services and working with enterprises, a dedicated team of software developers here knows perfectly well how to steer their clients through a digital journey, avoiding all the pitfalls and setbacks along the road. They make it happen by enabling the enterprise with an AI-powered core that would help them prioritize the implementation of digital transformation solutions.
Through this journey, Infosys empower their software developers and business partner with agile digital marketing at a scale that helps them deliver unprecedented levels of sales performance and customer delight. The skilled professionals at this Indian software development company are constantly improving and building new digital skills, expertise with an always-on-learning approach. This helps them boost innovation across the entire organization.
It happens that sometimes businesses have or they are looking for agile, effective, and innovative solutions to solve their problems. But one of the biggest challenges is the effective implementation of these developed software solutions. Infosys has been doing it for more than four decades. By now, their experts have prepared some digital operating models that help them deliver innovative software solutions to their clientele around the globe.
Design, proximity, agile, automation, and learning are some of the key aspects of these digital operating models. This web application development company has served its clients from various sectors including Aerospace & Defense, Agriculture, Automotive, Communication Services, Consumer Packaged Goods, Education, Engineering Procurement & Construction, Financial Services, Healthcare, High Technology, Industrial Manufacturing, Information Services & Publishing, Insurance, Life Sciences, Logistics & Distribution, Media and Entertainment, Mining, Oil and Gas, Professional Services, Public Sector, Retail, Travel and Hospitality, Utilities, and Waste Management.
Software Development Services:
Digital Marketing
Digital Commerce
Digital Interactions
Digital Workplace Services
Applied AI
Data Analytics
Blockchain
Engineering Services
Internet of Things (IoT)
Enterprise Agile DevOps
API Economy & Microservices
Application Modernization
Cloud – Infosys Cobalt
Digital Process Automation
Custom Software Development
Digital Supply Chain
Microsoft Cloud Business
Oracle
Web development
SAP
Salesforce
Service Experience Transformation
Cyber Security
Testing
Mobile App Development and Maintenance
Business Process Management
Consulting Services
Incubating Emerging Offerings
Major clients:
ICICI Bank, Daimler Mercedes-Benz, Bank of America, Goldman Sachs, Accenture, Astoria Federal Savings & Loan, Avis Rent A Car, Berman Blake Associates, Brookhaven Deloitte and Touché, Deutsche Bank, Ernst&Young, Health and Hospital Corporation of New York, HSASC, Kirlin Securities, LIRR, Lockheed Martin, Nassau County, New York City Board of Education, Pencom Systems Inc., PeopleSoft, Svenska Handelsbanken, Unisys Corporation, Waldner's Business Environment, Women's Sports Foundation.
Global Locations:
India – Corporate Headquarters, Plot No. 44 & 97A, Electronics City, Hosur Road, Bangalore – 560 100
Australia – Level 3, 100 Arthur Street, North Sydney 2060, NSW, Australia
Germany – BACKFABRIK, Saarbrücker Straße 36-38, 10405 Berlin
USA – One World Trade Center, Suite A, 79th floor, 285 Fulton St, New York, NY 10007
Official Website link: https://www.infosys.com/
Social Media Links:
4. HCL Technologies -One of The Best Software Development Companies in India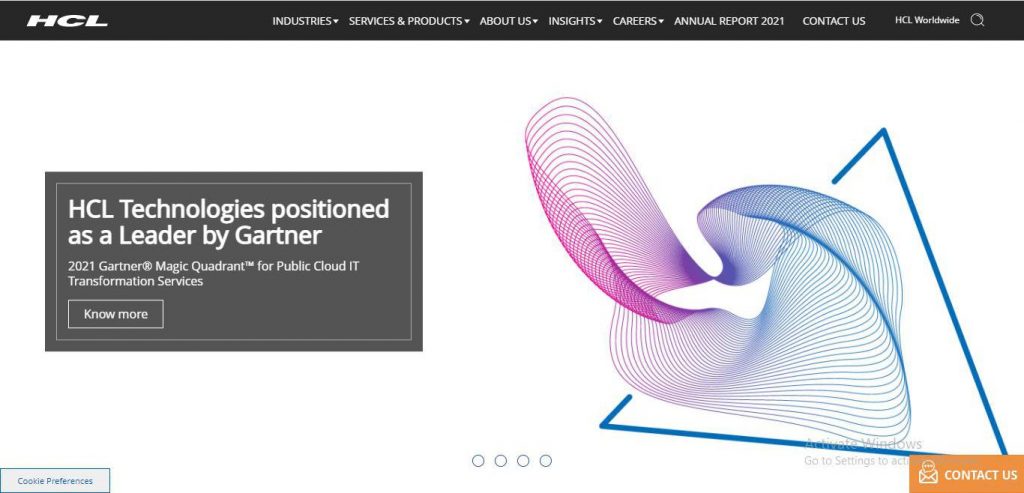 Since its inception in 1976, HCL Technologies, one of the top offshore software development companies in India is helping enterprises reimagine their business for the digital age. Their enterprise solutions are built based on innovation, a strong culture of invention and risktaking, world-renowned management philosophy, and a relentless focus on customer relationships. Through a worldwide network of co-innovation labs, R&D facilities, and more than 176000 Ideapreneuers from over 50 countries, HCL is capable to deliver enterprise solutions to approximately 250 Fortune 500 companies.
Being one of the best software development companies, HCL knows that businesses must harness the power of emerging technologies like analytics, IoT, automation, and cloud solutions to thrive in the digital age. To offer maximum benefits of these software solutions, HCL has integrated its portfolio of products and services into three different business units. They are known as IT and Business Services (ITBS), Engineering and R&D Services (ERS), and Products and Platforms (P&P).
HCL fulfills the technological and industry-specific needs of its clients by rendering advanced software solutions through P&P. And under ERS, the software company offers product development services, platform engineering, and software product engineering services. Whereas via ITBS, HCL provides Digital foundation and DIgital business solutions to its global clientele.
Digital foundation is a complete package for enterprises. Its offerings include state-of-the-art infrastructure, hybrid cloud solutions, software-defined networks, digital workplace, and more.
The digital business offers consulting capabilities, web and mobile solutions, and other digital operations.
But how they do it if you ask then here's the answer: Holistics mode 1-2-3 strategy. It serves as the backbone of all three business units at HCL Technologies, one of the best software development companies in the world. It also plays a crucial role in Digital Enterprise 4.0 – the holistic software development services offered to customers at HCL to meet their technological needs and prepare them for the future.
This approach has enabled the software developers at HCL to serve in many industry verticals like Aerospace and Defense, Automotive, Banking, Capital Markets, Chemical and Process Industries, Consumer Goods, Energy and Utilities, Healthcare, Hi-Tech, Industrial Manufacturing, Insurance, Life Sciences, Manufacturing Industries, Media and Entertainment, Mining and Natural Resources, Oil and Gas, Retail, Telecom, Travel, Transport, Logistics & Hospitality.
Software Development Services:
IT Infrastructure Management Services
Mobile App development
Web development
Custom Software Development
Engineering and R&D Services
Digital Process Operations
Cloud-Native Services
Cybersecurity
Digital & Analytics
DRYiCE
IoT WoRKS™
HCL Software
SIAM/XaaS Products & Advanced Services
Enterprise Studio
Global Locations:
India – NSL Techzone Plot no 8 Sector-144, Noida, Uttar Pradesh – 201 304, India
USA – HCL America Inc., 3333 Warrenville Road, Suite 620, Lisle, IL 60532, USA
UK – 6th Floor, 70, Gracechurch Street, London EC3V OXL and 3rd Floor, Orega Gracechurch Street, 70, London, United Kingdom
Australia – Level Ground, 616 St. Kilda Road, Melbourne, Vic-3004, Australia
Official Website link: https://www.hcltech.com/
Social Media Links:
5. Accenture – Best Team of Software and Mobile App Development Experts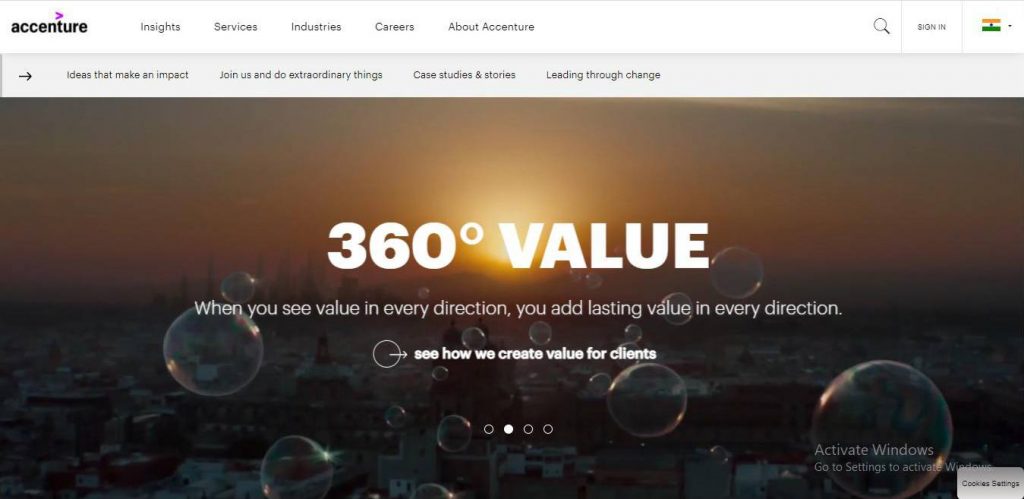 Accenture is another contender for the top software and mobile app development company in India. It creates a long-lasting value for its clients, people, and communities by embracing the power of change. The sole aim of this custom software development company is to deliver on the promise of technology and human ingenuity. It has a large workforce of over 537000 employees all over the world working relentlessly at 200 global locations spread across 50 countries to deliver web and mobile app solutions to their global clientele.
The business administrators at the software company say that the reason behind their success is their business strategy. Additionally, they say that at Accenture, business is done legally, responsibly, and with integrity which reflects their core values. They are the governance structure that guides the business at Accenture. The core values include client value creation, one global network, respect for the individual, best people, integrity, and stewardship.
This software development company has created a powerful partner ecosystem to extend its full-service technology and business capabilities. Some tech giants that have collaborated with Accenture are AWS, Microsoft, Google, Oracle, SAP, Adobe, Salesforce, Servicenow, Workday. Software developers at Accenture leverage the potential of these platforms to accelerate the growth of their client's businesses. It has led them on a path where they have earned many prestigious awards and recognitions. Some of them are mentioned below:
FORTUNE's World's Most Admired Companies: IT Services Category – Eight consecutive years
Ethisphere's World's Most Ethical Companies – 14 consecutive years
Brand Finance's Most Valuable IT Services Brands – Three consecutive years
Fast Company's World Changing Ideas Awards – In the categories of Advertising, Health, Food, Pandemic Response, and Experimental in 2021
Aerospace and Defense, Automotive, Banking, Capital Markets, Chemicals, Communications and Media, Consumer Goods and Services, Energy, Health, High Tech, Industrial, Insurance, Life Sciences, Natural Resources, Public Service, Retail, Software and Platforms, Travel, and Utilities are some of the industries where Accenture offer web design and outsourcing services.
Software Development Services:
Mobile App Development Services
Dedicated team
Artificial Intelligence
Automation
Business Process Outsourcing
Business Strategy
Change Management
Cloud
Enterprise software
Customer Experience
Data & Analytics
Ecommerce development
Custom Software Development
software product engineering
Mobile App Development
Ecosystem Services
Finance Consulting
Industry X
Infrastructure
Digital Marketing
Mergers & Acquisitions (M&A)
Operating Models
Security
Supply Chain Management
Sustainability
Technology Consulting
Technology Innovation
Zero Based Budgeting (ZBB)
Global Locations:
India – Accenture Services Pvt. Ltd. Level 1 & 6, Tower 1 & 2, Andheri Kurla Rd, Andheri (East) Mumbai – 400072.
USA – 161 N Clark St, Chicago, IL 60601
Australia – Level 6, International House, 3 Sussex Street, Barangaroo, New South Wales 2000
Official Website link: https://www.accenture.com/in-en
Social Media Links:
6. IBM – India Based Most Reliable Software Development Company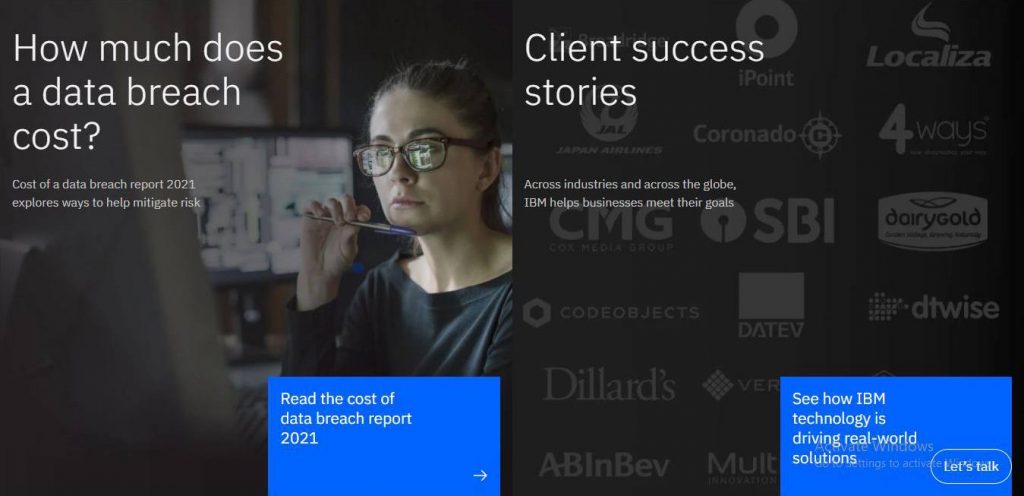 IBM is a software development company that believes in progress. Professionals here use the application of science, reason, and intelligence to improve business, society, and the human condition. IBM has created an approach for corporate citizenship that aligns with its core values. This helps them have maximized impacts on global enterprises. IBM is one of those development companies that believes in delivering software solutions for problems related to society, environment, skills and education, community economic development, public health, literacy, language, and culture.
The web app development company states that their biggest strength is their IBMers i.e. diverse range of their employees. Hence they have fostered a culture that encourages creative pursuits and passion outside of work. This lead to action and meaningful innovation which helps IBM to drive progress for their clients.
Since its inception in 1928, IBM is one of those custom software development companies that is successfully pulling off large-scale projects all around the world. And now being one of the top digital agencies, IBM offers robust web and mobile app solutions and setting new industry standards. The breakthrough technologies of IBM are disrupting many industries with smarter ways to operate their business.
IBM is a service provider to domains like Aerospace and Defense, Automotive, Banking, and Financial Markets, Consumer Goods, Education, Electronics, Energy and Utilities, Government, Healthcare, Insurance, Life Sciences, Media and Entertainment, Manufacturing, Metals and Mining, Oil and Gas, Retail, Telecommunication, Travel, and Transportation.
You may realize that this custom software development company is the perfect option to become your technology partner when you have a look at some of its most popular and featured products and net solutions.
IBM SPSS Statistics
IBM Watson Studio
Watson assistant
IBM Cognos Analytics on Cloud
IBM Maximo
IBM Blueworks Live
IBM ILOG Optimization Studio
IBM SPSS Modeler
IBM API Connect
IBM Watson Studio Desktop
IBM Business Automation Workflow
Software Development Services:
Business process services
Web Design & business strategy
Hybrid multi-cloud services
Talent & transformation
Web and mobile app development services
Custom Software Development
IBM Garage
Security services
Mobile Development
Services for tech support
Ecommerce Development
Payment plans for Services & Consulting
Major clients:
Bank of Ayudhya Public Company Ltd (Krungsri), Blue NAP Americas, Broadridge Financial, City Furniture, Inc., Dilip Buildcon Limited, Fuji Television Network, Inc., LOTTECARD, Mitsubishi, National Stock Exchange of India Ltd., Performance iN Lighting, SimCorp, Turkey's Isbank.
Global Locations:
India – Titanium, Unit No 1, Ground Floor, Main Prahaladnagar Corporate Road, Vejalpur Satellite, Ahmedabad, Gujarat 380015 ·
USA – 1000 Belleview St Dallas, TX, United States
UK – North Harbour, Portsmouth, United Kingdom
Official Website link: https://www.ibm.com/in-en
Social Media Links:
7. Tech Mahindra – One of The Top Software Development Companies in India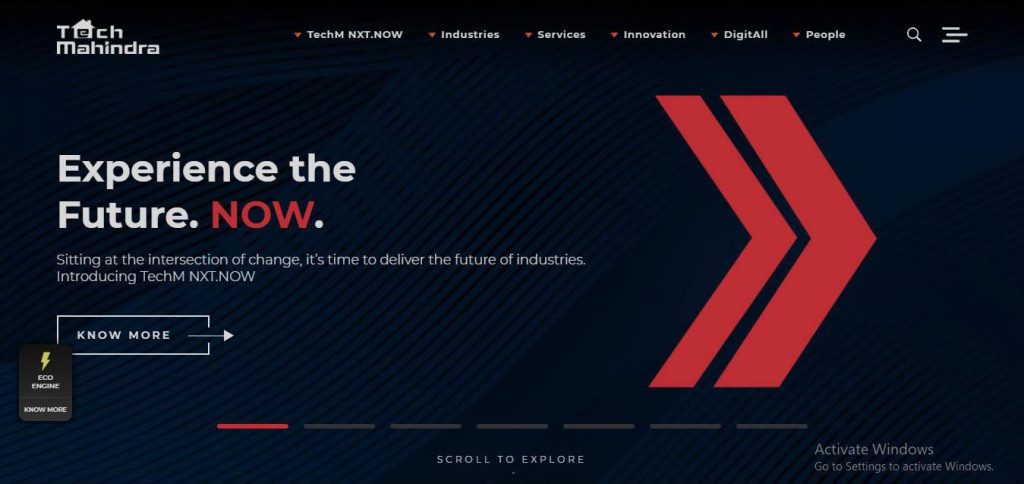 Another contender on the list of top software development companies in India is Tech Mahindra. It empowers enterprises, associates, and society to rise above their current situation by offering customer-centric and innovative digital experiences. It is a 5.1 billion USD mobile app development company that has more than 126,100 employees working in over 90 countries help more than 1000 global clients including some Fortune 500 companies.
Apart from software development, web, and mobile apps development solutions, Tech Mahindra is focused on harnessing the power of futuristic technologies like Blockchain, Cybersecurity, 5G, Artificial Intelligence, and more to exectre dogota transformation strategy for their client's business growth. Tech Mahindra is one of the fastest-growing software development companies and has been named among the top 15 IT service providers in the world. It has also consistently been a global leader in sustainability and recognized as '2021 Global 100 Most sustainable corporations in the World' by Corporate Knights.
Remember the Customer-centric experience we talked about earlier? Well, Tech Mahindra has set a goal to enhance it through disruptive collaboration. The web development services provider aims to create synergies from a robust portfolio of various development companies to deliver tomorrow's experience today. Software developers at Tech Mahindra are turning this dream into reality by using TechM NXT.NOW framework, designed and developed by Tech Mahindra itself as they believe that – Future is Now.
As technology and business continue to evolve, more industries are converging and many more are emerging. This has made software development companies around the world re-think their strategy, solutions, and platforms. The leaders and innovators at Tech Mahindra are also in deep conversations with their clients to influence and shape the future of their industries. Some of the industry verticals where software outsourcing delivers development services include Communications, Media & Entertainment, Manufacturing, Banking, Financial Services, and Insurance, Healthcare Life Sciences, Retail, and Consumer Goods, Energy and Utilities, Hi-Tech, Travel, Transportation, Hospitality and Logistics, Public Sector and Government, Professional Services, Oil and Gas.
Software Development Services:
Infrastructure and Cloud Services
Integrated Engineering Solutions
SAP
Oracle
Data Analytics
Network Services
Cyber Security
Business Process Services
Testing Services
Performance Engineering
Business Excellence Services (Consulting)
Telecom Product Engineering
Enterprise Software
Customer Experience
Digital Supply Chain
Artificial Intelligence
Intelligent Automation
E-commerce development
Custom Software Development
web application development
Major clients: General Electic, Cisco, Microsoft, Google, Apple, Vodaphone, Optus, At&t.
Global Locations:
India – Plot No.45 – 47, KIADB Industrial Area, Phase – II, Electronic City BENGALURU – 560100 (Karnataka) India
Australia – Office Suites 31 & 32, Level 34, Waterfront, 1 Eagle Street, Brisbane, Queensland,4000 Australia
Canada – 720 Coverdale Road, Door no. 9. Riverview Place, Riverview, Moncton, New Brunswick, Canada. E1B3L8
Official Website link: https://www.techmahindra.com/en-in/
Social Media Links:
8. Capgemini – One of The Top-Rated Software Development Companies in India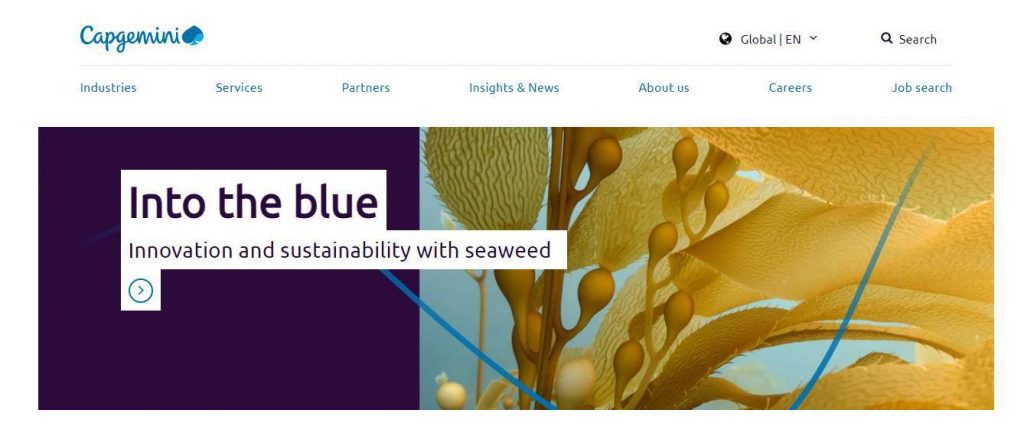 Capgemini is a software company and a global leader in digital transformation, consulting, engineering, and technology development services. In this growing world of cloud, digital, and platforms, this custom web development company is at the forefront of innovation to address its wide range of client opportunities.
It's a Software company that encourages innovators across the globe to engineer futuristic products and development services. It helps them to cope up with the disruption embedded in their digital products and software outsourcing services. Capgemini blends strategy, technology, creative design expertise, and data science together to bring client's next ideas into reality. for example, engaging mobile apps.
Though being one of the top custom software development companies in the world, it also works with its clients at a local level. It also mobilizes its expert panels to create custom software solutions from existing and emerging technologies so that they could deliver feasible solutions at speed. This has to lead them to achieve some awards and recognitions in the software industry. They are:
Capgemini was named a leader and start performer by Everest Group in 2020
Capgemini wins two 2020 Pega Partner Excellence Awards
Capgemini scoops Frost and Sullivan's '2019 Global Company of the year award
Leader in Gartner's MQ 2020 for Public Cloud Infrastructure
Capgemini Research Institute ranked No. 1 for the fourth consecutive time for the quality of its thought leadership
Leader in Gartner MQ for CX and CRM
Capgemini named a "Leader" by NelsonHall in its NEAT evaluation of learning services
Automotive, Banking & Capital Markets, Consumer Products, Distribution – Wholesale, Electronics & High Tech, Energy and Utilities, Government & Public Sector, Healthcare & Life sciences, Insurance, Manufacturing & Industrial Products, Media & Entertainment, Retail, and Telecoms are some of the industry where Capgemini offers its software development services.
Software Development Services:
Artificial Intelligence
Applied Innovation
Business Operations
Cloud Services
Cybersecurity Services
Digital Services
Custom Software Development
Intelligent Industry
Technology Solutions
Mobile Applications
Transformation & Innovation
Major clients:
Domino Foods, AXA, Cadbury Schweppes, Citibank, and ABN Amro, HSBC, Discover Financial Services, RBS, Barclays Capital, T-Mobile, EE, H3G, PnG, Airbus, Radian, Chrome.
Global Locations:
India – Brigade Metropolis, Summit Tower 'A',73/1, Garudacharpalya, Mahadevapura Post, Whitefield Main Road, Bengaluru – 560 048
Australia – Level 16, 595 Collins Street, Melbourne VIC 3000
USA – Galleria II, 5051 Westheimer Road, Suite 1800, Houston, TX 77056
Canada – 1100 Rene Levesque, Suite 1110, Montreal, QB H3B 4N4
Official Website link: https://www.capgemini.com/
Social Media Links:
Conclusion
India has a thriving software development industry and Indian IT companies have great talent which holds capabilities to serve their expertise worldwide. So, this was the list of top software development companies in India. They are all best at what they do but before choosing your software development partner, make sure that their work culture, web and mobile tech stack, development approach and many other important aspects fit your business requirements. then and only then you have got your right software development partner that is proved to be truly beneficial to you.
I hope you have enjoyed reading this article on top software development companies in India. You can share your thoughts, queries, and suggestions in the comments section below.