Businesses around the globe are embracing newer ways to address bespoke business needs. A variety of methods can be used to develop unique software solutions that meet custom business requirements. As we know that there are options available for businesses like off-the-shelf applications or custom software apps or any other way to develop the app. Like ready-made apps have a wider audience and it appeals to masses because it is easy to buy and use. Thus, custom software application is a smart and efficient way for businesses to develop what they want for their businesses. And benefits of agile methodology.
When you choose custom software development, the most overheard word in the technology space is 'Agile'. You might have heard of the Agile approach, agile methodology or agile development process, and more. Over two decades, the integration of the Agile process in businesses has accelerated. Businesses can easily incorporate changes, improve quality, add speed to work, and boost productivity within businesses. Now, it is enough of beating around the bush. It's now time to know what agile methodology is, what are its key components, and how can we implement it.
Table of Content
Through this detailed blog, we are trying to bring light on all the aspects of Agile technology, benefits of agile methodology, Scrum in Agile technology, steps on how to implement this technology and understand its challenges, and how to reap benefits of Agile methodology. Let's start with the basics.
1. What is Agile Methodology?
Agile is a methodology that started as a software development method but now has turned from a methodology to ideology. It is now, not just a development methodology that includes Kanban, Scrum and other XP languages. This consistent and iterative method has become integral and people-centric and thus most of the businesses are turning towards the Agile approach. Now the main point, what is agile methodology?
Definition: "Agile methodology is a process of project management where the whole process is divided into parts with incremental changes and iterations are added periodically at every phase."
It is a process that involves continuous involvement and improvement. Here the client informs the team what problem they want to solve by developing this software. Later, we initiated the SDLC method. Now the teams start a regressive process of planning, execution development, and deployment.
The key in the Agile process is a continuous collaborative approach where all the team members are in close contact with each other for the project. They are fully informed about all the changes and decisions of the project. Now we will be elaborating on the most popular term used with Agile- 'Scrum'.
2. What is Scrum in Agile?
The next one is Scrum- which is another popular name in Agile technology. This name-Scrum's name originates from the game of Rugby. It gives you an opportunity to take your pace back into the game. The scrum in Agile enables software development teams to deliver work in the shortest time with continuous monitoring and operations on the actual software. Its prime focus is on the fact that requires accountability, teamwork and iterative progress to achieve desired goals. Scrum is a framework that usually deals with changing requirements that are not defined at the start of the project.
Most of the time businesses use Scrum and agile methodology interchangeably. It doesn't mean that if you know agile, you can use scrum. As both of these need a complete understanding of the method and the principles. The basic understanding of the principles will let you develop apps with all principles and lessons undertaken in Agile methodology. To take benefits of Agile methodology. We need to understand the Agile methodology, you need to understand the components required in this process.
3. What are the Key Components of Agile Project Management?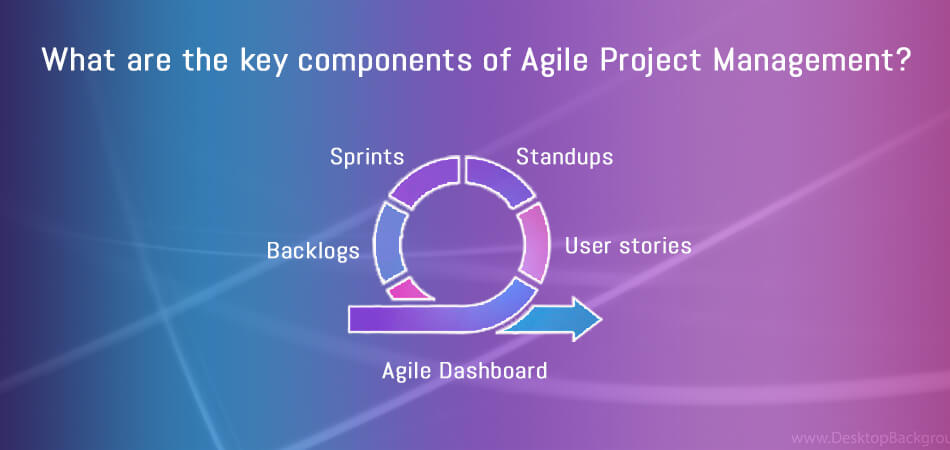 In Agile methodology, there are few key components that would make your app development more secure. We all know that an agile approach brings a radical change in businesses by developing apps with a robust architecture and rigid but flexible structure. Other than Agile, the waterfall is another important method for project management and both of them differ in structures. We will here be discussing some of the major aspects of Agile project management.
The development teams need to know the cores of Agile Project management. Following 5 contributing factors are:
1. Sprints
The agile methodology works on smaller iterations which gives more time for making modifications and upgrades. You should keep the time span of sprints small. So as to adhere to frequent changes without any hassle. This sprint time usually ranges from 2-3 weeks. In this, we take regular standup meetings also called scrum meetings. This is a part of the core agile methodology that keeps the whole team on the same page. This keeps all the project stakeholders aligned to a common business goal.
2. Agile Dashboard
Agile dashboard keeps track of the whole project management. It also sends updates in real-time. Using Kanban, we have developed a simple whiteboard for easier project management functions. The development team can monitor and improve their development process by using the Agile dashboard which enhances business value and improves customer satisfaction.
3. Backlogs
The best part of agile development methodology is to get real-time updates of everything. From project changes, backlogs, sprint cycles, development deadlines, and more. This task system keeps a meticulous track of all the operations. It allows companies to keep a check on backlogs and other product features that benefits business.
4. User stories
Aligning to what customers like and already offered, Agile uses this approach to offer clients what they want. From a unique perspective of the client, they estimate the work deadlines. The ideal technology that is best suited and will help the product add business value by developing high-performing and high-functional apps.
5. Standups
Standups are meetings taken by product owners at regular intervals. This is also called Scrum meetings as mentioned above. This is a meeting point where all the stakeholders of the project meet, discuss change and other influencing factors that have just occurred in the project.
4. What are the Important Steps in the Agile Methodology?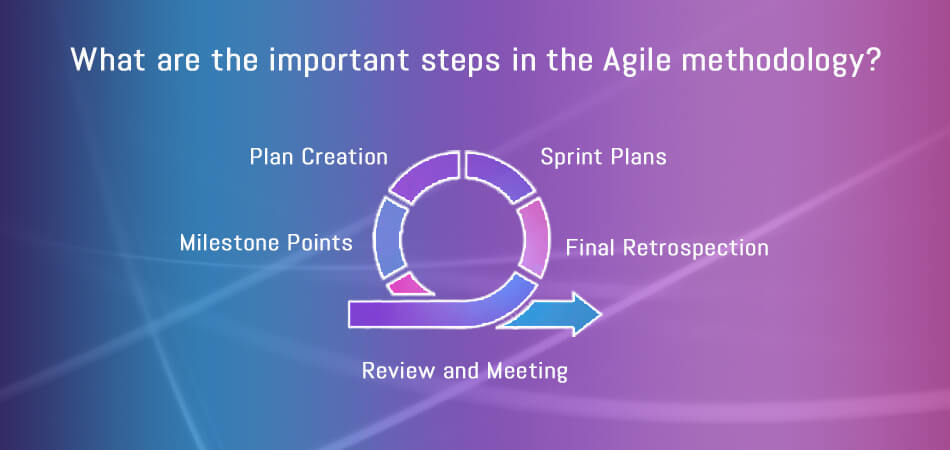 Just like every other method of development, Agile software development also shapes up an approach to custom software development. To start with, we know the ultimate aim of agile methodology is to reduce the pain of being unable to incorporate changes and delayed market turnaround time. Thus keeping these objectives in mind, we have decided on developing an application that addresses all these needs effectively.
This is a step by step guide that includes a complete plan on how to proceed with Agile methodology
This continuous improvement plan starts with Project planning, then to milestone points, development testing, sprint plans, release plans, Review and meetings, and final retrospection. Let's see what each of these sections consists of.
1. Plan Creation
As in every project, the ultimate goal, the importance to the company or user, and how it can be done should be known before the team starts. You can design the scope of the project and how much you need to expand in this type of method. Using Agile project management, you will be able to address the changes of the project and the extra changes as well so that the project scope will remain unmodified.
2. Milestone Points
An outline of the plan is an equal breakdown of the attributes that would make up the finished product. This is a vital component of Agile's preparation period, and during each sprint, the team can create these individual functions.
3. Sprint Plans
You are allowed to make a roadmap that will show feature release before initiating the project and you can always revisit and reassess the release plan for that feature at the start of each sprint. By the time the sprint time is nearing, you will have every step planned, roles and responsibilities of each project stakeholders determined clearly and shared the load equally.
4. Review and Meeting
After this comes the second last step where based on all the stand-up meetings, planning and considerations the review of each sprint is performed. The daily stand-ups are a very essential part of this review process because it highlights the responsibilities and what needs to be achieved on that basis.
5. Final Retrospection
Once the project is about to reach the deployment state, you will have two meetings- The first one to display the finished product for a sprint review with all stakeholders. This is a vital part of keeping stakeholder contact-free. The second meeting will see whether all the modifications are rightly addressed and the product is all set for the market.
In order to address what went well during the sprint, what should have been different, each participant shares their views, and what could have been done better during the sprint. With this retrospective meeting, all the stakeholders are on the same page before the release.
5. How to Implement Agile?
With the integration of agile into your business, all you receive is seamless management of projects and accelerate the chances of project success. Many organizations are unable to adopt Agile projects because they don't have sufficient knowledge, lack in skillset, and others. In the implementation process, these are some of the basic steps that can help you in turning to agile for your business.
After the creation of the process, align all the project managers with the same business objective. Agile is a focused approach that involves every one including project team, customer, and other key stakeholders such as your project sponsor and vendors.
If you want to take up Agile then start with one single project, then the best way is to start with smaller projects.
Hired developers can easily select the best framework as it suits the project needs. If you choose Kanban you should stick to that till the end.
Retrospection is the key to implementing agile. This will make the development team adaptive to changes and do it timely without delays. The project developed will be refined and open to improvements and collaborations.
6. What are the Most Popular Agile Methodologies?
This Agile mentality is accompanied by numerous methodologies. We highlight the five key Agile methodologies in this blog post and their strengths and drawbacks in the universe of software development. The four major approaches of Agile methodologies are Scrum, XP,
1. Scrum
Scrum is, probably, the most used of the various Agile technique implementations. Scrum is defined by intervals or periods of development, such as sprints, and by the maximization of a software product's development time. This type of approach majorly focuses on the management of digital items, development programs, and business-related concepts. It comes with a lot of advantages such as transparency, focused results, superior quality benchmarks, and more. While some of its disadvantages are segmentation may sometimes lead to misguidance.
2. Extreme Programming (XP)
This is a basic sign for Agile Development that can be tailored for businesses with different dimensions to develop. It is a framework that stresses collaboration, teamwork, communication principles and prioritizes customer loyalty and customer satisfaction above everything else. This approach gives developers trust by allowing them to consider improvements in the specifications of the client.
3. Lean-Agile Process
The Lean Methodology is an adaptive software development technique that derives straight from Lean Manufacturing. This methodology includes a philosophical basis that embraces values, concepts, and good practices of development that can be extended to an Agile approach to development.
4. Kanban
Kanban- a Japanese-originated expression defines the "notion of time". In reality, in a board or table (Kanban board), separated into columns, the Kanban method exists that demonstrates any software output flow. As creation progresses, the details stored in the table vary, and a new "card" is generated as a new challenge comes into play. The benefits one can achieve through this is the ability to have data handy, focus on reducing delivery cycle, and clear backlogs before all the sprints timings.
7. What are the Advantages of using Agile Methodology?
The most recent study of Gartner on the implementation of Agile methods showed that eighty-five percent of companies have implemented a product-centric technology development model or expect to implement it in the future.
So when the adoption of Agile is at such a higher speed shows that there would be many businesses getting benefitted from this. This is the right approach if you know that this will benefit your business in the near-term or long term. Enlisted below are some of the major benefits of Agile methodology that can favor your business and accelerate business profits.
It adds adaptivity, flexibility, and versatility
Innovation and Imagination
Improved accuracy Improvement
Enhanced disclosure
Less Business Time
High-Quality results
Better Mastery
Higher satisfaction with consumers
Reduced Risks
8. Conclusion
As we started, Agile is not just a methodology it has now become an ideology for most businesses. So to adopt this ideology in your businesses, this comprehensive blog will be a savior and will give you insights and guide you throughout the process. This is an excellent way to embark on a new business journey or give your business a boost to your existing processes. Agile is a game-changing technology offering the ability to work independently, maintain control over projects, costs, enhance business value and revenue while managing expectations from teams and clients.