The increasing compulsion of staying confined to boundaries has unbounded many ways of technological inventions. Development around the globe has not ceased though there are some critical concerns that we faced relating to the security of web apps. Nevertheless, the resulting shift has amplified the use of trending software development technologies and offered organizations new ways and software trends to do business.
Almost all the industry domains have been seeing changing market dynamics. It is quite evident that this has changed the phase of current-day technology. However, it is not just technology or technology trends that are evolving there is a lot more that has changed this year to give a rise to new norms for custom software development. Times have made us realize to stay at home and endure the change of a contactless world. We are witnessing the evolution of cutting-edge technologies such as augmented analytics, edge computing, computer vision applications, and AI technology in the technological world.
The gloomy year of the global pandemic has otherwise spurred up technology inventions and digital transformation at an unprecedented rate. We have not stopped growing and are driving business continuity. Many companies like Zoom, RazorPay, Zomato, Netflix, and One 97 communications are just a few names that have disrupted the current year with unstoppable digital solutions driven by current trending technologies.
The one thing that is ever-growing is the Software development technologies and that with innovation. Every day the software development industry is introduced to more and more advanced methodology and making our lives simpler. With the increasing use of such technologies, our skills for the future must be enhanced to even train a robot that acts like a human.
Now without much ado, let's dive deep into the disruptive technologies that are already changing the world and are capable of bringing more evolution in terms of tech-driven operations. In this blog, we will list down the top 10 trends of software development technology that will help businesses operate automatically, plan strategically and accomplish profitability.
Following is the list of technologies we will be discussing that have brought a radical shift and will twirl the business world upside down.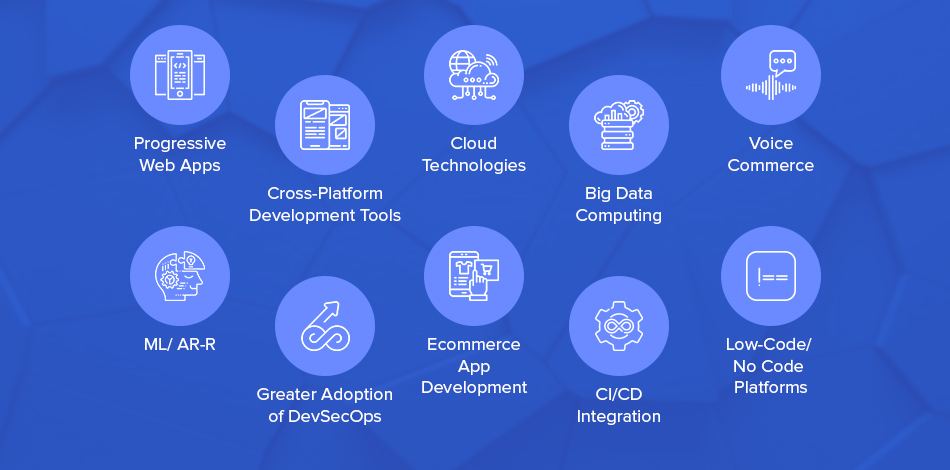 1. Progressive Web Apps (PWA)
With a lot of advancement occurring in the development of web and mobile apps, a lot is being said and heard about PWA. To start with, what are actually Progressive web apps?
Progressive web applications are developed with a long-term vision that is aimed to focus on a larger ecosystem. This enables users to develop web applications that allow users to use apps with simpler integration of plugins, Cache Push APIs, and simpler web usage. This simplification of the app offers modern and convenient options for installing apps on the home screen, enabling push notifications and even when the internet connectivity is low. This type of software development is suitable for both mobile as well as web apps.
In a study conducted by the TOP 30 PWAs report, it is predicted that an average progressive web app has a 36 percent higher conversion rate than any other native smartphone app.
There is a large gap in revenue or income seen when using this type of progressive approach. Also, this gap is seen due to the rapid adoption of this technology that its API is not required to maintain the same version of website code used that is compatible and easily fragmented in comparison to other native apps. Many leading service providers provide native app development for companies that can afford it.
2. Cross-Platform Development Tools
When you have the liberty to develop an application with programming languages that are universally known (like Javascript). Then who would like to take the pain of converting the codes, making them compatible with other devices and then testing its codes, and finally implementing them? Obviously, this is a cumbersome software development process and thus cross-platform development tools were discovered as a savior.
If we go by the statistics then Worldwide, the projected revenue in mobile app development that includes paid downloads, in-app purchases, and advertising is close to $600 billion. As getting a business app is becoming a standard for any up-and-coming business, these numbers are expected to grow.
And Forrester reports that more than 60% of companies are currently involved in cross-platform production, and IDC expects that the cross-platform development solutions market will rise by more than 38% at a compound annual growth rate, hitting $4.8 billion by 2017.
The reason for more and more businesses getting to adopt this is because of the perks it offers to businesses such as:
Cost-effectiveness – It will save money on programming in multiple languages for different devices.
Flexibility – It will be compatible with all types of devices and will function seamlessly.
Time to market – Since the codes are already prepared it is now time to deploy codes directly.
Uniformity – It is a compatible code format and so all of it is written in the same format.
Less effort – You don't have to put extra effort into developing the same code in different languages. You can use the same code using cross-platform development tools.
3. Cloud Technologies
By 2022, All the other countries are going to lag behind the US by many years in the 'usage of cloud computing' – Gartner
There is no doubt about the fact that most enterprises are gearing up for the adoption of cloud networks and platforms. And what prevents them from doing so, is literally nothing. Because cloud technologies are offering numerous benefits and are hellbent to benefit businesses at all stages.
The Cloud-first approach is on the minds of all the Senior leaders and they want to migrate to cloud platforms irrespective of what domain or business they are into. It encompasses a lot of functions from just storing data to processing it from the cloud, to accessing, governing, and deploying. It is an all-in-one solution to increase the savings of the company and decrease annual operational costs. Demand for cloud services, cloud migration, and tools has grown in many industries.
An insightful report has been created by Grandview research on why and how people are getting more inclined to use cloud technologies. One of their research images is shown below.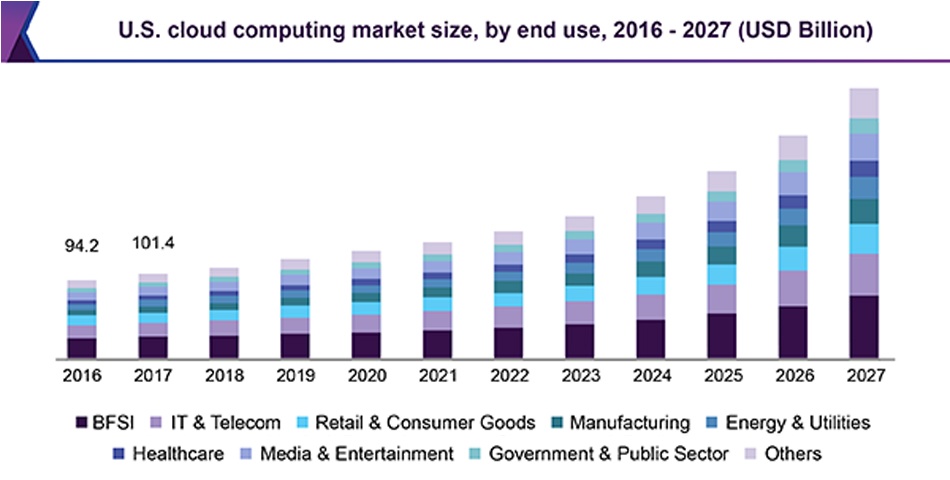 4. Big Data Computing — Heart of Data Mining Apache Spark
The new norm of humans has made them addicted to different types of gadgets and mobile phones. Allowing most of them to collect as much data as they want. This has expanded the ocean of information with big data. We are the ones responsible for increasing the size of this ocean of information allowing many to earn from it.
The majority of businesses earning from Big data have access to data that helps them to have a bigger picture of the business, saves the cost of research and analysis, improves pricing and experience, and finally gives a boost to the sales graph. This will improve customer satisfaction because by using big data computing, you will now know what your customer wants and you offer them the same.
Statista has proven facts that show the exponential growth of big data, its market size, and the forecasted value for the year (2011-2027).
From the above statistics, we can say that Big data is rising all the time and its computation is the need of the hour. It accounted for $122 billion of profits in the year 2015 and was generating an income of $189.1 billion in 2019 and is expected to grow to $274.3 billion in 2022!
5. Voice Commerce
'Hey Siri' or 'Ok Google' are the two most efficient ways of asking a query and getting it resolved. So does that mean google has started providing voice commerce services? No, they do not provide these services but do help us resolve our problem by providing accurate results.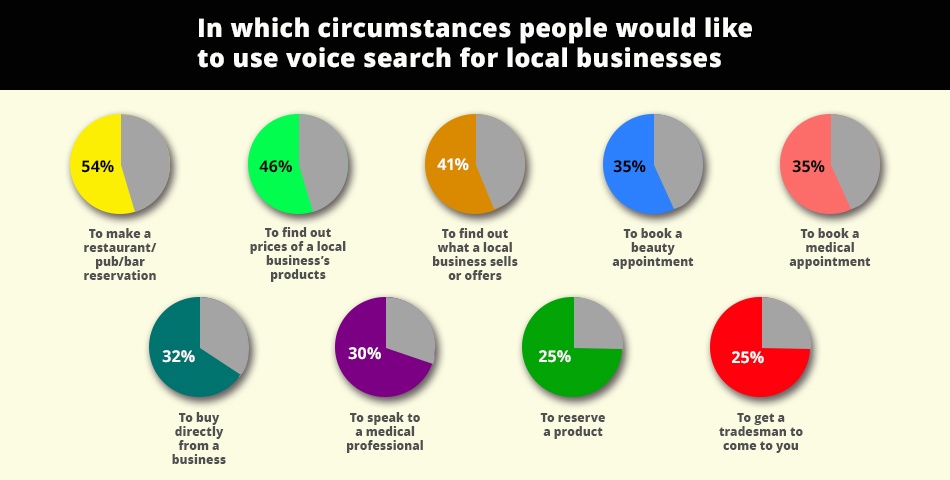 Actual Voice commerce means searching for something on the internet using smartphones or speakers, desktops or laptops, or any smart gadgets like amazon echo or Alexa. The world is taken over by voice commerce (knowingly or unknowingly both ways), and we have been seeing a rise in this type of search unlike what traditionally we use to type in the search box and fire a query.
With multiple types of research conducted on the same topic, one was conducted by Capgemini which says that 35% of respondents said they had bought a product using voice. Also, they conducted this online for purchases made online through voice commerce, and the number depicted the same information.
Below is the image we have shown that makes businesses use voice search.
6. AR-VR
You enjoy gaming with a 3D effect that makes you feel that you are running in backyards with a gun in hand and shooting the opponents. That isn't just in the gaming sector, but nowadays we have superimposed AR images from advanced tech cameras. There are filters, lenses, virtual showrooms, and virtual tours to future homes that we use indirectly as AR-VR but are not sure of their purpose.
The AR-VR market is expected to grow at an unprecedented rate.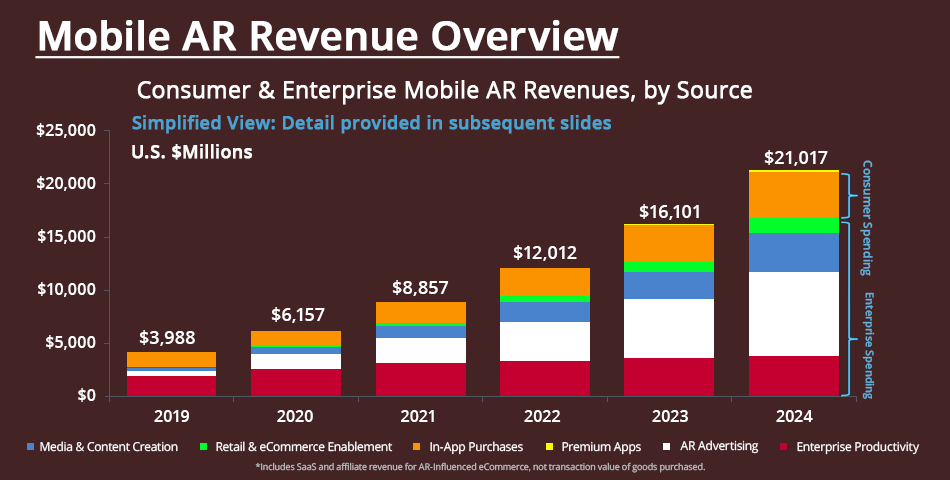 Also, there are various research firms already conducting surveys to understand what is the future scope of each of these technologies. One such research conducted shows that mobile AR will grow from $3.9 billion in 2019 to a higher $21.02 billion.
Given that there are many applications developed for a quarantine-friendly environment, this one has been an equally impactful contributor for say trending social lenses or remote-AR support.
7. Greater Adoption of DevSecOps
Having heard of DevOps as a leading technology and the consecutive and consistent results it offers to businesses. It conjoins the operational and development phase and makes the process work concurrently. Adding the security aspect to the development and operational phase makes the adoption of DevSecOps immensely popular. To start with let us understand what DevSecOps is.
The security aspect in DevOps has a complete focus on safeguarding the applications by integrating this security aspect in the DevOps process. The essential point that was missing was the security aspect so that can be added to make this process flawless. You can audit the existing IT infrastructure tools, add automation, and secure the pipelines of data transmission or sequence in a specific manner. Using this, you can improve communication and create a collaborative environment for a seamless flow between development, operations, and security teams.
In the Gartner Hype Cycle for Agile and DevOps, 2020, it has been indicated that DevSecOps is in the early stages of mainstream adoption. There is a market penetration of about 20-50% among DevSecOps' target audience. It places it within the "Slope of Enlightenment" on the Hype Cycle. Gartner also projects that DevSecOps will reach mainstream adoption within 2-5 years.
Countless benefits are offered by DevSecOps and that makes it a user choice and not a compulsion for businesses. The users are getting advantageous benefits such as security and compliance, minimal app vulnerabilities, faster response to change, speed, and agility. All in all, if we improve the security aspects, we are enabling an automated setup that improves the security aspect.
8. Ecommerce App Development
The emergence of eCommerce app development has been skyrocketing with them selling all types of goods for daily use as well as industrial operations. The eCommerce platform has been a boon to most of us during this unfortunate time of not going out. Ecommerce platforms like Amazon, eBay, Alibaba, and more have made lives easier.
To perform online marketing and distribution operations and to supervise logistics and delivery, most organizations with an eCommerce footprint use an eCommerce shop and/or an eCommerce website.
It is also predicted by eMarketer that in the next few years, the worldwide market size for virtual reality is expected to rise significantly. The virtual reality industry size is expected to grow by over 195 billion U.S. dollars over the period from 2017 to 2025, from over 3.5 billion in 2017 to over 198 billion U.S. dollars in 2025.
Below showcased is the eCommerce market split region wise which shows the progress of the market during and after the pandemic period.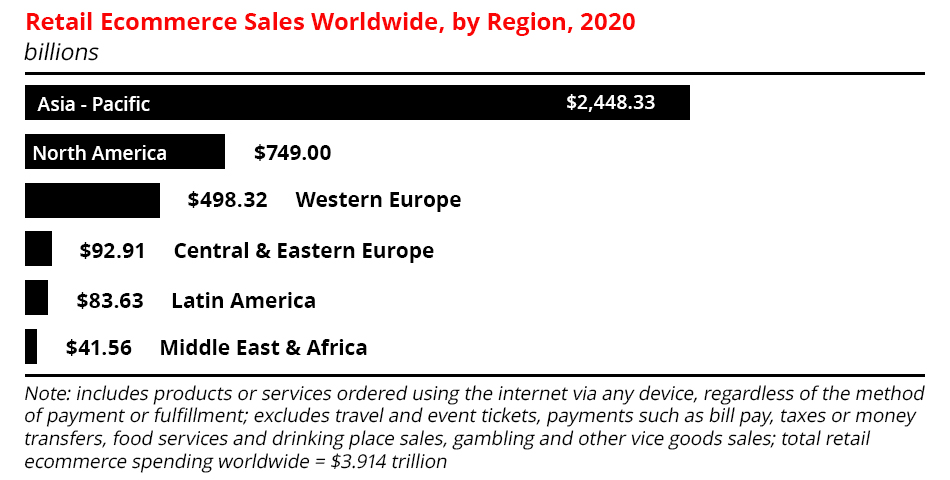 The activity of buying and selling using eCommerce platforms will be seeing a lot more enhancements in the upcoming future. From chatbots for virtual shopping assistance, voice assistants, AR-VR technology for improving the virtual shopping experience, blockchain technology, and droids. These are some of the major advancements you will be seeing soon.
Out of all this, one has already taken over the world of the eCommerce market. It is Voice assistants which are now popularly known as Voice Commerce.
9. CI/CD integration
The second last in this list is CI/CD integration. From the technical side of the business, we know that CI/CD is a Continuous Integration and Continuous Deployment pipeline. It is practiced to bridge the gap to maximize the utilization of automation in their daily development, testing, and building applications.
All the manual errors are addressed on time without any delay and on time, and the whole pipeline is standardized and enables faster testing and deployment. DevOps is also based on the same approach and this is opted to increase the reliability and fasten the process of the custom software development lifecycle.
One of the leading companies of CI/CD integration has their development tool-Puppet has built platforms to automate complex and complicated processes using CI/CD fundamentals. One of their technical leads shared the below tweet on their perspective on CI/CD integration.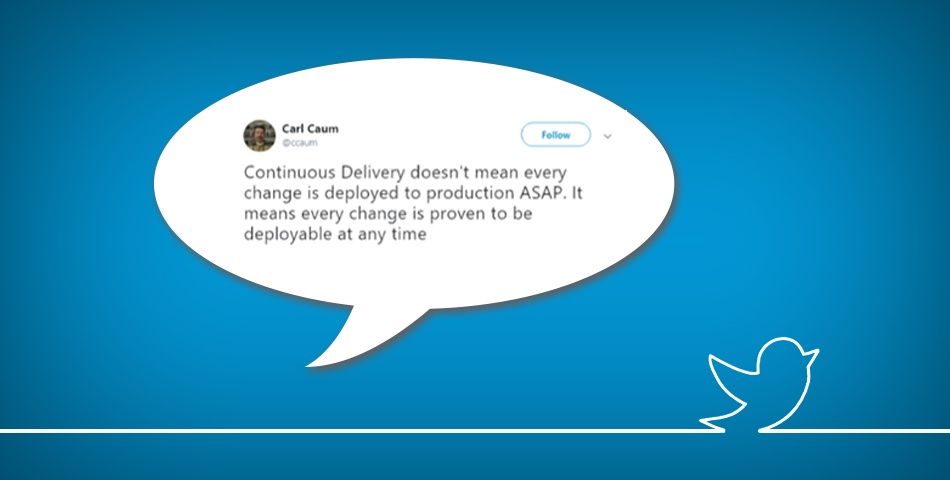 10. Low-code/ No-code Platforms
Gartner Research study stated, "By 2024, low-code application development will be responsible for more than 65% of application development activity."
This buzzword has left a lot of digital footprints and most of you must have heard or read about this type of technology. To elaborate on this, we will first start with what is a Low code or No code platform?
Low code development is one of the fastest ways to build applications without actually writing the codes. It is a visual representation of tools that enables users with drag and drop and point and click facility. Compared to traditional coding, this takes less time to code and amplifies all other processes of creation, destiny, deployment, and maintenance. Software development teams have begun to accept the low code development to create software solutions and mobile platforms.
Applications that can ensure businesses with lower coding time with higher configuration capability are made using the Low code approach. Other than this it can also be integrated with automation and can be used in processes such as RPA- robotic process automation, BPM(), Case Management, AI, and design rules. Multiple software development companies have already adopted these low code platforms to create apps within less time than normal.
After all this information on the Low code approach, at least know this is now that this technology is progressing in leaps in bounds. We will see the advancement and increase in the future very soon. Thus with this let's move to the next technology that will also make a boom.
Closing Thoughts
Finally, we have got to know that these are the top technologies that are going to disrupt 2021. Certainly, we are not limited to the above 10 technologies. The software industry is constantly evolving and witnessing evolutionary trends in software development. We have encountered multiple other overpowering technologies as well to enhance the standard procedures of daily operations. These are the most trending custom software development technologies that have evolved in 2020 and will disrupt 2021. Your business can hire software developers for customized needs and enhancement of business processes. And would like to develop a customized cross-platform app based on cloud technology using DevSecOps. After all, it is your business and your needs, you can shape it in all the ways you like.