Globalization has offered businesses to harness all the powers that can make their business successful. Access to global talent or access to global infrastructure, global market leaders, and whatnot. But how can your business avail of all these types of services? The answer is to hire software developers.
Table of Content
According to Gartner research shows that growth in IT services and enterprise software has been increasing at an unmatched speed. Their research also states that the custom software development Market is skyrocketing and has reached 70 billion dollars which is consistently growing at a 5% rate.
With this, we know that the market size is continuously growing but are you able to take leverage of it? There are various reasons why businesses are unable to take advantage of outsourcing.
The reasons can be a lack of trust, a non-matching resource pool, inadequate knowledge of outsourcing, and many more. In this blog, we are trying to portray a big picture of how businesses with a lack of knowledge and expertise in custom software development can turn their tables and become leaders in the field of custom software development. So, without much delay let's dive into the details of custom software.
1. What is Bespoke Software Development?
The varying business demands a seamless workflow with no further interruptions. Ready-made software is an option that was in trend and allowed most businesses to meet their objectives or goals. But "One size fits all" has never been a great concept. The reason for this is that most companies are unique and they need a business environment that is extremely specific. Here the concept of one size fits all gets restricted and businesses cannot get benefitted from the software they use.
Definition: "Bespoke software development is a process of addressing unique business challenges by developing a software solution that is a perfect fit for all the generic business problems."
To keep up with these growing challenges, we are barricading these unique business challenges by developing custom business applications.
Through our experience in developing multiple custom software applications for different businesses from diversified domains, we feel that most businesses do not develop tailor-made software because they find it complex and are unaware of how to progress.
For an ideal business scenario where the needs are specific, businesses decide to collaborate with custom software developers or custom software developing companies. But how can a business decide on which type of third-party outsourcing company should associate with to access the best software developers?
Here are some of the salient features that businesses must look for in an ideal software developer or custom software development company.
2. What Makes a Good Software Developer?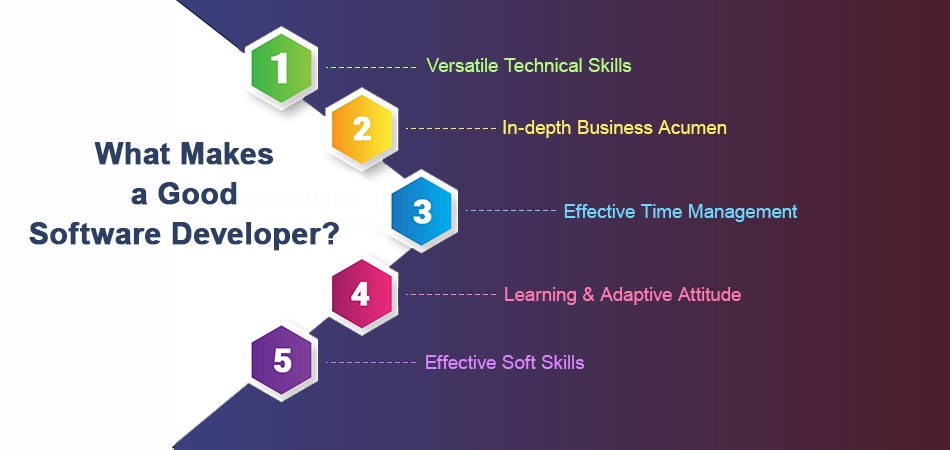 2.1 Versatile Technical Skills
It is something that is very obvious and hence the first and foremost quality for all software developers is a knack for technical skills, programming languages, and versatility. All software developers must be sound with the latest technology trends. They should be consistent in maintaining speed while writing logical, clean, crisp, and high-quality codes.
To be uniquely identified from many other developers from competitive companies, it is good to have technical knowledge of full-stack development. Though we know that software development encompasses numerous layers starting from front-end, back-end, or database to know full-stack will prove extremely beneficial.
2.2 In-depth Business Acumen
Just technical skills will not suffice the dream team of a software engineer. So a good understanding of business processes with advanced technical skills is an ideal software development company. In addition, here are some of the basic factors that are expected from a software developer to have.
Understanding of clients' business and their user person.
Building a transparent communication network between both teams.
Consistent idea generation and using it in the client's business.
Implementing end-user feedback.
2.3 Effective Time Management
Every business aims to save time and money in all the ways they could. Maybe that's the most vital reason why businesses tend to hire software developers with experience. Therefore, all businesses need to hire software developers who can enhance their productivity and profitability with speed and precision.
2.4 Learning & Adaptive Attitude of Software Engineers
This aspect holds another vital importance when it comes to hiring a software engineer. Since the world is moving towards regular technology innovations. So will your business demand you to learn new technologies, programming languages, and skills that will lead you to become a modernized, skilled developer. Adopting a development methodology like Agile and DevOps in the custom development process is also a very important factor.
2.5 Effective Soft Skills of Software Engineers
It is quite observant that most software developers are not skilled with communication skills and which makes them lag behind others. There is a possibility that they are brilliant in technical skills but lag behind in soft skills. This is the rarest and most desirable quality businesses look for when they hire software developers.
3. Challenges in Hiring Software Developers
To improve a business process, companies around the globe take advantage of outsourcing by partnering with companies that have expertise in software development. Thus more and more technological advancement leads enterprises to hire good tech leads to develop cutting-edge applications. But hiring the right set of resources is a tedious and cumbersome task.
As per the facts and research by Glassdoor's HR and recruiting stats in 2019, the average cost per hire was about $4000 and the cost per quality is expected to grow which will make it more challenging to hire talent.
There are innumerable obstacles that businesses face which restrict them from outsourcing. Further enlisted below are some of the business challenges in the process of management and hiring procedure of a software developer.
3.1 Limited Pool of Experienced Candidates
It is nothing new that companies from all domains and verticals know the fact that there is a lack of tech talent. However, there are millions of tech graduates graduating every year but still to match the talent force with the desired skill set is an arduous task.
The common reason that most of them face is a lack of relevant skills and experience that is required for their project. It is always a concern that you may find one type of skill set in a specific business but other skills may not match. Therefore, in this industry where there is already a shortage of skilled resources and finding an ideal software developer for your business needs. Experience in Development methodologies like Agile and DevOps is very important. These standard development methodologies are very important to implement.
3.2 Excessive Hiring Cost of Tech Employees
As we discussed, recruiting the right set of resources is a herculean task. Especially hiring a specific set of resources as per the business-specific needs takes a lot of time, effort, and money. For an excellent match of qualities in software developers, the hiring cost runs out of budget for the company because they demand a higher salary package.
In short, this process of hiring resources is not just tedious and challenging but is exorbitant. Thus, hiring a third-party software development company with all desired skills is an easier solution.
3.3 Lack of IT Education Background
"Practice makes a man perfect"- Unquestionably this goes true that there are umpteen employees who have started in an IT company and continue to grow there whilst learning things from the IT environment. Therefore one thing that lacks in all of these ingrown employees is a lack of formal IT education-i.e Software Engineering in IT or computer science.
It may not be a concern to all businesses but some of them consider this an important aspect to make sure to hire software engineers from a technical background.
3.4 High Salary Expectations
The reports conducted by  TemplateMonster say that the growth rate of wages for developers is expected to increase by 4.5% which already increased by 5% in 2020.
This means that if you hire a consultant or a freelancer or even a software developer for your unique business needs, you might run out of budget because of the salaries they expect." Cost-effectiveness" is one of the essential factors that makes outsourcing a viable choice for most of the businesses.
4. How do I Choose a Software Outsourcing Company?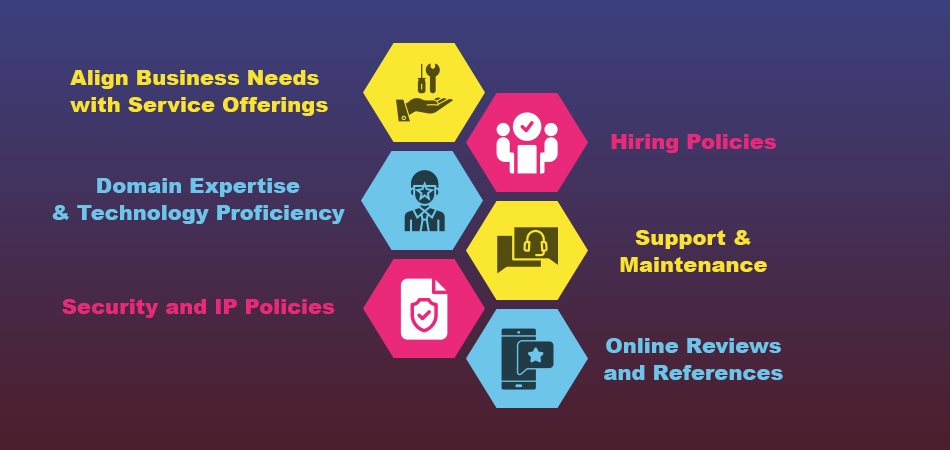 Many contributing factors make Outsourcing a wise choice for most organizations. Some of the major dominating factors that should be taken care of while you decide to outsource and choose a partner company. You should look at these vital points before you decide to partner with a software outsourcing company.
4.1 Align Business Needs with Service Offerings
It is very important to validate that if you outsource your business needs to a third-party company. Whose services are perfectly aligned with your needs? What you want is what they offer.
4.2 Domain Expertise & Technology Proficiency
For any software outsourcing company, you want to partner, with their domain expertise, and their expertise in diversified technologies.
4.3 Security and IP Policies
One of the major reasons that prevent businesses from outsourcing is security reasons. Thus, it is important to have access to intellectual property rights, security, and IP policies.
4.4 Hiring Process & Policies
Another essential aspect for businesses who want to outsource is the Hiring process and their policies. Consider a standard hiring policy that will barricade future disputes concerning the hired software developers. Hence the interview process is one of the major factors in hiring a person.
4.5 Support & Maintenance
It is not that once the development and deployment of a software application are done, the software company's job is over. They have a lot more to do with providing assistance and support as part of maintenance services to the business.
4.6 Online Reviews and References
With the digital era in action, businesses can simply take a look at their online presence, and read reviews, testimonies, and other references to authenticate third-party companies' offerings and projects.
5. How Much does it Cost to Hire Software Developers in India?
Cost is one of the major reasons why businesses choose outsourcing and there is a huge gap in outsourcing prices if u decide to outsource to different countries. If you see the hourly rates of hiring software developers from Europe then it would be $20-$50 per hour while the same in the United States and Canada is $100-$150. The hourly rates in Asian countries like India range from $20-$60 per hour.
Additionally, businesses have three standard ways of hiring software developers and engaging with third-party software companies.
5.1 Fixed-Price Method
This goes as per the name where the prices are fixed for each service business tends to offer. Additionally, for any extra services, the businesses will be charged as per the standard charges of the geographical market.
5.2 Time and Material based Method
In this type, the price of the software developed is based on the time and material used by the team members in building great software. 
5.3 Dedicated Development Team
Staff Augmentation in other words can be termed as hiring a dedicated development team to fulfill all the unique business requirements. A third-party software outsourcing company enables a dedicated team of developers with the desired talent and experience.
6. Conclusion
Hopefully, with this blog, we have helped you to understand the major factors that influence your decision of hiring a software developer. In this blog, we explored all the factors playing a vital role in custom software development, challenges in hiring, tips on how they should resolve these challenges, and cost factors. These are just ballpark figures for pricing; it depends on the type of technology you want to use and the complexity of development.