In today's modern world, enterprises of all sizes are facing competition and to be at the top they not only want the best software but also want to cut the development costs to save more amount of money. So, to reduce software development costs, increase margins and improve their services, businesses prefer to hire outsourcing companies. There are mainly three types of outsourcing processes: Onshore outsourcing, Nearshore outsourcing, and Offshore outsourcing. In this blog, we will learn more about what is offshore outsourcing and have a look at its pros and cons.
1. What is Offshore Outsourcing?
Offshore outsourcing is a practice where businesses hire an external organization to create projects for their company. The hired firm will be from another country than where the product is going to be used. Basically, when the development of the product is outside the country, it is known as offshoring. The cost of offshoring a software development company is lower than hiring a software development service provider from the same place. It is basically a business model for managing IT services efficiently at a lower cost. For instance, businesses from developed countries like the USA hire offshore companies from places like India and China as they get the best services at lower rates.
2. Benefits of Offshore Outsourcing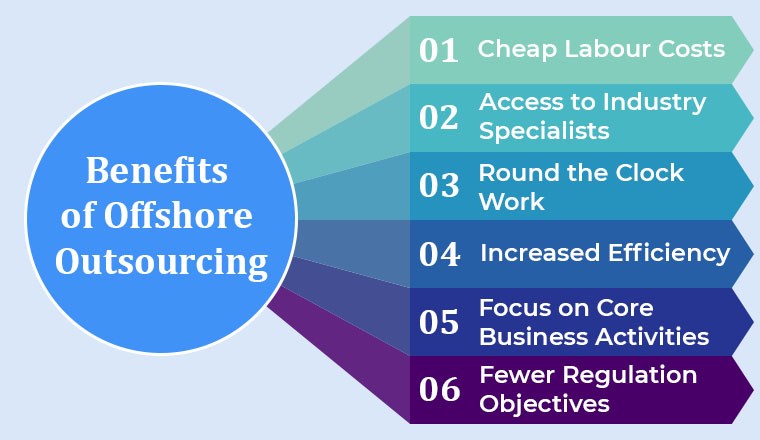 Below are the main benefits of outsourcing business processes from an overseas location:
2.1 Cheap Labour Costs
Hiring an offshore outsourcing team from Asian countries or under-developed Eastern European countries offers the best services at lower labor costs and the main reason behind it is that the legal wages here are less. Besides, the talent available in these countries is excellent which is a bonus for many foreign companies. Thus offshore outsourcing services from these countries result in cost savings.
2.2 Access to Industry Specialists
Generally, it happens that hiring specialized experts in software development or any other IT field is difficult, especially in domestic regions. Therefore, the majority of businesses prefer offshoring experts for these technical business operations. This offshoring of specialized business functions is called knowledge process outsourcing.
Places like India and the Philippines offer a large talent pool of offshore developers and engineers to the world. Hence you can have access to skilled professionals at cheaper operational costs. And these professionals are well-versed in the English language which is very beneficial as the communication between clients and the developing team becomes smooth.
2.3 Round the Clock Work
One of the most important benefits of hiring an offshore outsourcing team is that the experts are available 24/7. The internet has widened the standard business hours. This means that if the client faces any major issue with the technical service, they can immediately contact the developers and get the issue resolved at any time. Besides, offshoring offers more feasible technical support than any other type of software development company.
2.4 Increased Efficiency
Often times it happens that businesses don't have the in-house expertise for a specific task and then one person has to handle multiple tasks. For instance, managers also have to do marketing jobs. This is why businesses hire outsourcing experts to get their job done efficiently and effectively.
2.5 Focus on Core Business Activities
Offshore outsourcing gives businesses the flexibility to focus on their important tasks and handles all the other development-related jobs. For instance, when a company hires an outsourcing developer, the firm can focus on its routine rule-based tasks, and the hired resource can focus on the development aspects. This helps in reducing the work stress of the in-house teams and completing the project on time at a faster rate.
2.6 Fewer Regulation Objectives
When any business organization hires an offshore software development company, there are very few legal regulations and procedural paperwork. The main reason behind it is that the hired company works as a freelancing firm, so they only have to sign one or two contracts. This also ensures that the development procedure starts quickly.
3. Drawbacks of Offshore Outsourcing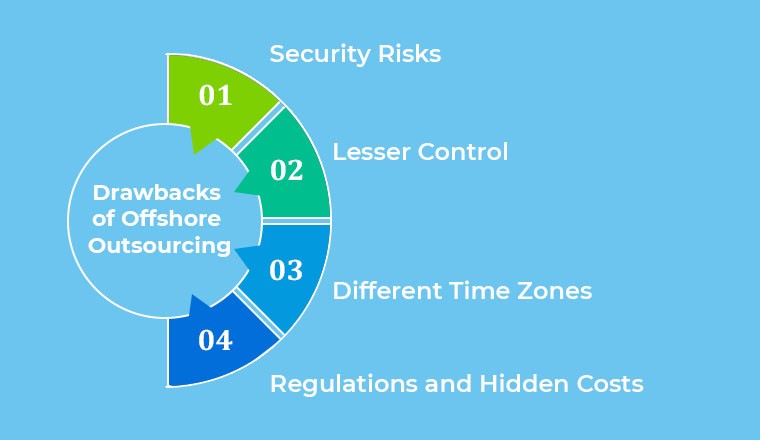 One of the common drawbacks of outsourcing software development services to a different country is the language and cultural barrier. Apart from this, there are various other drawbacks:
3.1 Security Risks
Hiring a software development team outside the firm means that the business organization will have to share confidential information with the hired partner. And this is where most companies feel concerned. Besides, businesses are also worried about keeping clients' data safe. Therefore, they generally try to hire an in-house team of developers to keep the important data secured inside the firm.
3.2 Lesser Control
When the team outside of the firm handles the software development projects, the work gets done faster but the hiring organization has no control of the working process. For instance, if any issues arise in the system, the firm will have to wait for the offshore software developers to complete the task, as they won't have the details or controls over the project. Companies have to tread carefully to manage quality control of the project delegated to the outsourcing firm.
3.3 Different Time Zones
For some companies, time zone differences can be difficult. Generally, offshore outsourcers are located around 5-12 hours away from their clients and this changes the working hours for both parties. Both the client and the hired development team will have to maximize their productive time to work efficiently which might be challenging. And this is why some companies prefer hiring an in-house team rather than outsourcing the talent.
3.4 Regulations and Hidden Costs
Sometimes it happens that clients are not familiar with foreign regulations and in this case, if while hiring the outsourcing team, they haven't had a clear conversation about all the intellectual property rights, there are chances that the client will encounter some hidden regulations or costs. This is something all businesses are concerned about before hiring an offshore partner.
4. Conclusion
Offshore Outsourcing is an expedited business process outsourcing with countless benefits and perks. There are challenges but there are resolutions too. You can quickly get the return on investment for your cost invested and your business will be able to gain a competitive edge. Offshore partners are a blessing for large and small businesses if you know to make the best out of them.