One of the best forms of technology is a health information system. These information systems have proven themselves like none other and here's how. Improved cost control to increase the timeliness and accuracy of patient care. Administration information Increase service capacity. Reduce personnel costs and inventory levels Improving the quality of patient care. The following post emphasizes what a health information system is and how it is beneficial in the health space.
Can you control water? I mean as soon as you try to stop it, it makes another way to reach the destination. For me, technology is much like water. It cannot be stepped, all you have to do is give it a shape by offering some vessel. By vessel, I mean industries and retail, eCommerce, travel & tourism and healthcare no longer seem to be an exception.
1. Health Information Systems – The era of Healthcare Informatics in the Medical Space
Before we dig into the definition, it is very crucial for you to know that the arena of healthcare informatics features a rare combination of healthcare data, information technology, and business. Over the years, they seem to have gained a huge boost, all thanks to emerging technology. And Healthcare Software Development Companies can help to build this system.
Health Information System (HIS) seems is a boon for the entire industry, let us find out how? First of all, HIS mainly refers to a system designed to manage healthcare data. Now how everything is managed? Well, right from collecting to storing, managing and transmitting a patient's electronic medical record (EMR), a hospital's operational management or a system supporting healthcare policy decisions.
These systems feature the ones which are capable enough to handle data related to the activities of providers and health organizations. It's not about killing two birds with one stone, it's about killing four birds with one stone at a time. I am talking about improving patient outcomes, informed research, and influencing policy-making and decision-making. Besides, there is always a possibility of security breaches since health information systems comprise large volumes of sensitive data.
However, these information systems are a vast topic and since we don't have much time I can only say that this one has got the ability to better store and transmit information via EHR. The record comprises an individual patient's complete health history and must include everything from past treatments to allergies and current prescriptions. Having a full-fledged EHR at hand, health professionals can provide a comprehensive outlook on a patient's health history and physical makeup.
It may quite interest you to know that a health information system could affect every facet of a healthcare center's operations. Whether it's about tracking operations or scheduling staff, maintaining communication.
Do you know how well functioning information systems should look like?
It must have the ability to: Generate and compile information from service delivery points. District-level routine information systems. Disease surveillance systems laboratory/procurement information systems. Hospital patient administration systems and human resource management information systems.
An information system must be able to detect events that threaten public health security.
Systems should be able to analyse, synthesize. And communicate information for effective planning and implementation.
2. Advantages or Improvement Offered by these Healthcare Information Systems
I am pretty sure you must be wondering why there is a need for such a system (HIS) when you have a staff featuring the right amount of caliber and expertise to perform them manually? Don't you think you are spending necessarily? I guess not! Further below, I would like to focus on certain advantages offered by these health systems.
2.1 Easy Access
Having a well-implemented health system, patient data is readily available. And all it takes is the matter of a few clicks and all the requisite information about a patient, from various departments in the hospital, can be available on the screen. In case, if the treating doctors and healthcare professionals require to re-check the test reports of a patient, they no longer require to go looking for the IPD file. logging into the HIS will give her instant access to those reports and timely treatment decisions ensue.
2.2 Increased Patient Safety
Health information systems have the potential to store and display but synthesize patient information. For example, program security checks that could alert health personnel of adverse effects the patient might experience on a certain medication before it is prescribed. Being able to store all of a patient's information, including lab results, health imaging, and more in one place can also help avoid costly mistakes that arise when not all relevant information is available during decision-making.
Easy access to patient's data is now possible, all thanks to Health Information Systems and the health information techonology it has been encompassed by. All information can be shared across multiple databases to improve the safety of the patients.
2.3 Enhanced Performance Analysis
Using this health system enables a host of avenues by which staff performance, patient care, and stability, and institution efficiency could be tracked. Health technology has the potential to compute staffing decisions based on individual skill sets. In spite of the best part here is patients could submit anonymous feedback regarding their level of care, providing administrators with better feedback on staff qualifications and fit.
Health systems maintain less paperwork and ensure everything computerized and automated, you get error-free reports and statistics. As a result, various medication errors can be avoided and patients' safety can be ensured.
2.4 Reduce Operational Costs
Health systems enable organizations to strategically allocate resources and save significant amounts of money, energy, time, and supplies. One of the finest examples is using a comprehensive amount of data that concerns the specific needs of admitted patients. Then you have to combine it with characteristics about individual staff skills, availability. Here you can also cover even up-to-the-minute details including fatigue levels when applicable, to more effectively staff and arrange health personnel to best serve patients.
In addition to this, these health systems also enable better management of supplies. Inventory, refrigerator contents, equipment check-outs, and infinitely more can be tracked, viewed, and updated in real-time with systems. According to the certification commission for health systems, around 50 percent of health finances will be wasted each year due to system inefficiencies. So the only way out to save millions of dollars potentially is by utilizing better health information systems.
2.5 Win-win Situation on Both the Sides
By adding value to the clinical process health systems don't just make the daily job of healthcare providers and administration easy but also improves the satisfaction level of the patients. Moreover, patients can rely on your service, and when you become a reliable name in your sector, you get more patients and get a great return on investment.
So by now, I am sure you must agree with me how these Health Information Systems are beneficial for the long run. It is clear that HIS offers healthcare providers various opportunities to provide better care to the patients while saving cost and making work seamless.
3. Some of its Best examples include:
3.1 Electronic Medical Record and Electronic Health Record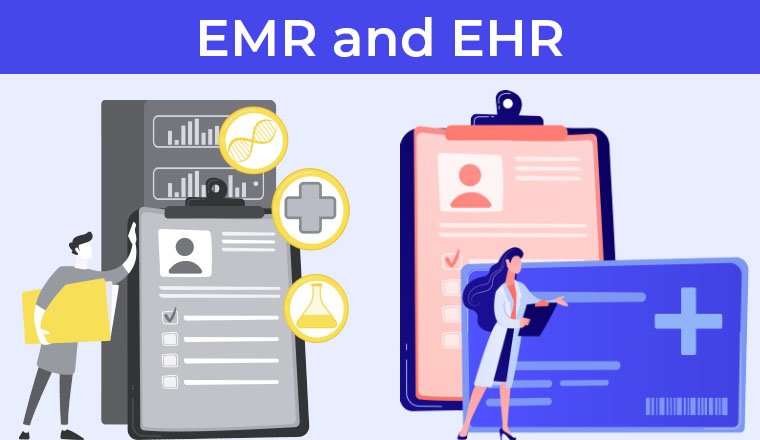 The two terms can be interchangeable, EMR in simple words replaces the paper version of a patient's health history. Indeed ranging from health data, test results, and treatments, the EMR systems covers it all in the health space. Not only you but health providers can access a patient's healthcare data, do you know how? Well, Electronic Medical Records (EMRs) are designed to share your valuable data with other relevant electronic health records.
3.2 Practice Management Software
Another finest examples in the health systems. As the name implies, this one not just manages the day to day operations such as scheduling and billing but also ends up automating several administrative tasks.
3.3 Master Patient Index
This one connects separate patient health records across numerous databases. The index has a record for each patient that is registered at a health organization and indexes all other records for that patient.
3.4 Patient Portals
As the name implies, a patient can easily access their personal health data such as appointment details, medications and lab results over an internet connection. Some of these management portals even allow active communication with their physicians, prescription refill requests, and the ability to schedule appointments.
3.5 Clinical Decision Support
CDS for short, clinical decision support analyzes data from different clinical and administrative software to assist health providers to make clinical decisions. The data can help prepare diagnoses or predict events — such as drug interactions. These tools filter data to help clinicians care for individual patients.
4. Crucial Data on the Components of Health Information System
4.1 Patient Portal Services
Since it is quite similar to electronic health records, I don't need to get in-depth. But the differentiating aspect here is that these patients are not just capable of having secure online access but also end up managing their records. This includes scheduling doctor appointments to communicating with the doctor, checking the bills and processing payment online. All they need is a smart device to prevail maximum benefits. Above all, hospitals and health care organisations are found opting for these services for constant improvement among their patient's satisfaction levels.
4.2 Health Billing Applications
This feature in particular manages all kinds of billing tasks in the least amount of time than usual. There was a time when hospitals used to spend enormous time managing appointments and billings but not anymore. With this billing feature, everything can be handled accurately right from patients' billing, insurance details, patient tracking, and payment process, etc.
4.3 Remote Patient Monitoring Services
Another promising feature, we all should be looking forward to is remote patient monitoring. This one does a great job at delivering good health care to the patients and minimizing severe condition expenses. However, If you are someone who is suffering from chronic health issues, Remote patient monitoring provides great help.
5. Conclusion – Choose the Right Health Catalyst
Above all these aspects security seems to be the major concern for any health information system. All networks are vulnerable, but healthcare providers are desirable targets for cybercriminals – all thanks to HIPAA Compliance. Besides security, it's useful to focus on patients. I hope you enjoyed reading the post! In case, you have any doubt or concerns feel free to mention in the comment section below.