Health information systems are used to make crucial decisions by healthcare professionals to save lives and improve patient care. To give more idea about Healthcare information systems the following post emphasizes what a health information system is and how it is beneficial in the health space.
1. What is a Health Information Systems?
A Health Information System (HIS) mainly refers to a system designed by a healthcare software development company to manage healthcare data. Right from collecting to storing, managing, and transmitting a patient's Electronic Medical Record (EMR), these systems cover it all! Plus, they also support policy making.
All these integrated efforts are made to improve the end results and create a win-win situation for all patients as well as healthcare professionals.
Besides, since health information systems comprise large volumes of sensitive data and can be accessed by anybody, it possesses high-end risk.
2. Do You Know How Well Functioning Information Systems Should Look Like?
It must have the ability to generate and compile information. Now from where this information can be compiled from? It can be from service delivery points. Though the pickup destination is fixed the drop destination can be anything ranging from district-level routine information systems to hospital patient administration systems, disease surveillance systems, etc.
An information system must be able to detect events for security purposes. Healthcare information systems should be able to analyze, synthesize, and communicate information
3. Benefits of Healthcare Information Systems
Let's dig deeper into the benefits of the Health Information system.
3.1 Easy Access
Having a well-implemented health system, the data of the patient is readily available. All it takes is a matter of a few clicks and one gets to know everything. In case, if the usual treating doctor is absent and some other professional needs to go through the test reports again? Now all they have to do is log in to the HIS and they can have instant access to the patient's medical history and current scenario.
3.2 Enhanced Performance Analysis
Using these health systems enables a wide range of benefits for example not just your patient's health is well-taken care of but even your staff like health care providers, and professionals involved gains points in regards to productivity. Not to mention that all these aspects can be tracked easily. The best part here is patients do have the privilege to submit feedback without being biased.
Health systems also turn out a blessing to the environment, with less use of paper. Since everything is computerized and automated, there is the least chance of any manual error taking place.
3.3 Reduce Operational Costs
Health systems enable organizations to allocate resources very effectively. With the help of HIS, you can manage your resources with an optimized approach. You will have a good idea about which resource is available and occupied. In addition to this, these health systems also enable better data management and effective administration of supplies.
3.4 Better Patient Care
HIS is enabling you to manage everything in a planner manner which will ultimately give satisfaction to patients. Patients start trusting you and your services and slowly they will become a word of mouth for you. In the healthcare industry, caring for your patients is an ultimate goal and with properly implemented HIS will help you to reach the goal. In the end, it's not just any business, the healthcare industry is one that is also known for adding value.
4. Examples of Health Information System(HIS)
4.1 EMR and EHR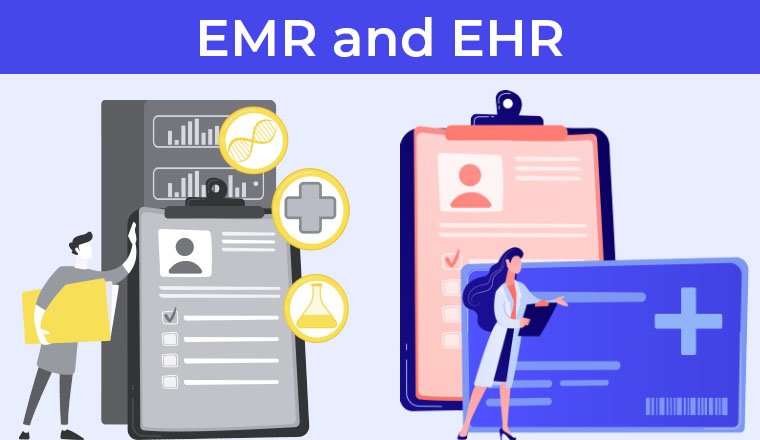 The two terms can be interchangeable, EMR in simple words replaces the paper version of a patient's health history. Ranging from health data, test results, and treatments, the EMR systems cover it all in the health space.
4.2 Practice Management Software
Another finest example in the health systems is practice management software. As the name implies, this one not just manages the day-to-day operations such as scheduling and billing but also ends up automating several administrative tasks.
4.3 Master Patient Index
Master patient index connects separate patient health records across multiple databases. Here each patient's records and information are being stored.
4.4 Patient Portals
As the name implies, patient portals give easy access to the patients about their recent health records and are also able to set appointments with doctors. They can also view any new medications added and what are the lab results. Just they need to have an active internet connection. Also, now there are portals available allowing seamless communications with their respective professionals.
4.5 Clinical Decision Support
CDS for short, clinical decision support analyzes data from different clinical and administrative software to assist health providers to make clinical decisions.
5. Crucial Data on the Components of Health Information System
5.1 Patient Portal Services
The patient portal is quite a crucial feature in software or solutions as it is quite similar to electronic health records but the differentiating aspect here is that these patients are capable of having secure online access. All they need is a smart device to check their records, book a doctor's appointment, and process payments online.
5.2 Health Billing Applications
This feature, in particular, manages all kinds of billing tasks in the least amount of time than usual. There was a time when hospitals used to spend time managing appointments, insurance, and monitoring patients' billings but the tables have turned now. With this billing feature, everything can be handled accurately.
5.3 Remote Patient Monitoring Services
Another promising feature, we all should be looking forward to is remote patient monitoring. This one does a great job at delivering good health care to the patients. If you are someone who is suffering from chronic health issues, no big deal because Remote patient monitoring is here to our rescue.
6. Conclusion – Choose the Right Health Catalyst
As seen in this blog, healthcare information systems are clearly the present and the future of the healthcare service. These systems help healthcare centers bring revolution in the way they serve their patients. They offer robust medical procedures, increase the efficiency of the medical professionals, and make the entire healthcare system organized. This proves that healthcare information systems are a win-win for both the healthcare service providers and the patients.