When an industry giant introduces a new product, everyone anticipates it to be flawless. Consumers' high expectations paired with genuine curiosity make them more demanding, but if a new solution satisfies their criteria and delights them with an exceptional journey, interested parties become devoted customers.
That is precisely what happened with AngularJS, which was released in 2010, and its entire rewrite Angular, which debuted in 2016.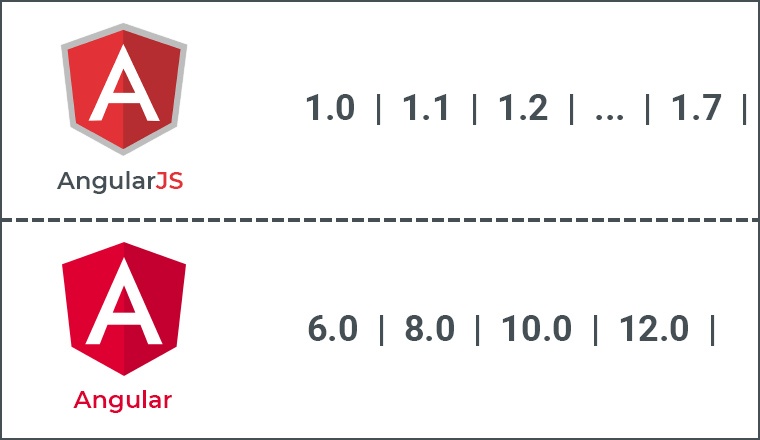 This Google product is always improving. It continues to draw technical brains and crops up in the most heated debates. By following the angular best practices, you may take your brand to the heights by leveraging the best features of angular for your software. Numerous websites and web applications are built with Angular because of its exceptional capability, simplicity, and potential.
Here are some stats to prove the popularity of Angular in the tech world –
This list of the ten finest Angularjs and Angular app examples below is compiled to assist you in determining whether Angular is a suitable fit for your future web application.
1. Apps Made with Angular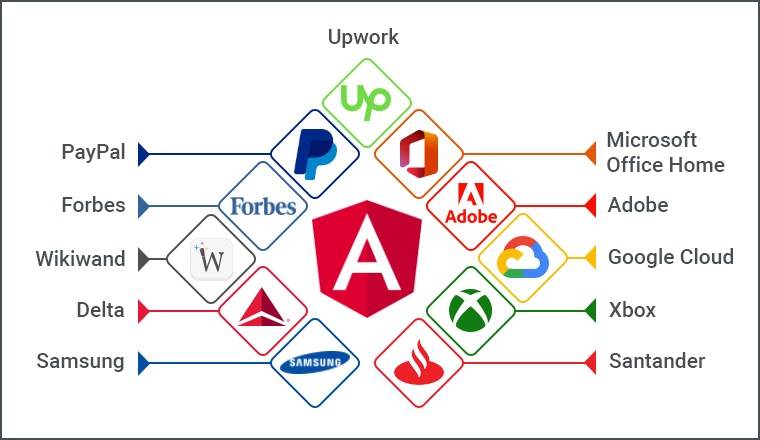 1.1 Upwork
Here is a tweet showing Upwork makes use of Angular
Who uses Angular? 🌐 Google, PayPal, @Nike, @HBO, General Motors, Sony, The Guardian, and @Upwork, to name a few. https://t.co/ICK89JuJGU pic.twitter.com/nZy3zFzWZt

— Simplilearn.com (@simplilearn) July 18, 2019
Upwork and freelancer are another example of web applications developed using Angular. Upwork is an American freelancing platform and Freelancer is an Australian-based platform. After the COVID effect, the IT industry seems to be booming like a fire. This includes the rise in freelancing as well. This angular-based platform serves its best where individuals can work hard and get exactly what they deserve in return. What makes upwork more attractive is its brilliant functionality, best designs, data protection, seamless navigation within the site, and whatnot.
1.2 PayPal
Millions and billions of money are being transferred each day with the help of PayPal. It doesn't matter whether you are an individual or a business, seamless transfer of money is highly possible with PayPal. At present, you may come across approx 305 million active users or more of the app who are using Paypal for online money transfers. Paypal also supports real-time feeds of transaction data.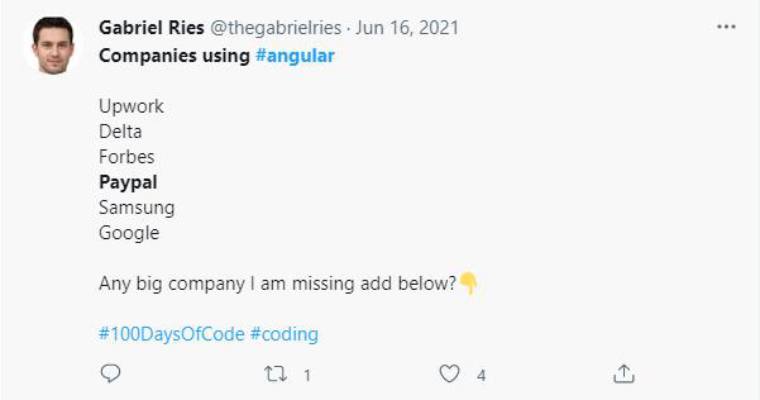 1.3 Forbes
One of the most popular websites on the planet is also an Angular example. It is built with Angular 5 and replies to the inquiries of over 74 million monthly users in the United States. It covers a range of subjects and illustrates how digital editions can become almost as iconic as the magazine's first issue, which was published over a century ago.
Forbes' online application was designed using Angular. Forbes operates well in all environments.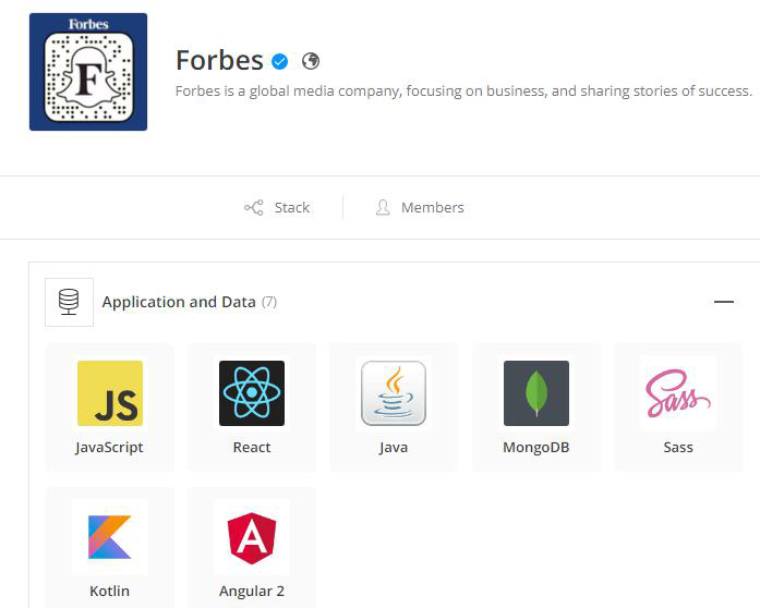 The "write once, use everywhere" philosophy ensures that the Forbes website performs effectively on any device, operating system, or browser.
Additionally, an unbroken, rich experience is available. Readers may surf and explore the website as much as they like; intriguing content comes on the screen naturally.
The servicing and administration are straightforward: As the framework evolves and develops, so does the Forbes website.
1.4 Wikiwand
The founders of Wikiwand describe the primary objective for their product is Superior readability. Angular enabled the division of a webpage into clear, easy-to-read chunks.
Wikiwand's enhanced navigation feature is available on both the web and mobile.
As a consequence of utilizing the Angular framework, the team claims "increased traffic and utilization" on a redesigned edition of the old Wiki.
1.5 Delta
Delta Air Lines, which is based in the United States, is a pioneer in domestic and international travel. They provide flight passes to more than 60 countries and more than 300 locations. Delta has built a website using Angular 9+ that is both robust and quick, and its site's 1st visitation is presently ranked third in the tourism and travel business category. They elected to include the framework into their landing page, and clearly profit from it.
With this combination, Delta's clients may conduct high-level plane tickets inquiries or register flight details while enjoying a positive client experience and a fast page load time.
1.6 Samsung
Statistics might be a shocker but Samsung is one of the largest multinational companies that has built its roots using Angular framework for their web development of their webpage- Samsung forward. Established in 1938, this Korean manufacturer of consumer goods has been keenly involved in developing cutting-edge technology platforms and an exceptional user-experience for their consumers.
If you think of Samsung, it would definitely remind you of a physical store but now times have changed. Now with the changing digital era, Samsung has their responsive website created by leveraging the best Angular development features and power-packed libraries. The Forward service page- Samsung Forward Page has utilized .Angular 6.1.2 and the best of Angular features and instilled appealing mobile-friendly functionalities for simpler transitions and improved user experience.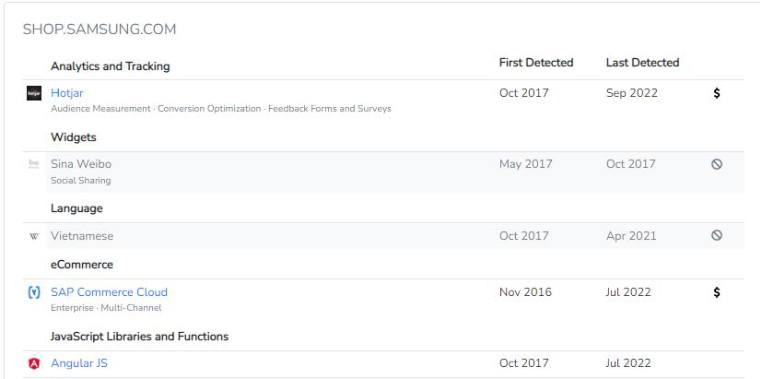 1.7 Microsoft Office Home
One of the most popular names of Tech Gaint Society is Microsoft.The extensively large user base of more than 75 million users per day makes consumers expect higher convenience and exceptional user experience from the company. To meet the rising needs of their brand loyal customers, Microsoft uses Angular technology that enables businesses to make full-integration of Angular tools with Office 365 web apps.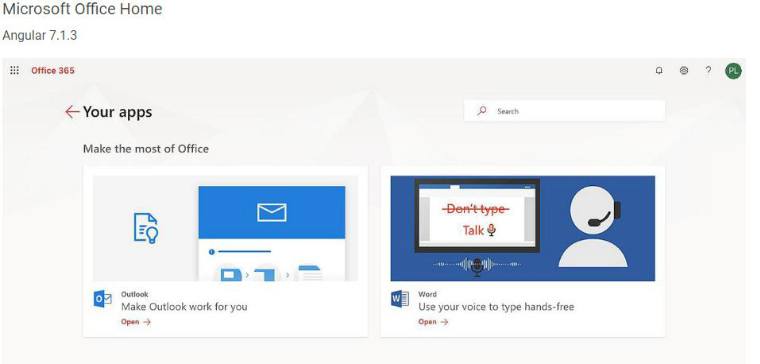 Two major tech leading giants Microsoft and Google made a major collaboration and they both came up with their upcoming upgrade to AngularJS (also known simply as Angular) and TypeScript 1.5. Apart from using Angular for their internal website, they also used Angular to develop one of the leading languages called TypeScript.Now that many businesses know about Typescript, it is used by many companies like Slack, Accenture, Bit Panda, and others.
1.8 Adobe
Being a renowned name in Software development, Adobe is a multinational company with its pioneering products such as Adobe Creative Cloud, Experience Cloud and Document Cloud. Adobe Creative Cloud consists of many desktop and mobile apps which are proficient in photo editing services as well.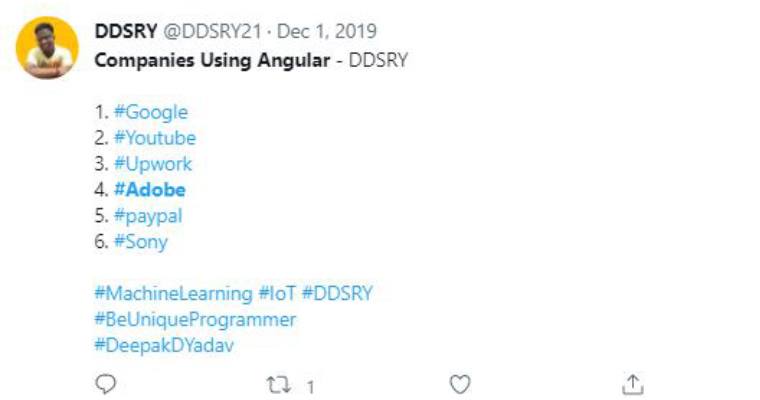 Adobe used Angular to build their website and provide holistic technical support to all the company products. The list of their innovative flagship products includes Acrobat DC, Photoshop, Illustrator, and Adobe XD.Not just that, Adobe has also integrated Angular in building its inhouse website and mobile apps. AEM – Adobe Experience Manager (AEM) is a content management solution for mobile apps, web and desktop-based applications.There are a plethora of Adobe apps that use Angular to build efficient, fast and high-performing applications.
1.9 Google Cloud
Google is the brain behind the first version of Angular that debuted in the year 2010. The latest version that Google released was Angular 2+. Many popular enterprises including Google have adopted Angular development services with the powerful and highly-functional utilization of features to create innovative and leading-edge applications.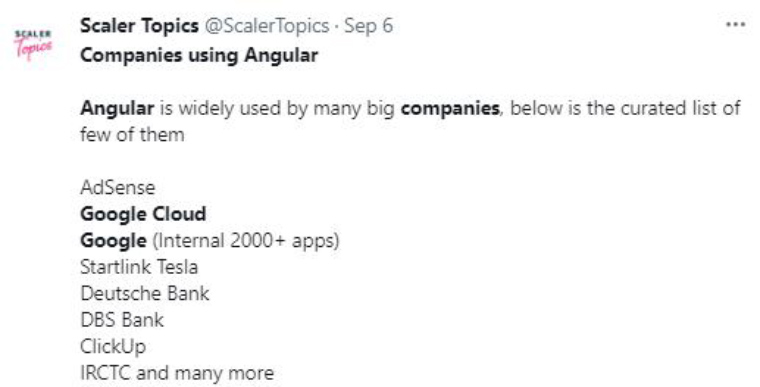 Angular was used to develop Google's own Cloud console and it had the potential to launch stand-alone and high-performing applications.Do you know which all applications were developed using Google? Here is a list of Google products whose sleek look is the sole credit of Angular framework.
Google Play Store
Google Voice app
G Suite homepage
Google Open Source
Google Play Books and several other google applications.
1.10 Xbox
Microsoft's Xbox is a popular gaming system. There isn't a more well-known brand in the global online gaming market than this one. Video games may be played on an Xbox by hooking up the console to a TV or other display device. Xbox is well-liked because of its sophisticated visuals, which bring games closer to reality. Since Angular 4 was the most recent version of the framework, it was used in the website's development to let customers simply navigate the site, learn about the Xbox brand, and make purchases. Their website could be readily scaled and integrated with other platforms to accommodate their growing inventory.
1.11 Santander
Santander is another well-known name in the banking industry that got its start in Spain. Then, in 2013, it leveraged the expertise of the best mobile app development firm in the United States to build a foothold in the Northeastern United States as its primary marketplace.
According to Santander Bank's Global Tech and Operations Page, their team of 2,000 individuals in 7 countries leverages AngularJS to create web-based banking products.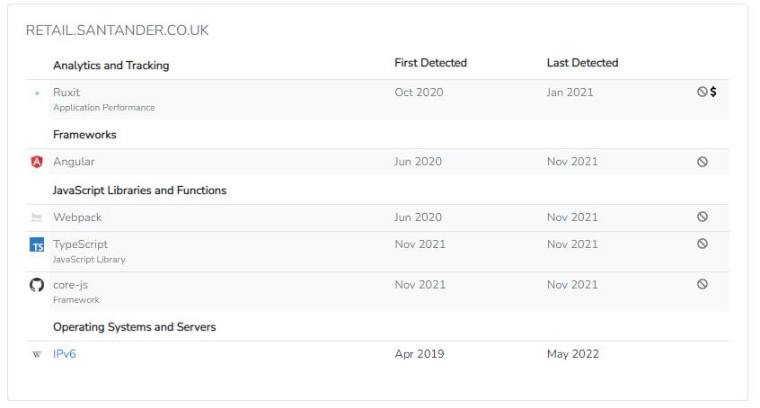 2. Significance of Angular in Web App Development
Gone are the times when businesses were given an option to build a website or an app. Today, whether they are running a small, medium, or large size business, having a website or app has become a compulsion. Wondering why? Here below, the reasons are mentioned for how website development or web application development using Angular can be fruitful.
Easy accessibility via progressive web apps and mobile phones
Provide credibility and reliability
Expand reach through web applications
Brand identity can be maintained for a long run
Increased traffic
ROI also increases.
It may quite interest you to know that almost everyone, be it the millennials or Gen Z believe the fact that having an unresponsive website or web application is equivalent to having no website at all. Also, it indicates the business's lack of interest in its consumer's needs and this also becomes a major turn-off for them. In fact, due to this tons and tons of leads are wasted each day. Also, not to mention that this could create a bad impression worldwide. In short, not having a website or having one with a low page loading speed, no user-friendly design, and bad content can make you fall at a breathtaking speed.
3. Why Choose Angular Framework To Develop Modern Applications?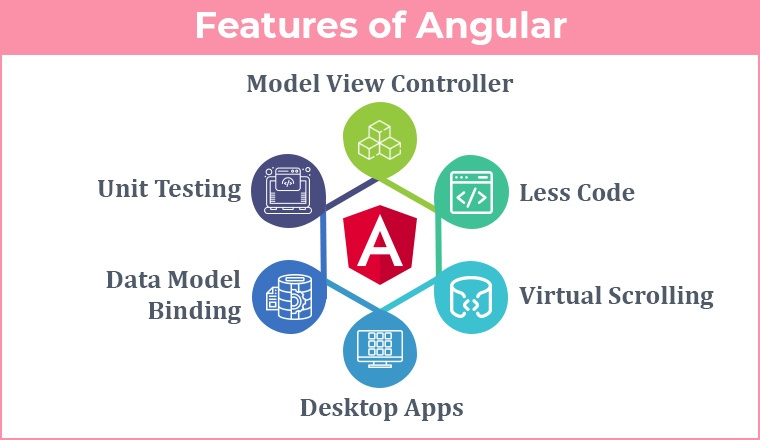 Introduced in 2009, Angular is so popular now like no other framework today. The JavaScript open-source front-end web application framework can be defined as a power-pack of a wide range of frameworks, libraries, and plugins ranging from the famous MVC architecture to two-way data binding, dependency injection, lazy loading, etc. So if you are willing to develop dynamic web pages, robust, and scalable web apps, look no further than Angular.
Although, the journey of app development technology has not been so easy from creating single-page apps to the web. But today one can proudly say that Angular has played a vital role in the transition front–end development.
Further below the reasons are mentioned for using AngularJS now called Angular for your web development or mobile app development project.
3.1 High-end Functionality
The first and foremost reason for choosing this dynamic web technology is its high-end responsive single-page experience. Another benefit of using Angular for your first web app development project is that here developers do not need to seek assistance from third-party libraries as the default setting of the framework covers it all. Other than the library, no other technology can assure you high security and impressive quality of code as much as Angular does. All you have to do is ensure to choose a reliable software development company that has an adequate amount of experience in developing the best Angular-based websites.
3.2 Reusability
Another one of the reasons why Angular is the best framework over others is, it offers reusability. This is in regards to Angular app code. Have you ever wondered why Angular has a strong development environment? It has unmatchable consistency in regard to code.
Speaking further of the usability, the Angular CLI (command line interface) and the documentation style guide are highly recommendable for performing tests, incorporating a wide range of unique features and functionalities. Now if one member of the team makes some changes, the entire team gets to know about it. So effective teamwork can be seen as everyone is on the same page.
Not to mention that the time, money, and energy used in developing such web apps are quite low. Of course, here code reusability plays a significant role. Within a few lines of code, more and more functionality improvements can be added to any site at once.
3.3 Extensive Community Support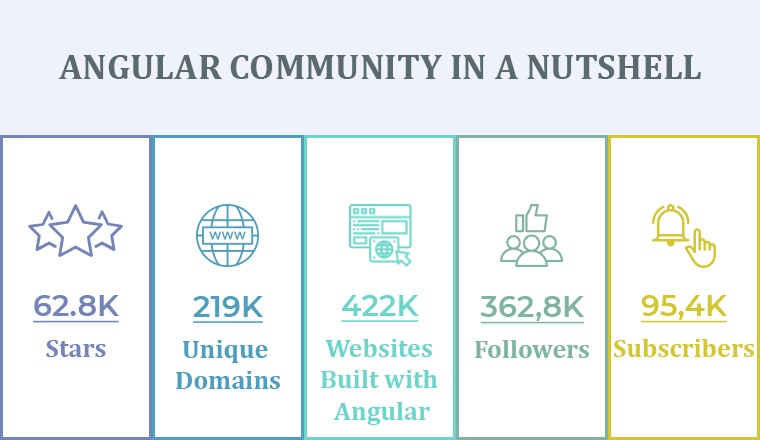 Supported by one of the world's leading tech companies Google, Angular has a community of skilled engineers from Google+ and Reddit. Community/developer portal support offered by this framework is simply incredible. No matter what the issue is, veterans from the core team and experienced programmers are always there to help.
Apart from such communities, you may find a wide range of conferences, seminars, and webinars being held where known veterans are asked to shed some light on Angular. Also, the internet is filled with tons of information whether it's in the form of a book or a 5 min read. Here an Angular developer not only gets some help but also is able to contribute when needed.
4. Conclusion
However, this is not it, there are several other examples of companies using Angular such as The Guardian website, Lego, iStock Photo, Wix Web Apps, Tata Consultancy Service, etc. With 58000+ stars on Github, 100000+ professional service providers on LinkedIn, 3,600,000 technology websites built around the world, Angular JS is showing no signs of slowing down.