If your development team is having difficulty quickly performing application testing tasks, a smart place to begin is with your testing and quality assurance plan. A successful technique entails triaging faults and categorizing them according to classification, importance, and severity. Additionally, the functional testing method should take the complete defect life cycle into account.
Non-functional testing on application workload, speed, and user acceptability are also vital aspects. Additionally, businesses employ high-performing software testing services to make extensive use of different test management systems. Those that excel at this, cover the majority of code in their automated regression testing suites.
As you proceed to complete the remainder of your testing and quality assurance plan, the following best practices will guide you.
1. Quality Assurance Best Practices for Software Testing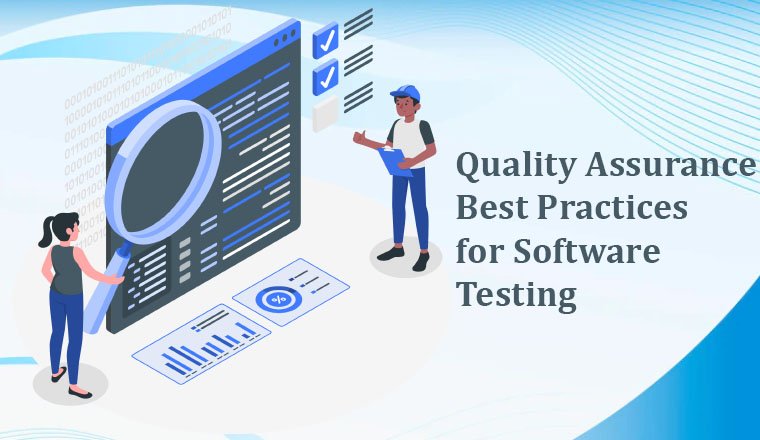 1.1 Develop QA Goals and Objectives
The process of QA is an integral process. It involves various test cases, test scenarios, and other software testing procedures. When talking about stakeholders, this involves QA and development teams, business analysts, product managers, and other QA team members. Here each member of the QA team is accountable for the testing they performed. You need to build strong accountability within the team so that each one knows the goals that they need to achieve. To establish responsibility, you have to create explicit as well as well-stated objectives and goals.
Here are some of the types of bugs QA teams encounter when they start with a strict quality assurance process. Each member of the team will perform different types of testing from the unit and integration testing to exploratory testing or functional testing. Where unit testing examines all the individual components of source code and integration testing exposes the defects of components and assesses whether the subsystem works or not. Here are some types of QA goals that can be set for each QA specialist.
Check open defects- You must take steps against the open defects which have exceeded and quality assurance steps should be taken.
Code requirement- It needs to ensure that you meet all the code requirements with higher efficiency.
Prerequisite check-This aims to address all types of software requirements that you define at the initialization of project development. Each and every detail must be covered.
Critical Bugs- This type of bug includes high-risk bugs which can interrupt the software functions and hence, these bugs require more attention than others.
1.2 Define Software Testing Process and Plan
The next step in the process of software testing is the introduction to the test plan. Here you can start with planning your test procedures, develop a roadmap on how to implement sprints, do the sprint planning and define the short-term goals. This will allow the team to be constantly involved at every scale within the project's phases and improve quality assurance for your business.
You must plan every minute detail of your project if you truly want it to succeed, and software testing is one of those details. This is why one of the most important QA testing best practices is comprehensive preparation.
Prepare a test plan that contains details of testing, by whom, what resources will be required, when the deadline will be met, what the acceptance criteria will be, and what the current status and test results will be. You can also do test automation with the help of your quality assurance tester.
Another great QA technique worth considering is incorporating testing into a succession of short development cycles.
Agile techniques make sense when building mobile applications because these products generally have rapid development cycles and mobile consumers have massive expectations for functionality, software quality, and frequency of updates.
This collaborative method needs communication and collaboration between designers, developers, the QA team, and occasionally even users. To encourage cooperation, you may save the app's code in a single repository.
Your teams will complete a brief design or development cycle, followed by a focused quality assurance and testing phase for the newly introduced feature. Additional regression, security, and stress testing can be performed as necessary. What occurs throughout the subsequent design or development cycle is determined by the conclusion of this phase.
Once you've adopted this strategy, leveraging automation will help to keep things moving. Test automation accelerates focused testing phases and enables you to move on to the next development cycle within hours or days. Manual tests will need to be scheduled following certain design or development cycles in order to integrate input on the user experience and other critical features of the app.
1.3 Imply Multi-Directional Testing Strategy
One of the most apparent but sometimes overlooked Quality Assurance techniques is to employ a variety of QA types. Don't limit your testing process to just one or two categories. Perform several methods of testing in order to quickly find various sorts of issues.
You need to motivate your development team to build automatic unit tests so that they can evaluate the quality of their code and correct any issues before sending it to QAs to perform testing. Once you have sent the request, the QA team will start off with smoke testing. In this QA process, they may either confirm that the code is ready to test or return it to the developers for retesting.
When you apply multi-directional testing in software development, this means the QA teams will test all the test cases thoroughly using multiple testing strategies. In the software quality assurance program, the team members will initially check manually if there are any bugs or not. Then they perform all types of testing like regression testing, non-functional testing, user acceptance testing, and compliance testing to get the right results from this testing process. After making enormous changes and matching release criteria, regression testing ensures that all functionalities are up to date and work seamlessly.
The last phase here is to do user acceptance testing. In this phase test the product as per user needs and analyze it to see if it meets all functional requirements or not.
1.4 Combining Automated Testing and Manual Testing
Preferably, your quality assurance (QA) testing process would incorporate both automated and manual testing. The trick is to establish which form of test is best appropriate for each element and phase of the product's development.
Manual testing enables you to test against a diverse set of situations and scenarios. The QA testers' comments on the app's experience and feel will be important. For the testing process, usability testing and ad hoc testing as well as manual tests are ideal. Manual tests should preferably be carried out by extremely competent and professional testers who match a variety of end-user profiles and have knowledge of a variety of devices and operating systems.
Manual testing can be augmented with frequent automated tests to save time during testing. When doing white box testing, load tests, and other types of performance testing, automation is the most suitable method.
Any test that must be run on a regular basis should be automated. Automated testing is convenient, and dependable and will assist you in ensuring that the software functions sufficiently on a technical level.
Automation will not meet all of your testing requirements. Crowdtesting can be used to augment in-house manual testing. This strategy enables rapid testing of your product on a much wider scale.
1.5 Continuous Integration and Continuous Deployment
From the standpoint of the QA team, there are several benefits of continuous integration and continuous deployment. One of its major benefits is to quickly obtain a build that includes the most recent additions or fixes.
Continuous Integration is the automatic and instantaneous technique of testing any change made to your codebase. Continuous Deployment is the process of pushing changes to a staging or production system. This simultaneously activates Continuous Integration. This improves the process by adding continuous delivery to make this process faster.
Your development team may have many git branches relating to different features over the development cycle, but only one branch includes the most up-to-date code. When the code is modified, the CI tool verifies this branch and generates a new build, which is then shared with the selected diaries.
1.6 Adopt a Two-Tier Approach to Test Automation
Most of the time, this has occurred to companies when there is a major change in their development process. For instance, the developer who had made exhaustive changes has now moved to a different project. In such cases, the project suffers a delay. The Quality Assurance team is not aware of what testing tools and QA processes were involved. Hence all the tests need to be performed.
So a two-tier approach is introduced, where you apply automation testing tools to augment the testing processes. As a result, the two-tiered approach is in two directions. Tier one implies every contribution to the codebase. It also enables quick validation of developer changes. This needs to be performed with all sanity testing and ad-hoc testing that takes some extra minutes to complete. But ensures good results. The test process in tier two goes through regression testing. You can schedule it to run at night with added test coverage. It is a challenging task to choose which tier should perform which type of software QA testing.
1.7 Conduct Risk-based Testing
Risk-based testing is a methodology for detecting the most dangerous hazards throughout the testing process. This technique entails identifying project risks, prioritizing them, and arranging the testing process accordingly. This enables QA engineers to focus on the most significant risks that might jeopardize the product's overall performance.
It is beneficial for both the QA department and customers. The QA department incorporates a risk-based testing strategy early in the software development process; they may ease the code architecture and make the product simpler to test.
When testing engineers take a risk-based approach, they focus on the most likely issues during product use. As a result, it contributes to the reduction of the spectrum of testing operations.
When a QA team uses a risk-based testing strategy, they focus on the functionality that is most prone to errors. This enhances the customer experience. Thus, you may obtain a high-quality product if you lack the resources necessary to test the product's performance thoroughly.
1.8 Frequent Regression Testing in the Development Process
In the software development lifecycle, there are numerous types of testing that take place. The QA specialists must understand what bugs to report, what information to include in reports, and how to structure reports. It also shows if you need to change the QA testing methods. Conventional methods like black-box testing or white-box testing have now changed. There are other additional methods which include load testing, stress testing, and other QA best practices for software testing. In addition, the customer and the QA team must agree on the circumstances of the testing environment and the much-needed frequency of regression testing and retesting.
Not only that, regression testing opens the gates of advantages for both the QA team and the customers.
For the QA department, Regression testing includes documenting the process of performing autotests in detail. This documentation provides system specs, test designs, bug reports, operator findings, and other information pertaining to software. Not just testing engineers but also developers and stakeholders may make use of this information.
Another significant benefit of regular regression testing is that it enables testing engineers to ensure that new product features do not impact the stability of the core program, which is critical for maintaining a high degree of product quality.
For the customers, Updates have the potential to introduce flaws into a software product. Regression testing assists quality assurance engineers in reducing the number of problems in a product.
Automated tests enable quality assurance experts to accelerate quality assurance reviews and ease the software upgrade process.
1.9 Hold on to Peer Reviews Quite Often
It is said to be a good practice in software development to take peer reviews periodically. The main reason for taking peer review is to know what the competitors think of your product and what is their take on it. This method enables continuous verification, that all changes have been made and the installation has fulfilled your high requirements. It also benefits your team by exposing each of your team members to different projects and groups on a regular basis, providing continuous learning and growth opportunities.
Now that you have surpassed the first layer – the physical layer, you can now skip testing and correcting codes. You don't have to make it complex, just simply utilize the development tools and start executing the plan as per the scope of the work, a collaboration between teams, documentation, changes and modifications, and deployment procedures.
1.10 Adhere to Industry Compliance
You as a business must know and understand the standard measures of compliance. Every sector or industry has its own set of rules and laws that firms must follow in order to protect their company's data as well as consumers' personal data. Speaking of compliance acts, you can never forget the General Data Protection Regulation (GDPR) act that aims to protect EU residents to protect personal data of their country and customers. For the healthcare sector, the Health Insurance Portability and Accountability Act (HIPAA) safeguards patients' health information in the United States. The banking sector, specifically the Payment Card sector has the Payment Card Industry Data Security Standard (PCI DSS) act that safeguards customers' payment card information globally. To guarantee that a product fulfills all criteria, quality assurance teams must do compliance testing.
1.11 Conduct External Quality Review
It is always a good way of making your app better and more efficient. Take a second view of your product or set some fresh eyes to review it, which can turn out to be beneficial in software development. You can choose to invite an independent specialist to analyze your software code and perform a technical assessment as a project manager, product owner, team lead, or a business owner.
They should know a basic summary as well as ideas for the team to consider in order to improve their performance. While such a step is primarily intended for software developers, it will also aid QAs greatly. After all, both developers and testers are working towards achieving high-quality code.
1.12 Manage and Maintain Documentation
Every step of the software testing process should be meticulously recorded. It can include test plans, test cases, defect reports, or any other thing that is written by the QA team. Each of these documents has a specific structure and set of requirements that must be met in order for them to be effectively built and managed. To ensure that the developers do not miss any bugs, all bugs should be recorded and reported. Documentation is also useful in later phases of the project: if a bug that was previously detected and addressed reappears, this knowledge will enable developers to fix it faster this time. Additionally, documentation aids testers by demonstrating that they carry out their responsibilities diligently.
However, high-quality documentation is more important than just documentation. If testers report issues in an ambiguous manner, developers and project managers will spend more time attempting to understand the problem rather than fixing it. However, if the documentation procedure is clear and rigorous, it becomes easier and more efficient for everyone to understand the process.
2. Conclusion
This extensive blog helped in understanding all the QA best practices for software testing involved in making high-quality software. You may find multiple quality management tricks in abundance but which one to trust is a matter of intelligence. All you need to do is to draft a test strategy, manage the quality standard and check the product from the user's perspective. Do it by performing continuous testing and quality control measures. The software team should ensure to meet all the requirements and that the developed software product is of higher quality. Let's follow these best practices for software testing and save more time in repetitive development procedures.