After the COVID Pandemic, Outsourcing has become the new normal. Businesses irrespective of their size, and industry vertical, are found to be attracted to the concept of outsourcing.
As a result, more and more software development companies have figured out a way to empower businesses and enterprises across the globe through their IT outsourcing services.
These years, IT outsourcing has been a buzzword for decades but not anymore, especially after 2019's massive hit. It will be quite surprising if you have not even heard it over a thousand times. However, you can be unsure whether or not it is the right option.
1. Benefits of Outsourcing
Lower costs
Increased efficiency
More focus on core objectives
Access to high-end skills or resources worldwide
Enhanced flexibility, evolving with the evolved needs
Accelerate time to market
Lower ongoing investment
Moving on! Let us focus on certain tips to hire an IT outsourcing company. But before that, you need to read these factors regarding IT outsourcing!
1. Security – Before you pick an outsourcing service provider, you need to determine to what extent you will be comfortable offering information to the outsourcing company. After all, with so many security breaches happening around, one has to beware of it.
Now on behalf of your outsourcing teams, let us state what they require. They need all those sensitive and crucial information regarding your business – all types of data. Before knowing how to protect, they should at least get an idea of what to protect. Try mentioning all these aspects in a written document.
2. Operational Control – Remember, when you outsource IT tasks, chances are pretty high of you to find some loose ends, especially in regards to business operations.
For example, you have decided to outsource from a reliable IT outsourcing company that offers the best telecommunication services. Once you have made the deal, the chances of you feeling left out could be extremely high. So make sure to clarify certain such things as how much will be your say in the process. Not having a good command is also a major issue, so do not let that happen!
3. Communication Barriers – Most of the IT companies especially the ones that fit your budget will be located overseas. This means there could be a language barrier. Once you are pre-determined of entering the outsourcing industry, just ensure to clear every small or large aspect, detail, and doubt from your end. Clear agreements can be made to avoid any further issues.
So these were the benefits of an IT outsourcing company. Now it's time to consider tips and tricks that will result in better hiring decisions.
2. Smart Outsourcing Tips to Make a Better Hiring Decision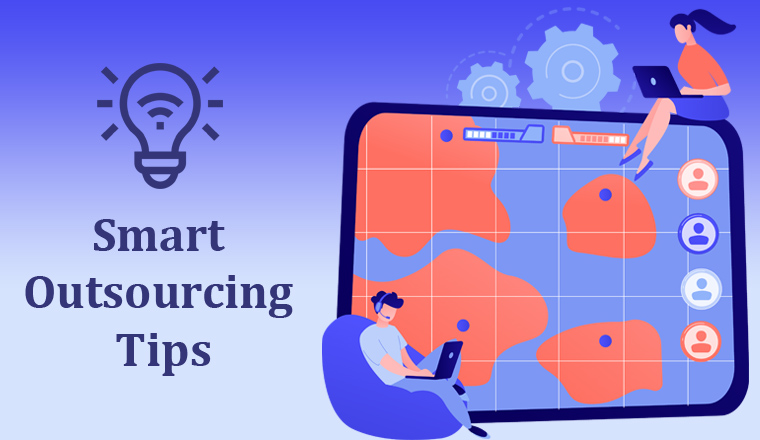 2.1 Outsource the Right Activities
IT Outsourcing has become pretty common these days but that doesn't mean you have to take it lightly. One wrong step or one wrong decision can wreck you to a great extent. So be very careful that you do not end up giving up your company's competitive advantage.
Do not just give away the control, especially over those criteria that define what you are and why you are doing. For example, if you carry expertise in management, you no longer need to outsource it. Since you already are a pro in that matter, trust yourself. It is crucial not to change the business structure, make sure you only improvise it.
Now you think for every high demand, you need to outsource. If yes, then making sure to choose IT outsourcing service providers who are already performing well makes sense. Also, here you don't have to waste time, money, and energy in training newcomers.
2.2 Reduced Labor Costs and Overhead Expenses
Most small businesses will agree with the fact that hiring or training staff could be expensive at times. But when you outsource, what technically happens is the fixed cost automatically gets transformed into a variable cost. In simple words, payment happens only when services are used. Unlike in-house teams, here you do get flexibility in regards to staffing.
Pay when you need it, you can increase or decrease programmers when business picks up and slows down.
2.3 Outsource From Someone Who is Relatable
Different cultures can be a huge issue here! Most Companies tend to outsource by simply considering the cost factor. Where the reality is they must also consider the company's culture.
Every company is of a kind when it comes to the work environment. So it cannot be bifurcated easily but what one can do is ensure looking for a company that is fluent in English.
Since you already know what to do, it's time to know what not to do. For example, never fall for a development company that is too demanding or doesn't respect your opinions.
2.4 Pick the Right Help
Of course, selecting tech partners is no child's play. More or less, it takes ages to choose an ideal one. Now, who could be an ideal one, simply he must be the one that fits you the best. And please for god sake do not jump right away on the first outsourcing company you get in touch with.
Even if you feel that you have made the right choice, sit back and think hard. Compare what's their strength and where are they lacking. The more window shopping, the better outsourcing partner you are bound to get. Also just ensure that they share the same objectives and mindset as you.
Apart from these, there are several factors to keep in mind when choosing who to start dealing with. Of course, the best quality and affordable prices are something that always catches the eye. but that isn't all that's important. There are several other factors to consider such as do they have shown improvement, and how was the business doing before and after you chose their services. How well-versed are they in the field? Factors like skill and experience, destination, flexibility or not, time/language, and cultural barriers must be taken into account.
2.5 Communication & Collaboration Capabilities
This is one of the best outsourcing tips that you can get. Do you know one of the core aspects of a successful outsourcing venture? It's when you are able to communicate keeping transparency in mind. So make sure you have a clear plan in place.
Once you start outsourcing, you will see that daily iteration is pretty difficult to manage of course, due to time differences. So how to make sure that as a business the project remains on track? Simple, make use of agile communications and collaboration. Apart from all this, gaining daily or weekly feedback is extremely important. You can track the progress in real-time.
2.6 Consider Reviews and Feedback
In today's digital era, there are numerous reasons for you when it comes to hiring an outsourcing team. But ensure not to hire them unless you haven't checked their reviews and online ratings precisely.
In other situations, the best reviews shouldn't be given prime importance as they always come from near and dear ones. If possible try getting in touch with their clients and ask questions like what was the challenge, and how the outsourcing company assisted them.
3. So this is It!
We hope the following post serves you right and assists you in focusing on increasing productivity, quality, and savings. After all, that's the point?