To endeavor and make business successful, software applications play an inevitable part. For an application to run successfully you need to have access to hundreds of software applications, frameworks, app running platforms and other essential web services. So, wouldn't this cost you a fortune if you develop apps using different programming languages and each one needs all of the above essentials. It is important to plan and get everything on hand but with confined limits of cost. There is an answer to this IDE's – Integrated development environments. Well, IDEs are a one-shot solution for programmers to develop apps at a single user interface. The combination of Node js with IDE will make the process of development easier.
Many businesses need Nodejs consulting to understand which IDE fits best for their business. This can get easier when you find an ideal compiler, debugger and source code editor that matches what you need to make your Node JS application successful. This blog will help you find an apt IDE that fits your business needs and saves time and cost of assembling the software needs from multiple sources. This one shot solution will make your process smooth and convenient. So, let's get started with the basics of what is IDE?
1. What is IDE?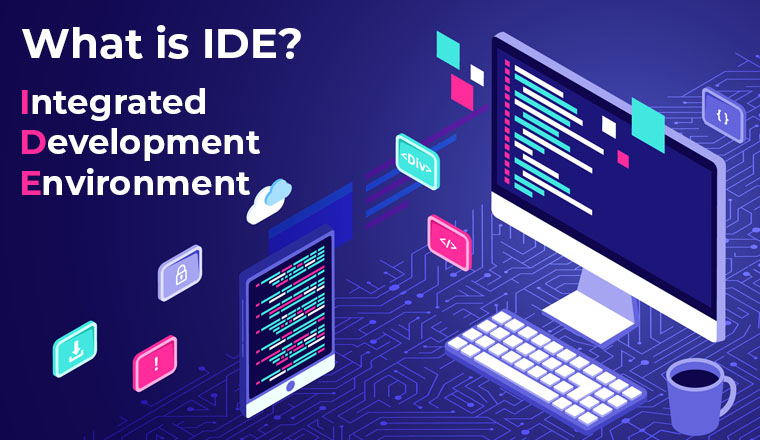 If we were to define IDE then we can say it is an integrated development environment (IDE) is software that combines common developer tools into a single graphical user interface for developing programmes (GUI). An IDE usually has three components.
Source code Editor- It is a text editor that can help you write software code by highlighting syntax with visual cues, giving language-specific auto-completion, and checking for problems as you type.
Automation Tool: Utilities that automate simple, repeated operations such as compiling computer source code into binary code, packaging binary code, and performing automated tests as part of making a local version of the product for usage by the developer.
Debugger: A programme that can visually display the location of a bug in the original code and is used to test other applications.
Because different tools do not need to be manually configured and integrated as part of the setup process, an IDE allows developers to start programming new apps fast.When every utility is represented on the same workbench, developers don't have to spend hours learning how to utilise different tools independently.This is also valuable for onboarding new engineers, who may use an IDE to familiarise themselves with a team's standard tools and workflows.It is necessary for businesses to be aware of everything about Nodejs and only then they can use Nodejs with IDEs. In fact, most IDE features, such as intelligent code completion and automatic code generation, are designed to save time.
2. What is Node js?
Everyone knows about Nodejs because it has been the talk of the town from quite a few years now.But for the ones who know what Nodejs is will know that Node.js is a cross-platform, open-source JavaScript runtime environment. It allows you to run JavaScript code outside of a web browser. Node.js is an excellent web framework for newer developers since it is well-suited to data-intensive applications such as data streaming and real-time apps, and it makes it simple to begin developing the back-end.
We can utilise JavaScript anywhere and on any browser with Node.js, including MacOS, Linux, and Windows. We mean the front-end, middleware, and back-end when we say everywhere.
As a result, Node.js is included in a number of major web development stacks, including the MERN, and MEAN stacks.
NodeJS frameworks, IDEs and Tools can works on a single program and cater you with multiple features that improves your overall app performance.Now if there is a question of what NodeJS framework and IDE are, we must know that node js with IDE has the capability to increase the speed, the efficiency and make the developed application performing and result-oriented. Ideally IDEs are meant to apply the requirements of coding in a single development platform but can be used for multiple ones.
We will now be discussing all the best and leading names of Node.js IDEs that every developer must know before they decide to build apps using Node Js
3. Top Node.js IDEs to Develop Node.js Apps
3.1 Visual Studio Code
Microsoft's Visual Studio Code is one of the most prioritized choices when it comes to Node.js IDEs available.It is a small yet capable code editor that can be downloaded and used for free. One thing about Visual Studio Code that attracts millions of users is that it comes with built-in support for JavaScript development and NodeJS, and it runs compatible across all major operating systems, including MacOS, Windows, and Linux.
Apart from that, Microsoft has created a robust ecosystem of plugins and extensions to support other popular programming languages like Java, Python, C++, PHP, and others.
Highlights of Visual Studio Code are
In-built CLI (Command Line Integration Interface)
Integrated Terminal
Split View & Zen Mode Helpers
Context Menus, Intellisense
Git Integration
Live share
3.2 Cloud 9
The second most popular in this list is Cloud 9. It goes with the name, it is a cloud-based IDE that allows js developers to run code in a variety of languages, including C++, Python, Node.js, Rube, and more.This online code editor and debugger can thus be used to create a node.js application and of course js application development.
Many developers use this IDE because of its numerous capabilities, such as the key binding editor and live preview, are the ones to name a few. It is secure, resilient and fully-featured. As a result, this robust IDE may be used to design applications using the JavaScript framework.
Highlights of Cloud 9 includes
Integrated serverless development tools
Image editor that is pre-built inside the system
Editing code and sharing data while working together.
Integrated terminal
An integrated debugger
A connection to any Linux server is available
3.3 IntelliJ IDEA
JetBrains has developed another IDE called IntelliJ IDEA that uses Java and Kotlin.
To use IntelliJ IDEA to construct a NodeJS application, you'll need to install a NodeJS plugin. This will allow you to take advantage of features like code assistance, code completion, syntax highlighting, and more for your next NodeJS project.
IntelliJ IDEA, unlike other IDEs, lets you compile, execute, and debug NodeJS apps right inside the IDE. Furthermore, its predictive technology predicts what a developer is attempting to type and automatically completes it for him. As a result, the developers' productivity is increased and the coding experience is improved.
Highlights of IntelliJ IDEA
Smart and Finished Code
Editor-centric environment
Support for frameworks
Inline debugger
Test-runner and the coverage
Can prefer versions as per the needs
3.4 Sublime Text
The next one in this list of NodeJS code editor and IDEs is Sublime text. Sublime It comes with a plethora of sophisticated features, like rapid project switching, split editing, and more. Furthermore, Sublime Text provides many selection choices to handle files more quickly, providing you the best performance and the ability to alter almost everything with simple JSON files.
One thing that makes Sublime text an outstanding IDE is the custom components that it provides and the unparalleled results obtained. In fact, this program also works on Mac, Linux, and Windows and allows you to open files with just a few clicks. Furthermore, the many selection options aid in speedier file manipulation while maintaining excellent performance. It clearly makes debugging software code simplified and web application development easier with the code preview option.
Highlights of Sublime text are
Command Palette
Instant Project Switch
Split Editing
Powerful Package Ecosystem & API
Cross-Platform
3.5 Aptana
There are a few IDEs that are It's another eclipse-based IDE that focuses on web app development. This tool supports a variety of languages, including CSS3, Ruby, Python, and Node.js, that may be used to design and test an application in the same environment.Developers can use Aptana's flexibility to add breakpoints to scripts, control project execution, and investigate variables.You should study Node JS Architecture in depth to grasp this concept.
Highlights of Aptana:
Inbuilt Debugger
Git integration in the terminal
Help with the codes
Integration with Heroku
3.6 Komodo IDE
Another popular name in this set of IDEs is Komodo. Like all other IDEs , this one is also cross-platform and smoothly mixes with other IDEs. It enables programmers to create powerful apps using a variety of programming languages like Ruby, Node JS, Perl, and others.NodeJS developers may use Komodo IDE to create unique configurations, apply comparable changes across numerous selections, track changes, and run commands.
Highlights of Best Features in Komodo
Pre-installed Browser
Version control
Syntax Highlighting
DOM viewer and Markdown
Multi-window editing and Split view
3.7 WebStorm
Last but extremely important one in the list of popular javascript IDE is WebStorm. WebStorm can help you construct server-side applications using Node.js. Again JetBrains is the brain behind building this popular utility for the JavaScript framework. It encompasses smart code completion, error detection, automated and safe refactorings, and other features. It also supports React, HTML, and CSS programming languages in addition to JavaScript. WebStorm also supports web development.
The webstorm has been updated to provide support for Node. js-specific tools on Linux. It also includes tools such as a code debugger, a version control system, and a terminal.
Highlight of WebStorm
Tool integration that is seamless
Create Custom Configurations
Built-in tools with a lot of power
Intelligent coding support
4. Conclusion
It wouldn't be incorrect to say that Node Js is extremely popular among the developer community. This is because Nodejs is light-weighted and used a single programming language that makes it easy for developers to code in an integrated development environment. Here we presented a list of Node js IDE that will be helpful for the developer's community for easier coding, debugging, and get way into apt JavaScript code assist. Here this list of Node js IDE will help you realize what features you need for JavaScript development of your custom software projects. You as a business can make a choice to select the best IDE from multiple JavaScript ide in the list.